Patriots vs. Giants: Final Report Cards, Player Grades for New York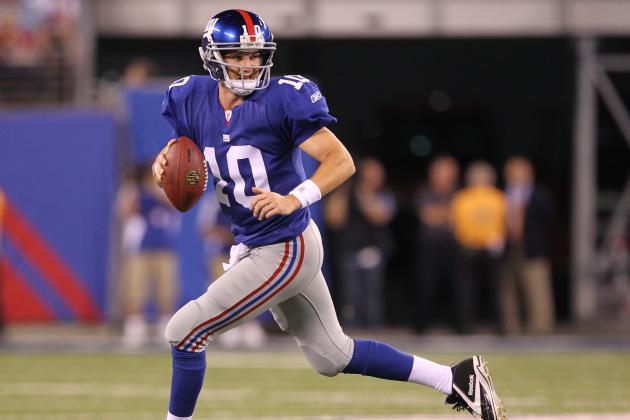 Al Bello/Getty Images
Eli Manning and the G-Men won their week 4 preseason bout with the New England Patriots by a 6-3 final.
The New York Giants closed the books on their 2012 preseason, topping the New England Patriots at MetLife Stadium. Big Blue claimed a 6-3 win over the Pats behind a dominant defensive performance.
Wideout Hakeem Nicks made his return to the gridiron, but the Giants' offense couldn't quite find its stride. On D, however, the G-Men looked to be in opening day shape.
A rematch of February's Super Bowl XLVI, Wednesday night's action settled lingering position battles, determined remaining roster cuts and hinted at the regular-season readiness of New York's brightest stars.
Check out post-game report cards and grades for every Giants unit.
Begin Slideshow

»
Brad Penner-US PRESSWIRE

Overall Game Grade - D
Q4 - D+
An Andre Brown fumble sets up a near-safety for the Giants, who bumbled through their first possession of the quarter.
In their third drive of the fourth, Carr continues to take hits, forcing the Giants to punt the ball away with two minutes and change.
Despite receiving the ball at the 17 yard line from a Marcus Thomas fumble recovery, Big Blue can only muster three points. It was a rough night for the Giants' offense, who failed to find the big play and touted a stagnant running game for a good portion of the night.
The offensive line was particularly worrisome in the fourth, leaving Carr on his back all quarter.
Q3 - B
Receiver Ramses Barden and running back Andre Brown looked good to kick off the second half, and behind a perfect drive from Carr, the Giants finally put points on the board with a Lawrence Tynes field goal. Meanwhile, the rookie McCants continues to be out-muscled on the inside.
Da'Rel Scott was plugged into the offense midway through the quarter, picking up 22 yards on six attempts. The Giants produce their best quarter on the offense, but still fail to hit the endzone.
Q2 - D-
David Wilson continued to slug through his carries early on, and the Giants have now tallied just one first down in their opening four drives. Tailback D.J. Ware looks good picking up the blitz, while the offensive line continues to struggle.
The G-Men picked up just three yards in their first drive under back-up QB David Carr. Wilson looked scrappy in the screen game, while fourth-string back Andre Brown lost a costly six yards on a botched direct snap play. Carr commanded another three-and-out drive later; the offensive line fails to open up holes on the ground.
Amidst a progressing two-minute drill with Carr at the helm, tackle Matt McCants gave up an eight yard sack. New York was beat at the line all quarter.
Q1 - D
The first-team offense began things with a three-and-out, but later provided the game's first first down with a 15-yard connection from Manning to wideout Victor Cruz. Later in the drive, the Giants allowed a costly third-down sack at the expense of guard Mitch Petrus.
Against New England's backups, the Giants failed to put up any points. Running back David Wilson notched just 11 yards on five carries.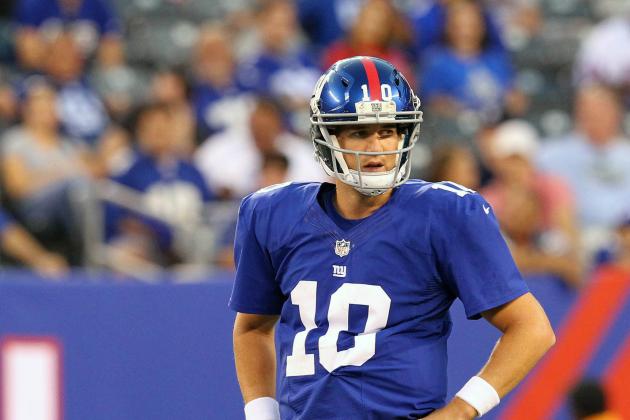 Brad Penner-US PRESSWIRE

Overall Game Grade - C
Q4 - N/A
Q3 - N/A
Q2 - D
Manning began the quarter with an overthrown mid-route to tight end Martellus Bennett, and finished the series 0-2 on passing attempts. It's been a less-than-assuring performance against defensive back-ups, as Eli failed to lead the Giants past midfield after four drives.
Manning exited the game after 15 plays, and failed to make any real impact. He finished four of eight for 29 yards, looking a bit out of sorts in the vertical game.
Q1 - B
Manning's first quarter play-action connection to receiver Hakeem Nicks elicited a heavy round of cheers from the Giants faithful. Nicks, who was making his preseason debut after undergoing foot surgery, saw two targets in New York's opening two drives.
Manning underthrew a Victor Cruz fly route late in the quarter, botching a big play opportunity. Eli posted 29 yards on four of six passing, nothing spectacular for one of the league's best.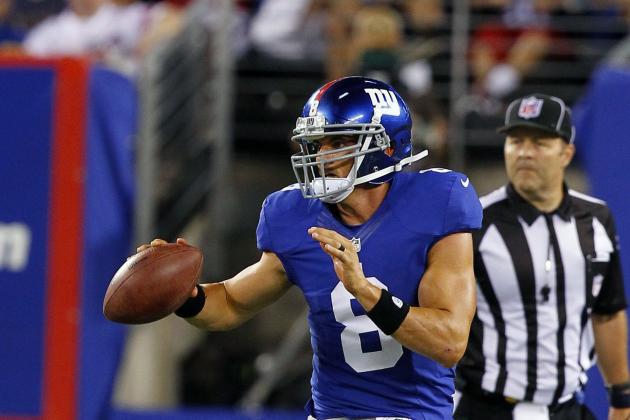 Jim O'Connor-US PRESSWIRE

Overall Game Grade - B-
Manning failed to produce against a second-string defense, but Carr established some semblance of a rhythm working the screen game and short routes. Despite spending considerable time on his back, the 11th-year veteran completed 11 of 18 attempts for 136 yards.
Carr's offense didn't produce a touchdown, but it didn't produce a turnover, either. The former No. 1 overall pick seemed to have a rapport with wideout Ramses Barden, who lead the Giants with four receptions.
Carr overcame a slow ground game and an ineffective O-line to put in a solid night's worth of work. If anything, Eli's performance drags down this grade: Carr's 84.5 quarterback rating well eclipsed Manning's 58.9 mark.
David Carr - B
Eli Manning - C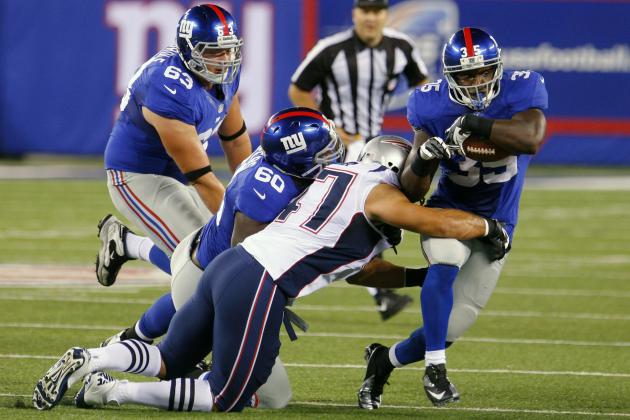 Jim O'Connor-US PRESSWIRE

Overall Game Grade - D+
The Giants' touted a weak ground attack Wednesday night, although a majority of the blame falls on the offensive line, which was ostensibly outperformed all game by New England's front seven.
Andre Brown took the bulk of the carries for New York, posting a 3.9 yards-per-touch average. Brown whipped off a 16 yard burst to start the third quarter, and shook off a slew of tacklers on interior hand-offs. However, his failed direct snap play and a fourth quarter fumble can't be forgotten.
Da'Rel Scott saw a healthy workload as well, averaging 3.6 yards per carry on 9 handoffs. Scott, normally slated as a special teams player, failed to stand out in the Giants' sluggish offense.
All eyes were on first-round draftee David Wilson, who dazzled fans in his week 3 performance against the Chicago Bears. This time around, however, Wilson didn't do much, taking eight carries for just 13 yards. With shoddy offensive line play in front of him, the rookie failed to hit the edge, where his agility and razor-sharp cut moves have the greatest impact.
All in all, it was a poor showing for Big Blue's running game. The Giants' 'backs get the benefit of the doubt with a struggling offensive line, but it will take a better effort to allay the league's 32nd-ranked ground attack come week 1.
Andre Brown - C
Da'Rel Scott - C-
David Wilson - D-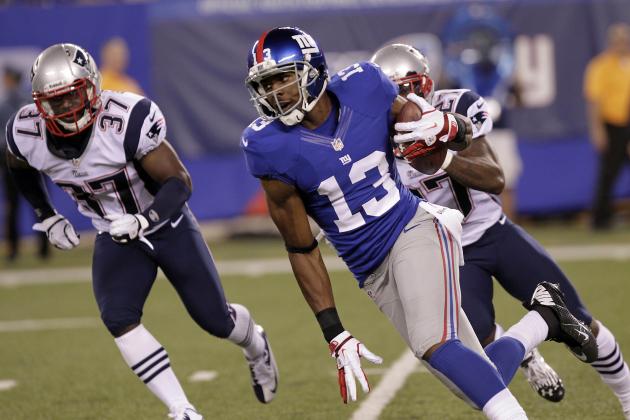 The Star-Ledger-US PRESSWIRE

Overall Game Grade - B+
Wednesday night's win was encouraging for the receiving corp, who saw the return of No. 1 target Hakeem Nicks. Nicks, who had been shelved for the summer rehabbing from foot surgery, caught a six yard pass from Manning in the first quarter.
Receiver Dan DePalma, who continues to vie for the Giants' final wideout spot, made a nice fourth quarter grab for ten yards. He didn't do much else to bolster his candidacy for a jersey number.
Victor Cruz notched a first-quarter reception, and was targeted twice in the first four drives. Cruz' speed and route-running prowess were on full display, as the UMass alum tore through both levels of the Patriots' secondary on a second quarter fly route, eventually underthrown by Manning.
Jerrel Jernigan notched a late-game 25 yard scamper, the longest play for any Giants' receiver.
Meanwhile, Ramses Barden recorded a team-high four receptions, tallying 31 yards as he continues to fight for his football life. Barden caught all four of his targeted passes, ran crisp routes and took a short David Carr pass for 15 yards towards the end of the first half.
Hakeem Nicks - B+
Dan DePalma - B-
Victor Cruz - A
Jerrel Jernigan - B
Ramses Barden - A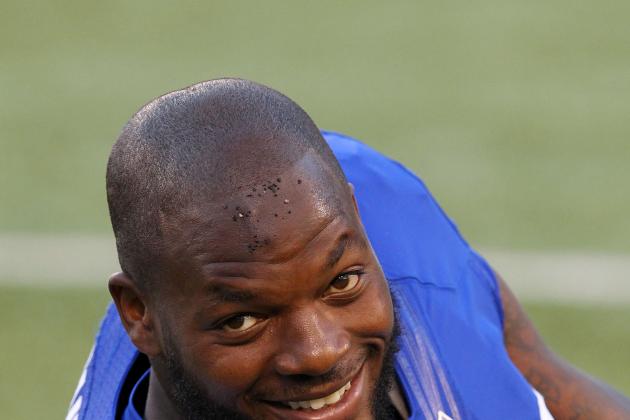 Brad Penner-US PRESSWIRE

Overall Game Grade - B-
Martellus Bennett, the Giants' most quotable personality and the assumed starting tight end, was targeted just once in his four drives of play. Bennett dropped a high-thrown mid-route pass from Manning in the second quarter, unable to complete a very difficult play.
Bear Pascoe, meanwhile, notched a reception, and came up with a key fourth-quarter fumble recovery on the Giants' own 1-yard line.
Rookie Adrien Robinson was Big Blue's most productive TE, catching two passes for 24 yards in the fourth quarter. None of the tight ends made a significant impact in run blocking, with the Giants enduring the brunt of their struggles at the tackle positions.
Martellus Bennett - C
Bear Pascoe - B
Adrien Robinson - B+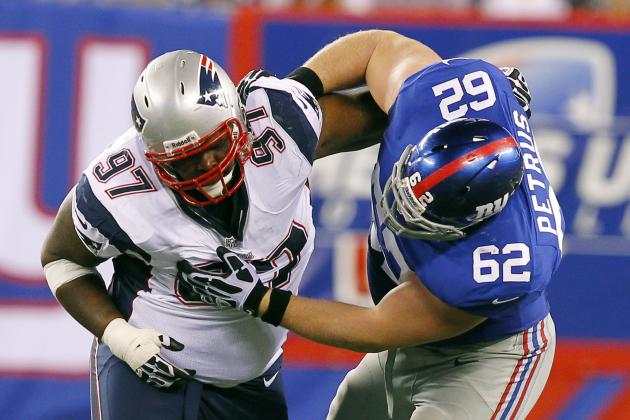 Jim O'Connor-US PRESSWIRE

Overall Game Grade - D-
New York's woebegone summer along the O-line continued on Wednesday, as the Giants allotted four sacks and six quarterback hits to New England's second-string pass rush.
Guard Mitch Petrus and tackle Matt McCants had particularly harsh nights. Petrus, who played the entire game, was blown up in run blocking for all 60 minutes, while McCants allowed two sacks and was flagged for a holding call.
Without a doubt, New York's season will be made or broken at the line. It was a discouraging performance from the entire unit, and they just squeak past a failing mark here.
Pass Blocking - D-
Run Blocking - D-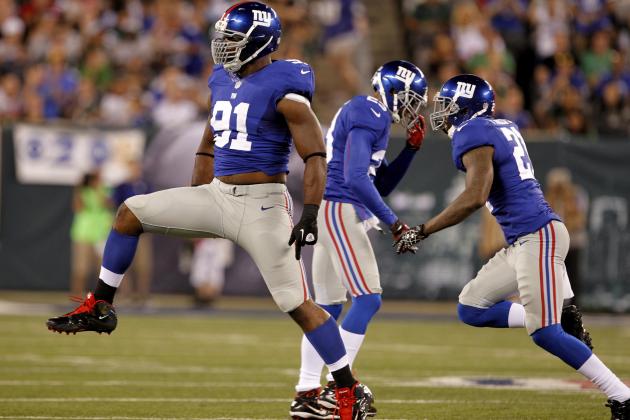 The Star-Ledger-US PRESSWIRE

Overall Game Grade - A+
Q4 - A+
Jeff Demps gases the Giants for 23 yards to open the quarter. Adewale Ojomo and Matt Broha, two ends trying to burrow their way into the final roster, attack the edge throughout the fourth.
Corners Justin Tryon and Dante Hughes each get in on a pass breakup in New England's second drive of the quarter, and Ojomo comes up big again with 2:33 remaining, stripping the ball from Brian Hoyer. Big-bodied tackle Marcus Thomas comes up with the fumble, setting the Giants up in enemy territory as the two minute warning rolls in.
The Giants' pass rush was as strong as ever this quarter, and the secondary held steady. With so much pressure garnered from the front four, Big Blue skirted away from the blitz.
New York caps off a magnificent quarter with a Laron Scott interception in the game's waning seconds. The Giants take the win behind an inspiring defensive performance.
Q3 - A+
The Giants continue to get a good push along the line, and pitch a third quarter shutout. Herzlich looks aggressive, and Big Blue wins the third quarter time of possession by a huge margin.
Q2 - A
The Giants allowed Ryan Mallet and the Pats to drive inside their five yard line, but buckled down for a goal-line stand. Fighting for a starting spot, linebacker Mark Herzlich came in on a clutch third-and-goal tackle.
Cornerback Justin Tryon looked good in bump-and-run coverage, an encouraging sign for Giants fans looking for a replacement for Terrell Thomas' hard-nosed style of play. Big Blue has been sniffing out the opposing screen all night long.
Q1 - A+
Big Blue forced an impressive three-and-out in the game's preliminary series, albeit against the Patriots' second-stringers. Outside 'backer Jacquian Williams looked aggressive on the edge, nearly snagging a Ryan Mallet pass along the Patriots' sideline. Linval Joseph and Rocky Bernard were both active in stuffing the middle as well.
After holding Bears running back Matt Forte to just eight yards on the ground last week, the Giants' front seven looked good again this time. The G-Men pitched a first-quarter shutout, and earn a top grade here.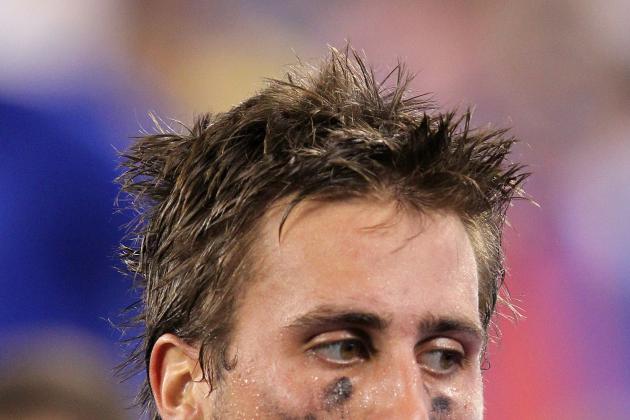 Brad Penner-US PRESSWIRE

Overall Game Grade - A+
Perhaps the most dominant unit from either team, New York's D-line came up big Wednesday.
Defensive tackle Dwayne Hendricks lead all defensive linemen with six tackles, clogging up the middle throughout the second half. His development is crucial to a now-depleted interior line.
End Matt Broha, clawing his way towards a roster spot, notched two second-half QB hits, 1.5 sacks, and five total tackles. Broha flexed some serious speed on Wednesday night, snatching up the screen pass from sideline to sideline. He'll be a tough player to cut, should the Giants only carry four DEs.
Defensive end Craig Marshall was also in on 1.5 sacks, splitting a third quarter sack with Broha. Marshall was also in on five tackles, and like Broha, seemed to be all over the field. Both players came off the edge extremely quickly, and made an impact in run defense as well.
Linval Joseph was a first-half standout, stuffing the middle en route to four solo tackles.
Adewale Ojomo, arguably the Giants' best player this preseason, came through with another sack on Wednedsday. Ojomo also provided the strip on Pats quarterback Brian Hoyer that lead to Lawrence Tynes' game-winning field goal. The undrafted rookie was ruthless on the outside, and ran past opposing tackles all night.
Tackles Markus Kuhn and Rocky Bernard each made two stops, while none of New York's top sack-talliers (Justin Tuck, Jason Pierre-Paul, Osi Umenyiora) hit the field.
Dwayne Hendricks - A+
Matt Broha - A+
Craig Marshall - A+
Linval Joseph - A
Adewale Ojomo - A+
Markus Kuhn - A-
Rocky Bernard - A-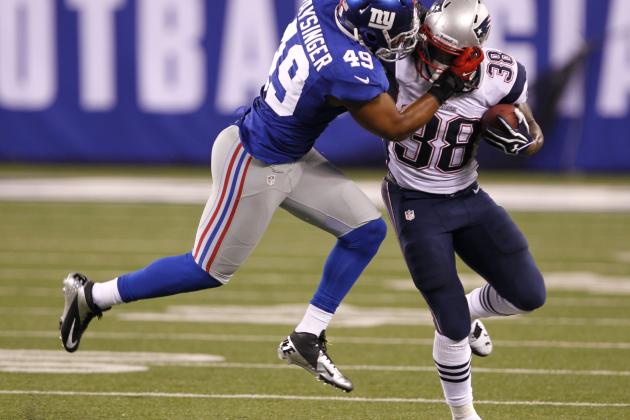 The Star-Ledger-US PRESSWIRE

Overall Game Grade - A
Spencer Paysinger lead the way for the Giants with seven tackles, and continues to make a strong case for a roster spot. Mark Herzlich came through on a number of run stuffs, finishing the night with five tackles and a pass deflection in just over a half of work.
Jacquian Williams put up five tackles as well, and nearly had a "pick six" from New England quarterback Ryan Mallet in the game's opening drive.
Linebacker Greg Jones recorded a sack on an outside blitz, while newcomer Keith Rivers made four stops. Both will jockey for playing time as week 1 approaches. Jake Muasau made two assisted tackles in the game's final drive.
It was a strong night for the linebacking corp, who limited the Pats to just 86 total rushing yards. Moreover, there wasn't a peep from New England's bevy of tight ends, and the Patriots' screen efforts were sniffed out early.
Spencer Paysinger - A+
Mark Herzlich - A+
Jacquian Williams - A
Greg Jones - A
Keith Rivers - A
Jake Muasau - B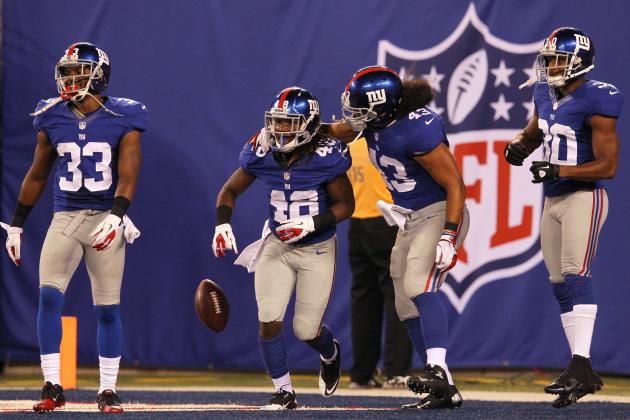 Brad Penner-US PRESSWIRE

Overall Game Grade - A
Behind a formidable pass rush, the secondary didn't have much work to do. Still, the Giants' D-backs locked down on receivers and came up with a game-winning interception.
Justin Tryon spent time in kick and punt coverage, and came away with four tackles. He was in on a fourth quarter pass breakup as well.
CB Dante Hughes and safety Will Hill both recorded four tackles as well. Hill continues to tout a ball-hawking style of play similar to teammate Kenny Phillips.
Michael Coe, a candidate for the Giants' second corner spot come week 1, made two line-of-scrimmage stops on running back Brandon Bolden. Giants fans could see a lot more of Coe in the season opener.
No. 1 corner Corey Webster allowed just one five-yard catch in his first quarter of work, and Antrel Rolle looked sharp, coming in on two tackles.
Safety Stevie Brown allowed a catch to New England's Jeff Demps for just seven yards.
The unit's standout moment came in the game's final seconds, when DB Laron Scott intercepted a Brian Hoyer pass down the Patriots' sideline.
Justin Tryon - A
Dante Hughes - A
Will Hill - A
Michael Coe - A+
Corey Webster - A
Antrel Rolle - A
Stevie Brown - A
Laron Scott - A+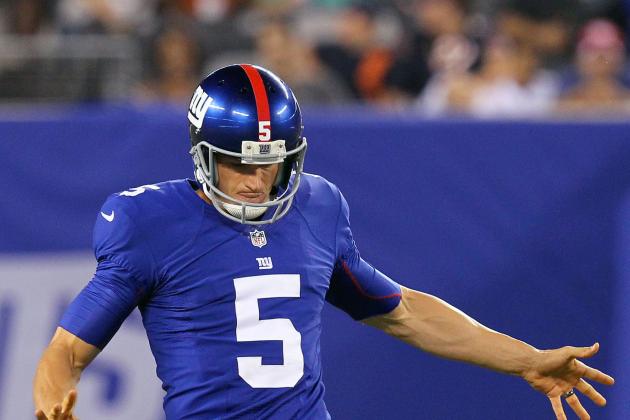 Brad Penner-US PRESSWIRE

Overall Game Grade - A-
Q4 - A
Weatherford stays busy due to the offense's futility, while Tynes connects on the go-ahead 32-yard field goal with just over a minute left. Tynes finishes the preseason a perfect eight for eight on FG attempts, and seems to get a good leg on his opening kickoffs. New York's return coverage is smothering all night.
Q3 - A-
Despite a bobbled snap from Weatherford, Tynes cracked the Giants' shutout with a 34-yard field goal. An Isaiah Stanback penalty negated a 12-yard punt return from WR Rueben Randle.
Q2 - A-
The second-quarter special teams highlight came at the expense of the NFL's replacement officials, when a five-minute frenzy ensued after multiple penalties were called on a Steve Weatherford punt. After the debacle, Weatherford booted a 65-yard punt, capping off an impressive summer for Big Blue's kicking units.
With 1:08 left in the quarter, the Giants picked up a costly running into the kicker penalty at the hands of RB Da'Rel Scott.
Q1 - B
The Giants pinned return man Jeff Demps inside the New England 20 to open the game, tipping the field position battle in their favor early on. Kicker Lawrence Tynes continues to boast a big leg on kickoffs.
Steve Weatherford delivered a scintillant corner punt, drilling the Pats inside their own 10 yard line. The return game looked poor, however, as Jerrel Jernigan averaged just two yards a punt return.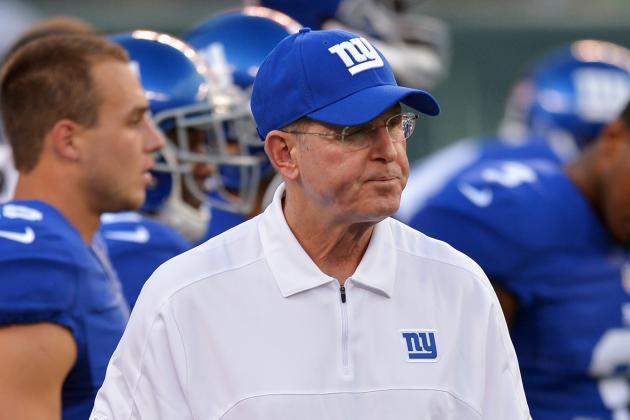 Drew Hallowell/Getty Images

Overall Game Grade - A
Q4 - A
Nothing special here, although the play-calling takes an interesting turn with an Andre Brown draw play on a 3rd-and-10 from inside New England's 20 yard line. Of course, it's hard to truly evaluate the coaching staff in a non-gameday atmosphere, but the Giants pick up the W, and the coaching staff gets its props here.
Q3 - A+
Offensive coordinator Kevin Gilbride utilized a wide range of personnel and called for a healthy dose of screen plays. All units ran smoothly, and the Giants clearly won this quarter.
Q2 - A
Coughlin yanked the offensive starters after 15 plays, and midway through the quarter, the Giants were fielding second-stringers on both sides of the ball. Again, nothing unique in terms of personnel or play-calling.
Q1 - A
Tom Coughlin and company made an interesting decision to send out starters against New England's second-team effort. Looking to evaluate the new defensive personnel, both linebacker Keith Rivers and cornerback Michael Coe saw early reps.
Play-calling on both ends was relatively run-of-the-mill, as expected with a week to go before the regular season. All in all, the coaching staff looked ready to go for Wednesday's opener.