Minnesota Vikings: Who Is on the Roster Bubble?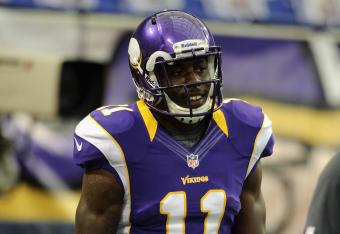 Hannah Foslien/Getty Images
The Vikings have some very specific places where players are in jeopardy of not making the final cuts, and I'd mark wide receiver as the spot where you will see the most carnage.
Of course, there's plenty of fat across the team, and we'll see some drops all over the place. However, some spots like safety have been dealing with injury, as has also been the case at tight end.
There may be a few surprises at those positions because of depth concerns.
Let's take a look at a few players who could go either way.
Emmanuel Arceneaux, Devin Aromashodu, Stephen Burton
There was a period early this summer, right before camp, when Micheal Jenkins was on this list and I wouldn't be shocked if he got cut, but I wouldn't say he is on the bubble. That may sound like conflicting opinions, but the truth is, right now, the perception is, he's OK.
The truth may be otherwise.
Another truth is, the three names above are not particularly good. Burton has had moments since he was drafted last season, but those moments are mostly on the practice field. He's had an up-and-down camp, and I get the sensation that more was expected of him which makes me wonder if they will take a long look at whether the effort is worth it.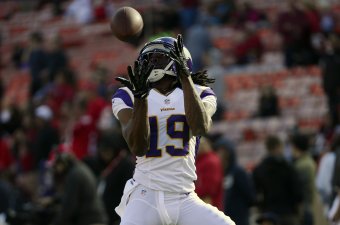 Thearon W. Henderson/Getty Images
Arceneaux is very average to my eye and hasn't stood out in any real way. I don't see him adding much to this offense anytime soon.
I'm not a fan of Aromashodu—not when he was on the Bears, not since he's been in Minnesota. He has speed and can be a threat on the perimeter, but if he's double covered—or even single covered well—he's got nothing else. He's not creating separation, not physical and not prone to making great catches. He's one-dimensional, and that dimension is duplicated by guys like Jarius Wright who have far more upside.
I would be shocked if two of these guys, much less all three, made it onto the final roster, even with Jerome Simpson suspended for the first three games of the season.
Andrew Sendejo
They are a bit thin at safety, but I don't see them keeping six guys. While the clock may be running on Jamarca Sanford, he'll be around another year even if he doesn't keep his starting job. Eric Frampton has the experience and Robert Blanton just joined the team.
Sure, Sendejo is young, having been undrafted in 2010 and moving around to the Cowboys and Jets before landing in Minnesota late last season.
However, he didn't stick previously because he was only OK at safety. If the Vikings are looking for impact players, Sendejo just isn't a guy who can do that.
Mickey Schuler and Allen Reisner
We know Kyle Rudolph is locked in and John Carlson was signed to a big contract, so he's unlikely to be unemployed. The team loves H-Back Rhett Ellison and the versatility he brings.
Nobody keeps four or five tight ends (OK, sometimes the Packers), and the Vikings are no different. There is little to no upside in holding on to either player here.
Ellison and Rudolph have the size on these two, and Rudolph and Carlson have better hands (though Carlson is both an injury risk an an inconsistent player).
Audie Cole and Trevor Guyton
I know, Audie's my guy. However it's unrealistic to think a late-round pick like Cole or Guyton are locks to make a roster.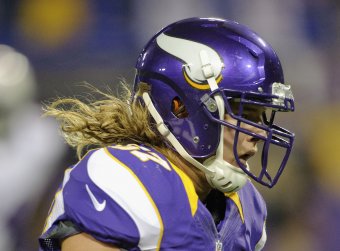 Hannah Foslien/Getty Images
Cole has the better chance because he has played so well in preseason action, but he had a rough camp and a disappointing Week 3, so we can't totally read too much into his games against second and third-stringers.
That said, he has proven himself to be a smart and instinctive player who might have made room on the roster for himself.
Guyton has more depth to contend with at defensive end, but when tackle Letroy Guion was hurt, he saw some work and could stick on the roster to provide some depth on the line.
I like both of these guys and hope they both make it—however, I'd be lying if they were cut and I said I was shocked.
Lex Hilliard and Jordan Todman
I don't see the team keeping four running backs, though I suppose that depends on what happens in the next few weeks with Adrian Peterson.
Hilliard has been around the league and played well, but isn't special—he does several things well but nothing great. He's serviceable as a backup, but no long-term (even a short term long term) solution.
Todman came out of UCONN last year and has a little burst and agility to him, but is impatient. He needs to learn to wait for his blocks to form and holes to open. Like Hilliard, he's more of a committee guy, but one with more upside and untapped potential.
Check out the B/R NFC North Facebook page—like us and keep up with everything NFC North on Bleacher Report! Follow me on Twitter at @andrew_garda.
This article is
What is the duplicate article?
Why is this article offensive?
Where is this article plagiarized from?
Why is this article poorly edited?