Wisconsin Badgers Football: 5 Things to Watch for Against Northern Iowa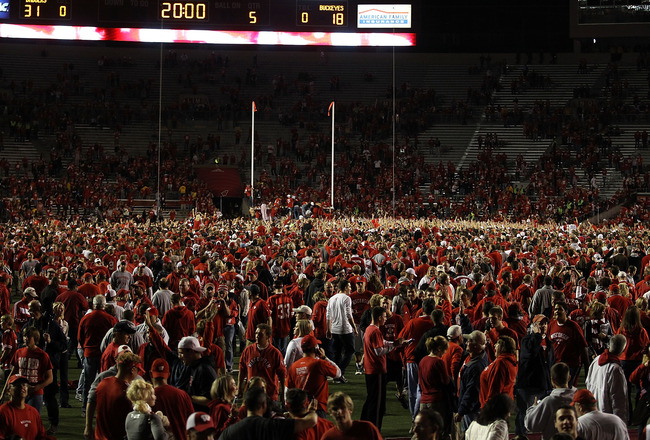 Jonathan Daniel/Getty Images
It's almost here! On Saturday at 2:30 PM CT, the 12th-ranked Wisconsin Badgers take the field for the first time in exactly eight months to begin their quest for a three-peat as Big Ten champions.
We're still a long way off from Dec. 1, when the second-ever Big Ten Championship Game will pin the Legends division winner against the Leaders division winner, but you have to start somewhere.
That somewhere for the Badgers is Camp Randall Stadium against FCS opponent Northern Iowa on Saturday afternoon.
Here are five things to keep an eye on during Wisconsin's season opener.
The Running Game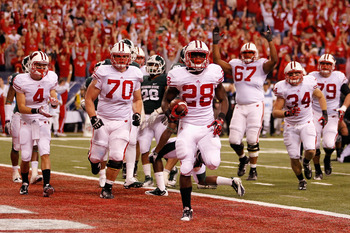 Gregory Shamus/Getty Images
People are intrigued to see how Montee Ball performs in his first game after a tumultuous offseason, as well as how he kicks off his Heisman campaign in 2012.
He's anxious to put the off-field controversy behind him and finally play football, and so is all of Wisconsin.
With the game likely to be in hand by the third quarter, we'll also get a long look at the talent behind Ball, including junior James White, redshirt freshman Melvin Gordon and sophomore Jeff Lewis. True freshman tailback Vonte Jackson is likely to redshirt this season.
It will be a glimpse into a future without Montee Ball.
White should probably get his fair share of touches in the first half along with Ball, and then it will be time to let Lewis and Gordon loose.
It will be one of the few times we get a chance to see them in an extended role this season, so soak it in while you can. A combined 200-plus-yard effort from this group is to be expected.
Danny O'Brien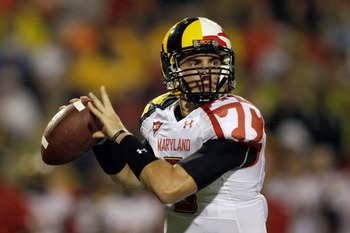 Rob Carr/Getty Images
Junior quarterback Danny O'Brien will make his Wisconsin debut against Northern Iowa on Saturday.
He's the second transfer QB to start for the Badgers in as many seasons, and there is anticipation surrounding O'Brien's first start and how he will perform after Russell Wilson's historic one-year stint in Madison.
What did Wilson do in his first appearance in red and white? Nothing much—just 10-for-13 passing, 255 yards and two touchdowns to go along with 62 yards and a score on the ground.
I'd be willing to put money on O'Brien not matching those numbers, but I expect him to have a stellar performance on Saturday. He should be allotted a few opportunities to wing it down field and show off his arm.
Assuming O'Brien will get a rest for at least a portion of the second half, we should also get a chance to see Joel Stave and/or Curt Phillips.
But the main thing to watch for is O'Brien's understanding of the offense and how he's able to manage the game, which shouldn't be sweat considering he had success his freshman season in Maryland running a pro-style offense—the same offense they run in Madison.
Sharpness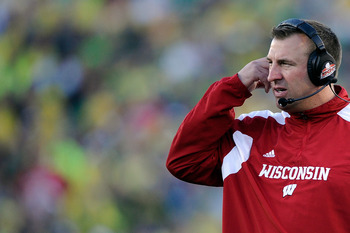 Kevork Djansezian/Getty Images
There are almost always going to be signs of rust in a team's first game of the season, especially in college football, where there isn't the luxury—or burden—of a preseason.
However, Wisconsin can essentially treat its non-conference schedule as its preseason slate. Games against Northern Iowa, Oregon State, Utah State and UTEP don't exact scream "DANGER."
Northern Iowa has to deal with the same cobwebs, but it has no pressure on its shoulders coming into Camp Randall as a huge underdog.
Wisconsin will be allowed some leeway getting back into game shape, but a slip up here and there, and the Panthers could hang with the Badgers for longer than many may have anticipated.
Northern Iowa is no slouch—it is coming off a 10-3 season and the Panthers are ranked seventh in the FCS preseason poll.
The Badgers will want to come out guns a' blazing so that there isn't a shred of doubt lingering in their supporters' minds that Bucky will come out on top.
New Faces on Special Teams
Freshman kicker Jack Russell will look to start his own legacy in Madison.
Over the past four years, the Badgers enjoyed the amenity that was kicker Philip Welch and punter Brad Nortman on special teams.
Other than a bit of a hiccup last season with Welch's injury, these two could be counted on to get the job done—for the most part—until they each graduated last season.
Now, there is a cloud of uncertainty surrounding special teams, especially at kicker, where both freshman Jack Russell and sophomore Kyle French are expected to get kicks on Saturday (via Evan Flood).
Russell was listed as the starting placekicker at the beginning of the week, but Bret Bielema noted it could come down to game time as to who gets the first chance. French, who filled in for Welch at times last season, will be the kickoff man.
At punter, another freshman—Drew Meyer—is locked in. He was a bit shaky in the spring, but he looks to finally be settling in.
Of course, with the Badgers going up against Northern Iowa, we probably won't see him get much of a chance to prove himself. Likewise with both Russell and French.
Nevertheless, keep your eyes peeled for the new faces on special teams. They'll be around for awhile.
Not If, but by How Much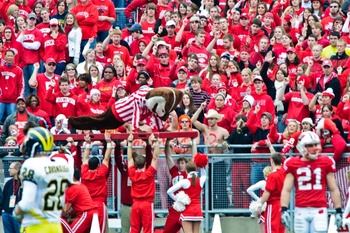 It's not a matter of "if" the Badgers will win on Saturday, but by "how much."
If Wisconsin doesn't have this game in the bag by midway through the third quarter, color me surprised.
You could also color me concerned, because despite Northern Iowa being a fairly decent opponent for an FCS school, it's a team Wisconsin should dispose of without trouble.
A close result against an FCS school doesn't bode well for the rest of the season, but I don't expect that to happen.
The Badgers will run it down the Panthers' throat for four quarters, Danny O'Brien will keep things under control and an experienced defense will keep everything in front of them and shut down Northern Iowa.
Final score: Wisconsin 52, Northern Iowa 17
Keep Reading

Wisconsin Badgers Football: Like this team?