Minnesota Vikings vs Houston Texans: Preseason Week 4 Live Score, Analysis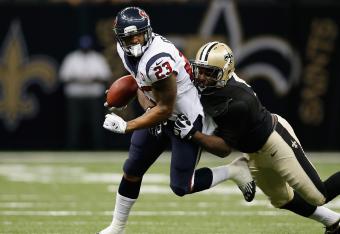 Chris Graythen/Getty Images
It's time to put a bow on the preseason and get down to the games that actually matter.
The Houston Texans head into the 2012 NFL season with plenty of question marks, at least on the offensive side of the ball. No one really knows how much longer Andre Johnson is going to be able to do his thing out on the field, and the knocks he's taken during training camp and preseason games indicate that he may not ever be the dominant receiver he once was.
The departures of Eric Winston and Mike Briesel left the right side of the Texans offensive line somewhat depleted.
But Arian Foster and Ben Tate—the NFL's top rushing tandem last year—are both back in the fold, and both should provide the kind of ground firepower the Texans will need to live up to their billing as the favorites to win the AFC South.
With all of that in mind, it's time to get ready for some real football. We're almost there.
One thing to watch for in the final preseason game: Quarterbacks John Beck and Case Keenum will vie for what will be, for all intents and purposes, a spot on the Texans practice squad. Beck might be able to secure a third-string QB role with a lights-out game here, but it's very likely he'll be cut, with Keenum awarded a spot on the practice squad.
The Vikings turned this into a close game, but the Texans put a stop to Minnesota's attempt to drive down the field and win the game. Case Keenum kneels, and the game is over.
Final score: Texans 28, Vikings 24
Be sure to follow me on Twitter for more NFL randomness, and you'll also want to follow me if you're a fan of the UFC.
And with that, I say: bring on the real stuff.
Justin Forsett has set a team single-game preseason rushing record with 114 yards on 13 carries #HTPreseason

— Houston Texans (@HoustonTexans) August 31, 2012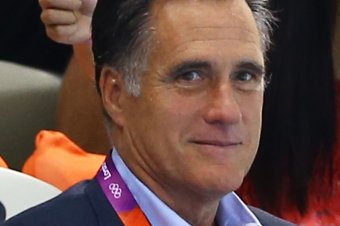 Al Bello/Getty Images
Well, that's interesting.
The local Houston station just announced that they're about to cut away from the game for coverage of the Republican national convention. That means that our detailed live blog is at an end for tonight, but I'll update with any scores and major news while checking out the game on ESPN's Gamecast.
We can be thankful of two things: one, that we're not cutting away from a regular season game to cover the Republican convention. Even here in red-heavy Houston, that wouldn't go over well. And two, that we—and by we, I mean I—don't have to watch any more of this mind-numbingly long preseason game.
I'll keep you updated with scores. Stay tuned.
Keenum can't get anything done on this go-round, either, and so the Texans will punt yet again.
At this point, it feels like it's simply about getting through the game without losing any more important players. Luckily, there are no truly important players on the field any more, so it's a moot point.
Vikings get the ball back with 10:59 remaining in the game.
The Vikings go 3 and out, so the Texans will get the ball back.
Both teams seemingly want to get the game over with, because they're rushing quite a bit. That's not good for Keenum, who needs the opportunity to pass and show his stuff. But at this point, even a spectacular performance likely wouldn't earn him an actual roster spot. He's destined for the practice squad.
Stats after 3 quarters
Passing
Beck: 6/10, 149 yards, 1 TD
Keenum: 1/3, 13 yards
Rushing
Forsett: 10 carries, 102 yards, 2 TD
Grimes: 11 carries, 45 yards
Keenum: 1 rush, 7 yards
Receiving
Posey: 1 reception, 80 yards, 1 TD
Jean: 1 reception, 27 yards
Brock: 1 reception, 21 yards
Iglesias: 1 reception, 12 yards
Grimes: 2 receptions, 17 yards
McClain echoes my thoughts on Keenum:
I feel bad for Case Keenum. He comes in, and they keep running and running and running game. Let the kid throw!

— John McClain (@McClain_on_NFL) August 31, 2012
Texans go 3 and out quickly, and they're forced to punt to the Vikings as the 3rd quarter ends.
Texans stifle the Vikings on that series, and a short punt gives Keenum very good field position at their own 36 yard line.
Can he make a good impression? I'd say he doesn't have much time to do so, but these refs are ensuring that we're in for the long haul tonight.
Texans can't get anything done on offense, so they're forced to punt the ball away.
If we're talking Beck vs. Keenum here, it's not even a contest. Beck easily wins the night. Is it enough to force the Texans to take on a third-string QB? We'll find out tomorrow.
Stats update: The Vikings now have 415 total yards, with 198 passing and 217 rushing.
I realizing we're dealing with third and fourth-string players here, but that's a lot of yardage for the defense to give up.
Vikings score.
Jordan Todman rushes 76 yards for a touchdown. The crowd is livid, believing that Todman stepped out of bounds, but replay shows he was (barely) in bounds.
This is going to be a very long football game, and it's all thanks to the replacement refs.
Texans 28, Vikings 24
One quick note: I can't imagine being one of the players on the bubble who are trying to survive tomorrow's roster cut. Some of them will get picked up by other teams, and some might be assigned to practice squads. But many of them will have their dreams crushed tomorrow.
I can't imagine that they'll sleep much tonight.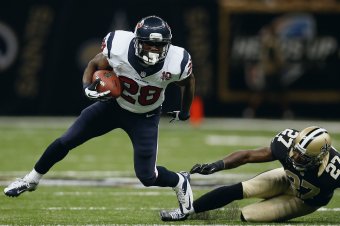 Chris Graythen/Getty Images
Texans score.
Justin Forsett rushes up a massive hole created by the offensive line and scores his second touchdown of the game. It's been a big night for the former Cal running back.
Texans 28, Vikings 17
There's a flag on the play, and you know what that means. Yep, replacement referee hilarity.
It's actually pretty comical at this point, but the fans at Reliant Stadium sure don't think so. They're giving these refs the business, and rightly so.
Texans move quickly to the 5 yard line.
Fumble!
Texans go 3 and out on Keenum's first series, but the Vikings muff the punt return and the Texans recover.
They start near the 30 yard line, and Forsett rushes for 7 yards on the first play from scrimmage. That gives him 84 rushing yards for the game.
Trindon Holliday is done for the game, with Justin Forsett coming in to take the kickoff from the Vikings. It's downed in the end zone.
Case Keenum's first pass of the game goes way over the head of his receiver and is nearly picked off. Keenum showed good footwork in the pocket, but the pass wasn't good.
Keenum scrambles on his second touch and racks up 7 yards or so.
Well, this doesn't appear to be good news:
Indications are that OT Rashad Butler could be lost for season. We won't get any info until we meet with Kubiak after the game.

— John McClain (@McClain_on_NFL) August 31, 2012
Vikings score.
The Texans secondary completely broke down, allowing Vikings WR Jarius Wright to scoop in an easy pass and easily waltz down field for the touchdown.
The cornerback culprit was Shiloh Keo, who failed miserably on the play.
Texans 21, Vikings 16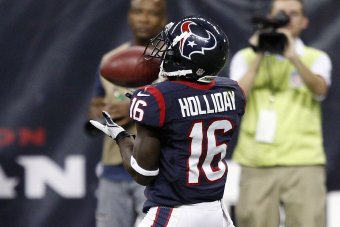 Bob Levey/Getty Images
Texans score.
The Vikings couldn't do anything on their first possession, so they were forced to punt. Trindon Holliday took the punt and ran it 76 yards for the score.
That's Holliday's third return touchdown of the preseason. If there were any doubts as to whether or not the Texans would keep him as a 6th wide receiver and returner, I think they've just been answered. There's no way he doesn't make the team.
Texans 21, Vikings 10
The second half is now underway.
The Vikings get the ball to kick off the second half.
Texans 14, Vikings 10
More notes from the first half:
- Texans have 251 total yards, with 146 passing yards and 105 rushing yards. '
- Gary Kubiak told ABC's Bob Allen that he hates to jump the gun, but Rashad Butler's injury didn't look good. It'll be a big blow to the Texans offensive line if Butler is out for the season or even a lengthy amount of time.
Houston Chronicle football guru John McClain weighs in on Beck's first performance in the first half.
It's going to be hard for Gary Kubiak to cut John Beck after he posted a 137.5 rating in first half. He was 6-of-10 for 149 yards and 1 TD.

— John McClain (@McClain_on_NFL) August 31, 2012
Did Beck do enough to earn a roster spot?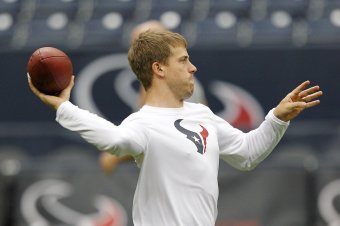 Bob Levey/Getty Images
It's halftime.
I mentioned earlier that John Beck needed a good game in order to leap into the 3rd-string QB spot. I don't know if he did exactly that, but he had a great half. He went 6/10 for 149 yards and a touchdown, with an overall rating of 137.5.
We'll see what former Houston Cougars QB Case Keenum has to offer in the second half.
Justin Forsett had a great first half rushing. The Texans already have the best 1-2 rushing tandem in the league with Arian Foster and Ben Tate, and Forsett as the 3rd-string guy makes them incredibly deep at the position.
An interesting stat: No Texans receiver has more than 1 reception thus far, with 6 players grabbing 1 reception each.
Halftime Stats
Passing
Beck: 6/10, 149 yards, 1 TD
Rushing
Forsett: 5 carries, 77 yards, 1 TD
Grimes: 5 carries, 29 yards
Receiving
Posey: 1 reception, 80 yards, 1 TD
Jean: 1 reception, 27 yards
Brock: 1 reception, 21 yards
Iglesias: 1 reception, 12 yarda
Vikings score
Devin Aromashodu takes a short post route from Rosenfels and runs all the way down for a Vikings touchdown.
Texans 14, Vikings 10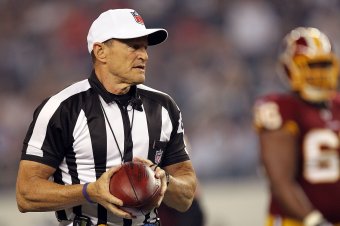 Ronald Martinez/Getty Images
The replacement referees strike again.
After the Texans punt, the refs attempt to make sense of something that happened on the play. I'm not sure what happened, and neither are the television announcers covering the game. After an extended amount of time spent underneath the instant replay hood, the main official emerges...and still has no idea what is doing on.
The ref confers with the other officials. He talks to both coaches. And he still can't make a determination on what's going on.
After five minutes and 44 seconds—I'm not kidding with that number, by the way—they finally announce that the Texans will punt again.
Sheesh. I can't harp on it enough: the replacement refs are going to be a very bad thing for football until the real ones return. I never thought I'd say it, but I miss Ed Hochuli and his comically huge biceps.
This article is
What is the duplicate article?
Why is this article offensive?
Where is this article plagiarized from?
Why is this article poorly edited?

Houston Texans: Like this team?