WWE: Lesnar/HHH and Rock/Cena Both at WrestleMania 29 Is a Huge Mistake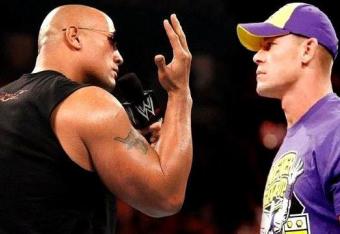 Photo courtesy of WWE

Brock Lesnar vs. Triple H at WrestleMania would be a mistake.
We're already hearing rumors of The Rock vs. John Cena at WrestleMania.
Stop with all the sequels. Yes, The Rock vs. Cena drew big the first time. Yes, Lesnar and Triple H drew well for SummerSlam. I'm okay with trying to get more money out of those matches because they worked the first time―but not at WrestleMania.
The Rock, John Cena and CM Punk comprise the different combinations of possible matches for this year's Royal Rumble and WrestleMania. In the midst of the combinations, there is the possibility of The Rock vs. Cena again at WrestleMania for the WWE Championship. What a waste.
First off, last year they made and promoted the match to be worth more than the WWE Championship. I'm not knocking CM Punk vs. Chris Jericho, but that's what WWE did.
Seeing The Rock and Cena again on the WrestleMania stage with the belt on the line is not intriguing. Cena isn't going to lose twice to The Rock. The Rock isn't going to walk out of WrestleMania as WWE Champion. He might walk in with the title, which is smart business, but he isn't leaving.
Now sure, The Undertaker's WrestleMania match outcomes are pretty predictable. We all have great confidence with little doubt that he's going to win. It doesn't take away from enjoying the spectacle of the match. This doesn't apply to The Rock and John Cena, because we've already seen it. They gave us 20-plus minutes of a story in the ring last year. Let's move on.
If you want to cash in on the headline of the two again, do it at Royal Rumble.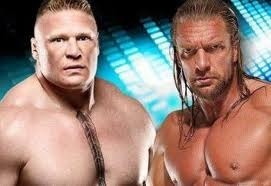 If one sequel isn't enough, there's talk of Triple H returning to the ring at WrestleMania against Brock Lesnar. No.
They had an entertaining build to their SummerSlam match. They did all the work in the storyline until Heyman and Lesnar finally agreed to the match. Lesnar wins and leaves WWE. Why or how are you really going to logically have Lesnar fight Triple H again?
The question of how you make the match logically happen again is still there, but if the match is going to happen again, do it at the Hell in a Cell pay-per-view in October.
The one way to make Triple H vs. Brock Lesnar an even bigger draw is to put them in a Hell in a Cell match. We already associate violence and physicality with Brock Lesnar. Triple H has a proven track record of entertaining and violent Hell in a Cell matches.
I don't know how you get the match logically booked, but if you do, I'd pay to see it.
If you do the match at WrestleMania, WWE is providing another sequel of a match on what is supposed to be the grand stage where we get fresh, dream matches. It's also another match that is too predictable. Does anyone think Triple H is going to lose again?
The other possibility is Lesnar versus Triple H at WrestleMania 29 in a Hell in a Cell. It would make the match exciting, but do it at the pay-per-view where Hell in a Cell is the gimmick. Do it at the pay-per-view that needs it. WrestleMania is going to do more than a million buys with all of the other attractions that WrestleMania will have.
Brock Lesnar vs. Triple H in a Hell in a Cell match is of bigger value to WWE in October at the gimmick pay-per-view than at WrestleMania 29.
This article is
What is the duplicate article?
Why is this article offensive?
Where is this article plagiarized from?
Why is this article poorly edited?