Green Bay Packers: Will Pack Get Better or Worse in 2012 NFL Season?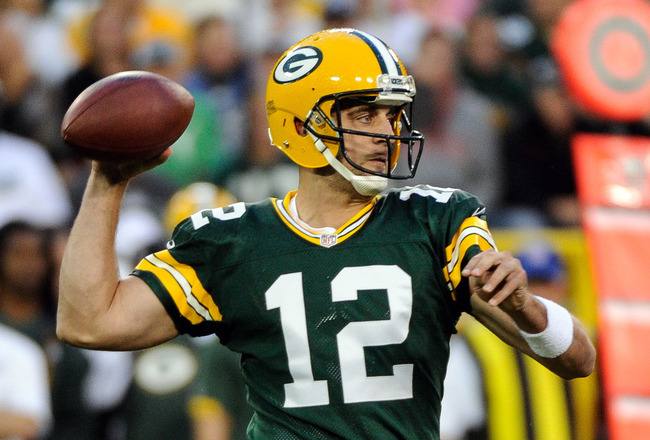 Will Aaron Rodgers lead the Packers into the NFL Promised Land?
Benny Sieu-US PRESSWIRE
At first glance, viewing the Green Bay Packers' regular season record of 15-1 from last year doesn't exactly leave much room for improvement.
On the contrary, looking at the New York Giants' regular season mark of 9-7 from last season leaves ample room for an upgrade.
But as any reputable columnist worth his or her salt would do, delving below the surface reveals that the seemingly inferior record actually went on to achieve superior things.
The nonthreatening nine-win Giants of 2011 met the vaunted Packers in the divisional playoffs and summarily beat them 37-20. Aaron Rodgers and the mighty Pack failed in their quest for another Super Bowl title the first chance they got.
So going back to the original idea, can the Packers get better in 2012?
They most certainly can.
But will the Pack get better this year?
Despite posting fewer wins in the regular season, they'll advance further in the playoffs and will indeed be better.
Let's now examine the three reasons why the Green Bay Packers will be an improved team in 2012.
Offensive Continuity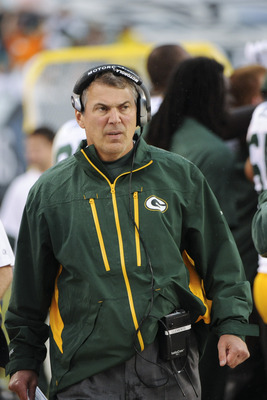 Tom Clements has facilitated Rodgers' development.
Howard Smith-US PRESSWIRE
Many football fans outside of Wisconsin viewed the departure of offensive coordinator Joe Philbin as a huge loss for the Packers.
The new Dolphins head coach was certainly a valuable member of Green Bay's staff. That said, he was by no means essential to the Packers success in 2011.
Management promoted in-house by tabbing quarterbacks coach Tom Clements as the new OC. Clements has coached Rodgers since his sophomore season in 2006. That means he was the quarterback's primary coach during his Super Bowl-winning 2010 season and record-setting campaign in 2012.
It could then be deduced that Clements was as fundamental, if not more so, to the Packers offensive success than was Philbin. Rodgers led the offense; Clements led Rodgers.
Furthermore, head coach Mike McCarthy has always called the plays. That qualifies any offensive coordinator as more of a background facilitator that aids in planning and in-game adjustments, as the Associated Press reported last year (via ESPN).
However, Rodgers acknowledges Clements as the man who best developed him as a successful quarterback (via ESPNMilwaukee).
(All due respect intended toward McCarthy.)
Clements, then, was and still is the most qualified man for the job.
He and McCarthy will continue to facilitate Rodgers' and the Packers' offensive reign over the rest of the NFL in 2012.
Reinforcements on Defense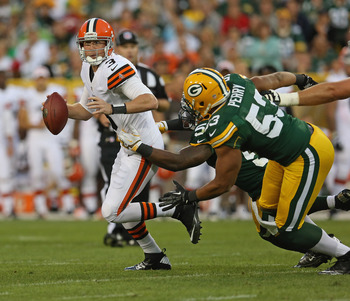 Nick Perry showing off his pass-rushing skills against fellow rookie Brandon Weeden.
Jonathan Daniel/Getty Images
No single area that the Packers could have possibly improved any more on is the defensive side of the ball.
The Pack ranked an embarrassing dead last in total defense in 2011. Their No. 32-rated passing defense contributed greatly to that ungodly ranking.
This 15-win, offensive-minded team also surrendered 22.4 points per game and registered the third-fewest sacks (29) in the NFL.
General manager Ted Thompson could not have addressed these deficiencies any more thoroughly than with how he orchestrated the Packers' 2012 draft.
First-round pick Nick Perry (DE/OLB) of USC provides a vigorous pass-rushing element opposite Clay Matthews. Too often did teams double up on Matthews last year, rendering Green Bay's pass rush ineffective. Perry will help diversify this area of the defense.
Jerel Worthy, the second-round defensive tackle out of Michigan State, fortifies an already top-14 rushing defense. The first-round talent will occupy the interior of the line next to nose tackle B.J. Raji, providing depth as both a run-stuffer and interior-rusher.
Green Bay then infused talent into a dreadful secondary with third-rounder Casey Hayward. The Vanderbilt product received tremendous praise from NFL Network's Mike Mayock when Thompson selected him back in April.
He's one of the most instinctive corners in the draft. After Morris Claiborne, Hayward has the best ball skills of any of the corners in the draft. I love this pick for the Packers.
For a team that managed a league-high 31 interceptions, the secondary became more ball-hawkish in coverage with Hayward now on board. At the same time, they'll operate in a more technically sound manner with the presence of the intuitive Hayward.
Also, fifth-round selection Terrell Manning might rise up through the ranks and contribute in the run game at outside linebacker.
The Packers will still have their weaknesses on defense. Be that as it may, expect them to emerge from the dregs into a top-20 ranking with the aforementioned draftees, other new additions and overall depth.
As Mike Spofford of Packers.com wrote, the defense is indeed a "unit in ascent."
That ascent will help the Pack grow into a much-improved team through and through.
Revenge Factor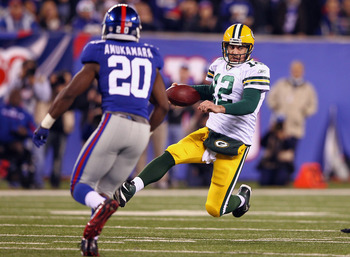 Sometimes inspiration derives from the vengeful side of things.
Al Bello/Getty Images
"Discount Double Check" or not, Aaron Rodgers possesses a killer instinct that is not necessarily reflected in those self-deprecating commercials.
His passion for winning and for winning big is as ardent as exists in any player in the NFL. His deadly skill set and surrounding offensive weaponry allows him to put up huge numbers on the scoreboard and in the stat sheet, no matter the opponent.
The Packers scored 40 or more points five times and 30 or more 10 times in 2011. Rodgers himself threw for 300-plus yards in eight games, capped off by 408 in Week 4.
And what did that amount to? An absurdly dominant 15-1 record.
Only one problem: Rodgers and the Packers were one and done in the playoffs at the hands of the New York Giants—a team they had already defeated, no less.
Rodgers was off the mark, his receivers dropped multiple passes, the defense couldn't tackle and Eli Manning absolutely outplayed his counterpart and defending Super Bowl champion.
But what once existed as the problem, now lays the catalyst for the solution. There's simply no way that Rodgers and Co. will allow for consecutive postseason collapses. They'll get their revenge in Week 12 against the Giants and feed off of it moving forward.
With the offense intact and a fully revamped defense, the Packers have the coaching staff, personnel and necessary mindset to move beyond the mere divisional round.
Like Bruce Wayne biding his time until the appropriate hour to return as Batman and save Gotham…
How about we just settle for a guarantee of a Packers berth in the 2012 NFC Championship game.
Let's leave any Super Bowl prognostications for a later date.
Follow this non-Packers fan on Twitter @jlevitt16. I swear we can still be friends.
Keep Reading

Green Bay Packers: Like this team?