Minnesota Timberwolves: 3 'Wolves Ready for a Breakout Season in 2012-13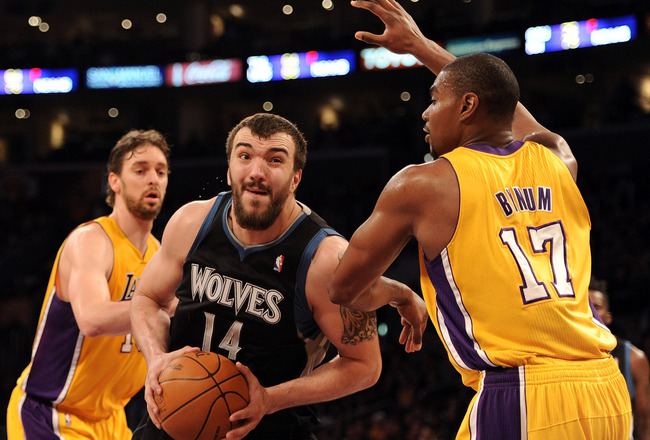 Harry How/Getty Images
The Minnesota Timberwolves were on track to reach the NBA playoffs last before a slew of injuries crippled the team, but now the 'Wolves are back and ready for a few breakout players to help them reach the elusive postseason.
The Timberwolves finally seem to have some excitement surrounding the team, and the moves the team made this offseason will help them become a contender.
Minnesota had an active offseason, as it first decided not to retain most of the forwards from last year. Anthony Randolph, Wesley Johnson, Anthony Tolliver and Michael Beasley are all gone.
The team replaced this underachieving group with the likes of the versatile Chase Budinger, a rising star in Alexey Shved, the veteran Russian Andrei Kirilenko and a man trying to resurrect his career in Brandon Roy.
While this group is going to be crucial to the team's success, it is Roy and two other 'Wolves who will need breakout years if Minnesota wishes to become a contender.
Brandon Roy, SG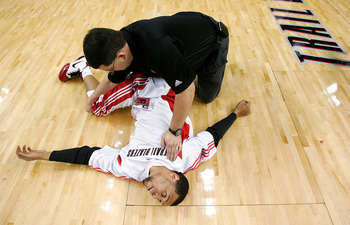 Jonathan Ferrey/Getty Images
Brandon Roy could be the steal of the offseason, but only a breakout year will prove it.
Minnesota signed the former All-Star to a two-year, $10.4 million contract. This may seem like a lot for a guy coming out of retirement, but Roy is only one year removed from the league.
Roy could be the SG Minnesota has always lacked. He is big, strong and can shoot from anywhere on the floor.
He needs a breakout season to not only justify his contract but to show that he is not done in the NBA.
It will not be easy for Roy to return to his former glory, but a breakout season will prove he can still play, and it will boost the Timberwolves into playoff contention.
If Roy fails, it will hurt him more than the 'Wolves. Minnesota has multiple guys such as Alexey Shved and even Chase Budinger to play the 2-guard, but Roy needs this season if he hopes to continue his career in the NBA.
Derrick Williams, SF/PF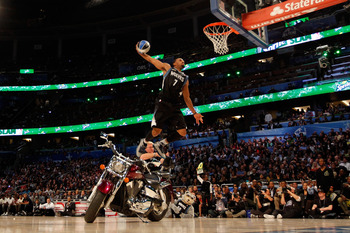 Mike Ehrmann/Getty Images
Like Roy, Derrick Williams needs a breakout season to continue his career, but it is to continue his career in Minnesota.
Williams has been part of many trade rumors this offseason. Brad Berreman of Yardbarker.com reports that Williams still could be part of a trade that would send him and G Luke Ridnour to the Cleveland Cavaliers for PF/C Anderson Varejao.
If David Kahn wants another big man, Varejao would certainly fit the bill. Not only does he have experience as a PF/C, he is highly energetic and a good locker room guy.
If Williams wants to stay in Minnesota, he will need to prove he is a far better player than what he showed last season. He shot 41.2 percent from the field, 26.8 percent from downtown and a horrible 69.7 percent from the charity stripe.
Williams has a chance to be a good small forward in this league, and a breakout season would ensure he is in Minnesota for years to come.
Nikola Pekovic, C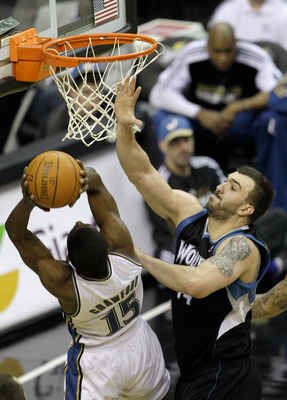 Rob Carr/Getty Images
Roy and Williams need to have breakout years in order to stay in Minnesota, but Nikola Pekovic is different in that he is just going to have a big year.
The 6'11" center was going to be a physical presence, but it was his scoring ability that shocked people last season. Pekovic averaged almost 14 points in 27 minutes per game.
He also scored in double-digits every game he played during the month of April and scored 30 points against Houston back in February.
This season, Pekovic will not wait until the end of January to get playing time, and then add to the fact that Love can draw people away from the center to give Pekovic room to operate.
Pekovic has now shown that he can be a regular contributor on the offense, but if he can take the next step to being more than just a pretty good center, the Timberwolves will have one of the best frontcourts in the NBA.
If these three players play to their best and have breakout seasons, the Minnesota Timberwolves would not only sport a great frontcourt but they possibly would have one of the best starting lineups, from top to bottom, in the entire league.
Keep Reading

Minnesota Timberwolves: Like this team?