Cream of the Crop: Best 5-Tool Players of the 2012 Season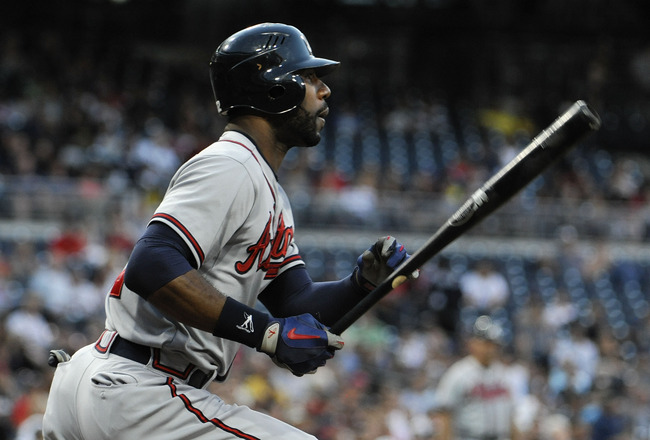 Denis Poroy/Getty Images
Willie Mays, Barry Bonds, Andre Dawson, and Ken Griffey Jr. These are the players that every kid strives to be. They want to be the best in every way and put up numbers that show that they did not lack in any certain area of the game.
In today's game, five-tool players are much more common due to the fact that wanting to be great is like eating and breathing; they want nothing more.
The 2012 season has been absolutely fantastic so far with rookies outshining all other talent, and comeback seasons that most analysts could never have seen coming, but in the end, the best all-around talent is what makes the game's greatest shine out.
Here I have designed a list of the 10 best all-around players from the 2012 season while giving into consideration all aspects of the five-tool process: hitting for power and average, base-running ability, along with fielding and throwing abilities.
Just Missed the Cut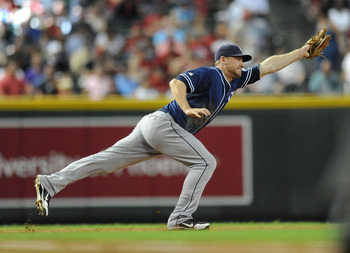 Chase Headley
Norm Hall/Getty Images
Here are a few players who were the last ones cut when slimming down my list:
Ian Desmond: He is only one home run and five stolen bases away from a 20/20 season and also has a fair amount of doubles with 25. The reason he is not on his list because he has committed 13 errors at shortstop.
Shin-Soo Choo: Has 35 doubles which is tied for ninth-best in the league and has only two errors to go along with a respectable .278 average and .820 OPS.
Chase Headley: The huge breakout star of the National League has 22 HR and 13 SB as well as a great .830 OPS. He misses the list due to his 10 errors at third base.
Austin Jackson: The unsung hero of the Detroit Tigers, Jackson leads all players in this article with eight triples and has committed only one error. He also sports an incredible .880 OPS.
Brandon Phillips: This Reds second baseman has 28 two-baggers, along with 14 HR and 11 SB. His four errors are tied for second-fewest among NL second basemen.
10. Paul Goldschmidt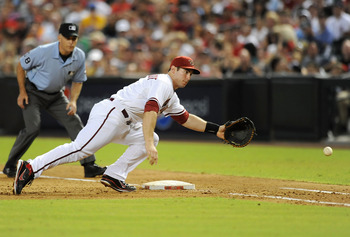 Norm Hall/Getty Images
2012 Statistics
AVG: .287
OPS: .867
2B: 36
3B: 1
HR: 18
SB: 13
Errors: 7
The 24-year old kid out of Wilmington, Delaware has made a splash in his first full season in the bigs. Though his HR and SB total are not amazing, he and Eric Hosmer are the only first basemen with 10 HR and 10 SB.
On the other side of the ball, his glove has been nothing short of spectacular, his Range Factor measures at 9.57, fifth-best among all first basemen and .39 points higher than the magnificent Mark Teixeira.
Goldy is on his way to a 20/20 season, and DBacks fans must be thrilled knowing they have a star in the making for years to come.
9. Edwin Encarnacion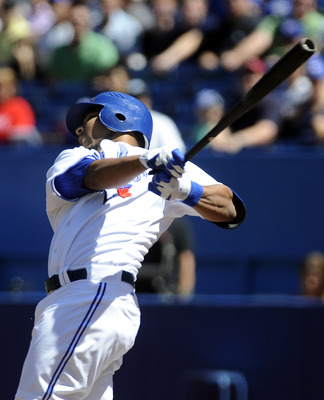 Brad White/Getty Images
2012 Statistics
AVG: .288
OPS: .948
2B: 23
3B: 0
HR: 34
SB: 13
Errors: 3
Jose Bautista, who? This 3B/DH is without a doubt the surprise power performer of the league. Having never hit more than 26 HR in his career, Encarnacion has put on a power splurge north of the border. His 34 bombs ranks fourth in the league, and his 948 OPS ranks fifth. As a matter of fact, only him and a player later on this list have 30 HR and 10 SB.
Though he has played only a combined 66 games in the field at 1B, 3B and LF, Encarnacion has only three errors and a very impressive range factor of 9.84 at first base.
While Encarnacion is only the second oldest player on this list, he surely deserves a spot due to his all-around stellar play for the lowly Blue Jays.
8. Aaron Hill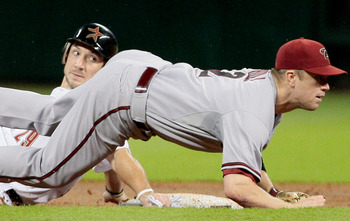 Thomas B. Shea/Getty Images
2012 Statistics:
AVG: .296
OPS: .856
2B: 31
3B: 5
HR: 20
SB: 11
Errors: 4
Not only has Hill hit for the cycle TWICE this season, all of his offensive numbers are nothing less than stellar. I'm sure we all remember Hill's 2009 with the Blue Jays, when he hit 36 HR, drove in 108 and was five hits away from the special 200. I, along with probably most of you, believed it was just one fluky year.
Hill's four errors are tied for second-best of all NL second basemen, and his 1,058 innings are third-best among the league at his position. Only one year older than Encarnacion, thus the oldest on this list, Hill has finally risen to the peak of his position of the National League and should surely be coming home with some personal hardware after the season.
7. Carlos Gonzalez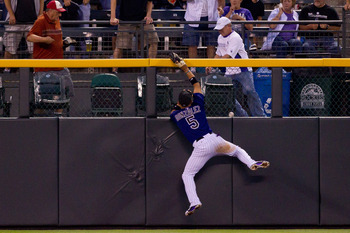 Justin Edmonds/Getty Images
2012 Statistics
AVG: .308
OPS: .907
2B: 25
3B: 5
HR: 21
SB: 16
Errors: 3
Outfield Assists: 7
Thanks to the DL stints to Tulo and Cuddyer, CarGo is the only true pro on the Rockies. A lineup full of minor league talent has brought a nasty season to Colorado. Their one and only shining star in 2012 is Carlos Gonzalez. Only four stolen bases away from his third straight 20/20 season, Gonzalez has become one of the best all-around talents in the game and joins only one other PTNBL with 25 doubles, five triples, 20 home runs and 15 stolen bases.
He has only nine errors in his career and committed one in his Gold Glove 2010 season. He played only 125 games in 2011 due to injuries, so his chance at a second straight award was taken.
I saw Gonzalez play for the first time in person the other day, and I concluded that there are very few other players who have the kind of star talent he possesses.
6. Adam Jones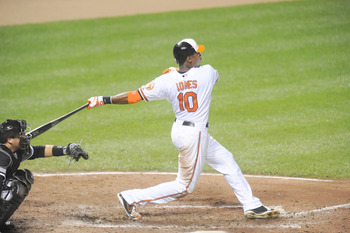 Mitchell Layton/Getty Images
2012 Statistics:
AVG: .288
OPS: .843
2B: 30
3B: 3
HR: 25
SB: 12
Errors: 7
One of the most lively personalities on and off the field, Adam Jones has become one of the underrated names in the game. While he won't shock you with 35 home runs and 100 RBI, he will stun you with his ability to put up better than respectable numbers in every aspect of the game.
In 2009 and 2010, Jones was one home run away each year from a 20/20 season, almost making this 2012 campaign his fourth straight 20/20 output. His OBP is a decent .336, but that is due to his measly 26 walks this thus far.
The most impressive part to his game, though, is his glove. He leads all Major League outfielders with a combined 34 assists since the start of 2010 and is the active leader with a 2.71 range factor/game for all outfielders.
5. Andrew McCutchen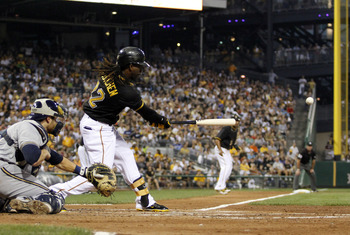 Justin K. Aller/Getty Images
2012 Statistics
AVG: .345
OPS: .979
2B: 24
3B: 5
HR: 24
SB: 15
Errors: 1
Outfield Assists: 2
The favorite to win the NL MVP while hitting an awful .232 over the last 28 days put together a trio of months from May-July that is jaw-dropping. He hit an unreal .392 with 22 HR, 59 RBI, an OPS of 1.157, and a BAbip of a Ruth-like .435. While his stolen bases total is not nearly as impressive as it was in 2011 (23) or 2010 (33), his 15 swiped bags are still respectable due to the fact that he does not need to steal as many bases because he is the main creator of runs for the Bucs.
While his glove has never been as spectacular as that of Jones or Gonzalez, he has committed only one error in 306 total defensive chances. McCutchen takes the four-spot above of Jones and Gonzalez because his bat is so much better, though his fielding work, while still near-perfect, is not as assisting as the others.
4. Jason Heyward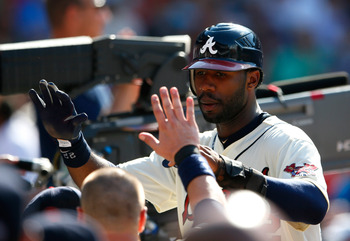 Kevin C. Cox/Getty Images
2012 Statistics
AVG: .277
OPS: .854
2B: 24
3B: 5
HR: 24
SB: 19
Errors: 4
Outfield Assists: 11
One of the most highly-anticipated prospects in baseball history, Jason Heyward had unparalleled hype before his call-up in Atlanta, and he most certainly did not disappoint. Sporting a .277 average, 18 HR, and 72 RBI his rookie season, his sophomore season slumped due to a .227 average, 14 HR, and 42 RBI.
This year though, there is no doubt that Heyward has become a top-five candidate for the NL MVP.
Only one swiped base away from his first of many 20/20 seasons, Heyward is quietly putting together the star season that was expected of him. Even more impressive than his bat this year has been his glove. Having already eclipsed more assists this year than his first two seasons combined, Heyward has become a no-go for runners attempting to tag from third.
I'm very excited to see how Heyward's season ends, and I am really pushing for him to go 30/30 for this year and beyond.
3. Alex Rios
Jonathan Daniel/Getty Images
2012 Statistics
AVG: .302
OPS: .849
2B: 27
3B: 6
HR: 20
SB: 20
Errors: 6
Outfield Assists: 7
Rios' best season came in 2007 when he hit .297, hit 24 HR, drove in 85 and stole a respectable 17 bases for Toronto. In 2010, when he stole a career-high 34 bases for the South Siders, Rios looked as if he would be a born-again All-Star for the White Sox.
Clearly, his 2011 season was one for the toilets, but due to a change in batting stance and approach at the plate, Rios is the only player in the entire league with 20-plus home runs, 30+ doubles and 20-plus steals. If you had asked me in April if that would have been true, I would have thought you were crazy.
The MVP of the White Sox season thus far, Rios' glove in the right field has improved far more than anyone would have thought. With the 10th-best range factor in the league and the seventh-most innings played of any outfielder, Rios has a very nice shot at winning his first Gold Glove.
There is no doubt that this is the player that Kenny Williams had signed just three years ago this time in 2009 waivers from the Jays.
2. Ryan Braun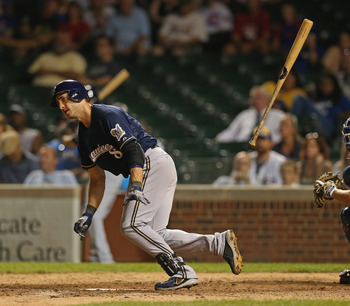 Jonathan Daniel/Getty Images
2012 Statistics
AVG: .306
OPS: .984
2B: 25
3B: 3
HR: 35
SB: 20
Errors: 6
Outfield Assists: 6
No Prince, no problem. PED's or not, Ryan Braun has continued his onslaught of the National League without his big buddy. Currently leading the NL in HR, RBI, OPS and total bases, Braun has put together yet another MVP candidate season, and if you think about it, he is on his way to a Cooperstown career. With a .311 average, 196 home runs and 621 RBIs in his almost six full seasons, his numbers just barely trail Pujols' first six historic years.
Though Braun has never won a Gold Glove, he is as consistent as you would want in an outfielder, and while not too flashy, gets the job done with just a little extra. Though he has committed the same amount of errors as 2009-2011 combined, his six assists are about on pace with his previous success.
1. Mike Trout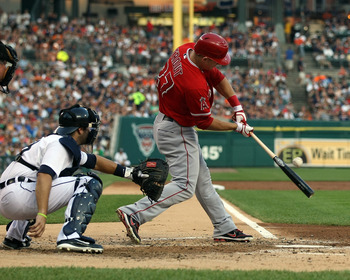 Dave Reginek/Getty Images
2012 Statistics
AVG: .340
OPS: .995
2B: 22
3B: 6
HR: 25
SB: 41
Errors: 4
Outfield Assists: 2
Name a list that has been made that does not include Mike Trout at the very top... probably one with only pitchers is my guess. Trout has set the bar for all offense in 2012 while also putting on some defensive displays that would impress even the greatest of centerfielders.
Leading the league in runs (101), stolen bases (41), batting average (.340), slugging percentage (.593), OPS (.995) and OPS+ (179), Trout is having a rookie season that puts the great Mickey Mantle's first year to shame.
Trout is always shown with the big smile of his or a look of complete seriousness that it is a privilege to see this kid perform while still having a blast and putting on a show for the record books. I don't have to debate how great his glove is; we've all seen the plays, but from next season and beyond, Trout will be a perennial All-Star as well as win at least 10-plus Gold Gloves and Silver Sluggers, along with at least three to five MVP awards.
Not too bad as the future of baseball at only 21 years old...
Keep Reading