New York Knicks: 7 Ways to Improve the Bench Before the Start of the Season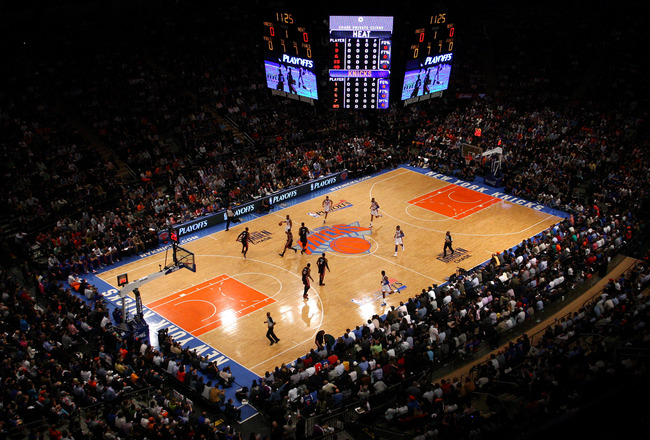 Which players will light up MSG this season?
Chris Chambers/Getty Images
For the New York Knicks, this offseason was about role players as opposed to the stars. With the season just around the corner though, their offseason work is far from over.
Despite not losing any member of their "Big 3" frontcourt, the Knicks will look significantly different this season. Jeremy Lin, Baron Davis and Landry Fields are gone. Jason Kidd, Marcus Camby and Raymond Felton have arrived.
The Knicks have greatly improved their bench by adding Ronnie Brewer and Pablo Prigioni in addition to Camby and Kidd. However, there are still moves to be made.
The Knicks were disappointing last season, and a strong bench will be crucial to bringing the team back to the top.
1. Go After Kenyon Martin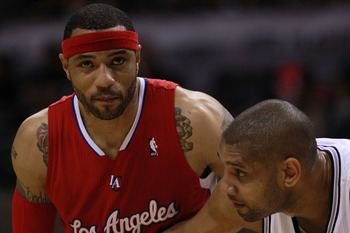 Kenyon Martin preparing for a rebound
Ronald Martinez/Getty Images
It is highly possible that the Knicks are done rounding out their roster, but if they choose to add another player, they could do much worse than Kenyon Martin.
He is a very strong player with the capacity to rebound and defend effectively. He would be an ideal player to pair with Marcus Camby coming off the bench. He is in the latter stages of his career and doesn't bring much offensively anymore, but he is still an experienced leader.
2. Teach J.R. Smith to Shoot Less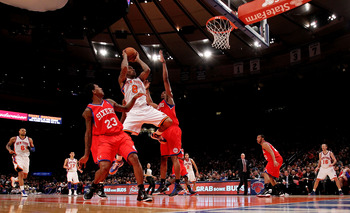 J.R. Smith taking a shot over two players
Nick Laham/Getty Images
It's easy to remember the electrifying dunks and the three-pointers when J.R. Smith's first season with the Knicks is mentioned, but there was more than that. Too much more.
In the 27 minutes he played per game, Smith averaged over 11.5 shots taken per game. Of those, he made 4.7 per night. There were games where Smith would just keep shooting despite repeatedly missing.
For the bench to be more effective this season, Smith needs to take less shots and be more intelligent with his selection. New York cannot afford to let him shoot away his misfortune.
3. Inquire About Michael Redd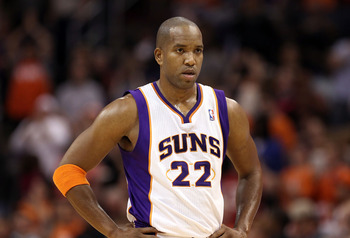 Michael Redd
Christian Petersen/Getty Images
Michael Redd was once believed to be virtually finished due to knee injuries. However, he proved last season that he is still an elite shooter and can hang with the big boys.
He shot .380 percent from behind the arc and was an effective piece of the Suns offense. Fox Sports' Sam Amico did not mention the Knicks as one of the teams chasing Redd, but the Knicks would be smart to take a look at the veteran.
He has loads of experience and would be a solid piece for any contender.
4. Look at Darko Milicic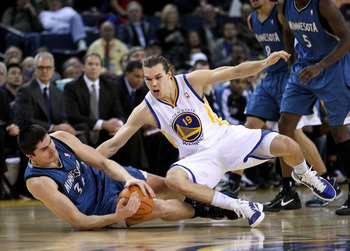 Darko Milicic fighting for the ball
Ezra Shaw/Getty Images
Due to being drafted second overall, Darko Milicic will never be seen as anything but a disappointment. However, that doesn't change the fact that he is still a solid interior defender.
He is big, strong and blocks shot consistently. He is a valuable asset at 7'0" and shouldn't be looked down upon because of his past.
The Knicks don't have fond memories of Milicic's one season with New York, but he would still be a good player to have coming off the bench behind Marcus Camby. He doesn't attract much attention offensively, but he can rebound and that's something you just don't say no to.
5. Teach Steve Novak to Move Around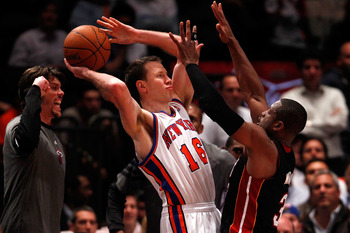 Steve Novak being suffocated by Dwayne Wade
Jeff Zelevansky/Getty Images
There is no other word for the season Steve Novak just put up but awesome. He shot .472 percent from downtown and made big shot after big shot.
He was there when the Knicks needed him and his discount double check celebration made him a star at MSG. However, come the playoffs he was largely ineffective. The Miami Heat played him man-to-man and rendered him useless once he was unable to play with space.
If Novak wants to continue his run of dominance for New York and justify the four-year, $15 million deal he just signed, he needs to learn to create separation. He is weak defensively, so to keep his playing minutes, learning to move effectively is essential.
6. Defense, Defense, Defense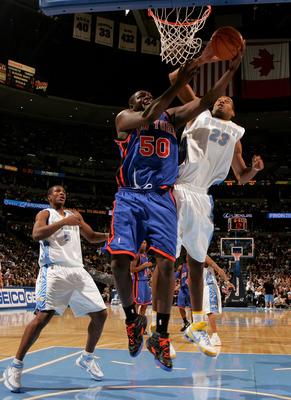 Marcus Camby blocking Zach Randolph
Doug Pensinger/Getty Images
If New York wants to make a playoff run, nothing will be more important than defense. The arrival of Defensive Player of the Year Tyson Chandler and departure of the offense-oriented Mike D'Antoni bolstered the Knicks to improve to the 20th best defense in the league, but it's not enough.
With players such as J.R. Smith coming off the bench, offense won't be an issue for New York. So, a solid defensive mindset must be implemented before the season even begins. Coach Mike Woodson must use former Defensive Player of the Year Marcus Camby to lead the second unit on the other side of the ball.
Woodson did a good job of upgrading the defensive intensity last season, but with the defensive liability that is Steve Novak continuing to be a key part of the second team, defense must be the focus of this offseason.
7. Check out Mickael Pietrus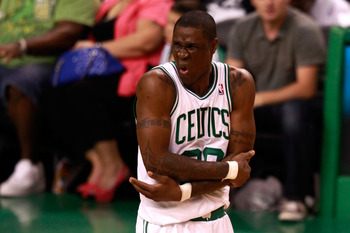 Mickael Pietrus celebrating a shot
Jared Wickerham/Getty Images
Ok, so signing Mickael Pietrus is highly unlikely. NESN has reported Pietrus will not sign a veteran's minimum contract and that is all the Knicks can offer at this point.
However, as opening day creeps closer, Pietrus might find himself desperately searching for a squad to join. The Frenchman is likely to return to Boston, but if the Knicks could snatch him up it would be a huge acquisition.
Pietrus is strong and can defend solidly while bringing various tools to the offense. His size allows him to move inside while threatening with his jumper.
Pietrus doesn't have MSG in his sights, but a team can dream.
Keep Reading

New York Knicks: Like this team?