15 Guys with the Best Hair in World Football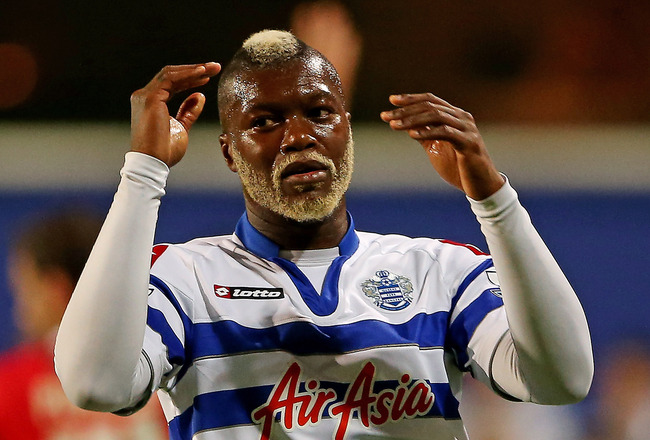 Scott Heavey/Getty Images
In Biblical times, Samson was a man who was granted superhuman strength in his endeavors, a strength that would fade if he were to cut away his lustrous locks.
Fast forward a few millennia, and it seems that a select few in the football community were paying attention to the parable of Samson in particular, Christian or otherwise.
Of course, it's severely debatable as to whether any player actually lost some of their talent without their signature 'dos, but it's nice to think that the case is as such.
Over the next 15 slides, we'll see just who has made the cut amongst the sport's elite in terms of hair styling, regardless of how talented (or not) they may be.
15. Bacary Sagna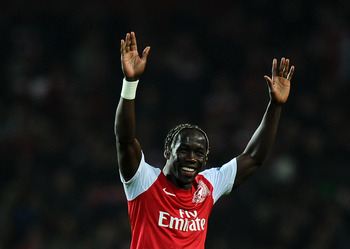 Mike Hewitt/Getty Images
Don't fret, a facehugger from the Alien franchise isn't nestled upon Bacary Sagna's head; it's merely the Gunners full-back's cornrows.
It's a good thing for Sagna that he's been such a success since moving to Emirates Stadium in 2007, because God only knows how much it must cost to keep those frosty lengths in top condition.
I can't help but cringe every time I see the French international going up for a header, as I can only imagine that the weave-looking style must pain the skull when facing impact.
That said, I'm still jealous that I'd never be able to pull off such a look. Although I'm still uncertain as to whether Sagna does either.
14. Alessandro Diamanti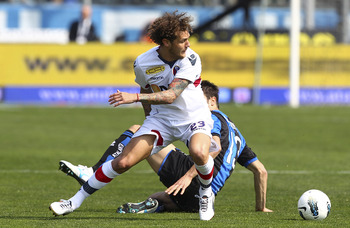 Marco Luzzani/Getty Images
Euro 2012 was a nice reunion for English supporters and Alessandro Diamanti, who enjoyed a brief spell with West Ham before moving back to his native Italia.
The untamed mini dreadlocks that the winger occasionally flaunts just ooze "I couldn't care less," and it's downright difficult not to admire.
Although his footwork was certainly impressive in Poland and Ukraine, I'd like to see Diamanti back in the Premier League just for some haircare tips, please.
13. David Beckham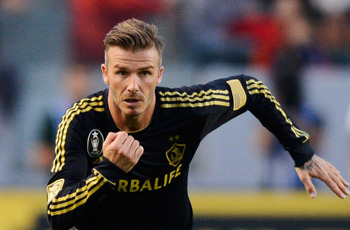 Kevork Djansezian/Getty Images
An ever-changing beacon of fashion, David Beckham's catalog of hairstyles was always going to make a list chronicling the best of that industry.
The former England captain has struck sponsorship deals with the likes of Gillette in the past, and who wouldn't want to advertise those swoon-worthy hair features?
Although his playing career may be drawing to its inevitable close, we can always look back at the reels and reels of Beckham highlights clips.
The curtain classic during his time at Old Trafford, the ponytail of his Real Madrid days and, of course, the faux hawk of 2000.
Good times.
12. Vágner Love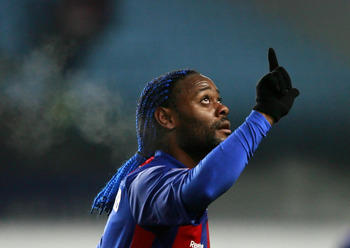 Epsilon/Getty Images
Probably one of the most prolific scoring talents to grace this list, I would be genuinely scared of losing my hair if I were Vágner Love.
Those classic dyed braids have brought the Brazilian a huge amount of fortune in his career, and if the Flamengo forward were ever to opt for a trim, he might just lose a touch of his beloved flair.
11. Siphiwe Tshabalala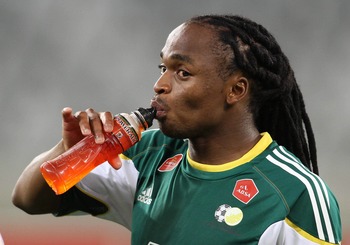 Gallo Images/Getty Images
A much-adored component of the 2010 World Cup hosts, Siphiwe Tshabalala scored the first goal of the competition, and it wouldn't have been possible were it not for his trademark dreads.
There is, of course, no way to prove such a theory, but that South Africa crowd was certainly enamored with the defender even more due to his choice of hairstyle.
The Kaizer Chief isn't exactly up there with the world elite, but his hair definitely makes sure that his name remains lodged in my memory.
10. Fabricio Coloccini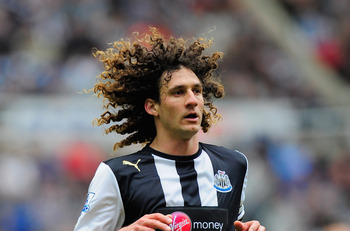 Stu Forster/Getty Images
It's surprising that Fabricio Coloccini has been able to become such a success story for Newcastle United considering how difficult it must be to keep those curls out of his eyes during a game.
I, for one, am convinced that the Argentine shares a distant family tie with a certain other entrant on this list, but we'll discuss that slightly later.
Coloccini was somewhat of a flop during a five-year tenure with AC Milan earlier in his career.
Is it a coincidence that the defender had short hair back then?
9. Bafetimbi Gomis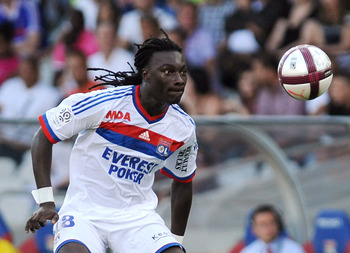 Valerio Pennicino/Getty Images
Another star going for the dreadlock look, there's something awfully amiable about the free-form flowing of this particular hairstyle.
Gomis' scoring ability has improved drastically in the last season or two, and that just so happens to coincide with the time in which he really let his hair loose.
Started in Maasai culture, the dreadlocks have migrated to become most commonly associated with Rastafarians and the calm nature that they exude—not unlike Gomis.
8. Edinson Cavani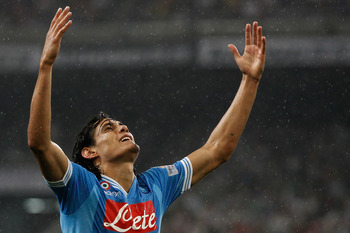 Lintao Zhang/Getty Images
The finest example of a modern-day Samson I can think of, Edinson Cavani needs to guard his long and lustrous locks with his life.
The Uruguayan forward has emerged as one of Europe's best strikers and isn't particularly far away from a goal-per-game average at Napoli.
The same way that racing stickers help cars go faster and bubbles in the heel of any sneaker make the runner that much more sprightly, Cavani's mane is the true source behind his nose for goal.
7. Djibril Cissé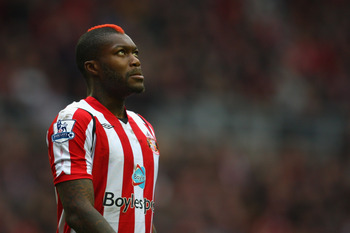 Jamie McDonald/Getty Images
Currently plying his trade with Queens Park Rangers, Djibril Cissé is about as much of a journeyman as you'll find on this list.
Having played with seven different clubs in his professional career, the tattooed hitman has changed his hairstyle wherever he has scored goals, developing a penchant for dying his 'do in sync with the club's playing colors.
Although he's known for also being a bit overzealous at times, it's hard to take your eyes away from the colorful bonanza going on atop Cissé's bonnet.
6. Brek Shea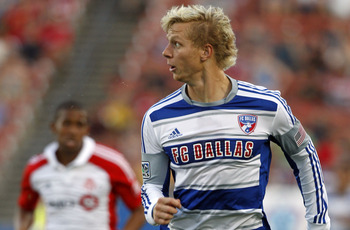 Layne Murdoch/Getty Images
I'm not too sure if dreadlocks really work for white men, but I'll leave all that down to the preference of those adorning the cut.
Luckily for Brek Shea, he's had enough other hairstyles in his career to submit a variety of options for this list, and the mullet is a particular winner.
Bravo, sir.
5. Mario Balotelli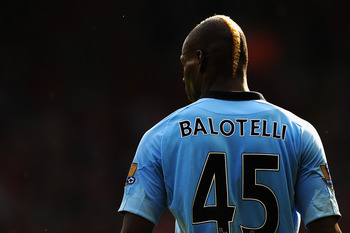 Michael Regan/Getty Images
The controversial "bad egg" that everyone just hates to love, Mario Balotelli's signature mohawk was always going to land him a place on this list.
Considering that the striker's choice of hair may have even landed him a role in a film (via Daily Star), it's fair to say that the shaved-sides selection has been a success.
It's unclear whether or not Balotelli will ever grow out of his childish escapades, but I certainly hope he keeps treating us with his choice of mops.
4. Neymar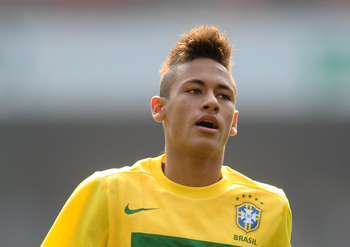 Mike Hewitt/Getty Images
Adamant to inject a 1970s feel back into the modern game, Neymar is at the forefront of football's emerging mullet society.
Please don't confuse that for an actual organization, but if such a collective did exist, Neymar would undoubtedly be its chairman.
The Brazilian star is currently taking the world by storm with his dazzling footwork, but the other extremity of the striker's body isn't doing a bad job for his profile, either.
3. Andrea Pirlo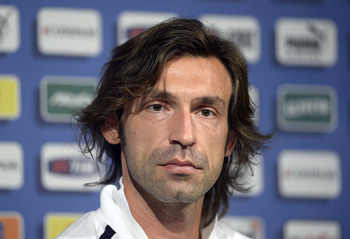 Claudio Villa/Getty Images
Never seeming to turn his facial expression from "Calm Mode," Andrea Pirlo's locks suit the playmaker's style of game down to the ground.
The Italian veteran relies not on speed, but vision and passing range, floating the ball smoothly through intricate channels that are utterly simplistic at times.
What more do I need to say?
2. David Luiz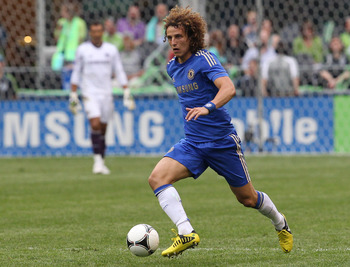 Otto Greule Jr/Getty Images
Remember when I mentioned that Fabricio Coloccini had a distant family tie that I was determined to reveal?
Say hello to David Luiz.
Sure, they might be from different countries and are probably not related in any way, shape or form, but that hair would certainly tell you otherwise.
Admittedly, Luiz, the younger of the two, has an altogether more revitalized looking hairdo, and it's difficult to think about anything other than Brazil's annual celebration, Carnival, when I see the Chelsea defender.
1. Marouane Fellaini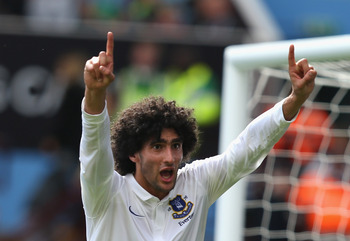 Mark Thompson/Getty Images
Currently the talk of the town, Marouane Fellaini showed in Everton's season opener just what power he and his hair possess, dismantling the Red Devils almost single-handedly.
If there were ever going to be a Belgian incarnation of the Jackson Five, Fellaini would be the band's frontman before effortlessly stripping away and embarking upon his own successful career.
Ninety minutes of football doesn't appear even close to affecting the midfielder's famous Afro, and in the name of fair play, I suggest that someone test that thing for doping.
Keep Reading