9 Best Solutions to Solve the NBA's Flopping Problem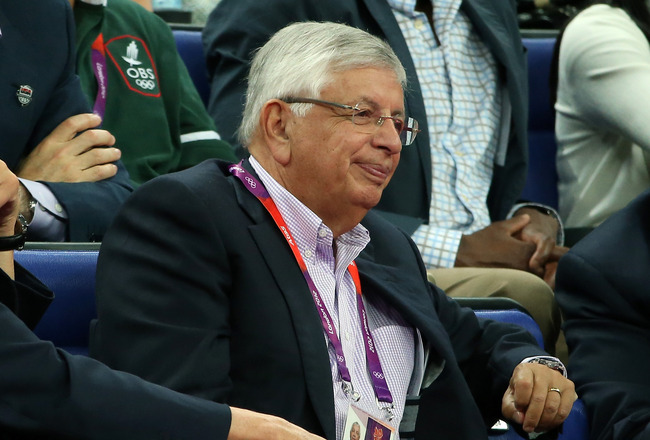 Christian Petersen/Getty Images
For as long as it's been a foul to barrel into another person on the basketball court, there have been players who attempt to take advantage of the rule by selling contact with the offensive player. Floppers are not a new thing in the NBA, but the outrage over the amount of acting has hit an all-time high.
Over the past few years, we've seen the attitude toward flopping take a turn from viewing it as a mild annoyance to an actual reason to severely detest the way a basketball player plays. At one point, it was chalked up to a guy trying to get his team the ball back, but now it's looked at as the lowest common denominator of basketball.
There was a time when guys deemed to be "floppers" were guys you would love to have on your own team but hate when you're playing against them. In a way, that's still true, but when you see a guy like James Harden, Manu Ginobili or Chris Paul squandering their talent in order to get a whistle blown in their favor, it's hard to defend as a fan.
That's one of the main reasons why the subject of punishing floppers has come up more often over the past few years, more so this past year than any other. In order to put this topic to rest, I offer up a handful of practical, impractical and effective solutions to get rid of the NBA's flopping menace.
9. Handing out Technical Fouls
Once it is determined that a player has flopped, for better or worse, it's time to give him a technical foul.
A referee who wants to make a statement in the game can give one out during the game in order to get players in line early, but there should also be a way for flops to be reviewed after the fact as a way to keep up the pace of the game.
If a player is determined to have flopped after a game happens, he'll still be issued a technical foul which will go against his record, plus he'll start the next game with one tech already against him.
This will keep guys from blatantly throwing their bodies around in order to get calls, especially if it means missing playing time if they flop too much.
8. A Foul Per Flop
The biggest issue that most people have with flopping is that it childishly and underhandedly forces a change in possession, which is bad enough. However, it's also going to lead to a foul on an unsuspecting player who's just trying to play tough defense.
For that reason, we can simply give the fouls back to the player that took them from other guys in the first place. This means, basically, that for every flop a player has in a game, he'll start the next game with that number of fouls.
Of course, this solution is not without its problems. Instead of just punishing a single player you're also rewarding the next team that his team plays, while the team that he flopped against initially is still in the dust.
Even so, it should be a good way of taking control of a situation that otherwise seems impossible to deal with.
7. A More Complicated Problem
In reality, this problem is more grey than the cut-and-dry, black-and-white way that we've been looking at it over the past year. It's one thing to punish floppers, it's an entirely different thing to punish them fairly.
On the one hand, there are flops like Antawn Jamison in this video that could go one way or the other in real time, but are more or less obvious flops upon viewing a replay. On the other hand, there are flops where guys are literally hurling themselves at the ground in order to get a call.
What we need to do in this situation is create a real system for punishing floppers, something that guys can look at and know what happens to them if they're caught flopping again.
Of course, I've got the time on my hands to do just that, so I've put together a preview of what a flopping punishment could be if the NBA wants to curtail the problem for good.
6. Set Up a "Flopping Review Board"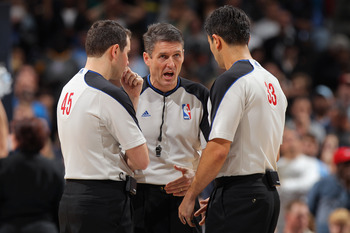 Doug Pensinger/Getty Images
The very first thing we need to do is determine how we are going to figure out what was a flop and what wasn't.
Obviously, doing so during a game would mean stopping the clock, going to a commercial, reviewing the play and trying to figure out in real time if any actual malicious contact was made between the offending player and the alleged flopper. We can't have a flop determined on the court, it would waste far too much time in a game that's revered for its quick nature.
Instead, the NBA would need to set up a committee of officials whose job it would be to review plays in question, put forth a judgement and determine the proper punishment.
The committee should consist of three members in order to keep things simple and should be made up of veteran NBA officials. Whether they want the roles filled as a job in itself or on a rotating basis is all up to the league, all that's certain is that we need some form of consistency for the judgements.
Once formed, the committee will review any plays sent to them from league officials or coaches in order to determine whether or not an unnecessary flop has taken place. The punishment will be doled out in a cumulative basis.
5. Determining the Severity of a Flop
Obviously some flops are worse than others, and it's difficult for officials to determine just what's going on in terms of a flop in the pace of the game. Because of that, different punishments are needed for different levels of flopping.
A little embellishment here and there is a part of the game and shouldn't be taken too seriously. If a play under review is determined to be at least partially justified on the part of the flopper, then no punishment will be handed out. Instead, a warning should be sent directly to the alleged flopper in order to let them know about the play in question in order to stay out of trouble in the future.
Legitimate flops when a player completely unnecessarily hurls himself to the floor should be the main thing under review. If a player is determined to have unnecessarily flopped, one point should be put on his record.
Over-the-top flops like the one here, when Carlos Boozer never comes close to touching Chris Bosh should be what the league is trying to kill. Depending on how bad the flop is, the committee can put two or, as would be the case with Bosh here, three points against a player's record.
Moving forward, we can take a look at the various punishments for each cumulative total of points that a flopper earns to his credit.
4. Public Notification
Once a player collects three points against his record, it's a sign that they have a pattern of flopping and it's time to do something about it.
Before we jump to fining them, suspending them or putting them in the stockades and letting fans chuck rotten fruit at them, it makes the most sense to put their name out in the public and give them the reputation of being a flopper.
It doesn't have to be some big presentation, just a tick across the bottom line of SportsCenter alerting the public that a certain player has three flopper points against his record.
The first step in keeping guys from flopping is as simple as that, but it will serve as both a warning to the now convicted flopper and give the fans of other teams something to jeer them about. It's simple, but it will work nicely as a first step in getting guys to stay on their feet.
3. Public Humiliation
Every point a player earns following his third flopper point should mean a form of public humiliation on the basketball court for his next game.
For the time being, the form we'll take is simple but perfect for fans to identify a convicted flopper and just embarrassing enough for an NBA player to not want another flopper point to go on his record. We're going to put floppers in short shorts for one game every time they earn a point against their record.
It's trivial, but it's something for fans to laugh about, and it's easy for a referee to spot a convicted flopper, allowing his reputation as an over-actor to be worn on his sleeve, or rather his shorts.
This will be the punishment for players every time they get another point for the rest of the season, regardless of whether or not there's another punishment involved.
2. Fine
Once a player gets up to six flopper points, it's obvious that public humiliation alone isn't going to be enough to stop a player from flopping, and more serious measures need to be taken.
Taken from the notion that Jeff Van Gundy had during the playoffs, a fine will be given to a flopper for his sixth and seventh flop points earned. The sixth point earns him a $10,000 fine, the seventh a $20,000 fine.
It's not enough money to completely cripple a guy on a rookie scale or a league minimum contract, but it's enough money to gain a player's attention and get them to realize the err of their ways.
Should flopping fines not be enough for a player to end his flopping ways, more serious measures must be taken.
1. Suspension
Once up to eight flopper points, a player will be on notice that he's at risk for suspension if he gets any more points against his record.
Just like the rule for technical fouls, once a player gets over the suspension line for flopper points, he gets suspended a game for every other point he earns, meaning a player will be suspended once he gets eight points, 10 points, 12 points and so on.
On top of the suspension, the player will be fined the amount of money that he would be liable to earn in a single game, so the punishment is handed out not only to the team the player is on but the player himself.
Of course, since it's another point earned, the player is still going to have to don the short shorts once he comes back to add insult to injury.
If you are one of those Twitterers, you can follow me @JDorsey33.
Keep Reading