College Football: 50 Bold and off-the-Wall Predictions for Week 1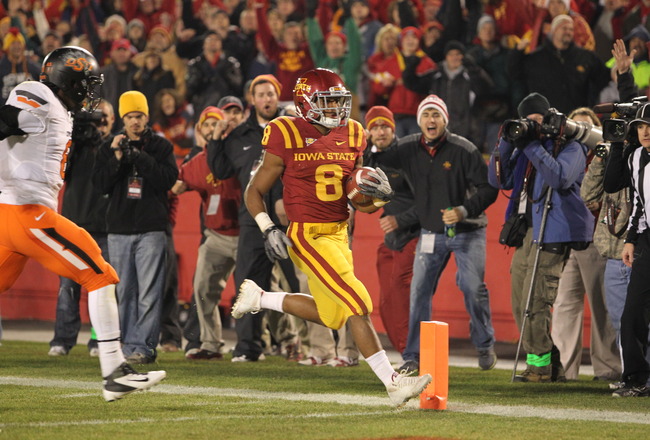 Reese Strickland/Getty Images
College football has the most exciting (and most meaningful) regular season of all sports in America. The first week is one of the most suspense-filled weeks because it marks the greatest six-month span of the year for fans of the game.
Although the matchups in Week 1 sometimes leave something to be desired, the fact that your team is finally on the field again completely makes up for the fact that your Top 10 team is rust-busting with North Texas.
Every FBS football team has proudly and voraciously recruited the best players possible in order to make a run for that crystal football in January.
Here are 50 bold and off-the-wall predictions for Week 1 of the 2012 season in this, the most volatile sport in the nation.
*Statistics and game dates from ESPN.com
Thursday (8/30/12): South Carolina (No. 9) at Vanderbilt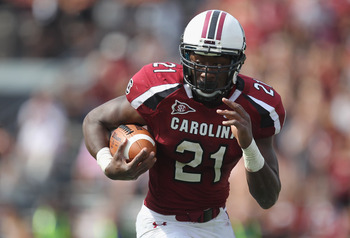 Streeter Lecka/Getty Images
South Carolina is the first team in the AP Top 25 to kick off its 2012 season. The Gamecocks travel to Vanderbilt to establish SEC East supremacy over the Commodores.
If the Gamecocks don't take this game seriously, James Franklin and company will be more than willing to walk off with a win here.
However, this game features the long-awaited return of South Carolina's star RB, Marcus Lattimore. (He gouged Vandy for 150 offensive yards in 2011.)
Also, after Stephen Garcia's dismissal, the rest of the football team rallied around Connor Shaw. They showed us a quality team that we hadn't seen since the Gamecocks took down Alabama in 2010. This team loves Shaw.
Prediction 50: Marcus Lattimore dings Vanderbilt for 200-plus all-purpose yards. (250 if he's a returner on special teams.)
Prediction 49: Connor Shaw has a career game against Vanderbilt.
*Shaw's best game so far: 26/39 for 311 yards (plus 42 on the ground) against Kentucky in 2011.
Friday (8/31/12): Tennessee vs. NC State (Atlanta, Georgia)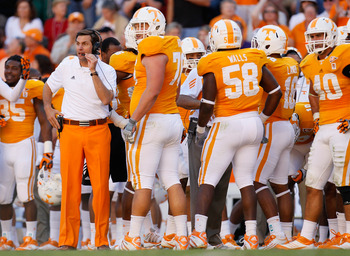 Kevin C. Cox/Getty Images
This is Derek Dooley's defining year at Tennessee. If he doesn't show some serious improvement, his job could definitely be in jeopardy.
Tennessee will not be the worst in the SEC East this year, but will it be enough for Dooley to keep his job?
Tennessee's offense should be vastly improved this year, and the defense should improve as well. (Defensively, the Vols were ranked 36th last year.)
Prediction 48: Tennessee surprises the nation and starts the season with a win over the Wolfpack.
Friday (8/31/12): Boise State (No. 24) at Michigan State (No. 13)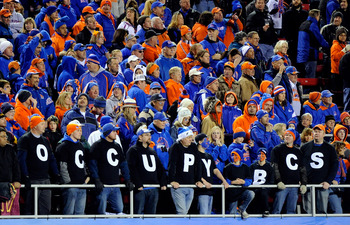 Ethan Miller/Getty Images
The second-biggest game of Week 1 is Boise State trucking out to Michigan State to take on the Spartans.
Boise has come away with wins in almost all of their games over the last few years. Chris Petersen is 73-6 during his tenure with the Broncos.
Last time there were questions at quarterback, the answer was Kellen Moore. Now that those questions are back, you have to believe that he's got a plan.
Will it be enough to take down the Spartans?
Prediction 47: Michigan State plays the second half from behind and wins by a touchdown or less.
Friday (8/31/12): San Jose State at Stanford (No. 21)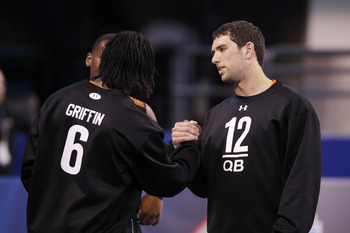 Joe Robbins/Getty Images
Stanford wins, that's clearly not the bold prediction here. However, Stanford is breaking in quite a few new starters. One is at quarterback, where the Cardinal need to break in Andrew Luck's replacement as quickly as possible if a BCS bowl is on its wish list.
Prediction 46: Josh Nunes tosses two interceptions in the opener, but still wins the game easily.

Saturday (9/1/12): Buffalo at Georgia (No. 6)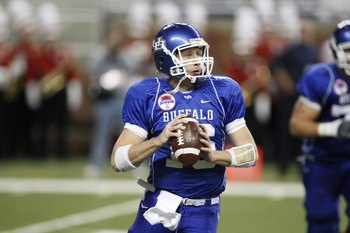 Gregory Shamus/Getty Images
Georgia's schedule is the easiest in the SEC this year, and the Bulldogs are a favorite to make it to the SEC Championship in Atlanta.
Buffalo is missing a key starter in this game, and Georgia has as close to a guaranteed win here as it can get.
Prediction 45: Buffalo returns a kickoff for a touchdown against Georgia.
Saturday (9/1/12): Notre Dame vs. Navy (Dublin, Ireland)
Jonathan Daniel/Getty Images
Notre Dame takes on Navy in one of the nation's biggest season openers. The downside to this game is that the rivalry has been one-sided even during Notre Dame's championship drought.
Sailors have a knack for dealing with things like jet lag. Working with whatever sleep pattern you can get is part of training, even if it's not a class in school.
Prediction 44: Navy makes this a much closer game than last year. Notre Dame wins by 24, not 42.

Saturday (9/1/12): Marshall at West Virginia (No. 11)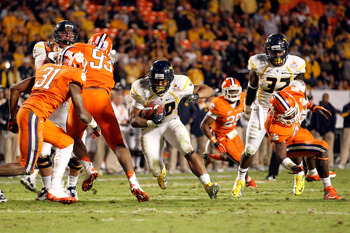 J. Meric/Getty Images
West Virginia is a new member of the Big 12 this year, and will need every win they can get to boost confidence.
This out-of-conference opener is a prime opportunity to build team morale immediately. Marshall is not as good as Clemson, and the Mountaineers offense returns largely intact.
Prediction 43: West Virginia puts up more than 60 on the Thundering Herd.
Saturday (9/1/12): Miami (OH) at Ohio State (No. 18)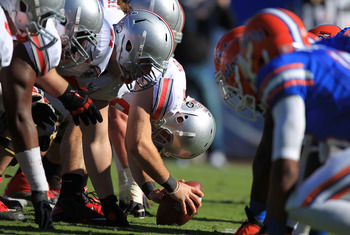 Scott Halleran/Getty Images
Ohio State has won 33 consecutive home openers. Don't look for that to change here. What you do need to watch out for is the fact that the Redhawks have been building in Miami.
This is not a trap game, though, since Ohio State has been prepping for it since last November. Urban Meyer is going to rebuild this powerhouse program over the next few years. That starts this Saturday.
Prediction 42: Ohio State wins by three touchdowns.
Saturday (9/1/12): Northern Iowa at Wisconsin (No. 12)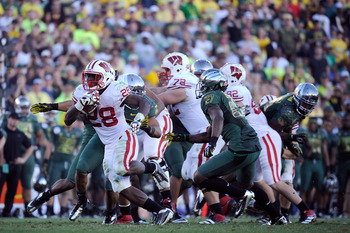 Kevork Djansezian/Getty Images
Wisconsin fans are expecting the Badgers to make it all the way to the conference championship game in December. (Possibly the national championship after that, of course.)
Wisconsin's got the talent to do it, it's just a matter of taking that talent and turning it into points on the scoreboard and turnovers on defense.
Danny O'Brien will start at quarterback against the Panthers, and Badgers fans will be hoping for the best. If O'Brien can step in and dominate like a national contender should, then the season should be a winner again.
Prediction 41: O'Brien will throw for 300-plus yards.
Prediction 40: James White will rush for over 100 yards.
Prediction 39: Wisconsin's total yardage will be over 450.
Saturday (9/1/12): Southern Miss at Nebraska (No. 17)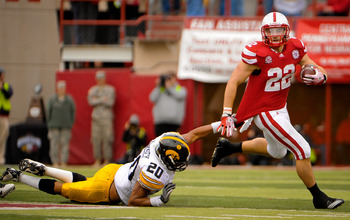 Eric Francis/Getty Images
Nebraska joins Wisconsin as a contender for the Big Ten title game. Southern Miss is celebrating 100 years of football this year.
There is no such thing as a guaranteed win in college football. If there were such a thing, the term "upset" wouldn't exist.
Prediction 38: Taylor Martinez throws four touchdowns.
Prediction 37: Rex Burkhead rushes for three touchdowns.

Saturday (9/1/12): Ohio at Penn State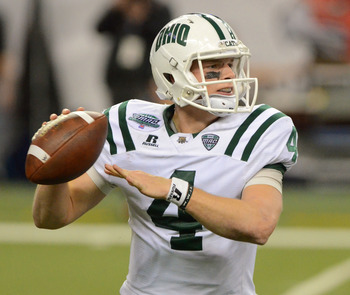 Mark A. Cunningham/Getty Images
After the sanctions levied against Penn State, the program is in shambles for the next four years (plus a minimum of four more years it takes to rebuild after that).
The Ohio Bobcats will head on over to Happy Valley to take on the Nittany Lions. The one thing that the NCAA can't take away from Penn State is its stadium full of fans.
Ohio will have an extremely tough time upsetting Penn State, especially at Penn State. This is where Penn State proves whether it has enough talent left to be okay for the next few years.
Prediction 36: Ohio takes Penn State to overtime.
Saturday (9/1/12): Bowling Green at Florida (No. 23)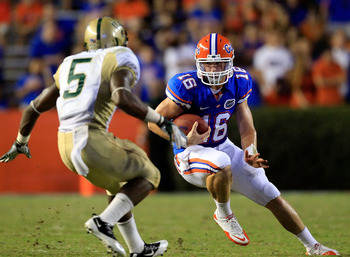 Sam Greenwood/Getty Images
Will Muschamp is going to be playing two quarterbacks in this game to attempt to sort out who his starter will be for the rest of the 2012 season.
As of now, the plan is to have them each play a quarter in the first half and make the final decision at halftime. This puts tremendous pressure on both sophomores.
The great news is that Florida will know how each of them handles pressure by the time the first half is over.
Prediction 35: Jeff Driskel wins the starting spot by throwing fewer interceptions in the first half.
Saturday (9/1/12): Murray State at Florida State (No. 7)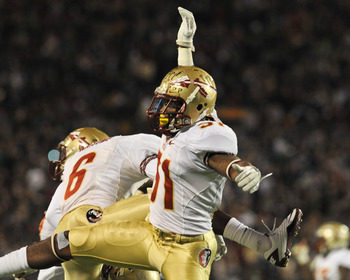 Al Messerschmidt/Getty Images
Murray State is the Seminoles' opening rust-buster. The Seminoles can afford to make a few mistakes against the FCS challenger.
Make no mistake about it, though, the Seminoles can't allow Murray to score off any of those miscues. The Florida State squad is loaded with potential, but that's not the same as being loaded with developed skill.
In the near future, the Seminoles could be national title contenders. If they want to contend in 2012, this game has to be a blowout.
Prediction 34: Florida State wins by 24.
Saturday (9/1/12): North Texas at LSU (No. 3)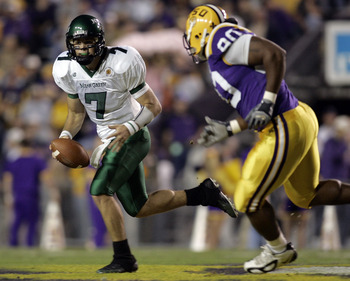 Chris Graythen/Getty Images
Alabama played North Texas last year in the early part of the season. LSU and Alabama had common opponents all year, and were compared to each other almost every week until they finally met on the gridiron.
This year will be no different. After LSU dismantles North Texas, comparisons will begin to fly. The pundits will compare 2011 and 2012 LSU to 2011 and 2012 Alabama, and may even debate the 2011 and 2012 editions of the North Texas Mean Green.
Prediction 33: North Texas finds a way to score on LSU once.
Saturday (9/1/12): Jacksonville State at Arkansas (No. 10)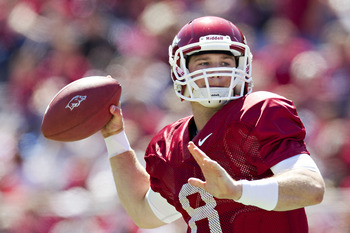 Wesley Hitt/Getty Images
The third team of the major SEC West powers leads off with an opponent similar to LSU's opening opponent. There is little doubt that Arkansas will thrash Jacksonville State.
The big question will be whether Knile Davis can handle the load at running back. He's a question mark as far as health is concerned.
Tyler Wilson is the other Razorbacks storyline for 2012. Both he and Davis can conceivably put themselves into Heisman contention, although they won't earn anything but style points in Week 1.
Prediction 32: Knile Davis gets 200 offensive yards (250 if he's a kick returner).
Prediction 31: Tyler Wilson throws for 350 yards.
Saturday (9/1/12): Miami at Boston College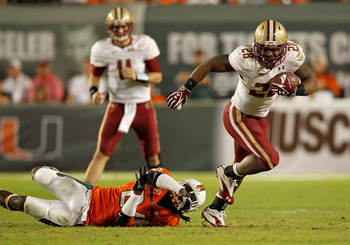 Mike Ehrmann/Getty Images
The Miami Hurricanes hit the road to take on Boston College. While the Hurricanes are a program on the rise, it's still going to be a little while before they're ACC championship contenders.
They do have a great shot at making a bowl in 2012, though.
Prediction 30: Boston College wins by 10 points.
Saturday (9/1/12): Savannah State at Oklahoma State (No. 19)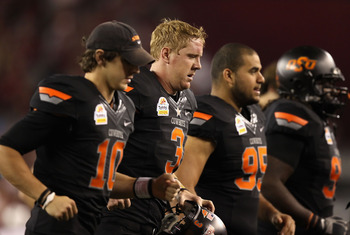 Christian Petersen/Getty Images
Oklahoma State's first chance to show the nation what they've got after losing Brandon Weeden and Justin Blackmon.
Oklahoma State was a national contender last year and landed a BCS bowl win to cap off the greatest season in school history.
The question is whether they will come back strong or revert immediately back to their traditional role in the national picture.
Prediction 29: Oklahoma State wins by 10 or fewer points.
Saturday (9/1/12): Missouri State at Kansas State (No. 22)
Ronald Martinez/Getty Images
Last time Missouri State played Kansas State, K-State walked away with a 24-point win (2010). However, if you look at the stats, the game was closer than it appeared on the scoreboard.
Missouri State lost because of its inability to make big plays in the running game. Kansas State's defensive line just wouldn't let them through.
Given the Bears' 2-9 finish last year, this game should be even rougher than the 2010 bout. Missouri State lost its starting quarterback and Kansas State returns Collin Klein.
Prediction 28: Kansas State earns itself a shutout here.
Saturday (9/1/12): Hawaii at USC (No. 1)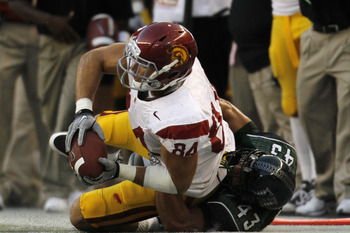 Kent Nishimura/Getty Images
Norm Chow has taken over the Hawaii program and wants to make the Warriors a household name. In 2010, the Warriors fell to the Trojans by a scant 13 points. (Not bad, considering the vast differences between the conferences.)
In the future, Chow may make this a battle worth recording. This is a potential trap game for USC, which is highly unusual for a season opener. (They've had half a year to think about the game, right?)
The Trojans will take the field with the gigantic "No. 1" bullseye on their backs. Hawaii will get the first crack at them. Even though the Warriors will give it their best shot, USC is simply too good this year.
Prediction 27: USC wins by 21.
Saturday (9/1/12): Wyoming at Texas (No. 15)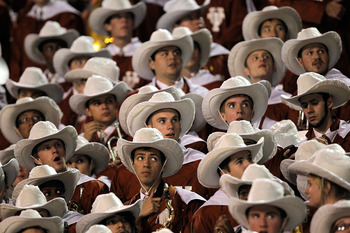 Sarah Glenn/Getty Images
Texas will be working out the offseason rusticles against the Wyoming Cowboys. Wyoming may not realize it, but Texas has been rebuilding for two years.
The state of the Texas program is not what it used to be, and the Longhorns finished sixth in the Big 12 last year.
Wyoming came in third in the Mountain West.
Prediction 26: Texas wins by 13.
Saturday (9/1/12): Oklahoma (No. 4) at UTEP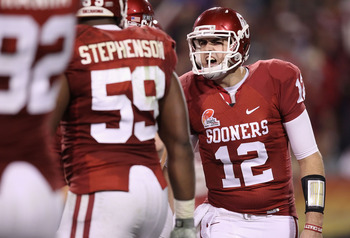 Christian Petersen/Getty Images
The Oklahoma Sooners ride into El Paso to take on the Miners. Oklahoma is ranked fourth in the preseason poll, and UTEP wasn't even fourth in its division last year.
The Miners have to think in terms of capability for this match. It's a win if UTEP can get 200 total yards against the Sooners.
Prediction 25: UTEP gains 225 total yards on Oklahoma.
Saturday (9/1/12): Arkansas State at Oregon (No. 5)
Harry How/Getty Images
Oregon lost its quarterback and its top running back, but Chip Kelly will have this offense running like a Rolex.
Arkansas State just lost its spectacular head coach to the Ole Miss Rebels this offseason. The kids there know what it's like to win, and they didn't bother to lose a single conference game last year.
Of course, that's the Sun Belt and this is Oregon. Arkansas State players need to pay attention and learn as much as possible from one of the nation's premiere programs.
Prediction 24: Oregon's Kenjon Barner tags the Red Wolves for 200-plus all-purpose yards.
Prediction 23: Oregon has two 100-yard rushers at the end of the game.

Saturday (9/1/12): Clemson (No. 14) vs. Auburn (Atlanta, Georgia)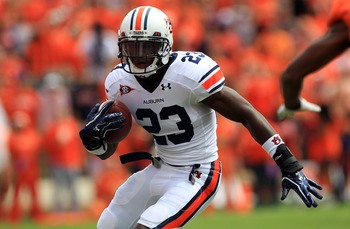 Streeter Lecka/Getty Images
Clemson enters the 2012 season with mixed emotions. While they started 2011 with eight straight victories, they dropped game after game culminating in the 70-33 Orange Bowl massacre at the hands of the West Virginia Mountaineers.
Auburn enters 2012 with the hopes of adding at least two more wins to last year's total. Clemson is one of those few opportunities. There are four games (Alabama, LSU, Arkansas and Georgia) that Auburn will likely lose, they need this win badly.
A major advantage for Auburn is that Clemson's superstar Sammy Watkins is suspended for the first two games of 2012.
Prediction 22: Auburn beats Clemson.
Prediction 21: Clemson commits two turnovers. (One interception and one lost fumble.)

Prediction 20: The AP recognizes its error and puts Auburn in the top 25.

Saturday (9/1/12): Michigan (No. 8) vs. Alabama (No. 2) (Dallas, Texas)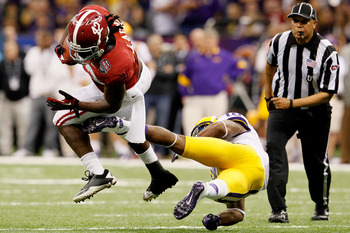 Ronald Martinez/Getty Images
Of all the games going on in Week 1, this one is the biggest. It's the only game featuring Top 10 teams on both sides of the ball.
Denard Robinson leads the Michigan Wolverines against A.J. McCarron and the Crimson Tide. After a BCS National Championship run his rookie year, McCarron looks to improve upon last year's numbers.
Prediction 19: This game gets the most television ratings of any game until Nov. 3 when LSU plays Alabama and Oregon plays USC.
Prediction 18: Denard Robinson scores two rushing touchdowns.
Prediction 17: Denard Robinson gets sacked three times.

Prediction 16: Alabama wins by three touchdowns.
Prediction 15: T.J. Yeldon scores for the Tide in the fourth quarter.
Prediction 14: Denard Robinson throws two interceptions.
Prediction 13: Alabama jumps USC to take over the top spot in the Top 25 in all polls.

Sunday (9/2/12): Kentucky at Louisville (No. 25)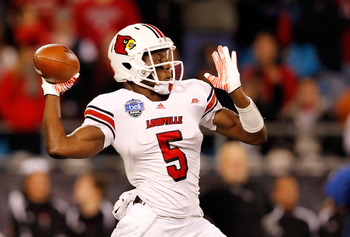 Streeter Lecka/Getty Images
Kentucky travels to Louisville for the season opener against the Cardinals. Louisville is looking to make a conference championship run in 2012, and there are few teams that could interfere with that plan.
Kentucky is perennially the "What are they doing in this conference?" team in the SEC. (The answer to that, by the way, is "playing basketball.")
Everything is working in Louisville's favor for this game, and the Cardinals should be able to claim that they beat an SEC team at football.
Prediction 12: Louisville wins by 10. (They won by seven last year.)

Sunday (9/2/12): SMU at Baylor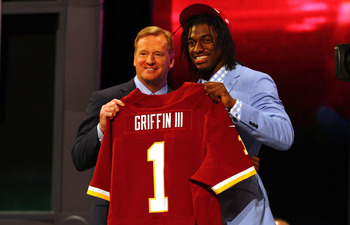 Al Bello/Getty Images
The Luck era is over at Stanford, the Cousins era is over at Michigan State and the RGIII era is over at Baylor.
One thing that Griffin did was get Baylor fans excited about football again. Baylor's stands will be full, and they will be awaiting the day that a team can take them to nine or more wins again.
It shouldn't be too difficult. With the Big 12 dissolving slowly in the shadow of the Longhorn Network, RGIII took Baylor into the top tier for a season. Recruiting should be a lot easier for the Bears now, and the day when Baylor sits atop the Big 12 shouldn't be more than a decade away.
The SMU Mustangs are not to be trifled with, and they will show up to play. Last time these two teams met was in 2005, and Baylor went to SMU and handed the Mustangs a five-point loss.
This year, the Bears have home field advantage and a stadium full of hopeful fans.
Prediction 11: Baylor wins by 10.
Monday (9/3/12): Georgia Tech at Virginia Tech (No. 16)
Kevin C. Cox/Getty Images
This game is highly significant to ACC fans, especially Georgia Tech and Virginia Tech supporters.
Since 2007 (with the exception of the Hokies' loss to Clemson in 2011), the winner of the Georgia Tech-Virginia Tech game has gone on to win the ACC Championship game and earn a BCS berth.
Prediction 10: Virginia Tech wins by 10 points.
Thursday (8/30/12): UCLA at Rice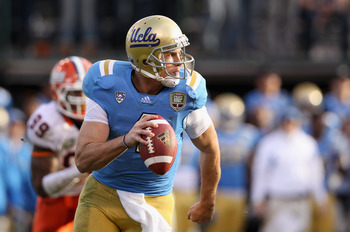 Ezra Shaw/Getty Images
UCLA finished second to USC in the Pac-12 South. Since USC wasn't allowed in the conference championship, UCLA represented the division there.
After going to a bowl in 2011, UCLA is trying to keep that momentum going so they can climb back to the top of at least their division.
Rice hasn't been to a bowl since 2008, and the Owls are hungry. UCLA just lost the Kraft Bowl to Illinois—if Rice is going to beat UCLA, this will likely be their best chance for a while.
Prediction 9: UCLA over Rice by a touchdown.

Tennessee vs. NC State Betting Lines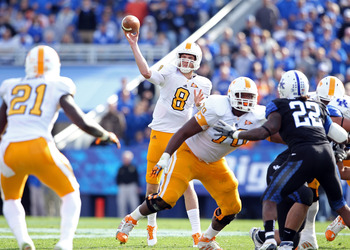 Andy Lyons/Getty Images
Tennessee is favored by three points with an over/under of 52.5.
Prediction 8: Tennessee covers, take the over.

*All betting line info for the rest of this article is from bankrollsports.com
Ohio at Penn State Betting Lines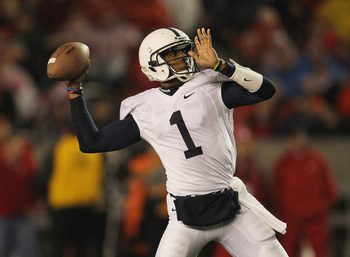 Jonathan Daniel/Getty Images
Penn State is favored by six, the over/under is 44.5.
Prediction 7: Take the over.
Miami (FL) at Boston College Betting Lines
Mike Ehrmann/Getty Images
Boston College is a one-point underdog at home against the Hurricanes with an over/under of 44.
Prediction 6: Take Boston College and the under.
Clemson vs. Auburn Betting Lines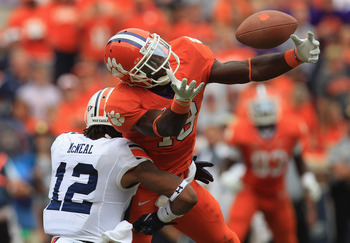 Streeter Lecka/Getty Images
Clemson is favored by 3.5 points and the over/under is 56.5.
Last year, the point total was 62. This year, Auburn doesn't have Michael Dyer and Clemson doesn't have Sammy Watkins.
Prediction 5: Take Auburn and the under. (Clemson is missing 14 points in Sammy Watkins.)
Alabama vs. Michigan Betting Lines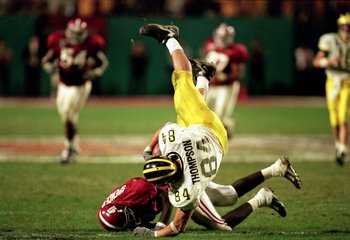 Eliot J. Schechter/Getty Images
Alabama is favored by two touchdowns and the over/under is 45.5.
Prediction 4: Take Alabama and the over. (Alabama will get close to 45 by itself, and you know Michigan will score at least twice.)

I Wish There Were a Betting Line On...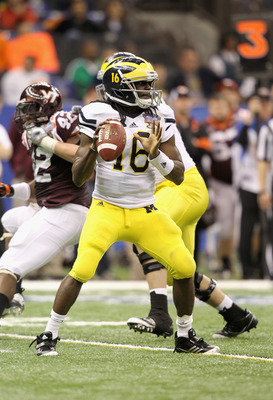 Matthew Stockman/Getty Images
Denard Robinson tying his shoes at halftime. The kid hasn't tied his shoes since his pee wee football days in Florida. It would be a silly thing to bet on, but wouldn't it be nice?
Prediction 3: Robinson gets hit so hard that he decides to tie his shoes before the final whistle blows on Saturday.
I Wish There Were a Betting Line On...
Early celebration penalties. Brad Wing had the most infamous penalty of 2011. Whether you agree or disagree with the rule, it's a rule. Wing broke it, and it cost LSU six points.
Prediction 2: One high-profile early celebration penalty in Week 1. (Think Auburn/Clemson, Alabama/Michigan, Georgia Tech/Virginia Tech, etc.)
I Wish There Were a Betting Line On...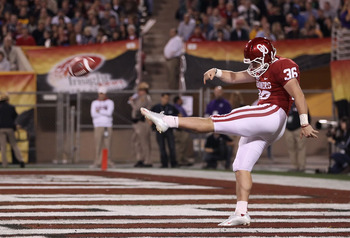 Christian Petersen/Getty Images
Oklahoma or Notre Dame being overrated in the preseason poll. Some believe that both are overrated this year, but Oklahoma looks to be the more egregious error of the two for 2012.
Prediction 1: Oklahoma finishes outside the Top 10 at the end of the season despite starting the season at No. 4.
Keep Reading