Tennessee Football: Finalizing the Week 1 Depth Chart
The time has finally come.
Football officially begins this Friday night for the University of Tennessee, which means that no longer are we forced to talk about "what ifs" and the potential good or bad for the upcoming season.
The offseason brought about many ups and downs for the Vols. According to head coach Derek Dooley, this is the best team in Knoxville during his three years at the helm. However, the recent news of Da'Rick Rogers leaving the program has put a small damper on some spirits.
Come Friday night, it will be time to put up or shut up for Dooley and the Vols, and the opening game with North Carolina State will set the tone for the 2012 season.
Here's a look at the final depth chart for game one.
Begin Slideshow

»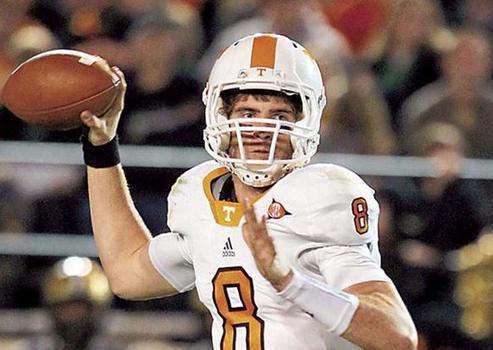 Starter: Tyler Bray – 6'6", 215 lbs. – Junior
The Tennessee gunslinger has the potential to put up the best passing numbers in the Southeastern Conference. All of the physical attributes are there.
The only question left to answer is whether or not he is ready to take command over this team from a leadership standpoint, and put an end to the off-the-field antics that have some wondering if he will ever live up to his enormous potential.
Offensive coordinator Jim Chaney will give Bray every chance to put up monster numbers this fall, but it's up to Bray and his receivers to do the rest.
Backup: Justin Worley – 6'4", 213 lbs. - Sophomore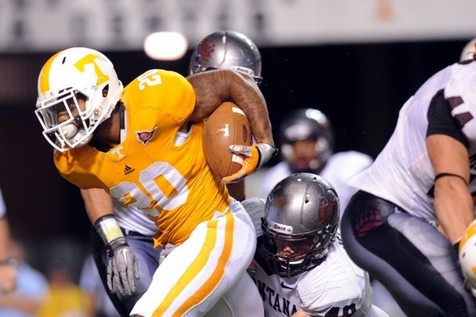 Starter: Raijon Neal – 5'11", 211 lbs. – Junior
Tennessee entered camp searching for a running back. There were three candidates that had equal opportunity to garner the starting spot.
From the outset, Neal seemed to be the back out in front, and his strong play continued throughout camp and earned him the starting nod.
After bouncing back and forth between tailback and wide receiver, Neal will look to settle in this fall, and help a previously anemic rushing attack make marked improvements.
Backups: Devrin Young – 5'8", 172 lbs. – Sophomore; Marlin Lane – 5'11", 205 lbs. – Sophomore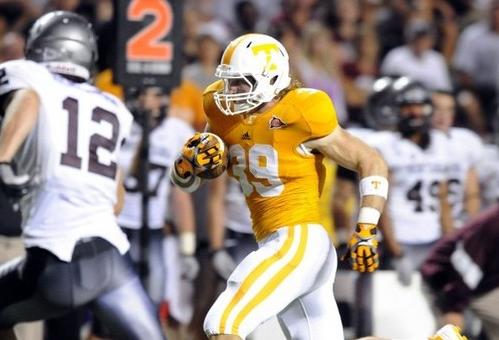 Starter: Ben Bartholomew – 6'2", 252 lbs. – Redshirt Senior
Bartholomew came on strong during the middle portion of the season in 2011, supplanting Channing Fugate as the starting fullback. That momentum has carried forward and earned the Nashville native the job once again this fall.
With Tennessee relying so much on the pass, how much the Vols will actually use Bartholomew remains to be seen.
Backup: Justin King – 6'2", 225 lbs. – Freshman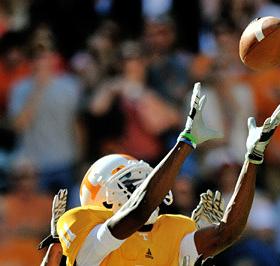 Starter: Justin Hunter – 6'4", 200 lbs. – Junior
Hunter enters the 2012 season as one of the top deep threats in all of the country. However, he still has a couple things to prove.
First, he must prove that the knee injury he suffered last season is behind him. The physical part is not the worry; it's the mental part of being hit once again in live action that slows players down.
Second, with Rogers gone, Hunter will be the focal point of opposing secondaries. He must prove that he can still get open and make plays with opponents keying in on him.
Backup: Cody Blanc – 6'3", 202 lbs. – Freshman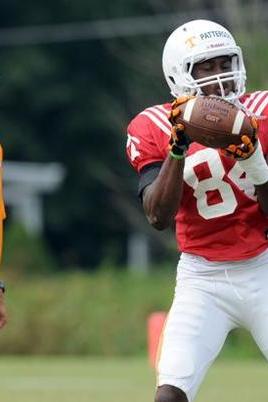 Starter: Cordarrelle Patterson – 6'3", 205 lbs. – Junior
Tennessee fans placed huge expectations on Patterson the minute he signed his letter of intent in February.
It looked as if he was going to have the luxury of coming in and playing alongside both Hunter and Rogers, taking much of the pressure off of him.
However, Rogers is gone, and now Patterson must step into the starting role and produce right away.
Everyone knows he has the talent, but how quickly he can learn the offense will ultimately determine his production.
Backup: Zach Rogers – 6'0", 172 lbs. – Senior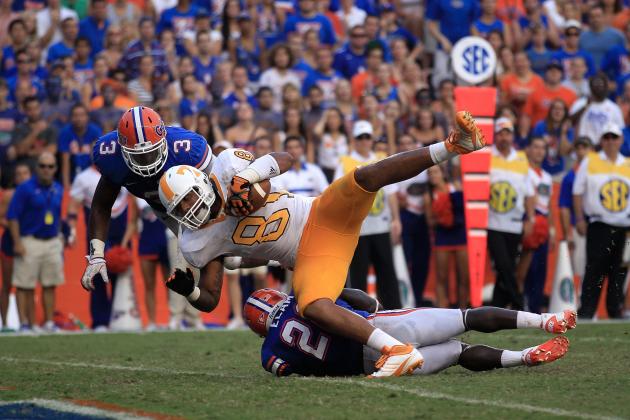 Sam Greenwood/Getty Images

Starter: Mychal Rivera – 6'3", 244 lbs. – Redshirt Senior
When Da'Rick Rogers departed the Tennessee program, many people began looking at the wide receiver depth chart in an attempt to find the player(s) that would help pick up the slack in his absence.
The answer may not be a wide receiver—it may be the often-forgotten Rivera.
Rivera put up big numbers early in the 2011 season, and is on the Mackey Award watch list. Similar production in 2012 will help Vols fans forget that they lost an all-conference receiver.
Tennessee has virtually no depth at this position, so Rivera's health is definitely something to keep an eye on throughout the season.
Backup: Ben Bartholomew – 6'2", 252 lbs. – Redshirt Senior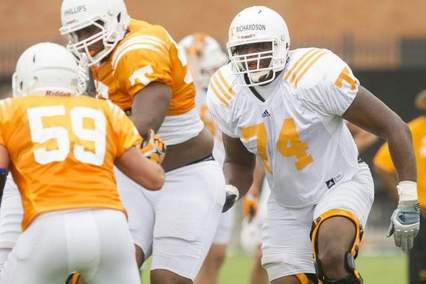 Starter: Antonio Richardson – 6'6", 329 lbs. – Sophomore
Richardson, aka "Tiny", is ready to slide in and take over the starting nod at left tackle. He was highly regarded coming out of high school, and the Vols used his freshman season to groom him for the starting job.
His addition to the starting lineup has allowed Dallas Thomas to move inside to the guard position, strengthening the line as a whole.
Tiny will help anchor a line that is looking to make massive strides from its 2011 performance.
Backup: Alan Posey – 6'6", 317 lbs. – Redshirt Freshman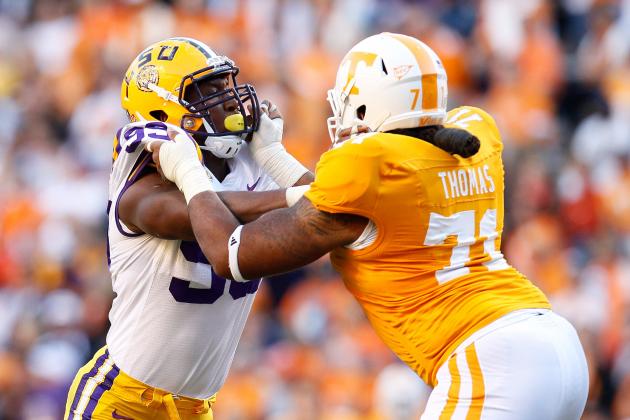 Kevin C. Cox/Getty Images

Starter: Dallas Thomas – 6'5", 310 lbs. – Redshirt Senior
As was previously mentioned, Thomas has slid inside to the guard position to allow Antonio Richardson to start on the outside.
After anchoring Tennessee's line at left tackle the last two seasons, Thomas now gives the Vols a lethal combination on the left side of the offensive line. Expect the Vols to run behind Thomas and Richardson very frequently.
Backup: Marcus Jackson – 6'2", 320 lbs. – Sophomore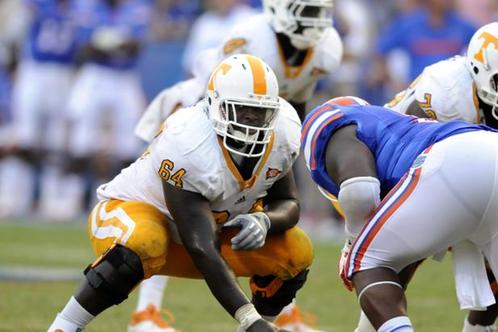 Starter: James Stone – 6'3", 310 lbs. – Junior
One of the most criticized positions in 2011, and rightfully so, was center. James Stone struggled mightily with snapping to a quarterback in the shotgun; so much so that he lost his starting position.
During the offseason, Stone took advantage of the time and worked tirelessly on snapping the football, and regained the starting nod with a strong showing in fall camp.
Tennessee fans will continue to hold their breath though when Tyler Bray is in the shotgun, hoping not to have flashbacks to last season.
Backup: Mack Crowder – 6'2", 283 lbs. – Redshirt Freshman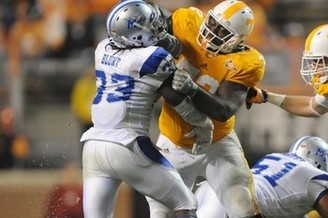 Starter: Zach Fulton – 6'5", 324 lbs. – Junior
Fulton has started the last 15 games for the Vols at the right guard position and continues to improve every time out.
After being thrust into the action as a true-freshman, Fulton is now a veteran on the offensive line, which has made over 100 collegiate starts combined.
Backup: Alex Bullard – 6'2", 300 lbs. – Redshirt Junior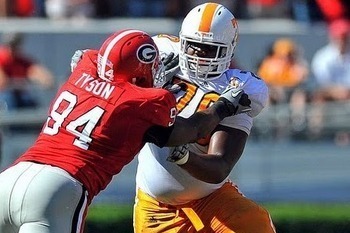 Starter: Ja'Wuan James – 6'6", 323 lbs. – Junior
James has started every single game for the Vols since he stepped onto campus. Now in his third season, the Suwanee, Georgia native will lock down the right side of the offensive line.
James and the rest of the offensive line will look for a repeat performance from last season in the pass-blocking department. The group allowed just 18 sacks in 2011.
Backup: Kyler Kerbyson – 6'5", 320 lbs. – Redshirt Freshman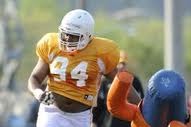 Starter: Darrington Sentimore – 6'2", 288 lbs. – Redshirt Junior
Sentimore has been everything Derek Dooley could have hoped for up to this point.
The junior college transfer didn't show up in great shape and had a disappointing spring camp. However, he got after it during the summer and quickly gained a starting spot during fall camp.
Tennessee has plenty of bodies on the defensive line, but they are looking for the few guys who will become big-time playmakers.
Backup: Corey Miller – 6'3", 257 lbs. – Junior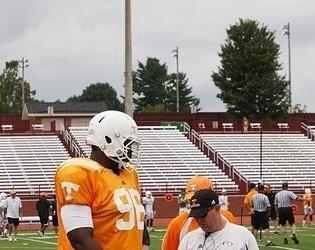 Starter: Daniel McCullers – 6'6", 377 lbs. – Junior
Cordarrelle Patterson entered with huge expectations. The only other newcomer to come close to his level was McCullers.
Patterson, however, had the expectations put on him because of his talent. For McCullers, it was more because of his enormous size.
That size, along with a great work ethic, has earned him a spot in the middle, anchoring Tennessee's defensive line. His ability to stuff the middle against the run will be a huge key for the Vols defensively.
Backup: Daniel Hood – 6'4", 292 lbs. – Redshirt Junior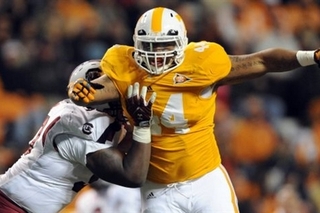 Starter: Maurice Couch – 6'2", 295 lbs. – Redshirt Junior
Couch came to Knoxville with high expectations put before him, and he struggled to live up to those in his first season.
It looks like he is settling in nicely in his second season, and has the opportunity to become a force from the end position in the new 3-4 defense.
Couch finishes off the defensive line for the Vols, a trio of players who all came from the junior college ranks.
Backup: Marlon Walls – 6'2", 283 lbs. – Redshirt Junior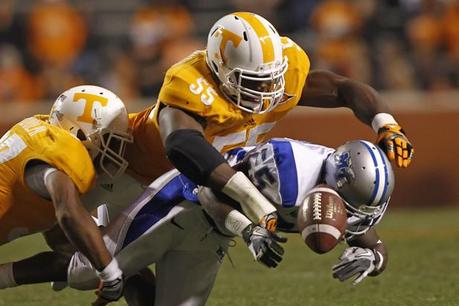 Starter: Jacques Smith – 6'2", 244 lbs. – Junior
The Ooltewah, Tennessee native has struggled to live up to expectations in his first two seasons, but Smith has shown flashes of brilliance at times.
With new defensive coordinator Sal Sunseri installing a new defense, many people believe Smith will be one of the major beneficiaries.
Smith is a candidate for the top breakout player in 2012 for the Vols.
Backup: Willie Bohannon – 6'2", 253 lbs. – Redshirt Senior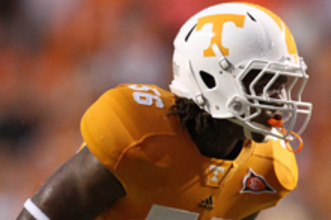 Starter: Curt Maggitt – 6'3", 240 lbs. – Sophomore
Maggitt and fellow linebacker A.J. Johnson had fantastic seasons as freshmen in 2011. Now, they will each look to build off of that and take the next step this fall.
Maggitt moves inside in the 3-4 defensive scheme, where his size will translate well.
Sal Sunseri called Maggitt and Johnson one of the top linebacker duos that he has ever coached, which is high praise considering his background.
Backup: Channing Fugate – 6'1", 233 lbs. – Junior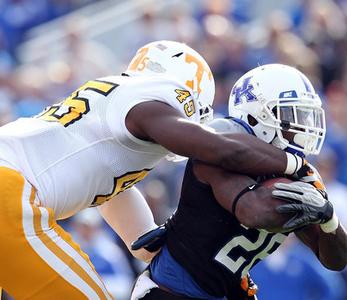 Starter: A.J. Johnson – 6'3", 240 lbs. – Sophomore
Johnson started on the outside during his freshman season, and played very well. However, his true position is in the middle, and he will get the chance to show that this season.
Johnson has the prototypical size to play middle linebacker and should be a force in the middle for the Vols.
He should combine with Maggitt to be one of the better linebacker tandems in the conference.
Backup: Channing Fugate - 6'1", 233 lbs. – Junior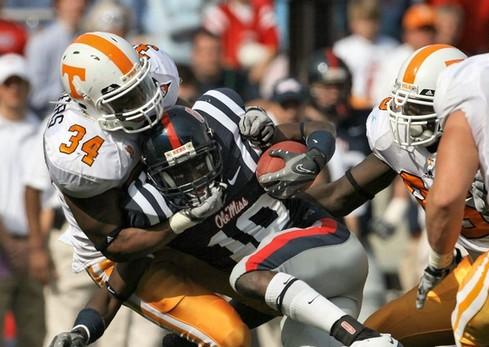 Starter: Herman Lathers – 6'0", 230 lbs. – Redshirt Senior
There may be no better story in the SEC this season than Lathers. With everything the linebacker has had to overcome, it's amazing that he is still playing.
After missing all of last season, Lathers returns this fall and will be the captain of the defense. Generally, the middle linebacker makes the defensive calls. However, Derek Dooley is comfortable with Lathers' ability to make the calls from the weakside position.
Vols fans will be crossing their fingers all season long that Lathers can stay healthy.
Backup: Dontavis Sapp – 6'2", 224 lbs. – Junior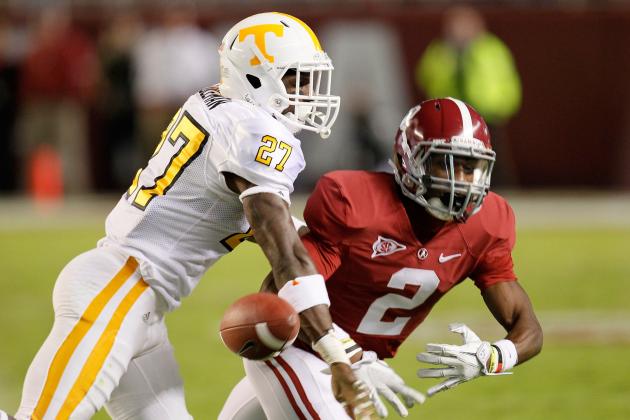 Kevin C. Cox/Getty Images

Starter: Justin Coleman – 5'10", 182 lbs. – Sophomore
Coleman was welcomed to college football in the opening game of the season in 2011, getting burned for a long touchdown against Montana.
He continued to learn on the job last fall and has earned a starting job once again. Tennessee's secondary has been like a revolving door of late, and they would love to see Coleman settle in and keep the position throughout the year.
Senior Marsalis Teague is breathing down his neck though, waiting for his opportunity.
Backup: Marsalis Teague – 5'11", 182 lbs. – Senior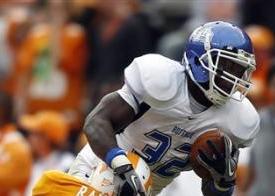 Starter: Brian Randolph – 6'0", 195 lbs. – Sophomore
Randolph was a pleasant surprise for Derek Dooley last fall. Randolph emerged onto the scene and performed very well.
He ended the season as the fifth-leading tackler, and was voted an All-SEC Freshman selection by the league coaches.
Sal Sunseri has a good, young playmaker in the back end of his defense to enjoy for a couple years.
Backup: Rod Wilks – 6'0", 221 lbs. – Redshirt Senior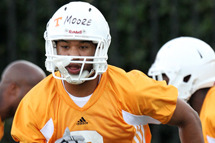 Starter: Byron Moore – 6'0", 193 lbs. – Redshirt Junior
Moore competed all of fall camp with Brent Brewer for this starting position. The two have been neck-and-neck throughout, but it looks like Moore will be on the field the first time the Tennessee defense appears Friday night.
The Vols were hoping they would have gotten more out of Moore last season, but he struggled with the transition from junior college to the SEC.
However, everything seems to be clicking now, and he gives the Vols another playmaker in the secondary.
Backup: Brent Brewer – 6'1", 214 lbs. – Junior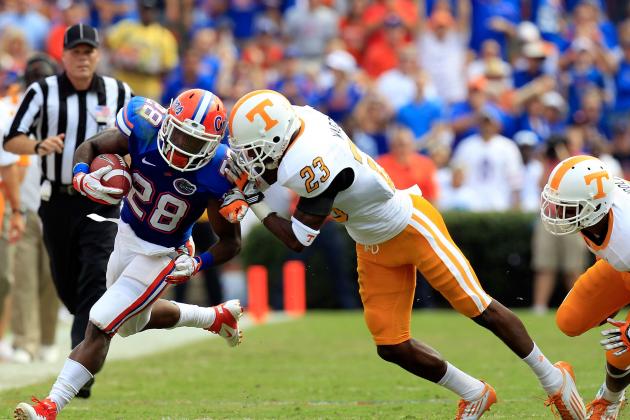 Sam Greenwood/Getty Images

Starter: Prentiss Waggner – 6'2", 182 lbs. – Redshirt Senior
The Tennessee secondary is at its best when Waggner is able to play cornerback. Depth and talent issues have not allowed that to happen very often over the last two seasons.
As of now, the Vols have the necessary parts to allow the Clinton, Louisiana native to play his natural position.
Waggner is a natural playmaker in the secondary, and has a knack for finding the football. The Tennessee defense struggled to turn opponents over last season, and Waggner is one that can help change that this fall.
Backup: Eric Gordon – 5'9", 190 lbs. — Junior