2012 US Open: What to Expect of Andy Murray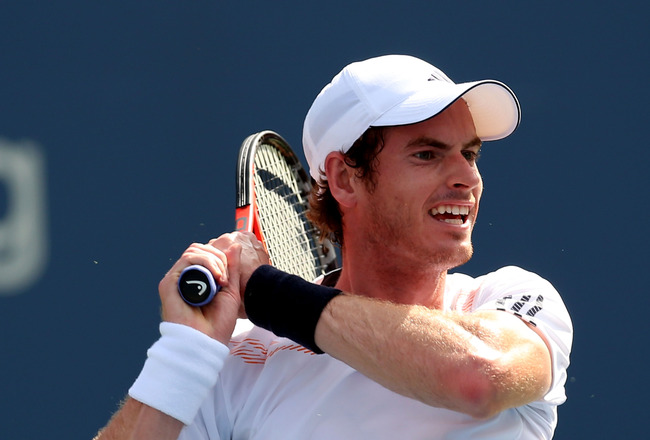 Matthew Stockman/Getty Images
He has not yet won a Grand Slam, but he has won the Olympics. He got pushed aside in the Southern and Western Open in Mason by Jeremy Chandy, the French man who is currently ranked 32nd, but Murray had been complaining of a sore knee.
Will Andy Murray prove himself at the U.S. Open or will he dwell on his latest performances and channel the negativity from them onto the court?
It will be interesting to see whether Great Britain's answer to the big three of tennis will catapult himself onto the big stage and become a member of tennis' aristocracy.
These are my four expectations of Andy Murray in the U.S. Open.
Hunger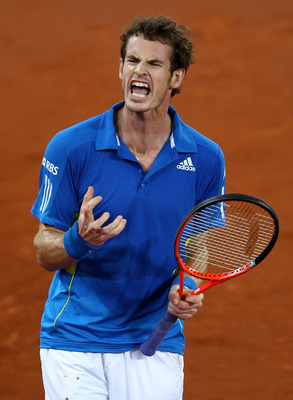 Clive Brunskill/Getty Images
Murray reached four finals and six semifinals, respectively, before he was crowned with the Olympic Gold.
Although Murray stated that he would not trade his Olympic gold for a Grand Slam title (per The Telegraph), one has to wonder whether that was a statement saturated with emotion and that Murray would alter his answer if he had the chance, or whether it was genuine.
There is no comparison between winning a Grand Slam and an Olympic Gold. It is like asking a track athlete whether they would rather win the Olympics or the World Championships.
Murray is definitely hungry for a slam and after having a taster of what it feel likes to be the best, there is no way he wants to stop just yet.
The U.S. Open would be the perfect stage for Murray to prove that his Olympic performance was not a rarity.
We can expect Murray to look hungry for the win, just like he did at the Olympics.
Temperament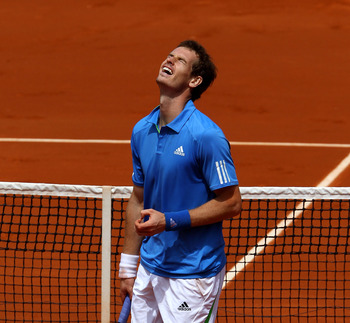 Clive Brunskill/Getty Images
Murray's temperament has hindered his performances on the court in the past.
He allowed himself to become frustrated, which in turn caused a string of unforced errors, prompting him to defeat himself rather than his opponents.
Although Murray's tennis is in great health, he will have to keep composed like he did at the Olympics and not allow the demons to creep back in.
Something which most of the Grand Slam Kings have in common is their cool as a breeze temperament. Federer, Sampras and even Nadal have the ability to hide their emotions, while channeling all their anger into their game.
Murray on the other hand shows his cards, becoming vulnerable, causing his opponents to attack at the right time.
It will be particularly interesting to see whether Murray will breeze through the rounds silently or trample through them angrily.
What we hope for is the former, but what can we expect?
Who really knows.
Consistency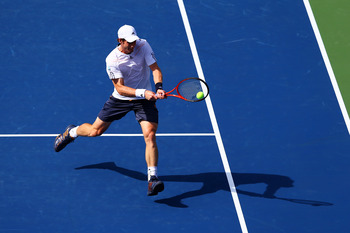 Al Bello/Getty Images
If Murray is going to break into the big three, extending the trio into a quartet, he is going to need to be more consistent.
But can we expect consistency from Murray during the U.S. Open?
Although Murray has improved his game drastically, he has a long way to go in order to be remember as one of the greats.
Murray can be consistent, but he even showed signs of weakness following his Olympic win when he lost to Chardy at Mason and then again in the first round at the U.S. Open, where his performance was a little shaky.
Although Murray looked rusty, I think we can expect his game to improve as the tournament progresses.
The BBC reported Murray to have said of his less than perfect start, "Sometimes I've played great at the start of tournaments and not done well, sometimes I've played badly and got better."
I don't think his first round performance is a predictor for what is to come. I expect Murray to become stronger with every game, and contend for a spot in the final.
Fire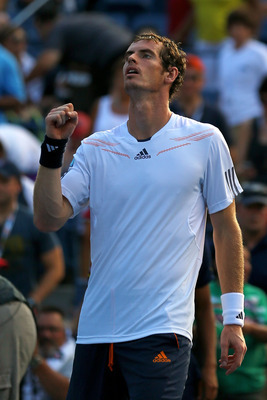 Al Bello/Getty Images
Murray played with fire when he shattered Federer's chances of an Olympic gold in London, but in order to win the U.S. Open, the Scottish star will have to replicate the game he possessed against Federer on Centre Court in August.
Murray had fire in his eyes throughout the final at the Olympics, as he wanted revenge on King Roger after his teary-eyed finish at Wimbledon.
Murray succeeded, but will he have the same longing for victory at the U.S. Open?
He really should, as he is still lacking a Grand Slam title, something all the greats have.
We all know Murray's emotions have the power to predict his playing ability. I expect Murray to play his heart out, but will his emotions get in the way?
After his win at the Olympics, it will be interesting to see whether he still has that burning desire to win or whether he is still in basking in the glory of his Olympic medal.
Keep Reading