Alabama Football: Finalizing the Week 1 Depth Chart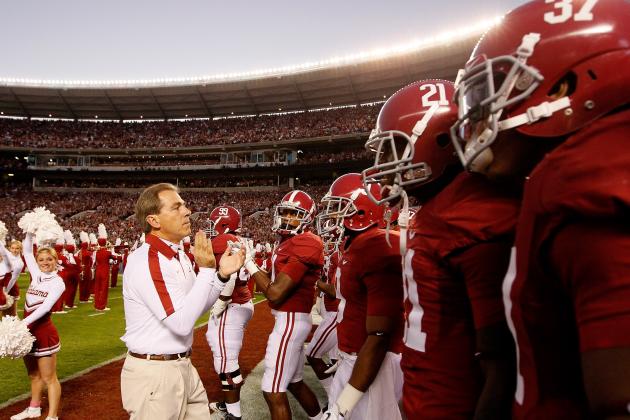 Kevin C. Cox/Getty Images
Despite losing several key contributors from last season, Nick Saban still has a depth chart that is the envy of most coaches and fans across the country.
With fall camp officially in the books and the season opener against No. 8 Michigan just days away, Nick Saban and his staff have moved on from evaluating their own roster and have turned the focus to preparing for the Wolverines.
The competition in practice at a school like Alabama can be just as demanding—if not more so—as their games are. The end result should be a strengthened depth chart with plenty of talented players that ready to step up and contribute when their number is called.
The starting lineup looks to be set for the most part, but there are some concerns with depth at certain positions like quarterback (behind AJ McCarron), offensive line and in the secondary.
There were several intriguing position battles for fans to monitor during fall camp. There were also a number of highly touted freshmen from 2012's top-rated recruiting class ready to make an impact on a squad who is expected to challenge for its third national title in the last four years.
The answers will finally be unveiled this weekend.
What will the two-deep look like when the Crimson Tide takes the field in Cowboys Stadium in Dallas on Saturday night?
Find out in this breakdown of the anticipated week one depth chart for Alabama. (h/t Andrew Gribble, al.com).
Begin Slideshow

»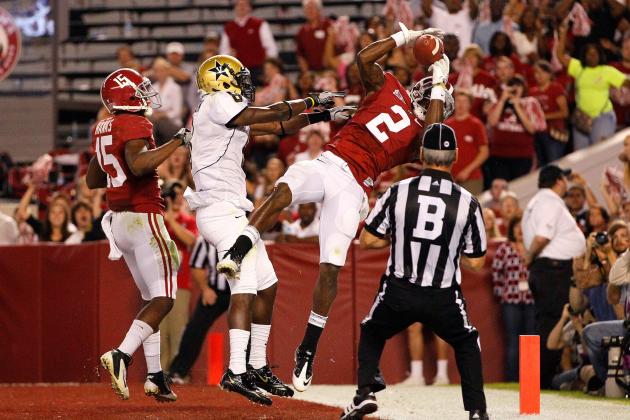 Kevin C. Cox/Getty Images
WR DeAndrew White impressed enough in fall camp to earn a starting job.
The intrigue surrounding the Tide's offense revolves around what potential changes—if any—fans can expect from new offensive coordinator Doug Nussmeier's system, and what the rotation at wide receiver will look like to begin the season.
McCarron and running back Eddie Lacy plus a deep and veteran group on the offensive line give Alabama's new play-caller a solid foundation to build upon.
Despite the new faces at receiver, there is a belief that the Tide will have the ability to open things up in the passing game should they choose to do so.
A pair of true freshmen to watch this fall will be running back T.J. Yeldon—who looks to have the inside track in backing up Lacy—and receiver Amari Cooper, with both former stud recruits enjoying the benefit of enrolling early and getting prepared to become contributors in their first season on the college level.
Perhaps the biggest surprise on this list is at H-back, with senior Kelly Johnson emerging seemingly out of nowhere to earn the job over Harrison Jones and Brent Calloway amongst others.
After intense competition and months of speculation as to which pass catchers would stand out from a deep group, junior Kevin Norwood and sophomores DeAndrew White and Christion Jones appear to be the top three receivers heading into the Michigan game this weekend.
QB – 10 – AJ McCarron, JR (6'4", 205)
12 – Phillip Ely, FR (6'1", 198)
RB – 42 – Eddie Lacy, JR (6'0", 220)
45 – Jalston Fowler, JR (6'1", 242), or 4 – T.J. Yeldon, FR (6'2", 216)
1 – Dee Hart, FR (5'9", 190)
TE – 89 – Michael Williams, SR (6'6", 269)
84 – Brian Vogler, SO (6'7", 258)
H – 31 – Kelly Johnson, SR (6'3", 230)
82 – Harrison Jones, SO (6'4", 244)
21 – Brent Calloway, FR (6'1", 217)
LT – 71 – Cyrus Kouandijo, SO (6'6", 311)
63 – Kellen Williams, JR (6'3", 303)
LG – 65 – Chance Warmack, SR (6'3", 320)
Chad Lindsay, SO (6'2", 290)
C – 75 – Barrett Jones, SR (6'5", 302)
70 – Ryan Kelly, FR (6'5", 288)
RG – 61 – Anthony Steen, JR (6'3", 303)
77 – Arie Kouandijo, SO (6'5, 310)
RT – 76 – D.J. Fluker, JR (6'6", 335)
79 – Austin Shepherd, SO (6'5", 312)
WR (X) – 2 – DeAndrew White, SO (6'0", 185)
9 – Amari Cooper, FR (6'1", 198)
80 – Marvin Shinn, FR (6'3", 198)
WR (Z) – 83 – Kevin Norwood, JR (6'2", 195)
7 – Kenny Bell, JR (6'1", 180)
WR (H) – 22 – Christion Jones, SO (5'11, 185)
8 – Cyrus Jones, FR (5'10", 192)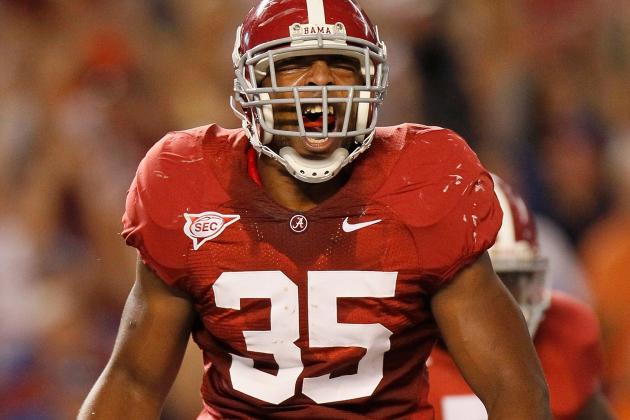 Kevin C. Cox/Getty Images
Johnson will team with CJ Mosley and Trey Depriest to man the 2 inside LB spots.
Defensive coordinator Kirby Smart has to replace three anchors (who happened to be first-round picks in the 2012 NFL draft) of last season's dominant unit. Similarly to the offense, he will have the luxury of relying on tested veterans like Jesse Williams and Damion Square on the defensive line.
At linebacker, the middle linebacker spots figure to be a three-man rotation of Nico Johnson, C.J. Mosley and Trey Depriest. The outside spots will belong to sophomores Adrian Hubbard and Xzavier Dickson.
Aside from safety Robert Lester and corner Dee Milliner, the secondary is ripe with talent, albeit mostly inexperienced. Recent injuries (to safety Jarrick Williams and corner Bradley Sylve) and an unexpected departure (corner Travell Dixon) make depth a concern.
JUCO transfer Deion Belue will man the corner spot opposite Milliner, but junior John Fulton could see action in the team's nickel and dime sets.
True freshmen corner Geno Smith, safety Landon Collins plus linebackers Reggie Ragland and Denzell Devall all found their way on the season's first depth chart, which should bode well for their chances to gain meaningful action in their first year on campus.
DE – 49 – Ed Stinson, JR (6'4", 282)
8 – Jeoffrey Pagan, SO (6'4", 285)
NG – 54 – Jesse Williams, SR (6'4", 320)
62 – Brandon Ivory, SO (6'4", 315)
DE – 92 – Damion Square, SR (6'3", 286)
90 – Quinton Dial, SR (6'6", 304)
Sam OLB – 42 – Adrian Hubbard, SO (6'6", 248)
19 – Jonathan Atchison, JR (6'3", 236)
Mike ILB – 33 – Trey Depriest, SO (6'2", 245), or 35 – Nico Johnson, SR (6'3", 245)
18 – Reggie Ragland, FR (6'2", 247)
Will ILB – 35 – Nico Johnson, SR (6'3", 245). or 32 – C.J. Mosley, JR (6'2", 232)
11 – Tana Patrick, JR (6'3", 236)
Jack OLB – 47 – Xzavier Dickson, SO (6'3", 262)
30 – Denzel Devall, FR (6'2", 243)
CB – 28 – Dee Milliner, JR (6'1", 199)
10 – John Fulton, JR (6'0", 187)
CB – 13 – Deion Belue, JR (5'11", 179)
24 – Geno Smith, FR (6'0", 182)
SS – 37 – Robert Lester, SR (6'2", 210)
27 – Nick Perry, JR (6'1", 208)
FS – 3 – Vinnie Sunseri, SO (6'0", 215), or 6 – HaHa Clinton-Dix, SO (6'1", 209)
26 – Landon Collins, FR (6'0", 202)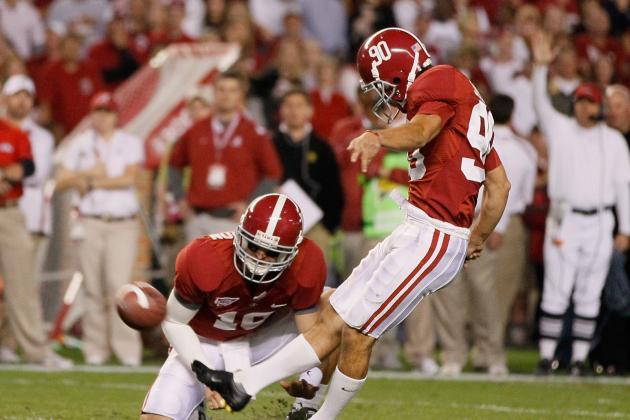 Kevin C. Cox/Getty Images
Shelley's 21 made FG's last season finished tied for second in the SEC.
Aside from the notable loss of reliable and explosive return man Marquis Maze, the Crimson Tide's special team units return mostly intact for 2012.
Sophomore receiver Christion Jones and redshirt freshman running back Dee Hart are amongst the players trying to fill the punt return vacancy.
The same duo will also get a chance to return kicks, with Milliner and Norwood also likely to be options should either Jones or Hart struggle.
Kickers Jeremy Shelley and Cade Foster return from last season, as do long snapper Carson Tinker and holder McCarron.
Punter Cody Mandell will handle the punting duties for the third consecutive season.
PK – 5 – Jeremy Shelley, SR (5'10", 165), or 43 – Cade Foster, JR (6'1, 218)
Kickoffs – 43 – Cade Foster, JR (6'1", 218)
Holder – 10 – AJ McCarron, JR (6'4", 210)
3 – Vinnie Sunseri, SO (6'0", 215)
P – 29 – Cody Mandell, JR (6'4", 202)
5 – Jeremy Shelley, SR (5'10", 165)
LS – 51 – Carson Tinker, SR (6'1", 220)
31 – Kelly Johnson, SR (6'3", 230)
PR – 22 – Christion Jones, SO (5'11", 185)
1 – Dee Hart, SO (6'0", 185)
KR – 22 – Christion Jones, SO (5'11", 185)
1 – Dee Hart, SO (6'0", 185)
28 – Dee Milliner, JR (6'1", 199)
83 – Kevin Norwood, JR (6'2", 195)
22 – Christion Jones, SO (5'11", 185)