Georgia Football: Finalizing the Week 1 Depth Chart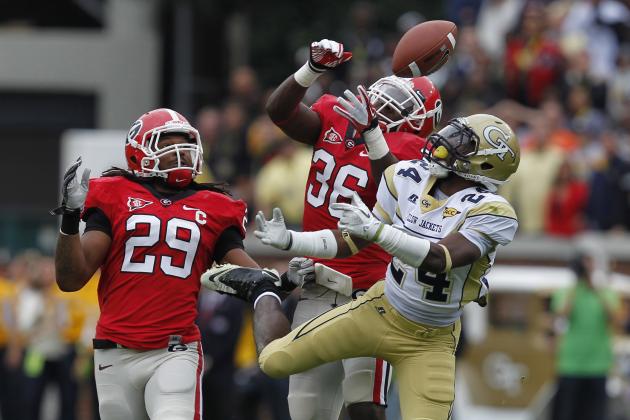 Josh D. Weiss-US PRESSWIRE

The Georgia Bulldogs will start their 2012 regular season on Saturday at Sanford Stadium against Buffalo.
The Bulldog nation will be excited about the Bulldogs taking the field, but they will also be curious to see how this team looks because the expectations are very high.
This is why the Bulldogs need to face a team like Buffalo. They have some new players taking the field for the first time, especially on the offensive line, and they have to make sure that they play together before the SEC schedule begins.
Now, does this mean this team won't look different by the end of the season? No, but head coach Mark Richt hopes the lineup he puts out for the Buffalo game will take them to a SEC championship and possibly a BCS title.
Here's a final look at the Week 1 depth chart.
Begin Slideshow

»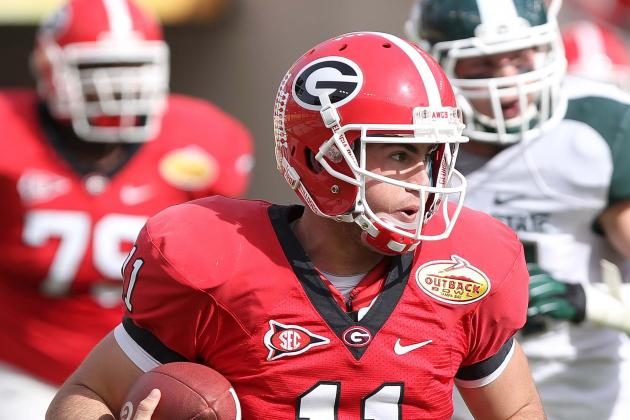 Kim Klement-US PRESSWIRE

There is no question who is the starter at this position. Aaron Murray will look to put up big numbers this season, and a good way to start that is to pounce on the Bulls early and often.
Backup: Hutson Mason
No. 3: Christian LeMay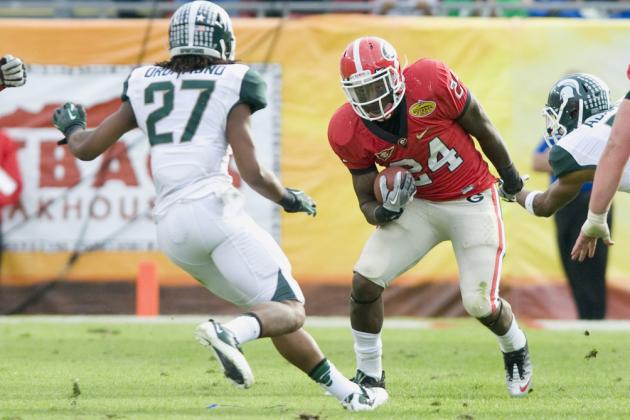 Jeff Griffith-US PRESSWIRE

This is going to be a four-man rotation. Ken Malcome will get the nod, but expect to see Keith Marshall, Todd Gurley and Richard Samuel get a lot of action.
Backups: Gurley, Marshall and Samuel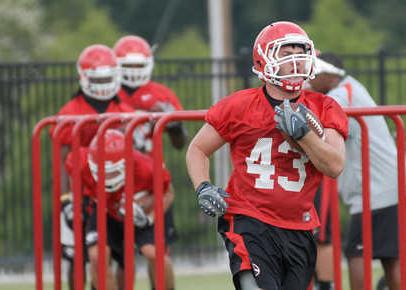 Photo credit: Macon Telgraph
Merritt Hall is one of the good stories to come out of Athens. This walk-on, who received no scholarship offers, was once a linebacker, but worked his tail off to be the No. 1 fullback.
This position will be interesting to watch because there will be fans who want to see Quayvon Hicks in action as well.
Backup: Samuel
No. 3: Zander Ogletree, Hicks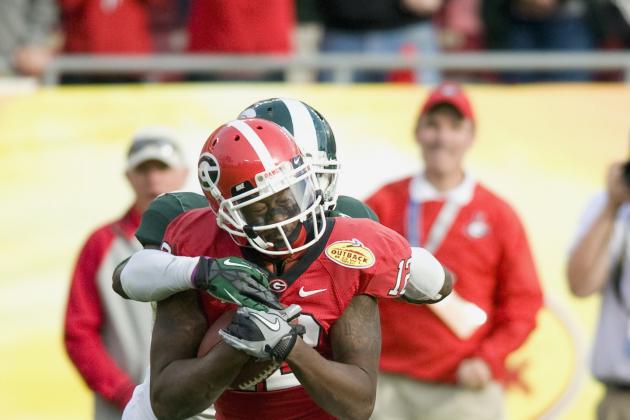 Jeff Griffith-US PRESSWIRE

Tavarres King is looking to build on what he did last season. King ended 2011 leading the team in catches, yards and receiving touchdowns, thanks to a huge game against Michigan State in the Outback Bowl.
Backup: Rantavious Wooten or Chris Conley
No. 3: Justin Scott-Wesley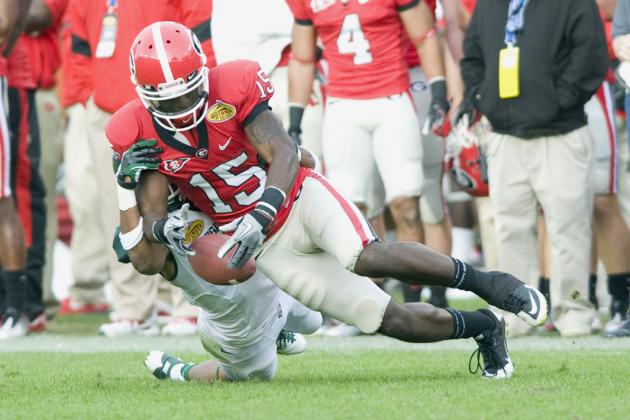 Jeff Griffith-US PRESSWIRE

Marlon Brown is primed and ready to have a stellar senior season. If King is able to produce on the opposite side of the field, that should open the door for Brown to make big plays.
Backup: Michael Bennett
No. 3: Malcolm Mitchell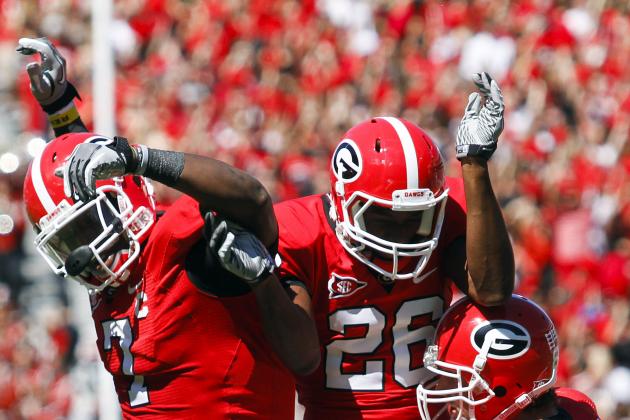 Daniel Shirey-US PRESSWIRE

Arthur Lynch should be a good security blanket for Murray. He's not as big or athletic as Jay Rome, but Lynch is a more reliable blocker, which is needed because the offensive line will need some time to come together.
Backup: Rome
No. 3: Ty Smith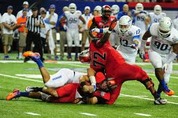 Photo credit: SB Nation
Kenarious Gates will play left tackle after playing left guard last season. He will take the place of Cordy Glenn who has moved on the NFL.
Backup: Mark Beard
No. 3: Austin Long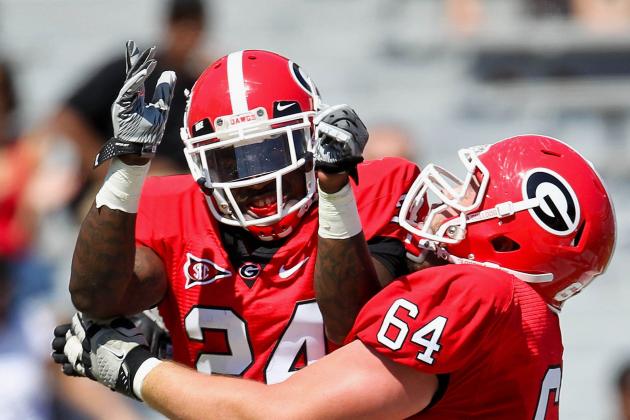 Daniel Shirey-US PRESSWIRE

Dallas Lee will make his return the starting lineup after missing the last part of last season due to a broken leg. He is one of three returning starters from last year.
Backup: Ben Reynolds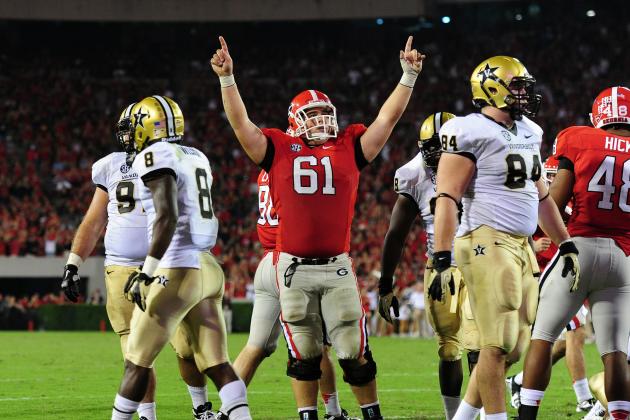 Scott Cunningham/Getty Images

Taking the place of Ben Jones will be David Andrews, who played sparingly last season. Andrews won the job during spring practice.
Backup: Chris Burnette
No. 3: Lee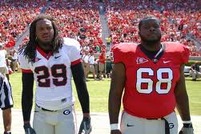 Photo credit: Bulldawgillustrated.com
Burnette is the only returning lineman who started all 12 games last year. One could argue that he could be the best lineman on the roster.
Backup: Greg Pyke
This was expected, but John Theus will start at right tackle on Saturday. Theus was a top recruit in high school, and many think he could be the next All-American lineman for the Bulldogs.
Backup: Watts Danztler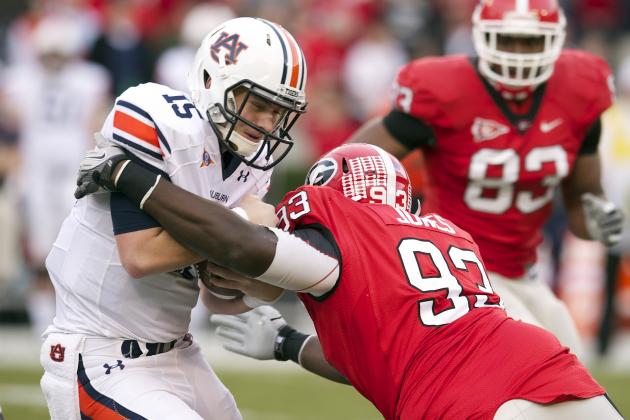 Dale Zanine-US PRESSWIRE

Abry Jones has played consistent football the last two years, but does not get the recognition. He has a chance to have a huge year because of his toughness and intelligence.
Backup: Garrison Smith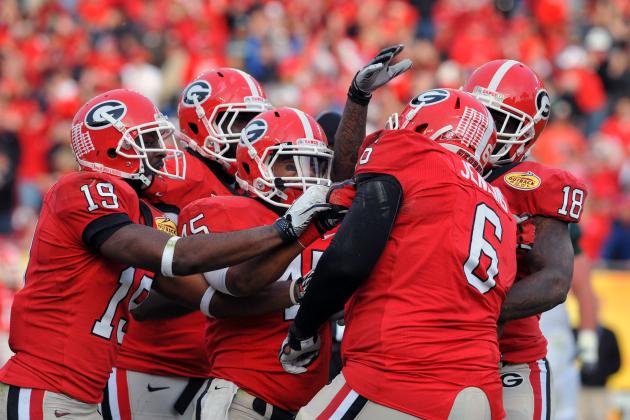 Al Messerschmidt/Getty Images

Standing at 6'3'' and 350 pounds, John Jenkins played strong football last year and even had a better spring session. Now that he has one year under his belt for the Bulldogs, he will have a good chance to end his college career with a bang.
Backup: Kwame Geathers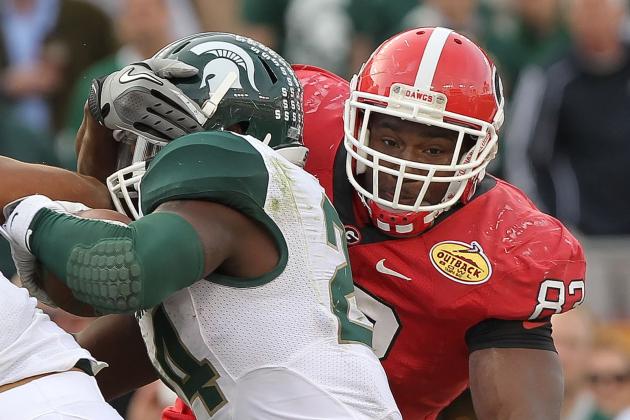 Kim Klement-US PRESSWIRE

Cornelius Washington thrived at outside linebacker last year, and coaches are hoping he can do the same at defensive end. Washington is coming off a very good spring and will really help the defensive line generate extra pressure.
Backup: Ray Drew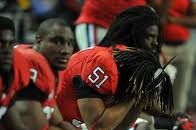 Photo credit: Atlanta Journal-Constitution
Ramik Wilson will get the start for the next two games because Chase Vasser is suspended. He was named Most Improved Player on defense during spring practice.
Backup: Josh Dawson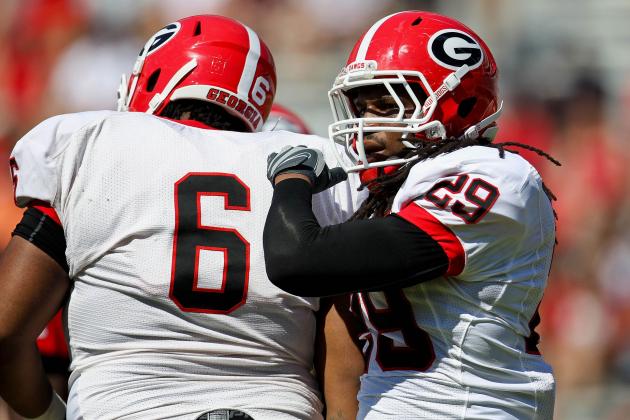 Daniel Shirey-US PRESSWIRE

Jarvis Jones is on track to have a huge year for the Bulldogs. If he stays healthy, he should win the Butkus award along with many other awards when the season is said and done.
Backup: T.J. Stripling
No. 3: Jordan Jenkins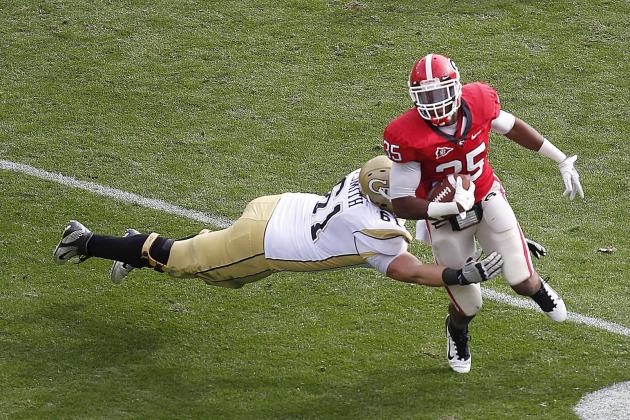 Josh D. Weiss-US PRESSWIRE

Michael Gilliard came onto the scene last year after filling in for Alec Ogletree and Christian Robinson going down with injuries. He started 11 games and tallied 65 tackles, two sacks and one pick.
Backup: Amarlo Herrera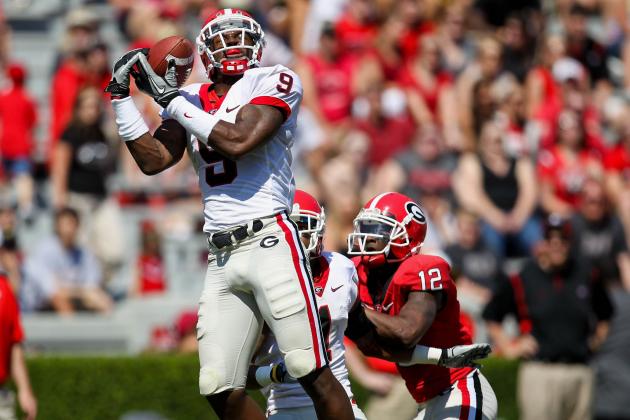 Daniel Shirey-US PRESSWIRE

Alec Ogletree is probably the second-best linebacker on the team right after Jones. He was expected to miss some game time due to violating team rules, but Richt is not saying much about him being suspended or not, according to Chip Towers of the Atlanta Journal-Constitution.
Backup: Robinson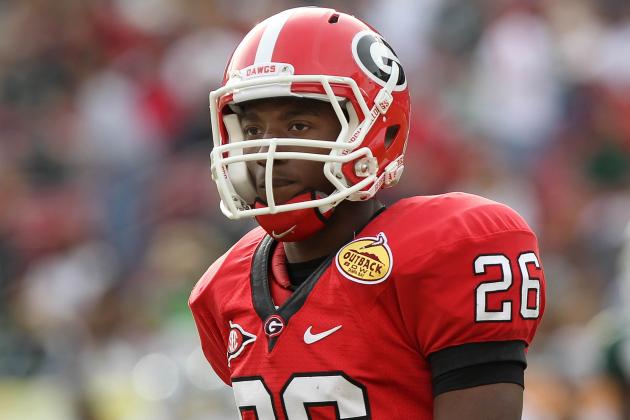 Kim Klement-US PRESSWIRE

Malcolm Mitchell is getting the start at cornerback because he's replacing Sanders Commings who is suspended for the first two games. Mitchell was recruited as a cornerback last year, but played wide receiver for the Dawgs and was extremely effective.
Backup: Devin Bowman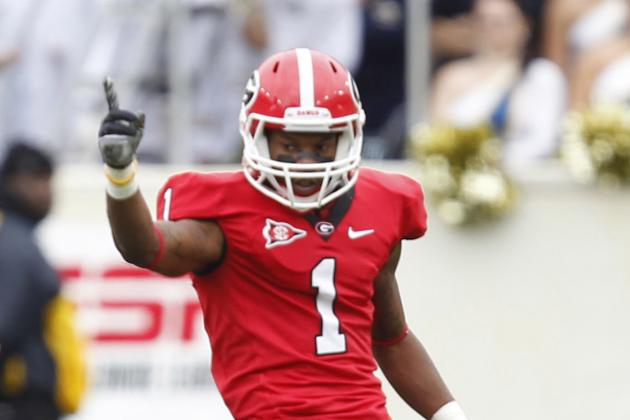 Josh D. Weiss-US PRESSWIRE

Branden Smith makes his return and is one of the most versatile players on the roster. Expect him to see some action at running back and special teams.
Backup: Damian Swann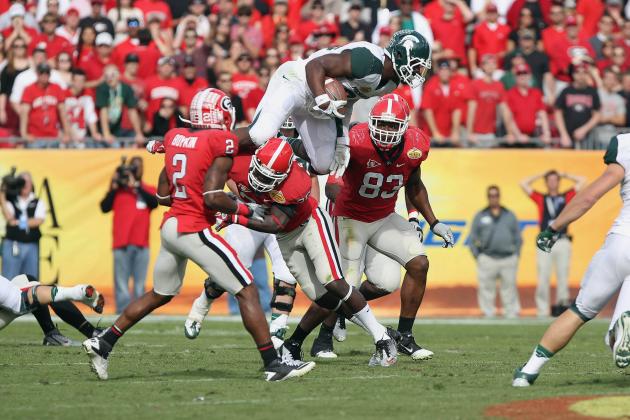 Kim Klement-US PRESSWIRE

Shawn Williams became a full-fledged starter last year and really came into his own. He had four interceptions to go along with his 72 tackles.
Backup: Corey Moore
No. 3: Josh Harvey-Clemons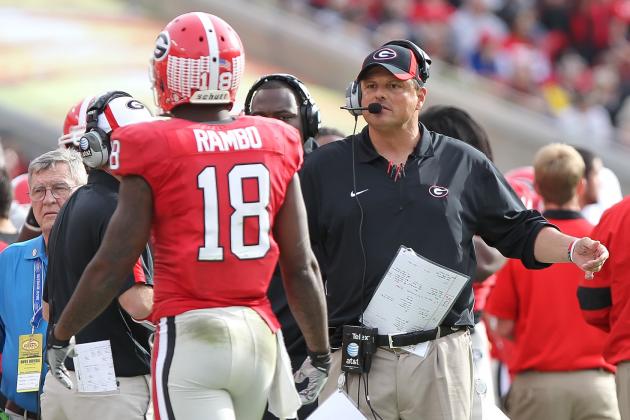 Kim Klement-US PRESSWIRE

It's still unknown about Bacarri Rambo's status for the game, but he's listed as the No. 1 free safety. Rambo is the team's best defensive back, so it will be a big loss if he misses and significant time.
Backup: Connor Norman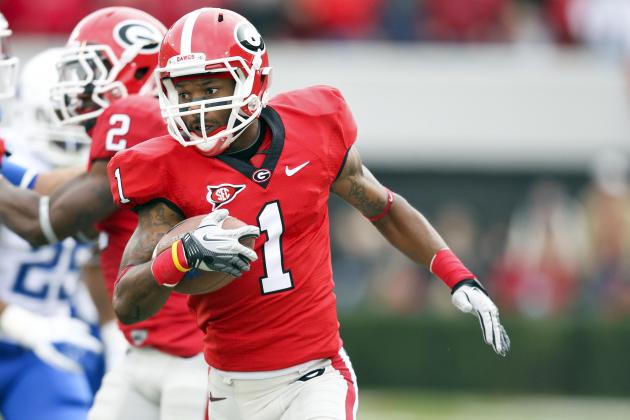 Daniel Shirey-US PRESSWIRE

Marshall Morgan and Colin Barber will be the starting kicker and punter, respectively. Both are true freshmen and should have no problems adjusting to the college game.
Branden Smith will be the kick and punt returner, which was expected. He is the only one who has experience at both positions.
Backup kicker: Jamie Lindley
Backup punter: Adam Erickson
Backup kick and punt returner: Mitchell