NBA's Biggest Breakout Star at Every Position for 2012-13 Season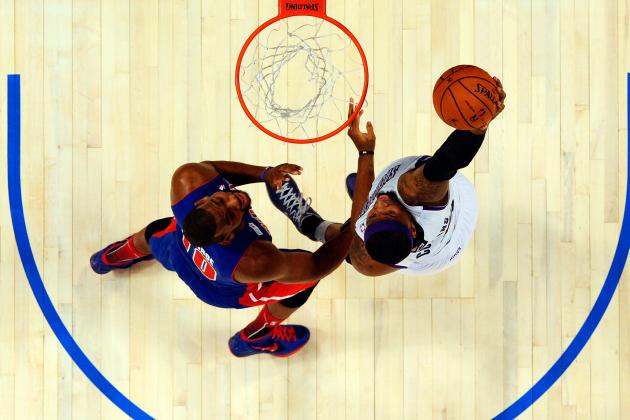 Pool/Getty Images

Oh the times, they are a-changin'...in the NBA, that is. The 2012-13 campaign looks to be loaded with young up-and-coming players ready to take that next step into the upper stratosphere of basketball talents.
The 2012 NBA All-Star Game in Orlando saw six such debutantes—Andrew Bynum, Marc Gasol and LaMarcus Aldridge for the West, and Luol Deng, Andre Iguodala and Roy Hibbert for the East—announce themselves among the league's elite.
The 2013 edition in Houston figures to be a similarly refreshing affair, and not just because Jeremy Lin is all but guaranteed to represent the host Rockets, health permitting of course. A new fleet of stars is poised to join Linsanity for the festivities.
Here are the most likely such candidates at each position.
Begin Slideshow

»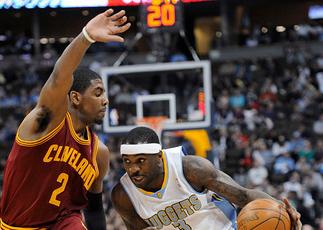 Photo Credit: the Associated Press
With so many great young'uns playing the point these days, I couldn't limit myself to recognizing just one.
John Wall should make a significant leap in Year 3 now that the Washington Wizards have replaced their cast of knuckleheads with straight-and-narrow veterans. And folks in the Great White North will be looking forward to Ricky Rubio's return to the Minnesota Timberwolves' lineup following his recovery from a torn ACL.
But the biggest jumps by floor generals figure to take place in Rock City and the Rocky Mountains.
Kyrie Irving nearly cracked the Eastern Conference squad at the 2012 All-Star Game as a rookie and should have little trouble doing so as a sophomore stud for the Cleveland Cavaliers.
Irving took home Rookie of the Year honors after averaging 18.5 points (on 46.3 percent shooting from the field and 39.9 percent from three), 3.7 rebounds and 5.4 assists, all while making opposing defenses look silly with his ridiculous handles.
The 20-year-old wunderkind out of Duke drew plenty of praise for his play with the US Select Team at Team USA's pre-Olympic training camp in Las Vegas last month before breaking his hand during a Summer League practice.
Assuming he's fit to start the season, Irving should register an even stronger reading on the point-guard seismograph, if not leap into the elite entirely.
That being said, Irving won't likely make much national news, if only because he'll be playing for a Cavs team still on the mend from LeBron James' "Decision."
Ty Lawson, on the other hand, will have every opportunity to shine on national TV now that his Denver Nuggets are a threat in the Western Conference. In his third NBA season (and first as a full-time starter), Lawson poured in 16.4 points, 3.7 rebounds and 6.6 assists, and nearly led the Nuggets to a first-round upset of the since-revamped Los Angeles Lakers.
The addition of Andre Iguodala and the reintroduction of Wilson Chandler on the wings should make Denver that much more lethal in transition.
And, in turn, render Lawson—a blur and a bowling ball rolled into one—a force to be reckoned with.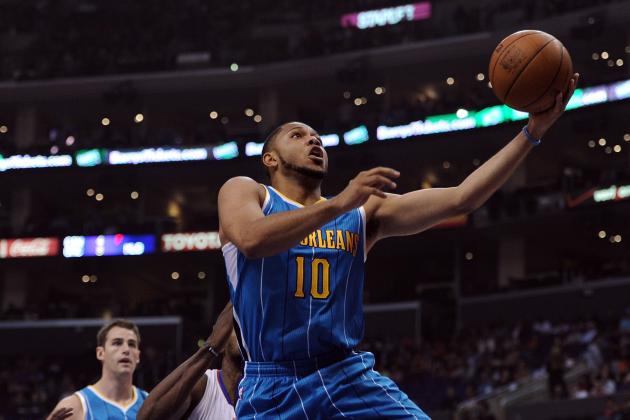 Harry How/Getty Images

The choice of shooting guard would've been a toss-up, too, if not for the fact that James Harden established himself as a star both on and off the court last season.
And Eric Gordon is all but guaranteed a starting job with the New Orleans Hornets, while Harden will likely have to settle back into his role as sixth man supreme with the Oklahoma City Thunder.
One could argue that EJ's breakout season came in 2010-11, when he averaged 22.3 points, 2.9 rebounds and 4.4 assists with the Los Angeles Clippers. And, as such, that he doesn't belong in this discussion.
But Gordon's talents remain somewhat unappreciated, if only because he missed 26 games (and played for the Clippers) that year, and missed all but nine games with the Hornets during the lockout-shortened campaign.
As was the case in LA, Gordon will have an opportunity to strut his stuff with an exciting, young squad in New Orleans, this time with viewers tuning in to see rookies Anthony Davis and Austin Rivers. The Hornets will certainly expect him to do so, assuming he can stay healthy, after retaining him by way of a four-year, $58 million deal in restricted free agency.
The Hornets won't ask Gordon to be their savior, but if he can return to his high-scoring ways and make some noise at the All-Star Game, the expense will have been well worth it.
For one year, at least.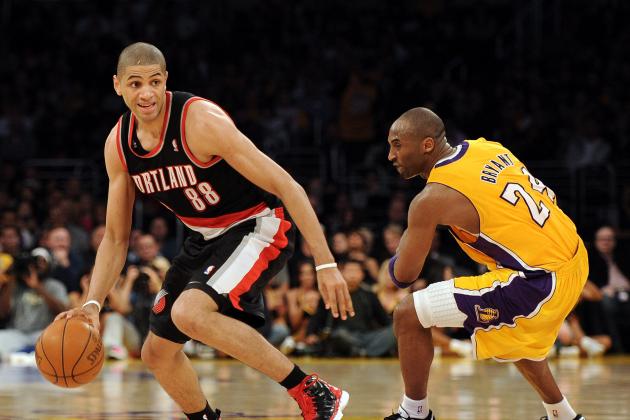 Harry How/Getty Images

When it comes to the small forward position in the NBA today, there's LeBron James and Kevin Durant at the top, Carmelo Anthony just below them...and then everybody else.
Hoping to rise to the top of "everybody else" this season will be Nicolas Batum. The 6'9" swingman signed a four-year, $46.1 million deal to re-up with the Portland Trail Blazers after the Minnesota Timberwolves did just about everything they could to pry him away from their Northwest Division rivals.
Batum didn't exactly acquit himself well thereafter. His production for France at the 2012 Olympics was solid (15.5 points, 5.7 rebounds), but his conduct was...shall we say, less than exemplary.
The Blazers can only hope he'll bring the good back with him, having left the bad in England. If he does, there's every reason to believe he'll emerge as a consistent force in PDX.
Portland will likely count on the 23-year-old Frenchman to carry a heavier portion of the scoring load, even when All-Star LaMarcus Aldridge returns to fitness. That shouldn't be too much to ask for a guy whose scoring average has steadily increased during each of his four NBA seasons and who's now being paid to butter the Blazers' bread.
If Batum can do that much and continue to play lockdown defense on the perimeter, he'll find himself closer to the fringes of LeBron-Durant-Melo territory at small forward by season's end.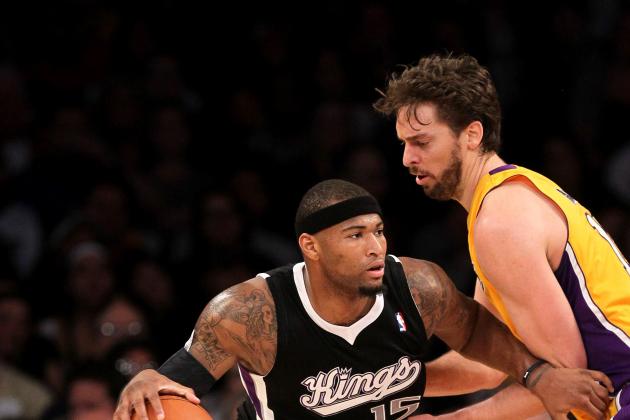 Stephen Dunn/Getty Images

It was only a matter of time (and mind) until DeMarcus Cousins injected himself into the All-Star conversation. The soon-to-be-third-year power forward out of Kentucky has always had the size and skill to dominate down low in a league that's all but devoid of back-to-the-basket big men.
He put it to rather good use with the Sacramento Kings last season, when he posted 18.1 points and 11 rebounds per game, albeit on a terrible team.
All while getting his coach (Paul Westphal) fired.
At this point, the only person holding back Boogie from greatness is Boogie. His selfish, childish ways have only inhibited his growth, both as a player and as a human being, making it that much more difficult for him to accept the wisdom of his coaches and put it to good use.
It's never too late to change, though, and at the tender age of 22, Cousins has plenty of time to get his act together before his physical prime comes and goes.
Assuming he does sooner rather than later, Cousins will have the rest of the league on notice before long.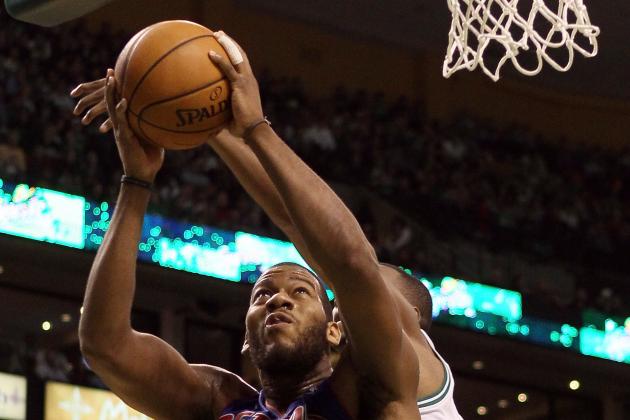 Elsa/Getty Images

Speaking of quality big men to come out of the 2010 NBA draft who are stuck on wayward teams, Greg Monroe appears to be on the precipice of stardom with the Detroit Pistons.
The former Georgetown standout upped his stats to 15.4 points, 9.7 rebounds and 2.3 assists while shooting 52.1 percent from the field in his sophomore campaign. He's still a bit lithe (6'11", 253 pounds), but he's remarkably skilled for a player of his height, with the ability to serve as an offensive facilitator in the post.
Assuming Monroe's role with the Pistons grows and his minutes continue to increase, he should average a double-double with ease in Year 3. The arrival of UConn behemoth Andre Drummond in Detroit's frontcourt should also help to draw some defensive attention away from Monroe in the paint, as well as force him to show off his budding perimeter skills.
And, unlike Boogie, Monroe won't keep his Pistons superiors up at night worrying about any shenanigans. If anything, Monroe is a bit too understated and could stand to show off a personality that more closely mirrors his considerable talent.
The Pistons will more than likely continue to wallow in the wretches of the Eastern Conference this season, but at least they'll have a star, in Monroe, who's worth watching.
Follow @Josh_E_Martin