Toronto Maple Leafs: 5 Contenders for the No. 1 Centre Position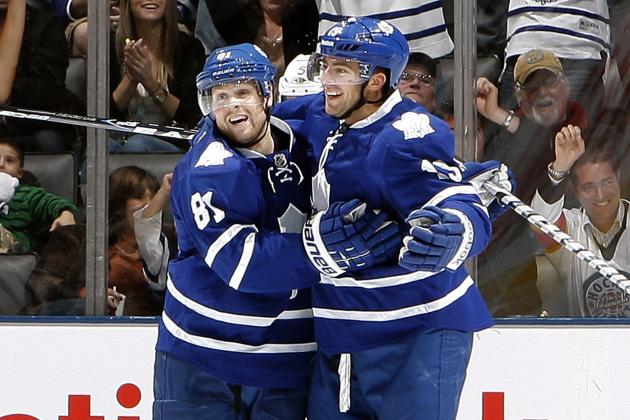 Abelimages/Getty Images

In the event that the NHL and the Players' Association can work together and finalize the new Collective Bargaining Agreement, as it is the Toronto Maple Leafs will need to fill the gap that is the No.1 centre between wingers Joffrey Lupul and Phil Kessel.
There is still a chance, however, that GM Brian Burke could try to pull off a major trade deal to bring in a top line centre to fill the void.
If not, the Leafs will be looking at those already to suit up in blue and white for training camp.
From rookies to seasoned veterans, a few names will be trying for that coveted top spot.
In the slides that follow, we'll look at some pros and cons of each player that could try to contend for the Leafs' top line job.
Begin Slideshow

»
Jeff Gross/Getty Images

We will start with the least likely to win the spot: Joe Colborne.
He is extremely talented and truly impressed the fans and the Leafs organization last season when called up from the Marlies.
Colborne has become a fan favorite, getting a lot of positive buzz from fans.
Pros
When he was called up for 10 games, Colborne was impressive for a rookie skater.
He registered his first NHL point in his first game during the 2010-11 season against Montreal.
He has the size to be a big body on the top line helping Kessel and Lupul who are slightly smaller than him.
Cons
He has yet to play a full season in the NHL.
His play has been criticized as inconsistent since his days at college.
He has yet to live up to expectations.
Conclusion
His size and skill could be a huge asset up front along with Kessel and Lupul. However, due to his inexperience and inconsistent play with the Marlies, he may get a shot during camp, and possibly one in the preseason.
Don't expect to see Colborne in the top six this season as he is young and will probably take another year or two before he makes a splash on the Leafs.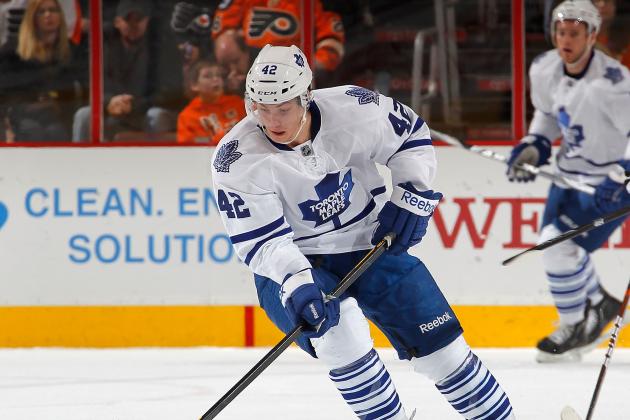 Paul Bereswill/Getty Images

Sitting higher in the possibilities list is Tyler Bozak, who played the position between Lupul and Kessel a fair amount last season.
At 6'1" and 195 pounds, he is not particularly large but still managed to play admirably on the top line.
Pros
He is a skilled two-way centre.
He has good offensive instincts.
He is familiar with Lupul and Kessel on the top line.
Cons
He needs to play consistently to keep the top line job.
He needs to add some bulk to his size to be a more effective two-way centre.
Conclusion
While Bozak may have experience on the top line, it is doubtful he will get the job this season.
He will be a top name in the running through the preseason, but will more than likely end up centering the third or fourth line, adding his skills to the special teams instead.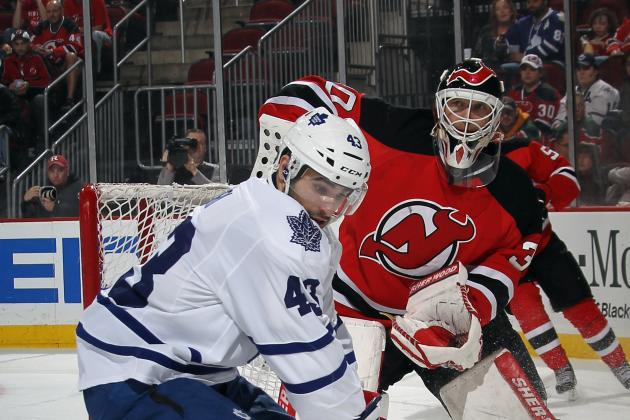 Bruce Bennett/Getty Images

Nazem Kadri has been trying to make the transition to the NHL full-time for a while now.
He is a talented forward that the Leafs organization has faith in as a member of their future. Kadri has also obtained the love of the many Leaf fans who want to see him play for the Maple Leafs.
He has spent much of this offseason working with trainer Gary Roberts to add size to his frame, making him more effective at the NHL level.
Pros
Kadri is extremely talented, and the fans would love to see him earn the top spot.
He is a fearless player who will not back down.
He has great scoring instincts.
Cons
He is undersized at 6'0" and 188 pounds.
He has been criticized for some of his decision making while on the ice.
Kadri needs to have a consistent game-to-game competitiveness level, as sometimes it seems lacking.
Conclusion
Expect to see Kadri make the Leafs main roster for next season, though it will probably not be in the No.1 centre role.
It is much more likely that he will centre for either the second or third line next season. This will allow more time for his game to fully mature before becoming a top line centre.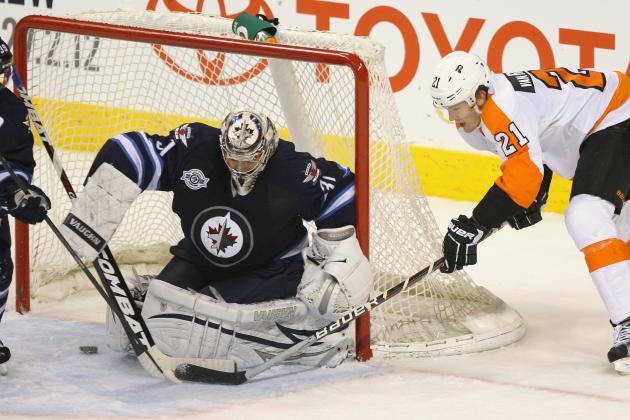 Tom Szczerbowski/Getty Images

Recently traded from Philadelphia to Toronto, it has been reported by Terry Koshan of the Toronto Sun that the Leafs want to try out James Van Riemsdyk at centre in training camp.
He played that position before he came to the NHL, but with the Flyers depth at that position he was moved to the wing.
Pros
JVR will be returning to a position he knows.
He has a great combination of size and skill.
He is a gifted passer who could add to the threat that Lupul and Kessel already possess.
Cons
For the last three seasons JVR has played on the wing, and he has no experience playing centre at the NHL level.
He needs to improve his defensive game.
JVR needs to use his size to his advantage and become a little more aggressive.
Conclusion
Currently JVR stands as one of the top options for the No.1 centre position. He has offensive skill and the ability to be an added threat on the top line.
It is more likely that he will either centre the second line or return to the left wing on that line, bumping Clarke MacArthur from that spot. JVR may even wind up on the wing with Kessel and whoever wins the top centre position.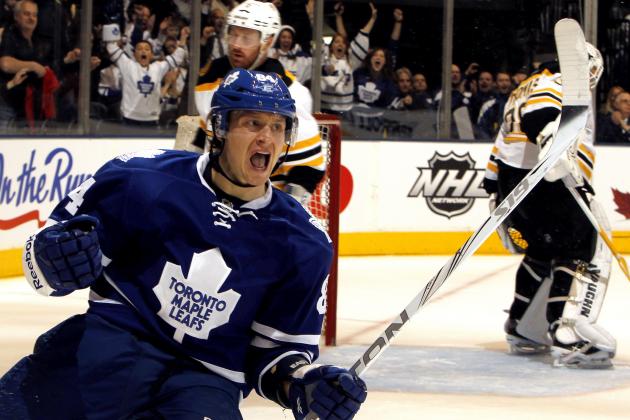 Abelimages/Getty Images

Over the last two seasons playing centre for Toronto's second line Mikhail Grabovski has proven he is a skilled player.
With two high scoring seasons, including a career high 58 points in 2010-11 and 51 points in 2011-12, Grabovski has shown he is a threat at centre.
Playing centre on the second line with Clarke MacArthur and Nikolai Kulemin, Grabovski was able to help raise this line into a genuine scoring threat.
Pros
He is currently the best centre in the Leafs organization.
He has the ability to lift his linemates to the next level.
Last season Grabovski finished third in points, behind Lupul and Kessel.
He has great playmaking ability.
Cons
Grabovski, like many of the candidates mentioned, lacks the ideal size.
He has been known to over-handle the puck at times.
His backchecking needs work.
Conclusion
Even though Grabovski is the smallest person mentioned here, he is still the best choice. His move to the top line should be the obvious choice as he has played well throughout the last two seasons on the second line.
The main issue Grabovski faces is with injuries. He has proven that he possesses a solid work ethic over the last few seasons, and if given the chance, Grabovski could become one of the top centres in the league.