Moussa Dembele: How Tottenham Hotspur's New Signing Will Impact Spurs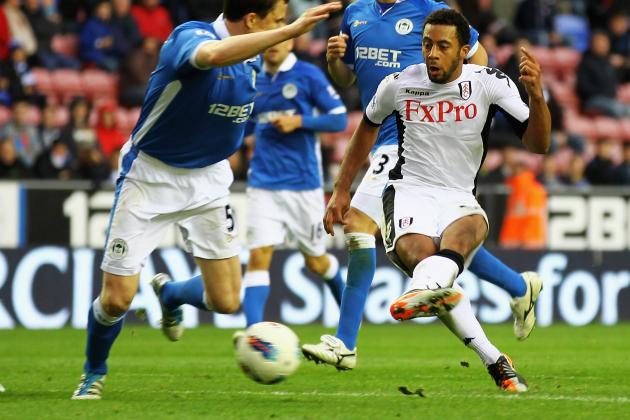 Matthew Lewis/Getty Images

Fulham star Moussa Dembele looks set to replace Luka Modric at Tottenham Hotspur, with Spurs having activated a £15 million release clause for the midfielder.
The 25-year-old Belgium international represent great business for the North London club, who have replaced Modric with a player of equal ability yet still have at least £12 million in the bank.
Dembele was in the final year of his Fulham contract and will finally move to White Hart Lane a year after Tottenham first made their official interest known in the player (h/t Telegraph.co.uk).
Here's how Moussa Dembele will impact the way his new club play.
Begin Slideshow

»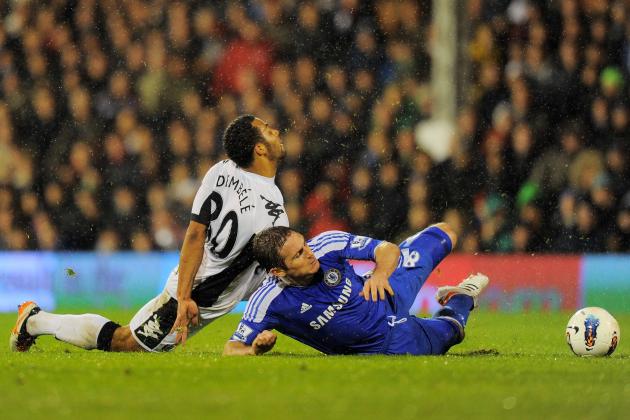 Mike Hewitt/Getty Images

New Tottenham Hotspur manager Andre Villas-Boas is a coach who likes to keep the ball on the ground, and his latest acquisition Moussa Dembele epitomises that philosophy.
Unlike Luka Modric, Dembele is a midfielder who much prefers to pass along the ground, playing short incisive passes and give-and-gos with his partner in the centre.
This is reflected in the stats, with Modric hitting 7.6 long balls per game last season, compared to just 1.3 each match from Dembele.
With a midfield lynchpin more suited to his philosophy, expect Villas-Boas' side to play at a slower tempo, but with more creativity coming from the attacking players.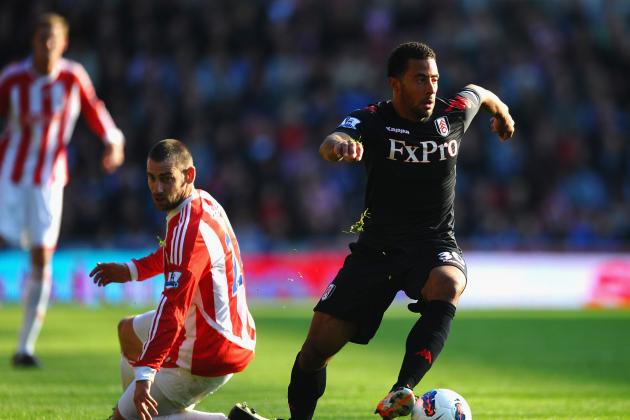 Laurence Griffiths/Getty Images

Dembele's signing to replace Luka Modric also represents a shift to a more central focus of play under new boss Villas-Boas.
A lot of Tottenham's football last season under Harry Redknapp came from the wings, with the pace of both Aaron Lennon and Gareth Bale used at times to devastating effect.
Key to that style was Modric, whose stellar long-range passing matched the wingers' well-timed runs perfectly.
But with Modric gone, Redknapp gone and Spurs football last season somewhat one-dimensional, a change in focus was needed.
Villas-Boas prefers getting the ball to the final third through a central route, mainly as it bypasses a lot of the opposition's midfield and leaves their defence more exposed.
And the perfect player to assist that change is Dembele, who seemingly has been signed for his ability to drive the ball forward through the middle and play the incisive passes to the forwards, wingers or the trequartista.
Dembele completed 79 dribbles last term, the third highest in the Premier League behind Junior Hoilett and Victor Moses, and 16 more than Modric.
With the signing of Dembele, expect a lot more attacking thrust through the centre from Spurs, with their slow build-up play backed up by explosive turns of pace via Dembele's dribbles and runs across the defence from the wingers.
However, with Dembele dispossessed 71 times last season, also expect Tottenham to be more vulnerable from the counterattack.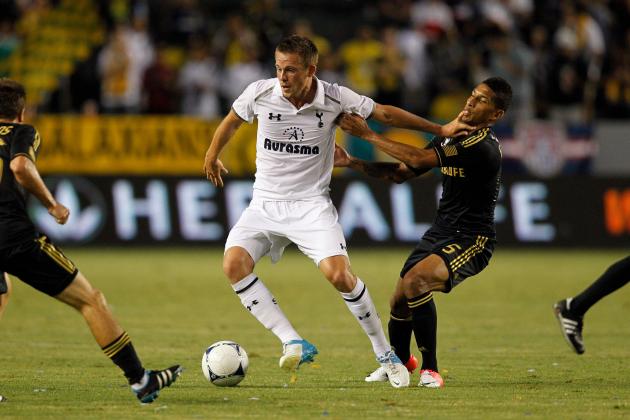 Ric Tapia/Getty Images

The signing of Moussa Dembele is not just good news for Andre Villas-Boas and Tottenham Hotspur fans, but also for fellow newboy Gylfi Sigurdsson, who at last has a teammate at Spurs who can play to his strengths.
Sigurdsson's success last season at Swansea City was largely down to Joe Allen, whose central link-up play often released the Icelandic attacking midfielder into pockets of space just ahead of the penalty area in which he could get a clear shot on goal.
Clint Dempsey's success last term at Fulham was mainly thanks to Dembele, who like Allen drove the ball forward and linked up with the American to release him into great spaces for a goal-scoring opportunity.
With Tottenham playing with only one striker this season, goals from the likes of Sigurdsson will be vital if Spurs are to challenge for a Champions League place.
And now they have Dembele in their side, the likelihood of Sigurdsson and whoever else plays in the No.10 role (the futures of both Rafael van der Vaart and Giovani dos Santos are uncertain), getting a lot of goals and assists will increase sharply.
However, with Dembele's central style, it could also mean fewer goals for Gareth Bale.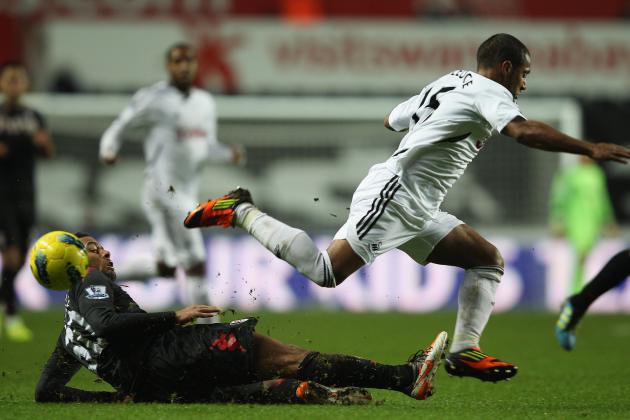 Michael Steele/Getty Images

With Scott Parker injured, getting older and his fitness declining, Jake Livermore still not established and Tom Huddlestone failing to reach his potential, one thing Tottenham Hotspur did need to get right with their Luka Modric replacement is adding a player who will give greater steel to the midfield.
Moussa Dembele adds that vital ingredient to the core of Andre Villas-Boas' team, providing the steel Modric didn't at a time they need it most.
His tackling ability was virtually unparalleled last term, with the Belgian winning the most tackles in the Premier League (112), barring Newcastle United star Yohan Cabaye, who won 117. Modric, on the other hand, won just 56.
On top of that, his general stature (height: 6'1", weight: 85 kg) will give Spurs a greater physical presence in the centre.
So expect Tottenham give away more fouls in the middle of the park, but at the same time not concede as many shots or goals from the centre.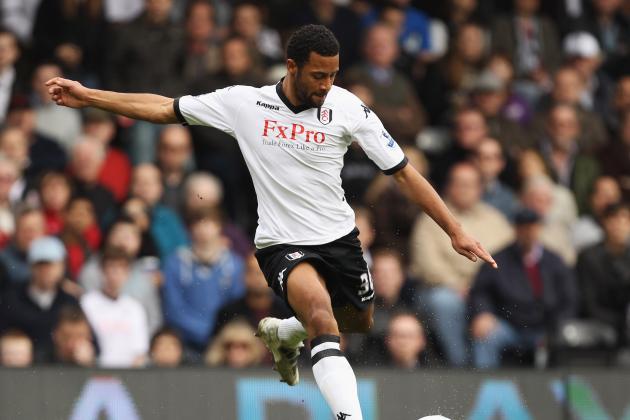 Ian Walton/Getty Images

Overall, Tottenham Hotspur stand to benefit fairly significantly from signing Moussa Dembele, and vice versa.
Set to seal the big-money move every footballer in the sport aims for, Dembele will also benefit well from his switch to White Hart Lane.
Spurs, under Villas-Boas, are exactly the right team for a player of Dembele's technical ability to thrive in.
While the Belgian's penchant for releasing teammates into great spaces for shots or key passes should quickly see him become a key part of the team—especially considering Emmanuel Adebayor, Gylfi Sigurdsson, Gareth Bale, Aaron Lennon and Rafael van der Vaart will be the players tasked with turning Dembele's play into goals and assists.
All in all, Dembele has all the attributes to make a similar impact as Luka Modric, and while the lack of Hollywood passes may not make him an obvious standout star, the better quality of teammates should subsequently highlight his exceptional technical ability and creativity.
Statistics courtesy of WhoScored.com