New York Jets Wouldn't Solve Anything by Signing Chris Cooley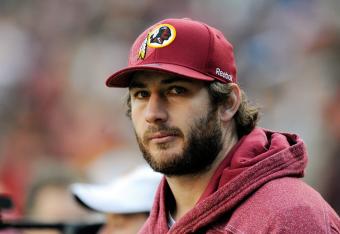 No offense, Chris Cooley, you're just not a fit with the Jets.
Patrick McDermott/Getty Images
The New York Jets can't afford to miss any opportunities trying to upgrade their offense. If nothing else, they owe it to themselves to at least evaluate whether adding talent, any way possible, would pose an upgrade over the unit they currently call their offense.
Their offensive ineptitude throughout the preseason is proof positive of that.
The release of tight end Chris Cooley from the Washington Redskins marks an opportunity for the Jets to do just that.
And although Cooley might be able to contribute in the passing game, there isn't a whole lot more that can be expected of the eight-year NFL veteran.
The Jets have a need for a tight end, but more specifically, a blocking tight end. Cooley is not that, but he has been a solid pass-catching tight end in the past. The question is whether he can still contribute enough to warrant a spot on the roster.
The problem is, the Jets offense is predictable in ways because of their personnel being too one-dimensional.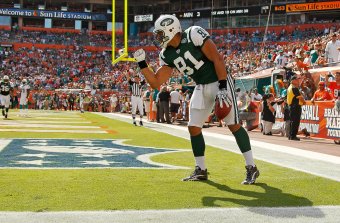 Mike Ehrmann/Getty Images
"Everybody in the league knows Dustin Keller can't block," said a former NFL personnel executive, according to TurnOnTheJets.com. "Last year you had the Jets trot out Matthew Mulligan and John Conner on every running play and Keller on every passing play. It makes them easy to defend. When they talk about using an extra tackle as a tight end this year, it is a dead giveaway to their tendency. Why not go get a blocking tight end? They had success with Ben Hartsock in the past but have completely ignored the position this year."
Adding Cooley might continue to play into those tendencies that make the Jets easier to defend.
There could be some value in the Jets fielding two pass-catching tight ends, but the true value of 12 personnel (two tight ends, two wide receivers, one running back) is the threat of both the run and the pass from those formations. With two tight ends that can't block, the versatility of those sets is diminished greatly.
Should the Jets pursue tight end Chris Cooley?
To top it all off, the Jets don't exactly have a ton of cap space. That will become especially true when the Jets finalize the trade of right tackle Wayne Hunter (
who is owed $2.45 million in 2012
) to the St. Louis
Rams
for right tackle Jason Smith (
$4 million
).
Pending the trade, the Jets currently have just north of $130 million on the books for 2012.
Cooley may not command top dollar on the open market, but the Jets aren't exactly bursting at the seams with extra cap money to hand out.
It's a nice idea in theory, but it doesn't do enough to help the Jets offense to warrant consideration.
Erik Frenz is the AFC East lead blogger for Bleacher Report. Be sure to follow Erik on Twitter and "like" the AFC East blog on Facebook to keep up with all the updates. Unless specified otherwise, all quotes are obtained first-hand.
This article is
What is the duplicate article?
Why is this article offensive?
Where is this article plagiarized from?
Why is this article poorly edited?

New York Jets: Like this team?