2012 NBA Rookies with Immediate All-Star Potential in Their 1st Season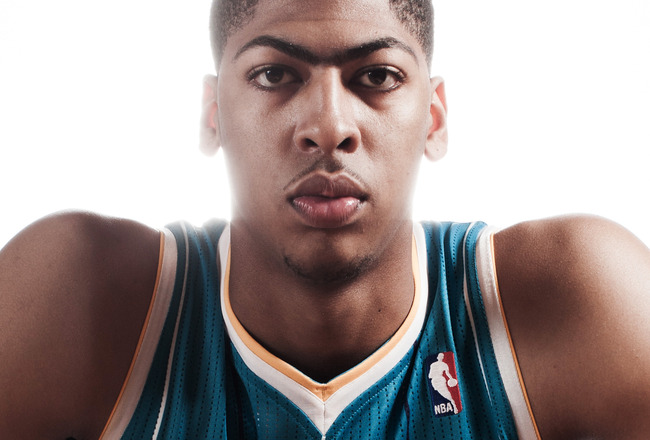 Nick Laham/Getty Images
While every NBA player strives to make the All-Star team, only a select few can actually achieve that goal. None of these seven members of the 2012 NBA rookie class will take part in this year's festivities, but each and every one of them will show enough potential to convince us they'll make it in the future.
Since the turn of the century, only two players have made the All-Star team during their rookie seasons: Yao Ming (2003) and Blake Griffin (2011).
Griffin had one of the most spectacular rookie campaigns of all time, while Ming's presence on the squad was heavily influenced heavily by fan voting.
Don't expect anything like that this year. Just expect a lot of great plays and a lot of potential on display.
When the season ends and the discussions begin about which sophomores will actually become All-Stars in 2014, these seven are going to be at the forefront.
Harrison Barnes
Nick Laham/Getty Images
Harrison Barnes has his flaws—namely his defensive abilities and passing skills, or lack thereof—but he's a sensational scorer who will experience immediate success in NBA point columns.
After averaging 17.1 points per game during his final season with the North Carolina Tar Heels, Barnes is set to put up magnificent offensive numbers during his first year with the Golden State Warriors.
Between Stephen Curry and Klay Thompson, the Dubs already have a few elite three-point shooters, which will allow Barnes to find himself open more often than he otherwise would.
With his silky-smooth shot, Barnes will show exactly why he's going to be a future All-Star. Scoring is the most glamorous of the basketball stats, and that's the area in which Barnes' primary impact will rest.
Playing in an uptempo Golden State offense, his athleticism will also be on full display. Because of his tendency to stand out on the perimeter at Chapel Hill, his hops are a bit underrated, but they won't be after a number of highlight-reel dunks.
Bradley Beal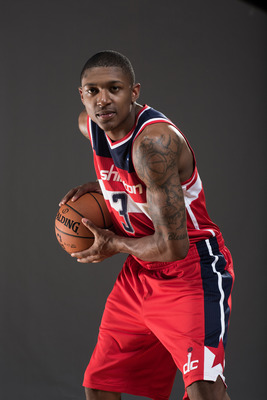 Nick Laham/Getty Images
Barnes would be the top scorer in quite a few draft classes, but this is not one of those. Bradley Beal will have a lot to say about Barnes' status as a top scorer in the 2012 class.
The dynamic shooting guard from Florida is by no means limited to one area of the court when the Washington Wizards have possession of the ball. Beal, undersized as he may be, can use his all-around offensive game to contribute from the inside or the outside.
Beal has commonly drawn comparisons to Ray Allen in the past, primarily because of his ability to shoot from outside the arc. Even though Beal shot only 33.9 percent from long range during his freshman season under Billy Donovan, he has plenty of upside from there.
In the Gators offense, Beal was often asked to shoulder the load and take shots that he shouldn't have been taking, carrying the team even if it meant he had to fire away in the face of heavy defensive pressure.
Beal might not be the athlete that Allen was during his younger days—he's not as good with the ball either—but he can drop the ball in nearly as well as the league's all-time leading three-point shooter could when he first entered the league.
Anthony Davis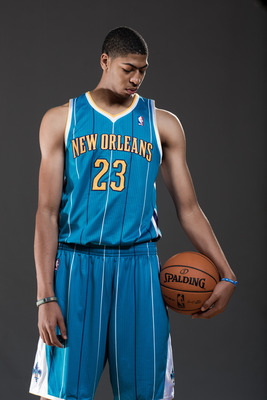 Nick Laham/Getty Images
If any player featured in this article could make the All-Star team during his rookie season, it would be Anthony Davis.
Between his unbelievable defensive skills, his developing offensive game, his knack for highlights and a certain extra follicular growth in the middle of his forehead, the former Kentucky Wildcat and reigning No. 1 draft pick has so much working in his favor.
It's all but certain that The Unibrow is going to make a significant impact on defense for the New Orleans Hornets during his rookie season. Right now, any offensive contributions are going to be viewed as the gravy on top of an already delicious defensive turkey.
Blocked shots are the most highlight-worthy plays that a basketball player can produce on defense, and Davis will be among the league leaders in the category, even during his first season in The Association.
It's hard for defensive stoppers to make All-Star teams unless they have offensive games to complement their strengths. However, Davis is no ordinary defensive player.
Michael Kidd-Gilchrist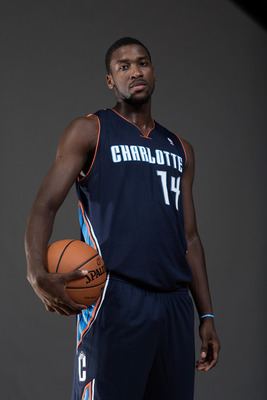 Nick Laham/Getty Images
And so we go from one defensive stud to another. Davis and Michael Kidd-Gilchrist were both shutdown defensive players while teammates at Kentucky, and now they'll be competing with each other for a chance to become the unofficial Defensive Rookie of the Year.
MKG's athleticism and tenacity give him the tools necessary to immediately become one of the best perimeter defenders in the NBA. Most importantly, his mental makeup allows him to do all of the little things, disregarding the fame that comes with scoring points.
If the Charlotte Bobcats need someone to crash the offensive boards, it will be Kidd-Gilchrist who steps up. If someone needs to slide over and guard the other team's best wing player, this former Wildcat will be up for the challenge.
If someone needs to...well, you get the point.
The small forward's winning mentality will bring a much-needed change to this Bobcats organization.
Once the wins start coming—and they eventually will with Rich Cho in charge of player movement—the player who spearheaded the turnaround is going to be recognized.
Damian Lillard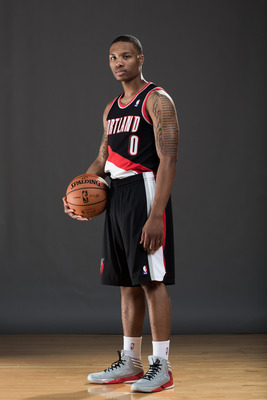 Nick Laham/Getty Images
Not many point guards enter the league with a starting job in hand and the potential to dominate by both scoring and finding open teammates.
Damian Lillard is a true dual-threat floor general, so it's up to him to capitalize on the opportunity offered to him by the Portland Trail Blazers. If he does officially earn the job over Ronnie Price and Nolan Smith, Blazers management won't regret it.
The co-MVP of summer league showed off his skill against lower-level competition in Las Vegas. He dunked hard, nailed shots from the outside, played under control and fed his teammates the ball when necessary.
Lillard will never remind anyone of Rajon Rondo or Steve Nash, but he's more than capable of becoming the next scoring sensation at the position while still finding time to involve his teammates.
In a league filled with great point guards, Lillard won't garner much momentum at all in this year's All-Star discussions. That said, he will win Rookie of the Year and show exactly why he'll make the squad in the future.
Thomas Robinson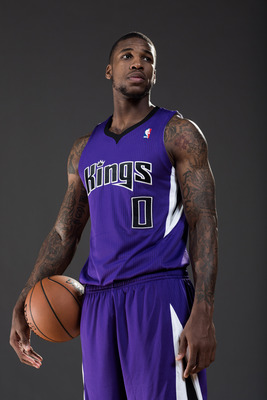 Nick Laham/Getty Images
Thomas Robinson is the most NBA-ready of the lottery picks from the 2012 NBA draft. He will be a double-double threat from the moment he steps onto the hardwood.
It only took one season for Robinson to go from Kansas bench player to the runner-up in National Player of the Year voting, trailing only Anthony Davis in the final tally. Now it's only going to take him a single year to go from college superstar to NBA standout.
Robinson's tantalizing All-Star potential will be on full display when he plays next to DeMarcus Cousins in the Sacramento Kings frontcourt and all but ensures that the opposing team will never out-rebound his squad.
A hard worker with a great attitude, Robinson will fight for each and every board when he's on the court. He'll also put up some elevated offensive totals, as opponents will have to concentrate on slowing down "Boogie" before worrying about him.
Robinson is going to be throwing up 20-and-10 games before too long. He won't have many during his rookie season, but he'll show exactly why they're going to be plentiful in his promising future.
Jonas Valanciunas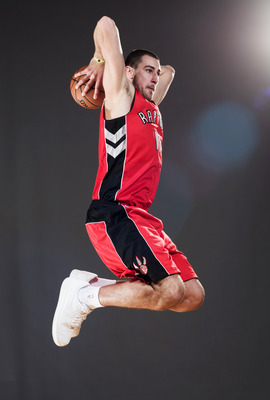 Nick Laham/Getty Images
The Lithuanian sensation might not be a member of the 2012 draft class, but he's a member of the rookie class, and a good one at that.
While Jonas Valanciunas failed to use his experience in London as a springboard toward international recognition, he has another chance now that he's joining the Toronto Raptors for his venture into the ranks of the NBA.
The seven-foot center will hold down the paint while Andrea Bargnani patrols the perimeter, and he'll do it effectively as he continues to add weight to his frame. Valanciunas will make an immediate impact on defense and throw down quite a few dunks that make it onto SportsCenter.
Waiting a year after he was drafted to enter The Association is going to pay dividends this season, as Valanciunas is now almost completely ready to make noise against the best players in the world.
Keep Reading