The Casual Fan's Guide to the Bantamweight Division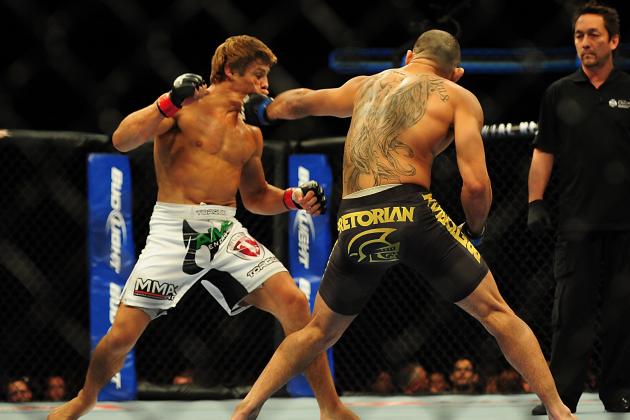 Anne-Marie Sorvin-US PRESSWIRE
The bantamweight division is filled with young, exciting fighters and a handful of savvy veterans.
Another week, another collection of valuable information put together to help all the new fans out there acquaint themselves with the names they vaguely recall hearing in that sport they kind of like. Welcome, ladies and gentlemen, to the Casual Fan's Guide to the Bantamweight Division.
Here, you will learn about the past, present and future of the 135 pound fighters in and out of the UFC. The division does not have as long or storied a history as some of the bigger guys, but it is still a division ripe with talent and a bright future ahead of it.
While the division does not end up front-and-center often, it is still definitely worth learning about. So once again, ladies and gentlemen...
Prepare to be informed!
Begin Slideshow

»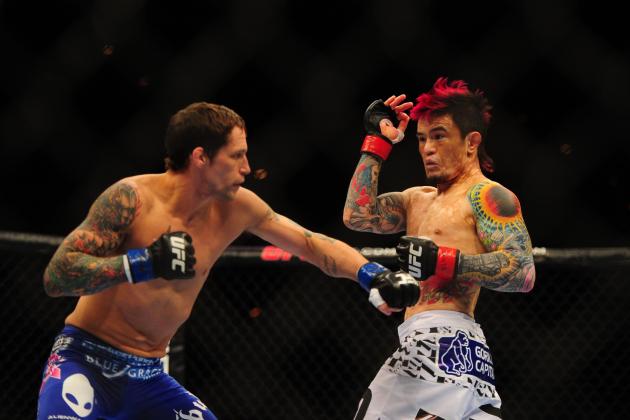 Mark J. Rebilas-US PRESSWIRE
Scott Jorgensen and Jeff Curran were two WEC fighters that ended up in the UFC.
If you were not keeping especially close tabs on the MMA world outside the UFC back in 2011, you may have noticed how a bunch of fighters suddenly came out of nowhere.
This was because, before the UFC had a bantamweight division, there was the WEC. I touched on this in my Casual Fan's Guide to the Lightweight Divison, but it is worth bringing back up here.
Back around 2006, there were a load of MMA promotions flying around out there. At the time, the UFC lacked any divisions smaller than welterweight (170 lbs).
Not coincidentally, the WEC had some of the best lightweight, featherweight and bantamweight fighters in the world. Recognizing the WEC's growth potential and wanting to bolster its own talent situation, the UFC bought the WEC. They harvested all the promotion's stars that fell outside their three smallest weight classes (Brian Stann, Chael Sonnen and Mark Munoz, foremost among them) and pruned the WEC down such that it only housed fighters between 135 and 155 lbs.
The WEC operated this way until around December 2010, when the UFC started gradually bringing in WEC veterans. Then in early 2011, the promotion was completely absorbed into the UFC, with the occasion commemorated at UFC 126 with a pair of bantamweight bouts in Miguel Torres vs. Antonio Banuelos and Norifumi "Kid" Yamamoto vs. Demetrious Johnson, alongside a featherweight bout in Chad Mendes vs. Michihiro Omigawa.
The WEC remains the original home for many of the bantamweights in the UFC today.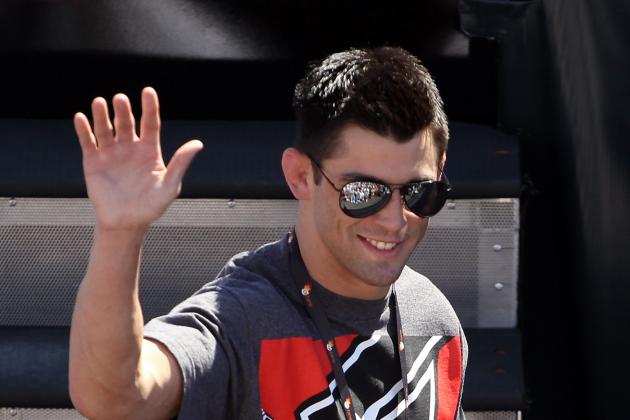 Christian Petersen/Getty Images
Dominick Cruz has not lost under the Zuffa MMA umbrella in years, and holds the UFC bantamweight belt.
Right now, the two men atop the UFC's bantamweight division are champion Dominick Cruz and interim champion, Renan Barao.
Dominick Cruz, by far, is the bigger name of the two. He is riding one of the longest active winning streaks under Zuffa's entire MMA umbrella with nine straight victories dating back to 2008. He became the WEC bantamweight champion in 2010 after thoroughly besting Brian Bowles, and held on to the belt until he was declared the inaugural UFC bantamweight champ at WEC 53.
During his reign as the top bantamweight, Cruz has beaten many top fighters including Ian McCall, Demetrious Johnson, Urijah Faber and Joseph Benavidez (twice). Unfortunately, Cruz's career hit a serious speed bump earlier this year.
While he was supposed to use The Ultimate Fighter: Live as a springboard to fame and a high-selling rematch with former WEC featherweight champion Urijah Faber, he badly injured his knee, which is likely to put him out of commission for a year or more. This is where Barao steps in.
Renan Barao snuck up on most fans. He racked up three submission wins, and two decision wins fighting in under-the-radar fashion (appearing largely on less-than-popular cards). Still, a winning streak is a winning streak and after Cruz injured his knee, he found himself with a chance at UFC gold.
He fought, and convincingly beat, Urijah Faber at UFC 149. While Cruz's timetable for return is still somewhat unknown, many believe that Barao will hold on to the belt until he can face Cruz in Spring 2013.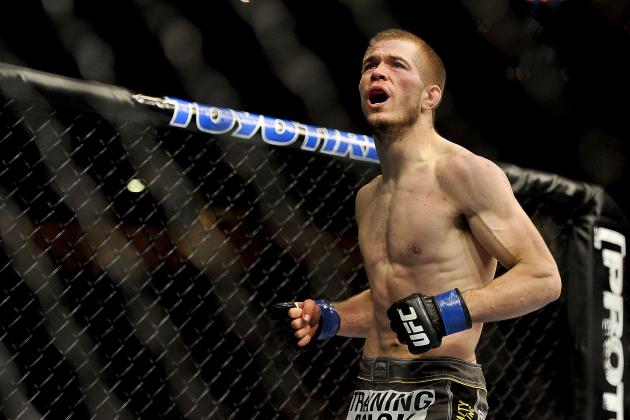 Paul Abell-US PRESSWIRE
Michael McDonald is a very well-regarded bantamweight, holding wins over Miguel Torres and Chris Cariaso.
The bantamweight division is somewhat shallow talent-wise at this time due to a large number of its previous top contenders dropping down to the 125 lb flyweight division (most notably Joseph Benavidez and Demetrious Johnson).
Past Cruz and Barao, Urijah Faber is almost unanimously regarded as the third-best bantamweight in the UFC. A strong argument can be made, however, for Michael McDonald, who is 15-1 in his career and 5-0 in the WEC and UFC. Past those four is a pileup of middling fighters like Eddie Wineland, Scott Jorgensen, Raphael Assuncao and Brian Bowles.
While that sounds somewhat grim, there are a number of fast-rising prospects that will soon enter the fray near the top of the division.
Mike Easton, Francisco Rivera and Bryan Caraway have all racked up multiple wins (and no losses) since joining the UFC. TUF14 runner-up TJ Dillashaw is also making progress towards the top of the division.
Time will tell how these prospects will shake out, but the future of the bantamweight division likely lies with this group.
Bantamweight is probably the only division that the UFC cannot definitely state that they own the vast majority of the world's best fighters. Granted, they easily have the deepest bantamweight division of any major promotion, and Dominick Cruz and Renan Barao are, in all likelihood, the clear-cut best 135 lb fighters in the world.
Still, Japanese promotions and Bellator have laid claim to a number of great bantamweights that the UFC would love to get their hands on.
The biggest name of the bunch is Bellator season five tournament winner and current bantamweight champ, Eduardo Dantas who made perhaps his biggest mainstream splash when news hit that he suffered a first-round KO in Shooto Brazil to Tyson Nam.
Past him, Bellator has hosted many fights with other strong members of the division including current season six finalists Marcos Galvao and Luis Nogueira, and others including Zach Makovsky and Alexis Vila.
The biggest name fighting in Japan right now, by far, is Bibiano Fernandes. A former Dream champion who became a free agent after the promotion bellied-up, Fernandes made headlines stateside when a rumor spread saying that he had been signed by the UFC and was scheduled to fight at UFC 149. Eventually, word came out that Fernandes had instead signed with One FC.
Outside of One, Japan has the Shooto and Pancrase promotions. Between these three, there are a handful of well-regarded fighters including Leandro Issa, Motonobu Tezuka, Yusup Saadulaev and Rodolfo Diniz.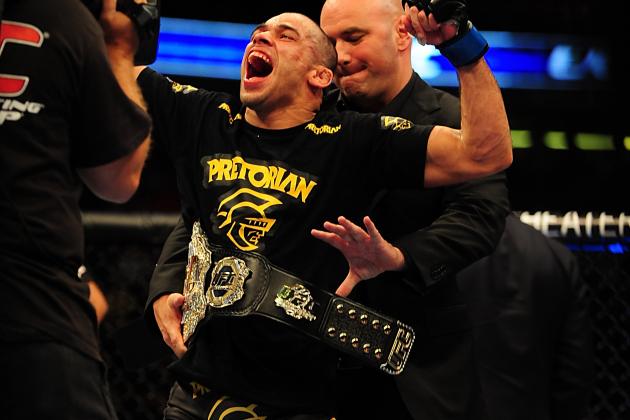 Anne-Marie Sorvin-US PRESSWIRE
Cruz and Barao are the unanimous top two bantamweights in the world.
The Bantamweight rankings vary from site to site, and largely banks on how the writer feels about Bellator.
Cruz and Barao, unanimously, are in the top two spots. Past the UFC champions, Urijah Faber and Michael McDonald usually get third and fourth. From there, One FC's Bibiano Fernandes and those top three Bellator bantamweights enter the equation, though many are now questioning the legitimacy of the Bellator bantamweight division after Eduardo Dantas' first-round knockout loss this past weekend. The third-tier of UFC talent in Brian Bowles, Eddie Wineland and Scott Jorgensen round out the list.
Those three UFC fighters have struggled mightily to put together winning streaks, opening the door for these outside fighters to reasonably be slotted as high as the number five spot.
Because of that, the bantamweight division is largely dominated by young fighters that are all aching to put on big fights. Though it lacks stars now, watch for it to become one of the best divisions in the UFC in a year or so.
WEC 20: Eddie Wineland vs. Antonio Banuelos
The fight to crown the first WEC bantamweight champion was a short one, but definitely one to take a look at.
WEC 32: Chase Beebe vs. Miguel Torres
Chase Beebe has fallen into MMA obscurity but Miguel Torres has not (even though he did recently get the axe from the UFC). Torres was actually one the most successful fighters in the WEC, and this is the fight that brought him to the big-time.
WEC 47:Brian Bowles vs. Dominick Cruz
Enter Dominick Cruz. While Bowles is no slouch, this was where Cruz leaped into the upper echelons of MMA. A back and forth affair, Cruz landed enough hard hits to earn a doctor stoppage and begin one of the longest title reigns in Zuffa's MMA history.
UFC 132: Dominick Cruz vs. Urijah Faber
Dominick Cruz's first ever PPV headline was his fairly thorough destruction of Urijah Faber. This is also the fight that sparked the rivalry that would become the centerpiece for The Ultimate Fighter: Live.
UFC 138: Brad Pickett vs. Renan Barao
This is the fight that really elevated Barao's stock in the division, even if he was still far away from being a household name. Barao landed a flurry of punches that rocked Pickett, and proceeded to take his back and choke him out.
Bellator 65: Zach Makovsky vs. Eduardo Dantas
Makovsky versus Dantas was a solid grappling battle in the Bellator Bantamweight division's second ever title fight. Makovsky and Dantas would reverse, slip out of guard, slap on submissions and roll out of them for eight minutes until Dantas finally made one stick, choking Makovsky unconscious.