Florida Football: Which Wide Receivers Will Step Up for UF?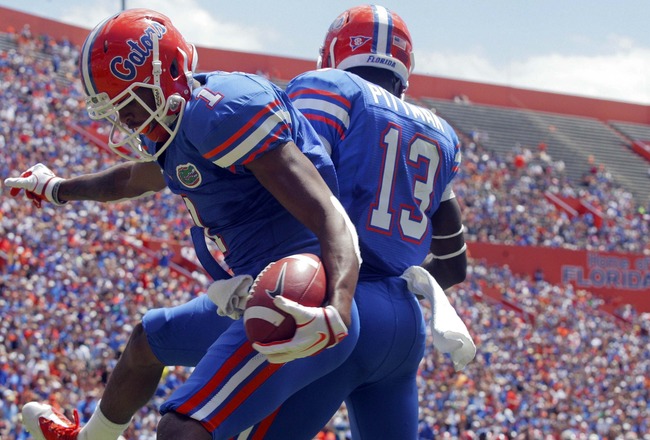 Phil Sears-US PRESSWIRE
You can blame the Gators lack of a legitimate passing attack on poor quarterback play. After all, the receivers can't be productive if their quarterback isn't getting the ball to them.
How about the offensive line? If the offensive line doesn't give the quarterback time to go through his reads, set his feet and make a good throw, then there isn't much the receivers can do.
While both of those things played a role into Florida's deficient passing game, the receivers deserve just as much if not more of the blame.
Dropped passes, sloppy routes and inconsistency have plagued the receiver group since Percy Harvin, Louis Murphy and David Nelson moved on to the NFL.
With Brent Pease's new receiver friendly offense, it is time for the group as a whole to step up. Coming out of the offseason, the receiver unit is still struggling with inconsistency and will only have one game to get it together before SEC play starts.
Let's take a look at the depth chart and figure out which receivers will be counted on this season.
5. Solomon Patton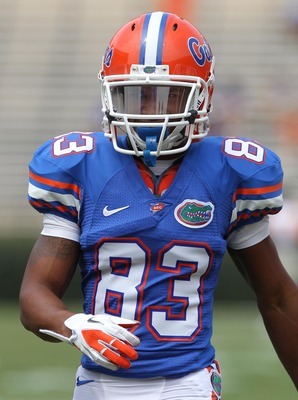 Kim Klement-US PRESSWIRE
Solomon Patton stands at just 5'9" and 169 pounds, but that doesn't bother coach Pease. Pease has been impressed with the receiver's speed and reliable hands.
Patton has been a standout on special teams during his time at Florida but could find a home in this new offense. While Patton was overlooked in the past because of his stature, Pease will look to find a role for the receiver.
That is something that Gators fans should expect to see from this new offense. Pease is going to use the players he has and put them in places where they can be successful. Patton's size and speed make him a great fit as a slot receiver and if he can continue to be a reliable pass catcher he will make an impact this season.
4. Andre Debose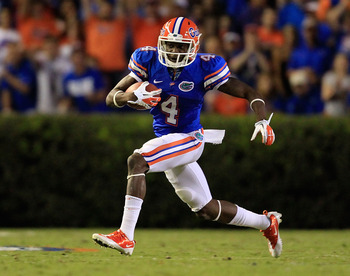 Sam Greenwood/Getty Images
Heralded as the "next Percy Harvin" coming out of high school, Andre Debose has yet to live up to the hype.
You can't discredit his big play ability, but consistency issues have plagued his career. Last season Debose caught four touchdown passes that went for 80, 65, 65 and 64 yards. If you take out those four catches Debose only managed 12 receptions for 158 yards.
Nothing this offseason has come out that would make us think that Debose is becoming a more reliable threat in the passing game, but he will need to step up if the Gators offense wants to improve from a season ago.
3. Latroy Pittman
Photo Credit: 247sports.com
The fact that a kid who at the time should have been attending his senior prom was impressing the coaching staff during spring camp enough to earn playing time is telling of the receiver situation at Florida.
Latroy Pittman enrolled early and impressed the coaching staff with his route running, physicality and blocking. Pittman is a sound route runner with sneaky speed that lets him get behind defenses consistently.
While Pittman is sure to be brought along slow because he is a freshman, he has already earned the right to play as a freshman and is on the right path to become one of Florida's most reliable options in the passing game.
2. Frankie Hammond Jr.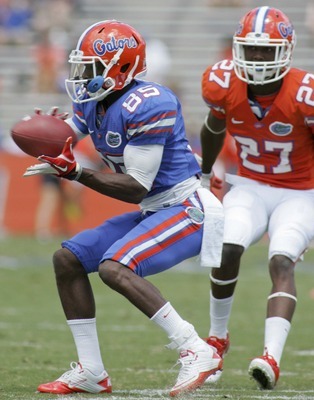 Phil Sears-US PRESSWIRE
You may have noticed a couple words that keep popping up when talking about the receivers: reliability and consistency. The deficiencies at the position can all be tied back to players being inconsistent and unreliable.
Frankie Hammond has emerged as the Gators' most consistent receiver. The redshirt senior has been somewhat limited to special teams as far as the impact he has made in his time at Florida, but being reliable will get you playing time this season.
Hammond is currently listed as the starter as the "X" receiver. Hammond will be given the kind of opportunity in his final season as a Gator that he hasn't received before. He will be asked to become a leader not only for the receiving group but also for the offense. Hammond is poised to have his most successful season at Florida.
1. Quinton Dunbar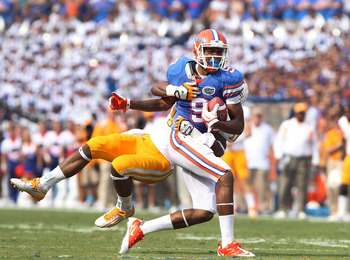 Kim Klement-US PRESSWIRE
Quinton Dunbar is listed as the starting "Y" receiver. Dunbar once again impressed the coaches during the offseason and he will now try to repeat that offseason success during the regular season.
Last season Dunbar was a redshirt freshman playing in his first collegiate season. Going into his second year there will be no excuses for lack of production from Dunbar. He is a tall, fast receiver who is a sound route runner and could end up leading the Gators in receiving.
The unit as a whole needs to step up in 2012, but Dunbar will be the player that shines the brightest of the group.
Keep Reading

Florida Gators Football: Like this team?