MLB's Top 5 Most Impressive Outfield Throws in the Last 40 Years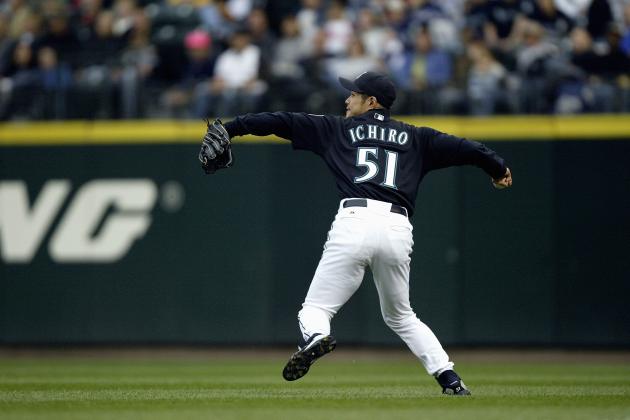 Otto Greule Jr/Getty Images

An outfielder's arm is one of the most underrated skill sets in baseball...and, ironically enough, it's also one that is most able to invoke excitement.
You may say, "Who really cares? We wanna see home runs. Go back to writing about fat first basemen again."
Well, as much as I love writing about fat first basemen (baseball provides so many), there are other aspects of the game that need to be highlighted.
Like a home run or a late-inning strikeout, an outfielder's powerful throw can electrify a crowd and get dugouts rollicking onto the field. It's a brief moment of absolute brilliance. Field...crow hop...bang!
Here are some of the best throws over the past 40 years. Unfortunately, none were performed by fat, misplaced first basemen—although that would have been pretty amazing.
Begin Slideshow

»
No one—and I mean no one—ran on Ellis Valentine.
Except for this guy...and Ellis threw him out in slow motion.
Vlad Guerrero could not only hit the ball over the fence, but he could also throw the ball 370 feet.
Before the 2004 All-Star game at Yankee Stadium, Vladdy tossed a ball from the left-field foul line over the right-field fence. Either Guerrero is extremely strong, or he had an angel with him.
C'mon, blue. You know better than to call a guy "safe at home" when Ichiro is throwing.
On this play, one of many from the future Hall of Famer, Suzuki guns down the speedy Jacoby Ellsbury.
Joe who?
Ferguson uncorked one of the greatest throws in MLB playoff history, nabbing Sal Bando of the A's at home plate during the '74 World Series.
I bet center fielder Jimmy Wynn was a little perturbed...until he saw the end result.
Remember this gem? I didn't until I googled "greatest outfield throws of all time."
Guillen's throw is cartoonish. It's Michael Vick-Powerade-commercial-esque. It also has to be one of the best outfield assists of all time.