Previewing the Cleveland Browns' Week 4 Preseason Game vs. Chicago Bears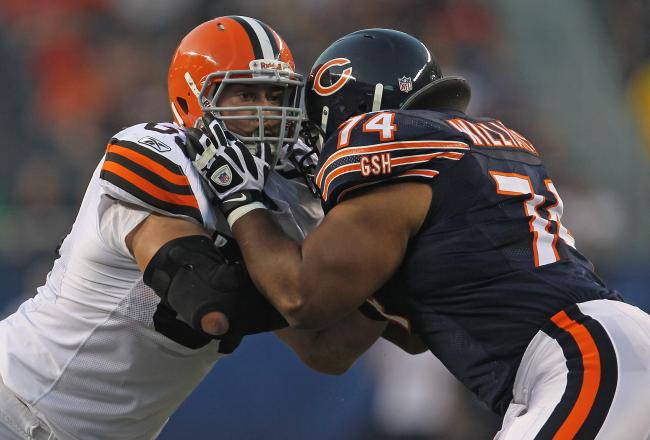 The Browns and Bears also faced off in last year's preseason finale.
Jonathan Daniel/Getty Images
Before the Cleveland Browns take the field against the Philadelphia Eagles in Week 1 and before Friday's roster cut to 53 men, they have one more preseason game. On Thursday, they face the Chicago Bears in what, for some, will be their last contest in a Browns uniform.
With starters mostly unlikely to play and quarterback Brandon Weeden not taking the field at all, this is clearly a game for marginal players to distinguish themselves and an opportunity for final evaluation of the roster.
With that in mind, here are three things to watch for when the Browns host the Bears in Thursday's final preseason game.
Quarterbacks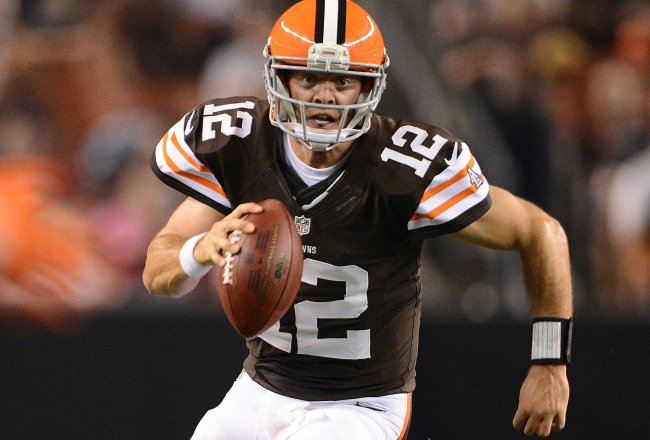 Colt McCoy will get the start against Chicago on Thursday.
Eric P. Mull-US PRESSWIRE
Colt McCoy, whose status with the Browns is currently unknown, will be the starter against Chicago, followed up by Seneca Wallace and then Thaddeus Lewis. Likely the Browns have some idea how they want the position to look behind Weeden, and this game will serve to either cement or change it.
So far this preseason, McCoy has completed 17 of his 26 passing attempts for a total of 220 yards, one touchdown and two sacks. Wallace has gone 13-of-23, for 159 yards, a touchdown and an interception and Lewis, who has only taken the field once, completed five of eight passes for 90 yards.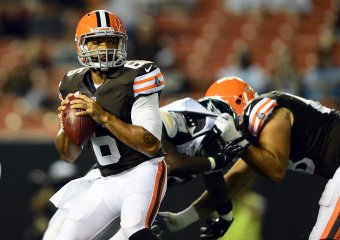 This could be Seneca Wallace's last hurrah in Cleveland.
Andrew Weber-US PRESSWIRE
Right now, it seems like Lewis will stick around in some capacity and that there's very little chance that Wallace and McCoy will be teammates come the regular season.
McCoy has certainly shined, which will likely draw interest from teams looking for more reliable backup quarterbacks, but he also has a greater value to the Browns, with a lower salary than Wallace and a better overall grasp of the offense.
Whether you are a Wallace or McCoy fan, you'll want to pay close attention to this game, for one of them won't be a Brown the next day.
Running Back Battle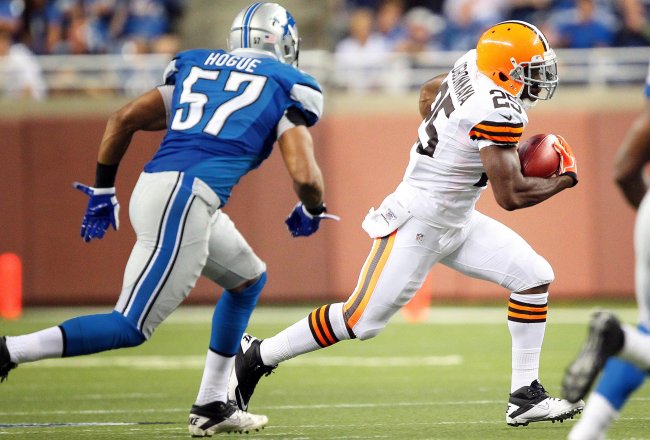 Chris Ogbonnaya is either extremely safe or very much in danger of being cut.
Mike Carter-US PRESSWIRE
The Browns won't be putting running back Montario Hardesty on the field on Thursday, which means we can get an extended look at the three other backs on the roster.
Though Hardesty comes with injury concerns and starter Trent Richardson is still recovering from an arthroscopic procedure on his knee, that doesn't mean the Browns are going to be having five backs on the 53-man roster.
Three players—Chris Ogbonnaya, Brandon Jackson and Adonis Thomas—are all vying for, at the very most, two spots.
Suspiciously enough, we've seen the least of Ogbonnaya through three preseason games. He's appeared in two of them, with seven carries in Week 1 against Detroit, just one rush against the Packers and none last week against the Eagles.
Either the Browns already know what value they have in Ogbonnaya, necessitating them to get more tape on Thomas and Jackson, or they don't need to watch him because they don't intend on keeping him.
It seems more likely that the former is the case rather than the latter, but regardless, all three backs will have to fight to make an impression against Chicago. Neither Ogbonnaya, Thomas nor Jackson have stood out consistently in the preseason thus far; whoever makes the most heads turn on Thursday will likely end up safe.
David Sims and Trevin Wade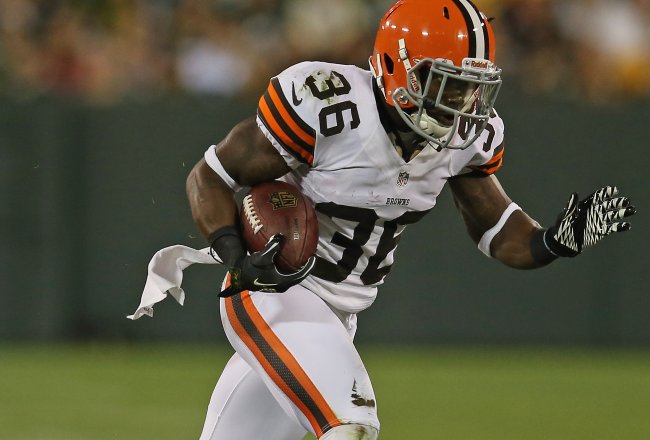 David Sims' two preseason interceptions has him turning heads.
Jonathan Daniel/Getty Images
Second-year safety David Sims and rookie cornerback Trevin Wade have had impressive training camps and preseason showings, but their current positioning on the team's depth chart means they need to continue to perform well in order to earn that much-coveted roster spot.
In the preseason, Sims has two interceptions (including one for a touchdown), two defensed passes and 10 tackles, and Wade has seven tackles and three defensed passes.
What makes it tough for Sims and Wade is the depth the Browns currently have at defensive back. Last year, the team kept nine defensive backs on the active roster—two free safeties, two strong safeties and five corners—and should take a similar approach this year.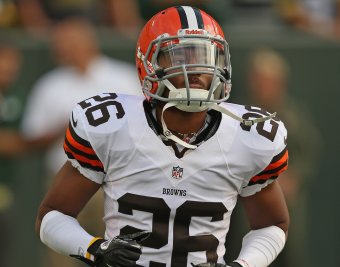 If Trevin Wade sticks on the roster he may actually get to fill in as starter while Joe Haden serves a suspension.
Jonathan Daniel/Getty Images
Wade seems to have an edge over other, more experienced players. He was used as the starting nickel corner, jumping Buster Skrine, while Dimitri Patterson has been out with an injured ankle. But that doesn't change the fact that he's a rookie, and that means there's a chance he may pass through waivers and land on the practice squad.
Sims has the bigger hurdle to leap. Currently on the depth chart as a strong safety, he'd have to leapfrog Usama Young to make the 53-man roster at that position.
The Akron Beacon Journal's Nate Ulrich sees this as a distinct possibility, considering how much practice time Young has missed this year while dealing with a quad injury. Further, Young also has experience at free safety and could end up being Eric Hagg's backup at that position when the roster is finalized.
It's not about years in the league, but rather what a player can contribute immediately that earns him a roster spot. Wade and Sims have flashed some serious talent this summer, and if they have a good final showing on Thursday, the Browns may have no choice but to make roster room for these two.
This article is
What is the duplicate article?
Why is this article offensive?
Where is this article plagiarized from?
Why is this article poorly edited?