Real Madrid: 5 Things Mourinho Must Fix to Avoid a Disaster This Season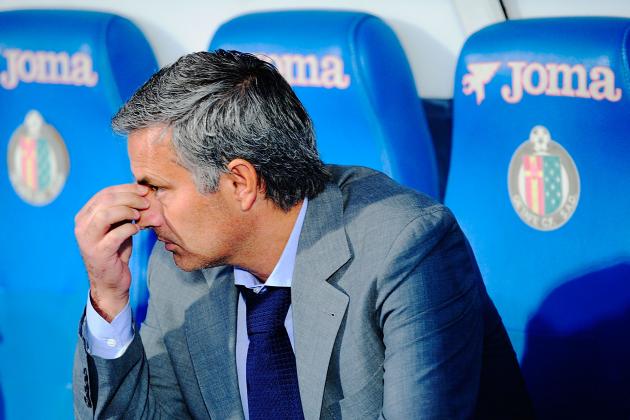 Gonzalo Arroyo Moreno/Getty Images

Two games into a season is probably too early for any team to panic, but La Liga isn't just any league, and Real Madrid aren't just any team.
Jose Mourinho's men now have just a mere point from a possible six—the number that rival Barcelona have in their first two games. While Barcelona appear rejuvenated under new manager Tito Vilanova, Real Madrid appear fatigued and disinterested, as if every ounce of energy and focus was put into last season's title-winning campaign.
Mourinho has, unsurprisingly, called out his team.
The coach told the press following the away loss to Getafe on Sunday that "the only message I want you to take away tonight is that it was a deserved defeat for us."
He went on to add, "This was a match in which the defeat was absolutely deserved. More than two matches with just one point it was a horrible match." (Yahoo! Sports)
The Madrid manager has often resorted to excusing his team's performance through cries of injustice (by referees, by the media, by the Spanish Football Federation...), but his comments reveal a marked difference in tone. The message now seems to be that the days of excuse-making are over, that as reigning league champions Real Madrid are going to get the best of every team.
Simply, it's up to Madrid's players to perform better.
However, things aren't that simple.
Madrid aren't just performing bad. No, they appear to have some holes and mistakes to fix—ones that can't be simply explained away by lack of concentration or tiredness. Mourinho may have been trying to energize his players with those comments, but it's absolutely certain that the Special One will be discussing with his staff tweaks, adjustments and overhauls that can get Madrid back on track.
Anything less, and Barcelona might be on their way to their fourth league title in five years.
Begin Slideshow

»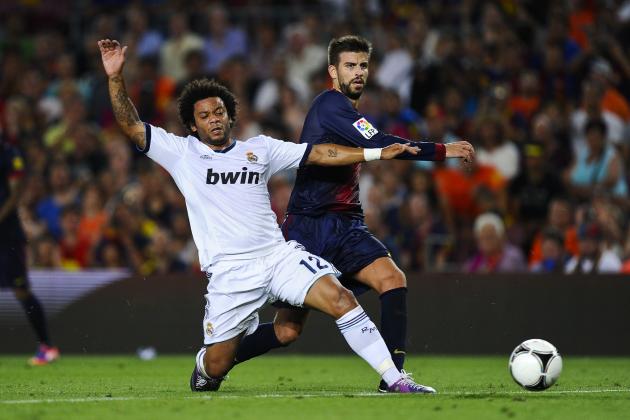 David Ramos/Getty Images

In a press conference on Tuesday, Mourinho said two seemingly conflicted things about the Spanish Super Cup (h/t Reuters):
Win the Super Cup, not win the Super Cup. Beat Barca, not beat Barca. None of that is important to me right now.

My priority right now is to know whether the attitude we had against Getafe was a chance happening or whether it's a situation that has had consequences on the psychological profile of some players.
On the one hand, the Real Madrid skipper is playing down the importance of the cup. After all, it's really just a meaningless trophy, and it's merely the fact that it is an El Classico why the attention has been so high.
Barcelona had won the trophy the previous season and went on to lose La Liga by nine points. So clearly, the cup's value as a motivating factor is suspect.
And yet, Mourinho says somewhat of the opposite. The Spanish Super Cup may not be important itself, but the contest—the fact that it is against Barcelona and that Madrid are already down 2-3—provides an opportunity for the team to maybe come together.
Another defeat may very well just shatter the confidence of the young Real Madrid team, who perhaps might feel as if they are in a darker place than they really are.
A win, conversely, might galvanize team spirit and unite Los Blancos that they are capable of crawling out of any deficit. Barcelona, who now sit on top of the table, may just need a reminder of who are the defending champs.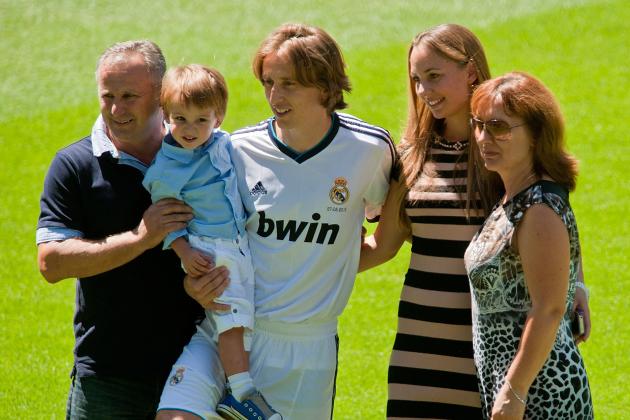 Gonzalo Arroyo Moreno/Getty Images

After months and months of deliberation and negotiation, Tottenham superstar Luka Modric has finally signed with Real Madrid.
It's a win for both parties, I think. Modric, of course, wanted to go to one of the biggest clubs in the world; Madrid, additionally, can always use a hard-working, talented player like Modric.
The question, then, is where will Modric play?
And therein could lie the beauty. Equally adept at performing as a deep-lying playmaker or an attacking midfielder, the 26-year-old will allow Mourinho to rotate his midfield a bit more.
It also could enable Xabi Alonso to play a bit fresher. Alonso isn't young—he's 31 with a lot of European and international competition miles on his body—and Madrid noticeably suffered last season when he was a bit short of full-fitness. Alonso's playmaking is so essential in the Madrid machine that even the slightest dip in form can mean very bad things for Los Blancos' effectiveness.
The onus is on Mourinho how to figure out the Modric puzzle. This was clearly the guy that he wanted, so Madrid fans should have faith that Mourinho knows exactly what he's doing.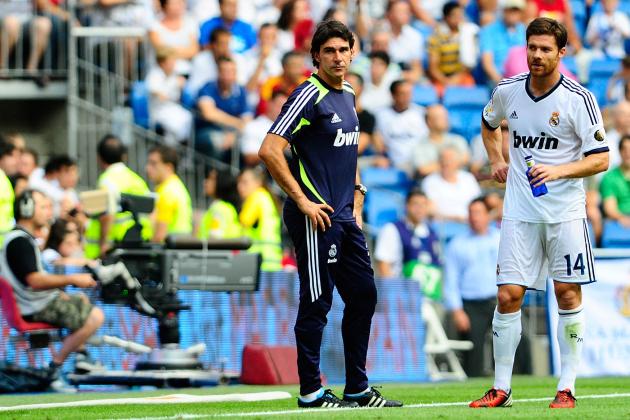 Gonzalo Arroyo Moreno/Getty Images

In two league games this season, Real Madrid have been tied in the middle of the second half. And in both cases, Mourinho has tried to "chase" the lead by using the same strategy.
Against both Valencia and Getafe, Mourinho has chosen to replace Lassandra Diarra for an attacker, Karim Benzema. One can hardly fault the logic: Real Madrid are trying to score, so why not put on another, well, scorer?
Unfortunately, it's led to undesirable consequences.
Firstly, it's made Madrid susceptible to the "Barcelona Problem," namely that they have too many attackers in the other team's defensive third. The knock-on effect of this is that the opposition is content to sit deeper and deeper, and without a moment of ingenuity—for Barcelona, frequently a series of short passes; for Madrid, frequently a long shot or header—it becomes a bit of the stalemate.
The second consequence is more disastrous. Was more disastrous.
By removing Diarra, Mourinho was leaving Xabi Alonso deep in the midfield himself. It's inarguable that Diarra was having a poor performance anyway, but the presence of an additional midfielder had done a pretty nice job of preventing Getafe from counter-attacking the majority of the game.
Is it any wonder that a mere minute—a minute!—after Marcelo replaced Diarra, that Getafe scored by a counter-attack? Perhaps Diarra wouldn't have made a difference; perhaps he would have. Either way, Mourinho made an attacking substitution that ended up being a defensive liability.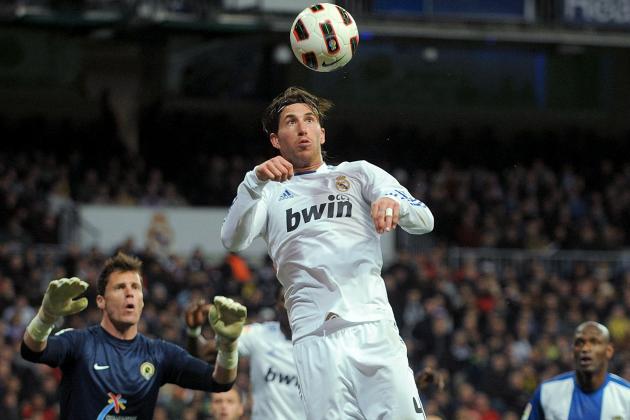 Denis Doyle/Getty Images

If I showed you this stat...
"Madrid is the tallest team in the Liga, with an average height of 1.83 m."
...what do you think Real Madrid would be really good at?
Headers, of course. Set pieces, corners, goal kicks, etc.
For the most part, last year, Madrid were very good at this. In the first leg of Super Cup and the El Classico in April, Madrid scored a set piece goal in each. But Barcelona are not only the shortest team in Spain, they are the shortest in Europe.
Getafe and Valencia aren't Barcelona. Madrid can't find luxury in marking just Carles Puyol or Gerard Pique—and even that is a difficult task sometimes—because a larger number of teams in La Liga are becoming very good at set pieces.
Madrid's height alone doesn't just cut it.
"We have practiced and practiced and practiced set-pieces," exclaimed Mourinho after the Getafe loss in which Juan Varela scored a header on a free kick. (Goal.com)
Mourinho suggests that players take up their responsibility in marking their designated man. Certainly, Real Madrid don't need to entirely rethink their marking strategy on set pieces, but communication needs to definitely improve.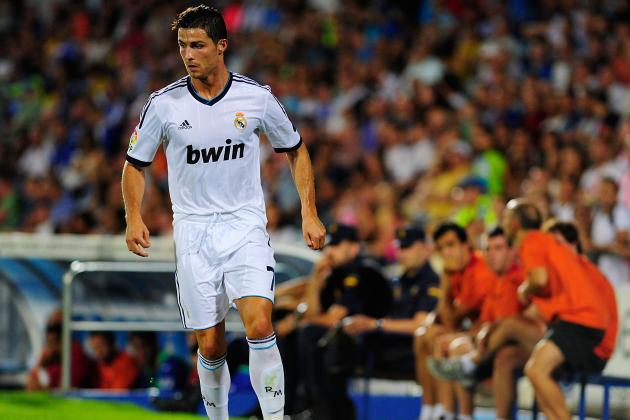 Gonzalo Arroyo Moreno/Getty Images

When Barcelona doesn't perform, they often turn to Lionel Messi. On Sunday, this was exactly the case, and the Argentine delivered two late goals to pull his team against a pestering Osasuna squad.
Ronaldo wasn't as fortunate. While clearly putting in his usual shift, Cristiano Ronaldo couldn't find any spaces where his individual brilliance could take over, as it often did, again and again, last season.
Part of the problem is the fact that Messi's role is more centrally—both literally and positionally—on the Barcelona team. Even when Messi doesn't score, he's constantly creating, relentlessly driving at the defense to force the opposition to commit players away from Pedro, Xavi and Alexis Sanchez.
Ronaldo is a different breed. His distribution isn't as sharp as Messi's, and while he's indisputably a more complete physical package, he often requires service more often than he provides it.
Consequently, there are often games that Ronaldo is seen as the only player chasing the game. Madrid are perfectly content to give Ronaldo the ball, and Ronaldo is perfectly content to shoot it.
In short, Real Madrid has to do more. It's unfair that their best player is asked to take on such an enormous creative task. Again, the Portuguese man flourishes when others are doing their part in producing movements—something that comes naturally at Barcelona due to their attacking nature.
It will be up to Mourinho to figure out how to help out Cristiano Ronaldo. Last season, it was the rotation of Karim Benzema and Gonzalo Higuain. This year, it may have to be that and more: Angel di Maria, Mesut Ozil and even Xabi Alonso all might have to step their game up because teams are aware that Real's threat lives and dies by Ronaldo.
Conclusion
The season is still young. Two El Classico victories is six points, and that's to say nothing of the fact that Barcelona will drop other points along the way.
However, that's all assuming this isn't the start of a treacherous trend for Mourinho's Real Madrid squad. Quickly, he must determine what things he needs to fix before this season, and his tenure, are cut dreadfully short.