Real Madrid vs. Barcelona: 6 Bold Predictions for Spanish Super Cup 2nd Leg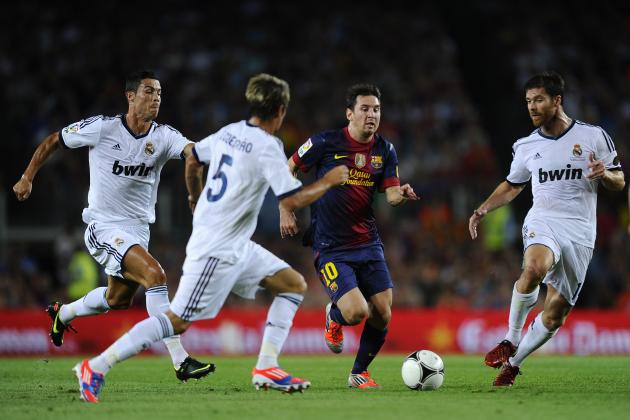 David Ramos/Getty Images

Act II of this Spanish Super Cup is about to begin.
FC Barcelona look to win their first title of the 2012-13 season as they head to the Santiago Bernabeu and take on Real Madrid.
Tito Vilanova's men come into this game off a comeback victory against Osasuna on Sunday. Lionel Messi did not have the best game in Pamplona, but Leo was able to bring his team back with two goals within a four minute span to get the three points.
Real Madrid come into the second leg of this Supercopa as a team looking to get it together. After its 2-3 loss in the first leg, Jose Mourinho's team went to Getafe and were unable to put them away. Getafe stunned Real Madrid with a 2-1 victory, leaving Los Blancos with just one point after two rounds in La Liga.
Barcelona are now up "una manito" (five) points up on Real in La Liga.
Cristiano Ronaldo will look to lead his team to its first win of the 2012-13 competitive season as it hosts Messi and Barcelona on Wednesday.
A 1-0 or greater win and Real Madrid will hoist the trophy in front of their fans.
A Barcelona win or tie of any kind and Barcelona gets to celebrate in the Bernabeu.
Instead of predicting some safe score of 2-2, I decided to go out and give six bold predictions for this game. You may—and probably won't—agree with what I say, but hey, it's time to mix things up a bit.
Let's go!
Begin Slideshow

»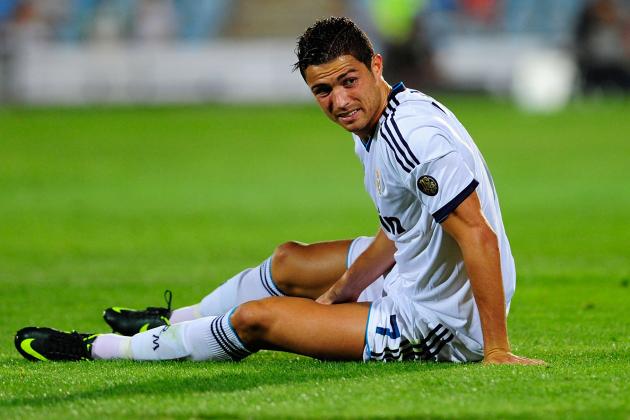 Gonzalo Arroyo Moreno/Getty Images
CR7
Cristiano Ronaldo has played terrifically these past few times he has faced off against FC Barcelona. Ronaldo has scored a goal in each of the past four Clasicos (Copa Del Rey quarterfinals, April Liga game, first leg of Supercopa).
But all good things come to an end. This second leg won't be that great for CR7 as he will not score a goal in this game.
Barcelona knows in order to win this game, Ronaldo will have to be covered and covered well. Look for Tito Vilanova to start Jordi Alba at left-back and Dani Alves on the right. The reason I mention Alba starting is because unlike last week where Adriano started at LB and Alves was given the green light to go forward as often as he'd like, it will be Alba who gets to go up to play offense and now Dani Alves will be asked to play it safe in the back line to cover Ronaldo.
Remember that Alves also did not get rest this past weekend as he played the entire Osasuna game, so asking Dani to play offense and defense would be unwise since he'd get tired more quickly.
Gerard Pique and Sergio Busquets will take responsibility of covering Ronaldo on corner kicks as well as helping Dani Alves cover Ronaldo on the wing, especially during a counterattack.
I wouldn't be shocked if Ronaldo scores a goal, but I'm going to say he doesn't on Wednesday.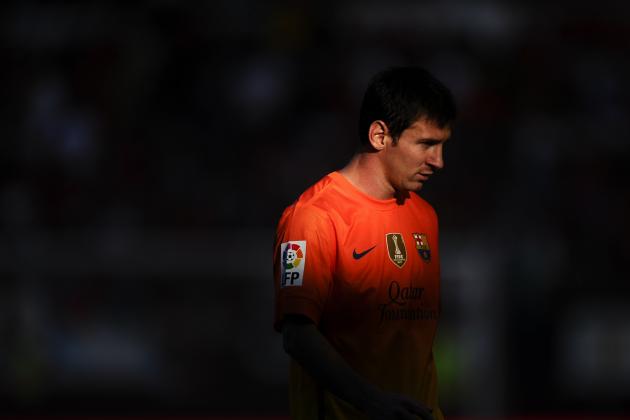 David Ramos/Getty Images
Messi
Did you think I was just going to say Ronaldo won't score and Lionel Messi will?
Sorry.
As we've all seen in these past few Clasicos, Leo Messi has not performed at the level we are all used to seeing him play. The Madrid defense has kept Messi in check these past few Clasicos as far as scoring goals and the second leg of the Supercopa will not be any different.
Messi was kept at bay for most of Sunday's game by Osasuna. Four minutes of Messi magic gave Barcelona the win, but Messi struggled and I believe he will struggle as far as scoring goals against Real Madrid.
With Pepe perhaps coming back for the second leg, things will not get easier for Messi in the middle of the pitch. Leo will have to take on the role of set-up guy as he'll have to assist his teammates to convert the goals.
As great as Lionel Messi is, he will be smothered by the Real Madrid defense and will not score a goal in this game.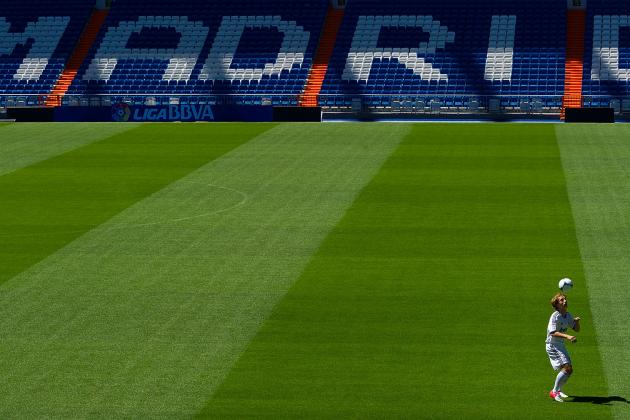 Gonzalo Arroyo Moreno/Getty Images
Modric
After seeing how Barcelona dominated the midfield in the first leg, Jose Mourinho knows he needs to change up the midfield.
That's why he will bring newly-signed Luka Modric into the game.
I'm not saying Modric will start. That might be too bold of a prediction for me.
But I do believe we will see Luka come in at some point in the second half of the game, especially if Real are tied or trailing. Remember that other than Mesut Ozil, Mou didn't truly have another effective attacking midfielder on his team until now with the signing of Modric.
And no, Kaka does not count. I said effective attacking midfielder.
Luka signed a five-year deal with Los Blancos on Monday and will look to make his debut against Barcelona. If Ozil struggles like he did in the first leg, don't be surprised if Mou goes to Luka for dynamic play and a bit of a spark for Real Madrid.
It may be trial by fire for Luka Modric in the Supercopa, but hey, if that's what it takes for Real to win, then that's what Mourinho will do.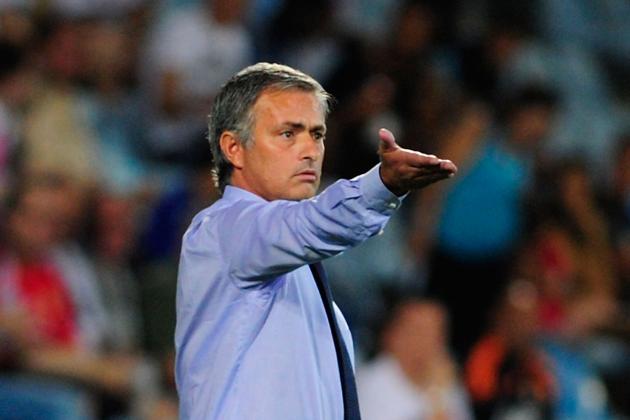 Gonzalo Arroyo Moreno/Getty Images
Mou
Jose Mourinho is an impatient man, like me (that's the only thing we have in common, by the way).
That's why Mou will not just rely on the counterattack to lead to goals. He will ask his men to try and beat FC Barcelona at their own game—with ball possession.
Don't get wrong, I know Real Madrid and all other teams don't just stand around and allow Barca to just win ball possession. Barcelona is just that good at what they do.
In the first leg, Real were not able to get too many counterattacking opportunities. Their goals came from a corner kick (credit has to go to Ronaldo) and a Victor Valdes screw-up.
Mourinho knows his team needs to do more than rely on set pieces, corners and another potential brain cramp from Valdes to score goals.
But for the second leg, Real won't just sit around like they did in the first game and wait for the counterattack to happen. They will be aggressive and try to beat Barca at their own game. Mourinho will order his men to control ball possession and set up plays.
Some may ask why would Real Madrid play into Barcelona's favor and potentially set up Barca counterattacks?
Well, how long can Madrid wait for Barcelona to make a mistake and set up a Real counterattack? If Barcelona scores first, desperation will come into play for Real, which could set up more counters due to Real pushing forward.
Also, set plays cannot be Real's only saving grace. Ronaldo is good, but he can't always head the ball in or make a free kick golazo.
Some people say Real Madrid's style as well as their strength is playing on the run and counterattacking, hence there is no need for switching things up.
Yes, that is true that Real's strength is when they are on the run. But that strategy did not work in the first leg and it has only gotten Real Madrid one win against Barcelona out of the last nine meetings overall.
Mou needs to switch things up.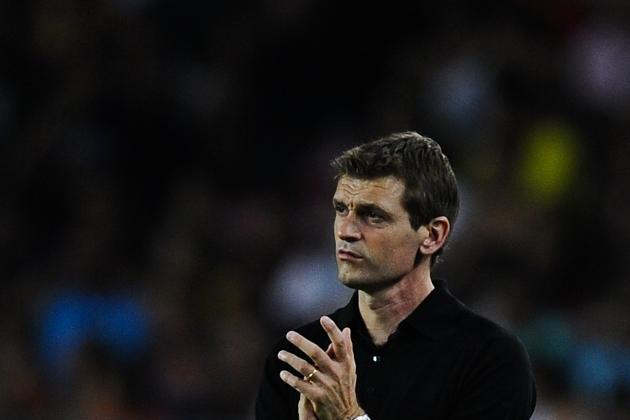 David Ramos/Getty Images
Tito
Tito Vilanova's game plan worked in the first leg as Barcelona controlled the midfield and won the game.
For the second leg, I'm going to go out on a limb and say Tito will order his men to play aggressively in the first half of the second leg.
Tito knows that if his team is able to score the opening goal of the game, the Real morale will be shaken as well as the morale of the fans at the Bernabeu. A 1-0 lead forces some Real players to play more aggressively, which will lead to more potential counterattacking opportunities for Barcelona.
In essence, the roles will change as Barcelona—the team used to having to worry about defending the counterattack—would be able to counterattack themselves as Real Madrid would send more players up front to try and score.
Two goals in the first half would make Tito happy as it would be enough to tie Real in away goals. With Jordi Alba more than likely starting the game, Tito will essentially have another forward at LB in Alba, who has historically always played well against Real Madrid at his time with Valencia.
Tito knows the midfield battle is over before it's even begun—Barcelona will dominate ball possession and the middle of the pitch. But now look for Tito to try and end this Supercopa early by instructing his men to play aggressively on offense in the first half of the game.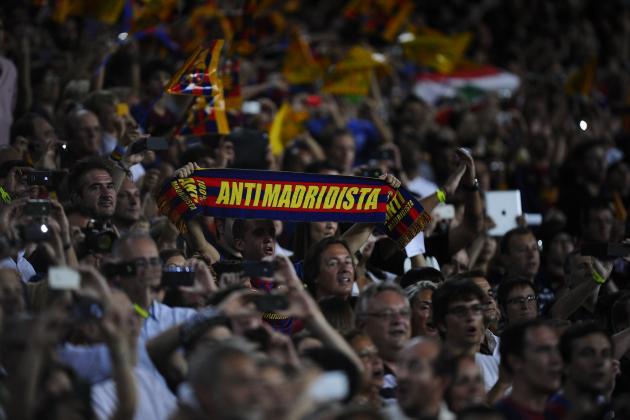 David Ramos/Getty Images
Barca
I am not going to pick a safe 2-2 final score this time around.
I say FC Barcelona will win 3-1 in the Spanish Super Cup, Second Leg.
Why?
I do believe Barca will play a bit more aggressive than expected in the first half. Look for either Pedro or David Villa to start at LW. Pedro has been in good form and el guaje will look to leave his mark in the Supercopa. Messi will be swarmed by the Real defense, so look for Pedro and/or Villa to get a goal or two in the game.
Historically, Pedro has always played well against Real Madrid. Just saying.
As much as Real Madrid want to control the midfield, they will not be able to. Not that they won't make the effort to do so.
Real will come out hot and will get a goal in the first half, but not by Ronaldo. Ozil will bounce back and Angel Di Maria will cause problems for Barcelona.
I see a 1-1 tie heading into halftime.
In the second half, I see Real making their last push to take the title as they need the win, no tie. But with Real's midfielders moving closer up front, Barcelona will counterattack and Messi will not score, instead, he'll set up his teammates for a goal, making the score 2-1.
With Real needing two goals just to tie the global score, Los Blancos will practically send everyone to play offense. Barcelona will once again take advantage of Real's desperation and score a very late goal to end the game at 3-1 (6-3 on aggregate).
As good of a team Jose Mourinho's Real Madrid is, it's clear after their first three games of the competitive season that they are not at their best this early into the 2012-13 season. Real will miss out on being Super Cup champions.
Nevertheless, this Real team will pick themselves up and be back to challenge FC Barcelona for La Liga, Copa Del Rey and of course in the UEFA Champions League if they were to meet there at some point.
While FC Barcelona did not look good at all in the game against Osasuna (credit has to go to Osasuna's great play as well), I believe this team—with a one-goal lead and with the tiki-taka which has had Real Madrid's number for most of the past four years—will be able to go into the Santiago Bernabeu and lift the Spanish Super Cup in front of the Madridistas.
If I'm wrong, it is what it is.
I just wanted to take a bit of a risk with this article just like I'm sure Real Madrid and FC Barcelona will take plenty of risks in the second leg of the 2012 Spanish Super Cup.
You have to take risks in Clásicos, even though one is familiar with the other's game.
It's just one of the elements that makes El Clásico a rivalry unlike any in sports.

Xoel, The Voice of FC Barcelona on Bleacher Report.
Don't forget to check out my other columns:
Lionel Messi Leads Barcelona to Comeback Victory at Osasuna
Barcelona vs. Real Madrid: Grading the Barca Players in Win vs. Madrid