Caroline Wozniacki: 5 Immediate Changes Needed to Win Again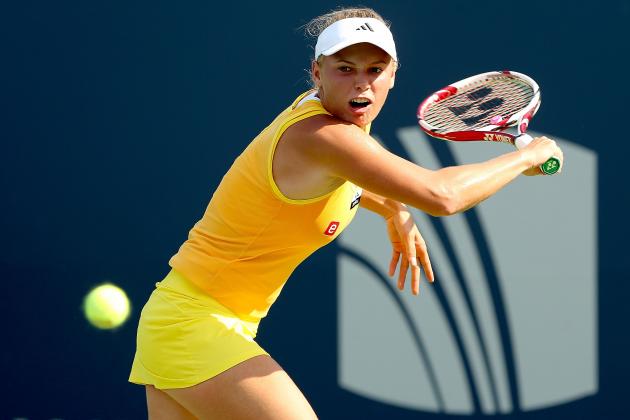 Matthew Stockman/Getty Images

Caroline Wozniacki is 22 years of age and has lived a lifetime in the tennis world's spotlight, often under incessant scrutiny by the media.

She turned pro in 2005 at the age of 15 and climbed steadily up the rankings ladder all the way to No. 1 in October 2010 at the age of 20.

During those early days, Wozniacki was consistent, bold and ambitious on court. She won a great deal, including six titles in both 2010 and 2011. Wozniacki appeared utterly fearless on court. Yet, in 2012, she has not won a title to date.

Wozniacki's reign came during a time in the women's game when there was a definite void at the top. When Justine Henin retired in 2008, the No. 1 ranking was more like a "hot potato" bounced from woman to woman until Wozniacki grabbed hold of it and embraced the opportunity.

She thrived on being the top-seeded player at any event.

Ultimately, Wozniacki earned the top spot in women's tennis—it was not given to her. She held it for 67 weeks because she continued to lead the field, but that was not enough for all the commentators who ranted on about her one failing—never winning a major.

The constant harassment wore on the young Dane, just as it had on Ana Ivanovic, Jelena Jankovic and Dinara Safina—all of whom held the No. 1 ranking for a brief time and, except Ivanovic, did not win a major title.

When Victoria Azarenka finally got her act together late in 2011 by controlling her temper, she began to win. This paralleled Serena Williams' climb back into the game after being out for an extended time with injury and illness.

When Azarenka won the 2012 Australian Open, inevitably Wozniacki lost her No. 1 ranking.

From that point forward, the Dane's ranking continued to sink. After losing at the 2012 Dubai Championships, where Wozniacki was the defending champion, her ranking fell out of the top five—down to No. 9.

Still suffering with a knee injury, Wozniacki, the No. 8 seed, had hopes for a revival coming into the 2012 U.S. Open—the major tournament where Wozniacki has played some of her best tennis in the past.
Yet in her opening-round match on Tuesday, Wozniacki lost to Irina-Camelia Begu of Romania, 6-2, 6-2.

At this point, what will it take to turn her career around and perhaps win that elusive major?
Begin Slideshow

»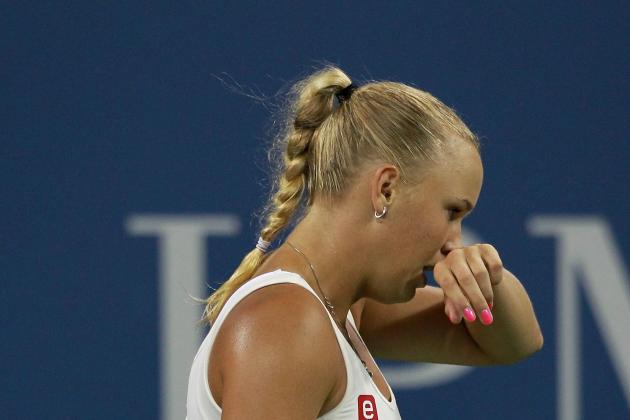 Nick Laham/Getty Images

Wozniacki is still only 22 years of age. That allows her many years to get back to the top of the women's game.
Look at her situation this way—there are not many talented players coming up behind Wozniacki.
There are, however, many aging stars on the tennis stage whose play at the moment is superior. But Kim Clijsters is retiring this year. Venus Williams is 32 and her sister Serena will soon be 31. They will not be around forever.
Currently, many of the top-ranked players are well over 25.

For her part, Wozniacki needs to shut out all the distractions, the press and the naysayers and concentrate on improving her game—especially her serve. She needs patience, concentration and practice.

The essential pieces of her game are in place. They just require enhancement and some minor alterations.

Wozniacki needs to remain focused on her goals and shut out everything else.
If she wishes to get back to the top—and she retains the steadfast will to accomplish it—she can get there.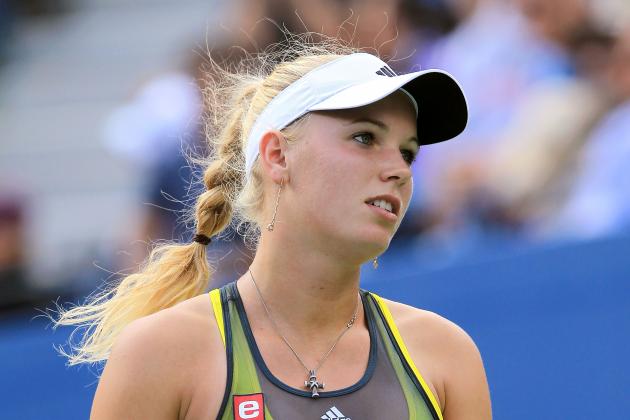 Chris McGrath/Getty Images

Wozniacki has built her game on defense. She has excellent anticipation and movement on court, adding to her counter-punching skills.
Her footwork as well as her ability to scramble to keep the ball in play have all served her well throughout her career.
Determination and grit have given her the edge in countless matches.

But of late, errors have crept into her game, often leaving her unsure what to do on the court against a higher-ranked or more proficient opponent.
Her errors come as her technique breaks down on her serve or when confronted with constant power. The fast pace takes away Wozniacki's time and she hits the ball late or sometimes even too early, causing mishits.

As the errors cascade, Wozniacki needs to add some variety to her game to keep opponents guessing—even an occasional drop shot would provide a change of pace and an unexpected shot.
At her worst, she is slow to the ball and too predictable in her responses.

These, however, are all facets of her game that she has the power to change. Like all the great players, adapting to specific opponents and on specific surfaces is necessary.
There are constant improvements to be made to get to and stay on top.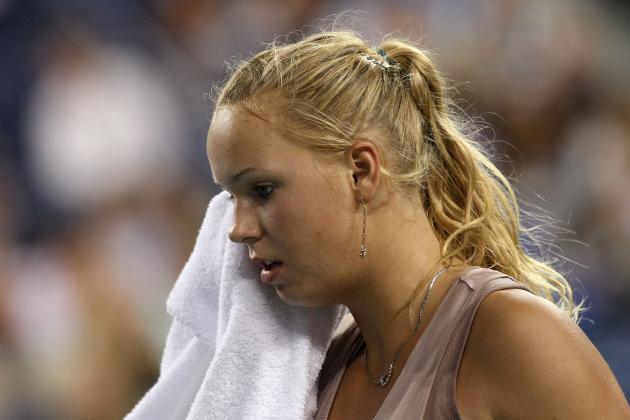 Nick Laham/Getty Images

Once the No. 1 ranking slipped away in January 2012, doubt crept slowly into Wozniacki's mindset—especially as the losses seemed to come earlier in tournaments.
In addition, Wozniacki found the opposition growing tougher as top players like Maria Sharapova and Serena Williams regained their previous high-level form on court. This while players like Agnieszka Radwanska and Victoria Azarenka improved dramatically, surpassing Wozniacki in the WTA rankings.

Improving players like German Angelique Kerber also began to have an impact. These opponents with equal stamina but increased aggression began to dominate.

It became very tough out there on court for the Dane. Losses began to compound. Her ranking slipped, first out of the top five—then falling to No. 9 at the start of the French Open.

Wozniacki needs to rebuild the self-belief that sustained her as she worked her way up the rankings to the top spot. During those early years, she never doubted her ability to win any time she stepped onto the court.
Wozniacki is a winner and will continue to be a winner—but she must believe in herself again in order to find success.

Hopefully, her new coach will help instill some of that self-confidence back into her game.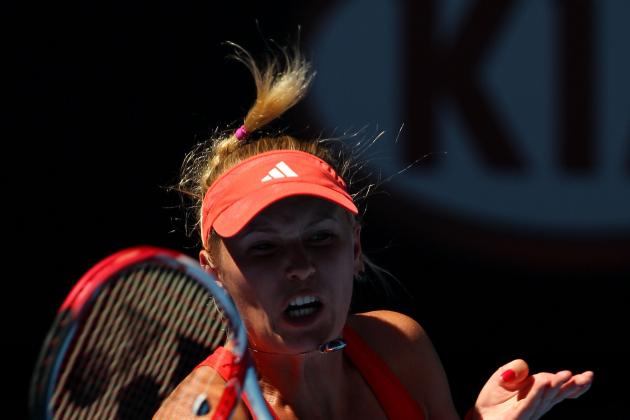 Lucas Dawson/Getty Images

There is no one who plays grind-it-out tennis better than Wozniacki. Her mantra is to send the ball back over the net one more time.
That persistence, in addition to the depth and placement of her ground strokes, often pushes the opposition into making errors—which is exactly what Wozniacki counts on.

Wozniacki outlasts her opponents on court, waiting for their mistakes to kill their chances or for her dogged determination to wear her opponent down and out.
This strategy works most of the time—except against the best players. Top-ranked players do not often make mistakes. Additionally, they take an aggressive stance and do their utmost to control the action.

Wozniacki developed a style of play early on built on defense. It has served her well, to a point.
But to take the next step to regain her place at the top of the game and to win her first major, Wozniacki needs to dominate the action on court, pushing forward and taking advantage using variety and sharp-angled shots to win points.

Too often, she retreats into what is safe. But now is the time to push herself into taking more chances, going for winners when the opportunity presents itself.
Newfound aggression on court will greatly improve Wozniacki's game and her chances to win her first major.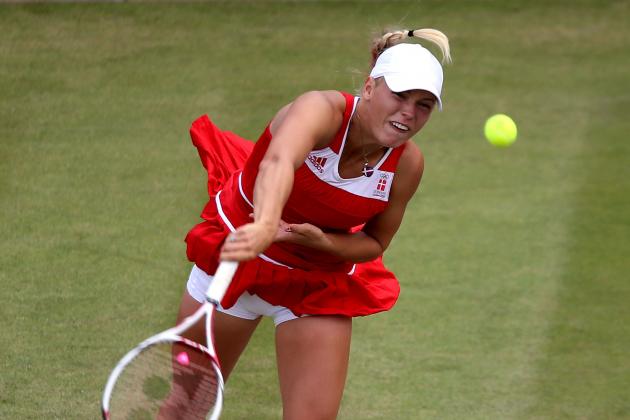 Clive Brunskill/Getty Images

Wozniacki's serve is adequate but it is not a weapon she can depend on to get her out of tough spots. Her serve has never been an integral part of her game, and it is not because she lacks height or power.
She stands 5'10" and weighs in at 128 pounds. Her serve remains a wasted opportunity because it could be her salvation.
She should take a page out of Roger Federer's book when it comes to serving. His success serving is based on disguise and placement more than velocity. In fact, it is the most underrated part of his game.

If Wozniacki were to develop her serve, she would become practically unbeatable because the rest of her game is there.
As it stands now, her service games are no more an advantage for her than her time defending against her opponent's serve. In fact, against the top-ranked players who relish attacking her second serve and sometimes even her first—her serve is a detriment.
She needs to make her serve dangerous and unpredictable—taking more risk in order to gain a distinct advantage.

Hopefully, new coach Thomas Johannson will integrate perfecting her service motion into her training because without it, Wozniacki will be a good tennis player—but never a great one.