Preseason Week 4: Injured Stars Who Need to See a Few More Reps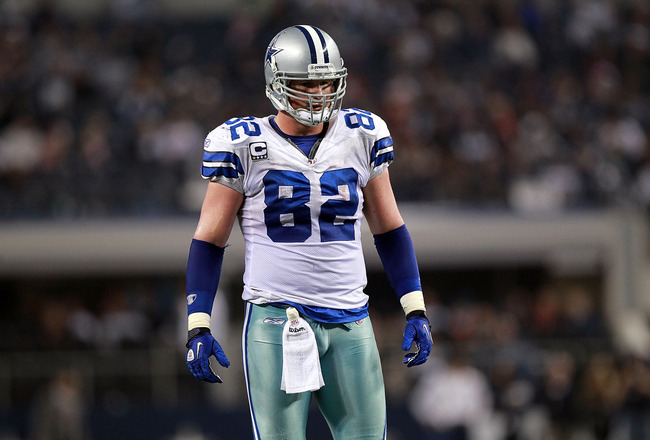 The whole Cowboys offense needs some more game action.
Ronald Martinez/Getty Images
With the final week of the NFL preseason upon us, there are still some injured stars who could benefit from seeing a few more practice reps.
Some of them just need to see some game time to shake off minor scares, while others have been hurt for awhile and still need to get their feet wet for the 2012 season.
While the reasons may vary, there's no denying that Week 4 of the preseason should see some high-profile names taking the field for at least a few series.
Here's a list of candidates.
Matthew Stafford, QB, Detroit Lions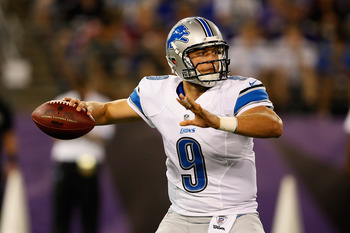 Stafford suffered a minor hand injury in Week 3.
Rob Carr/Getty Images
Preseason Stats: 24-34, 303 passing yards, two touchdowns, one interception
In Week 3 of the preseason, the Detroit Lions held their collective breath as their star quarterback clutched his non-throwing hand.
Matthew Stafford has been prone to injuries in the past, and to see him in obvious pain was far from a good sign for a team hoping to make another playoff run this season.
The injury turned out to be nothing, but even a stinger like that can make a quarterback uncomfortable in the pocket.
Stafford has seen plenty of reps this preseason, but after the injury scare, I think he could use a few more. The extra snaps will remind him that he's fine and get him back where they need him to be for the opener.
Kevin Smith, RB, Detroit Lions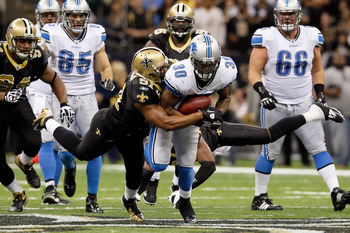 Smith has struggled to stay healthy since coming into the league.
Kevin C. Cox/Getty Images
Preseason Stats: 12 carries, 39 yards
Not unlike Matthew Stafford, Kevin Smith suffered an ankle injury in Week 3 that turned out to be no big deal. After all was said and done, X-rays showed no structural damage whatsoever.
But Smith did mention that he was nervous about the injury and that it's sometimes frightening being at the bottom of the pile.
Sounds to me like a guy who could use a few successful carries and a confidence boost. The Lions should try to get him a few plays in space during Week 4, just so he can attack the hole with maximum confidence when the real bullets start flying.
After Smith, the Lions are really lacking in running back quality, so they do need to exercise caution.
Jonathan Stewart, RB, Carolina Panthers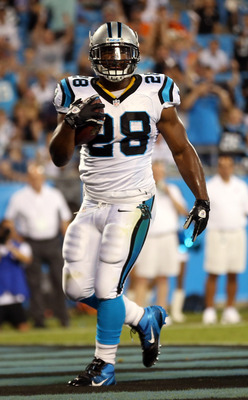 Stewart hasn't enjoyed the most productive preseason.
Streeter Lecka/Getty Images
Preseason Stats: 13 carries, 32 yards, one touchdown
Jonathan Stewart suffered injuries in consecutive preseason weeks, which is a nightmare every NFL player has.
But even before the injuries, Stewart simply wasn't enjoying a very successful preseason.
I'm no doctor and can't speak to the severity of J-Stew's injuries, nor the likelihood of worsening those ailments if he takes the field prematurely.
However, I'm sure he could use a few positive carries, if for no other reason than to get back in the game mentally. The Carolina Panthers are going to need Stewart if they are to take the next step this season.
BenJarvus Green-Ellis, RB, Cincinnati Bengals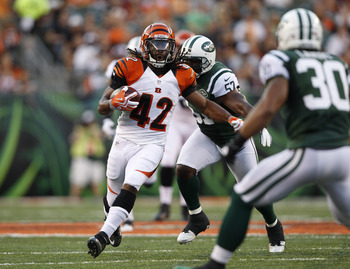 The Law Firm should have a firm hold on the starting gig if healthy.
Frank Victores-US PRESSWIRE
Preseason Stats: seven carries, 22 yards
BenJarvus Green-Ellis has struggled with a nagging foot injury since Week 1 of the preseason.
The Cincinnati Bengals acquired him to replace the production of former Bengal Cedric Benson, but his injury has hampered his ability to prepare for the season properly.
If he's healthy enough to play, the Bengals should definitely considering giving BJGE a few series of action in Week 4. He hasn't shaken off the cobwebs of the offseason yet.
Stevie Johnson, WR, Buffalo Bills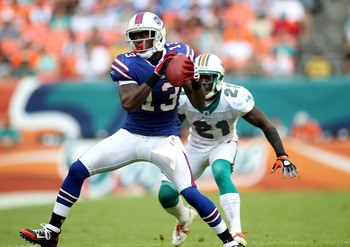 Johnson has been nagged by a groin injury since last season.
Marc Serota/Getty Images
Preseason Stats: six catches, 64 yards
After playing through a groin injury for most of last season, Stevie Johnson is still suffering from the injury.
In any case, he's still being heavily targeted in the preseason, racking up nine targets last week against the Pittsburgh Steelers.
However, despite Johnson's best efforts, the Buffalo Bills offense has been shaky—at best— throughout the preseason.
Johnson should stay in for at least a few series in Week 4, along with the rest of the offense. You don't want to waltz into the regular season looking like the New York Jets offense.
Miles Austin/Dez Bryant/Jason Witten, WR/TE, Dallas Cowboys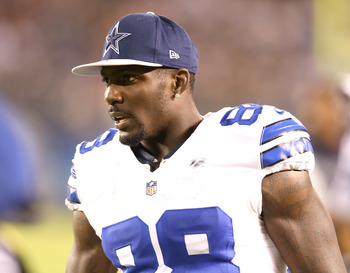 The Cowboys offense has been sputtering.
Stephen Dunn/Getty Images
Preseason Stats: five catches, 45 yards
The Dallas Cowboys starting receiving corps has been very banged up. Tony Romo has spent the majority of the preseason slinging balls to guys you've never heard of, like Cole Beasley.
Between Miles Austin's hamstring problems, Jason Witten's spleen and Dez Bryant's knee, the Cowboys have enough broken receivers to stock a showroom of wasted potential.
The entire team should play at least the first quarter this week, as the starters attempt to score their first receiving touchdown.
Jermichael Finley, TE, Green Bay Packers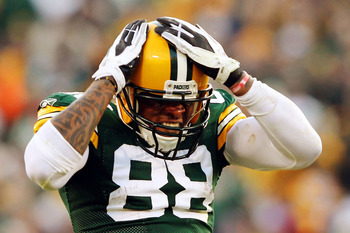 Finley isn't happy about his injury.
Jamie Squire/Getty Images
Preseason Stats: Goose Egg
Jermichael Finley hasn't played at all in the 2012 preseason. He's been battling quite the annoying quad injury, instead.
It's too bad for Finley, too, since he could use the reps. Last season, he wasn't exactly on the same page with MVP Aaron Rodgers. He needs all the opportunities he can get to sync up with the rest of the offense, which hasn't been stellar in the preseason
Robert Mathis, OLB, Indianapolis Colts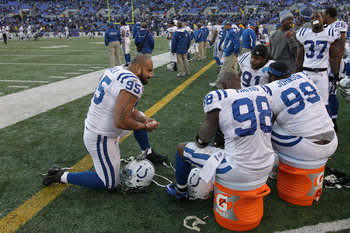 The Colts defense can't afford to lose any more key players.
Rob Carr/Getty Images
Preseason Stats: two tackles
Robert Mathis was the key veteran free agent the Indianapolis Colts decided to retain during their switch to a 3-4 defense. Of course there are a few others, but they are expecting big things out of Mathis this season.
His switch to outside linebacker has been pretty middle-of-the-road, so far. He's recorded only two tackles, no sacks and no other stats of note. He has also supplied the Colts with a few QB pressures, though he's been unsuccessful in closing the deal to this point.
Keep Reading