NFL Fantasy Football: Top 3 WR Fantasy Sleepers
Victor Cruz went undrafted in countless fantasy football leagues in 2011.
Jamie Squire/Getty Images
In the NFL, the wide receiver position is by far the deepest. Teams will sometimes carry anywhere from seven to 10 receivers on their roster during the season and even occasionally put five ball-hungry wideouts on the field at one time.
This explains why, each year, there is always a new receiver or two that earns his way into the select group of elite receivers in the NFL. Last year it was Victor Cruz that emerged from the shadows and not only helped fantasy owners reel in a championship but helped the New York Giants win a Super Bowl.
With the 2012 season nearing, here are three receivers that could be seen sporting a Pro Bowl uni by season's end.
3. Detroit Lions: Titus Young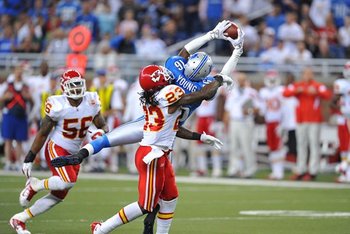 Titus Young isn't necessarily considered a freak of nature when it comes to being a wide receiver in the National Football League, but one guy who is, is Calvin Johnson.
There were instances last season where opposing defenses triple-teamed Calvin Johnson and even that wasn't enough to stop him.
Don't expect these defensive schemes against Johnson to come to a halt in the 2012 season. The double- and triple-teams will continue and this will open the door for the young Titus Young.
2. Tennessee Titans: Kendall Wright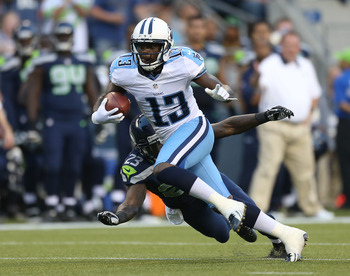 Otto Greule Jr/Getty Images
Kendall Wright played the role of Robert Griffin III's favorite receiver in last year's college football season. Don't be shocked if the same kind of situation occurs between Wright and young quarterback Jake Locker in 2012.
Wright has the quickness and agility to act as a solid slot receiver for the Titans but also has the top-end speed to be a playmaker. Locker and Wright both should put together solid seasons in 2012.
1. Kansas City Chiefs: Jonathan Baldwin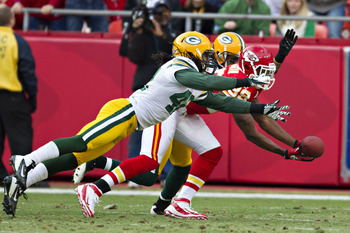 Wesley Hitt/Getty Images
Jonathan Baldwin is a guy that has every attribute a quarterback dreams of in a wide receiver.
He is 6'5", 230 pounds, runs a 4.50 40-yard dash, and to top it all off, has a 42" vertical leap. Jamaal Charles' return to the starting lineup will do wonders not only for the Chiefs' running game but also for their passing game.
According to Jim Trotter of Sports Illustrated, Baldwin has shown more maturity and focus on and off the field, which is the final ingredient needed to transform Baldwin into an elite receiver in the NFL.
Keep Reading