One Key Adjustment Each NBA Team Must Implement in Training Camp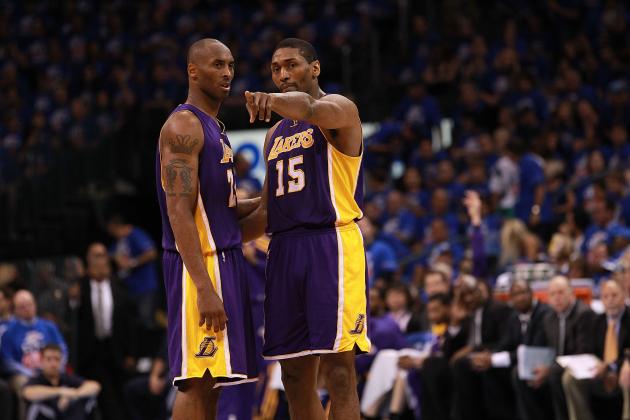 Ronald Martinez/Getty Images

In only a few weeks, every team will go to work trying to fix problems with the function of the team. The Miami Heat will try to shave off inefficiencies from last year in order to defend their NBA title. Teams like the Houston Rockets and Minnesota Timberwolves will try to fit in new pieces as they try to make the leap to the playoffs.
Some teams have smaller adjustments than others to make than others during training camp. Title contenders like the Heat and Oklahoma City Thunder just have to tweak a little in areas such as rebounding. Teams that have seen significant change in the offseason like the Rockets have to see how players fit together.
Follow along for a rundown of the work that each team must get done during training camp.
Begin Slideshow

»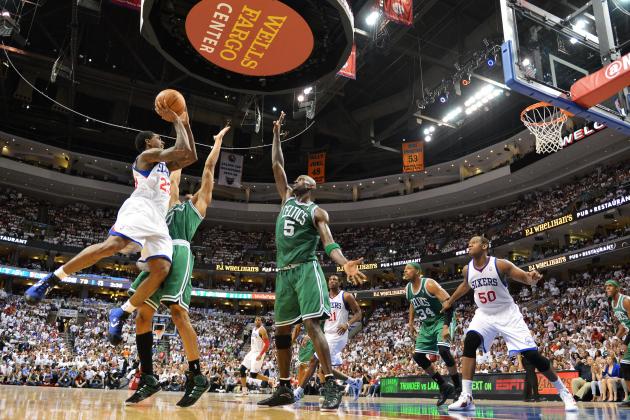 Drew Hallowell/Getty Images

The Hawks lost a leading scorer when they traded Joe Johnson to the Brooklyn Nets. Then, they recovered some of that scoring by signing Lou Williams.
Williams had been a hot scorer coming off the bench for the Philadelphia 76ers. He averaged 13.7 points per game and 21.2 per 36 minutes in 2010-11. In 2011-12, he averaged 14.9 points per game and 20.5 per 36 minutes.
However, the Hawks need to see what he's capable of doing in 30 to 35 minutes per game rather than 25 to 30 per game. He may already be ready since he took 12.2 shots per game last season. Taking 16 per game wouldn't be a huge jump for him.
If Williams can make the jump to being a high scorer as a starter, then the Hawks won't miss a step in their first season in several years without the guard who had been their franchise player.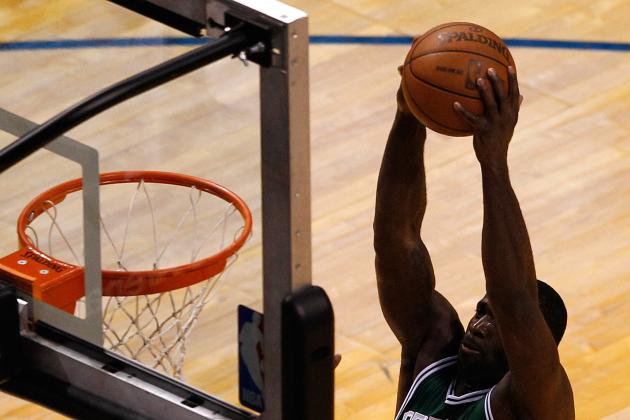 J. Meric/Getty Images

The Boston Celtics were by far the worst offensive rebounding team in the league last season. They pulled down 7.8 offensive rebounds per game last season. That's 1.97 fewer than the next worst team.
Brandon Bass led the team in offensive rebounds per game with 1.6. He was the only Celtic with more than 1.5 per game.
One reason why the Celtics were 26th in the league in scoring average was that they didn't get the offensive rebounds needed to create second-chance points.
The drafting of Fab Melo could help the effort on the offensive boards. Still, the team will need to work on following teammates' shots and fighting for misses on its end.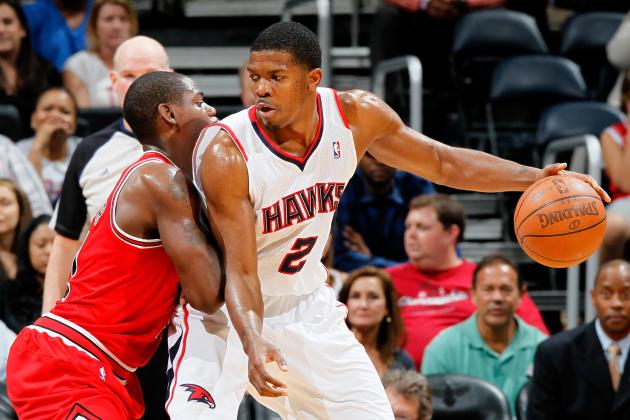 Kevin C. Cox/Getty Images

The Brooklyn Nets have two star guards since they've acquired Joe Johnson to play alongside Deron Williams. Both players love to shoot. Williams is high-volume lead guard who handles the ball and shoots a great amount of the time. He had a 30.1 percent usage rate last season and took 17 field-goal attempts per game.
Johnson is also very active with the ball. He took 15.5 shots per game last season and had a 24.9 percent usage rate.
The Nets will have to ensure that Johnson receives his fair share of shots. Williams will have to establish a rapport with Johnson and understand how much Johnson needs the ball. Williams will need to watch for Johnson on offense.
If the Nets can successfully fit Johnson into the offense, then they'll find their way into the playoffs.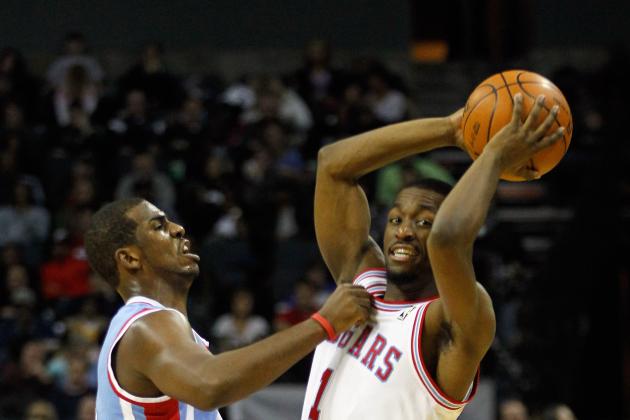 Streeter Lecka/Getty Images

When the past is a horrific nightmare, it's best to simply forget about it. That's what Charlotte Bobcats players need to do when they arrive at camp. That .106 winning percentage should be far from their minds.
No statistic from last season should loom on the minds of any Bobcats players. Team stats, like NBA lows in scoring average (87 points per game), field-goal percentage (41.4 percent) and three-point field-goal percentage (29.5 percent), should be erased from memory. Kemba Walker can forget shooting 36.6 percent from the field last year.
Starting with a clean slate with a new coach and a new attitude would be the best way to get ready for a new season while trying to build the team into a competitive one.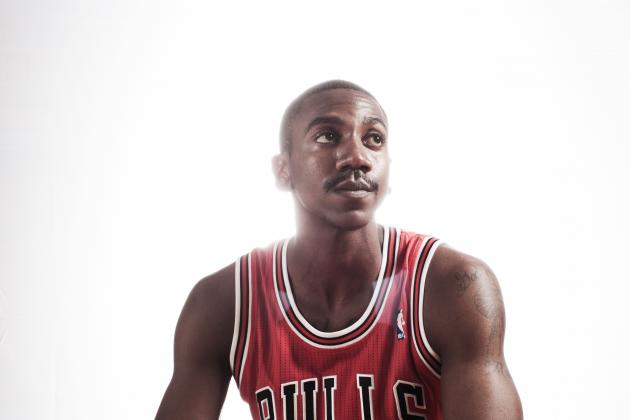 Nick Laham/Getty Images

With Derrick Rose out for most of the season, the Bulls have a much less capable set of point guards. Kirk Hinrich will be the starter. Hinrich isn't the same player as he used to be. He isn't nearly as quick as he once was. He doesn't lock down on defense anymore.
Behind him are a scrappy reserve in Nate Robinson and a raw talent in rookie Marquis Teague. While the Bulls could simply focus on getting Hinrich and Robinson minutes while having Teague watch and learn during his rookie year, it would be better for the future if they had the players split minutes while Hinrich guided Teague.
The Bulls would benefit more by trying to school Teague in becoming a quality backup than focusing on winning with Hinrich and Robinson receiving the bulk of the minutes. Hinrich could help Teague develop his half-court passing skills. He could teach the former Kentucky player how to watch the play develop and react to the opposing defense.
If the Bulls were to try to have Hinrich and Robinson simply produce what they can in trying to help the Bulls make the playoffs, they wouldn't be doing much good for the future of the franchise. Hinrich and Robinson won't be on the team for more than two years.
Meanwhile, Teague has a few years in which he can support Rose as the Bulls try to win a title after the superstar point man returns to full form.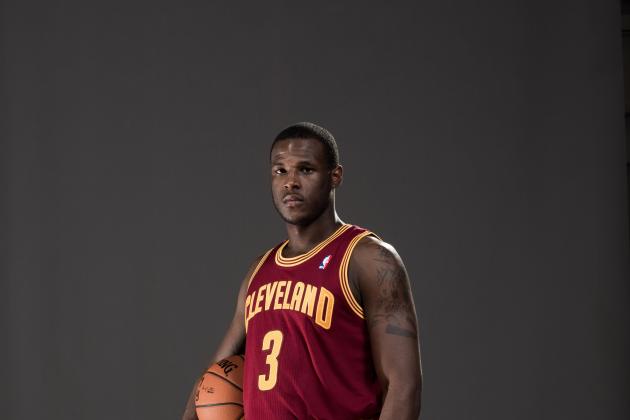 Nick Laham/Getty Images

The Cleveland Cavaliers took a risk in picking Dion Waiters fourth overall. Picking a scoring guard fourth overall who never played even 25 minutes per game is a reach.
Now, the Cavaliers have reason to wonder whether Waiters would be able to handle a substantial number of minutes in his rookie year. Waiters was reported by the News-Herald to be out of shape during the summer league.
The Cavs will have to work him hard in order to make sure he can handle long stretches on the floor in the NBA. Indeed, Waiters will take a few years of development to be a solid starter. Still, just to be reliable for 25 or 30 minutes per game in the NBA, Waiters needs to be pushed to be in top condition.
Jonathan Daniel/Getty Images

In the offseason, the Dallas Mavericks saw a great deal of change. Among the many personnel changes, Jason Kidd left Dallas and was replaced by Darren Collison, who was acquired from the Pacers.
Collison isn't quite the point guard as Kidd is. Kidd is a determined floor general who sees everything develop and has a keen sense of what to do. Kidd did a fine job even as he grew old.
Collison doesn't handle the ball as much as Kidd does and doesn't direct the offense as closely as Kidd does. Collison had only 4.7 assists per game last season and had a usage rate of only 17 percent.
The Mavericks need to find how much Collison can handle the ball. If he can't, a possible solution would be to have a combo guard setup with Collison and O.J. Mayo sharing ball-handling duties. Mayo was a high-volume combo guard while playing for the Memphis Grizzlies. He had a 23.9 percent usage rate. The USC product often led the offense coming off the bench.
If Mayo needs to, he could relieve some of the pressure on Collison by letting him share his duties with him.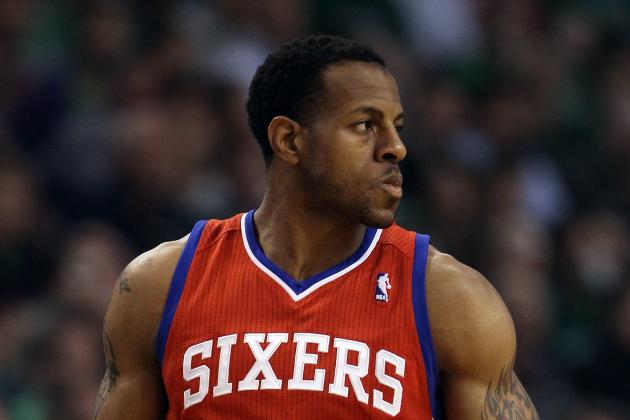 Elsa/Getty Images

George Karl has a young team filled with talent in Denver. The Nuggets showed some of their potential last season as they earned the seventh spot in the Western Conference before bowing out in the first round of the playoffs. The roster features such players as Kenneth Faried and Ty Lawson who have bright futures.
Each young player could surely use some guidance in their development. Fortunately, the Nuggets have two solid role models in Andre Iguodala and Andre Miller. Miller can show Lawson how to be a sound, responsible passer. He can teach Lawson patience and awareness.
Iguodala can help the young players follow in his steps as a disciplined all-around player. He can help them become aware, unselfish players on offense and eager, opportunistic players on defense.
If Iguodala and Miller are able to give ample support to their young teammates on and off the court, the team will see that much more growth.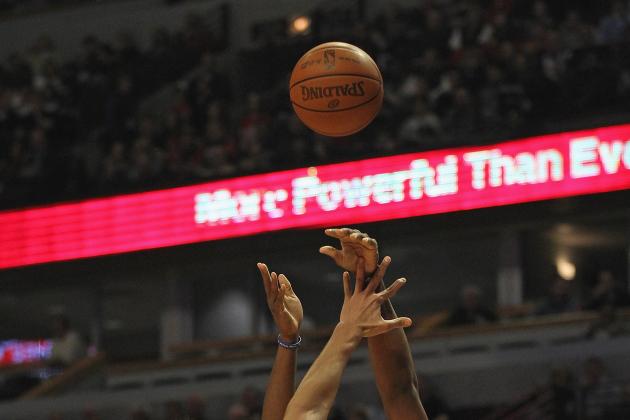 Jonathan Daniel/Getty Images

Greg Monroe will have some degree of relief this season as the Detroit Pistons move him to his natural position. Now that they have a true center in Andre Drummond, the Pistons can put Monroe where he belongs.
Monroe did a nice job last season for the Pistons, averaging 15.4 points and 9.7 rebounds per game.
He'll be better able to match up with opposing players than centers. Monroe will be able hold up defensively to players who are generally closer to his size.
Mostly, the adjustment will be positioning. Monroe will have to simply get used to being in a different place on the floor from where he was in his first two NBA seasons.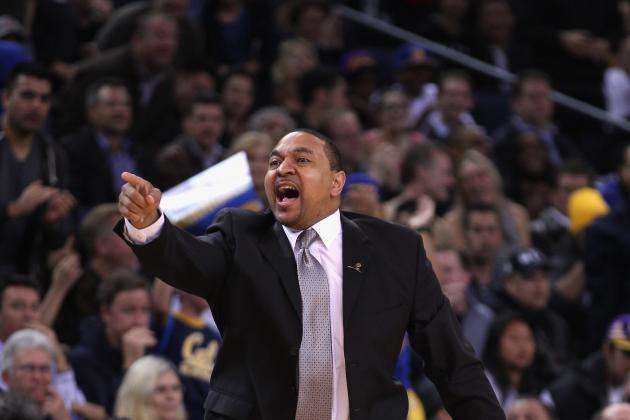 Ezra Shaw/Getty Images

Mark Jackson started his tenure as the Golden State Warriors head coach last year with an ambitious plan to turn the team around defensively. The Warriors showed some flashes of promise on defense early in the year. They held the Chicago Bulls to 91 points in a win and kept the New York Knicks to just 78 points in a 14-point rout.
Despite Jackson's efforts, the Warriors struggled to maintain consistency in stopping opponents. They allowed 100 points in 34 of the 66 games.
Even before the Warriors went into tank mode, they weren't one of the best defensive teams. In the first 46 games, the Warriors allowed 100 points per game. Their defense did slip as they allowed 103.8 points per game during the 3-17 finish.
Jackson shouldn't give up on the team's defensive capabilities this year. If he can get players to commit on defense, the Warriors could find themselves moving up the standings.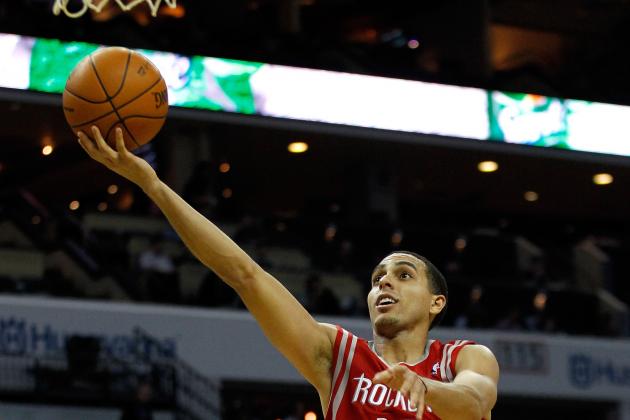 Streeter Lecka/Getty Images

The Houston Rockets were in a precarious position with their most explosive scorer during the offseason. First, Kevin Martin said he didn't think he'd return to Houston after next season, according to Sports Illustrated. Then, Martin came up in trade talks, according to the Minnesota Star-Tribune.
Eventually, they pulled back and decided to keep him under their wing for the time being, as Ken Berger of CBSSports.com tweeted.
Now that the Rockets have committed to keeping Martin for the short term, they need to endear themselves to him. First, they must make it clear that he's the star of the team for this season. Other stars from last season, such as Kyle Lowry and Luis Scola, have departed. The Rockets acquired one big name in Jeremy Lin.
Despite Lin's presence, Daryl Morey and Kevin McHale have to make it clear that Martin is the man. They need to make it clear that Martin is the go-to guy on offense. He'll likely be counted upon for 23 points per game as players like Jeremy Lamb and Chandler Parsons develop.
Having Lin and Martin meet privately to discuss how the offense should function could help. Martin could establish with Lin how much he needs the ball and when it may be appropriate for Lin to create for himself.
Putting Martin at the masthead could be a helpful move in retaining him for another few years.
Jonathan Daniel/Getty Images

The Indiana Pacers made two solid moves for the point guard position by re-signing George Hill and picking up D.J. Augustin. Hill isn't much of an assist man, but is a good ball-handler and a promising shooter. The IUPUI product committed one turnover per game and shot 44.2 percent from the field last season.
Hill had only 2.9 assists per game.
He averaged 13.5 points per game as a starter in the playoffs, having just taken over the starting role with nine games left in the season.
Augustin can shoot and he's also more of an assist man than Hill. The former Texas Longhorn averaged 6.5 assists per game last season.
Augustin would be the logical starter since he's the more talented distributor. Still, Hill deserves a significant number of minutes since he's a strong shooter and can boost scoring when the reserves are on the floor or when starters like Danny Granger or Paul George are struggling to drop buckets.
Finding a way to give Hill 25 minutes per game would be helpful for the Pacers' scoring effort.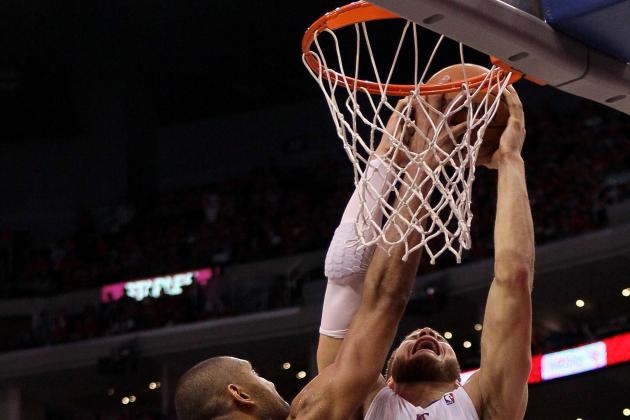 Stephen Dunn/Getty Images

Blake Griffin and DeAndre Jordan share a similar offensive issue. Both are highly reliant upon dunking and other at-the-rim scoring opportunities. Griffin took just over half of his attempts at the rim last season.
Jordan's struggles to score away from the rim are quite acute. He takes 77 percent of his attempts at the rim. He doesn't seem athletic or forceful enough to get many opportunities at the rim each game.
If he could step back and position himself to take passes where he'd be able to take jumpers within eight feet, he could open up a new avenue for the Clippers offense.
Griffin gets away with this crutch fairly easily because of his natural gifts. He moves fluidly around the basket and breaks down his opponent with ease. Griffin is strong enough to muscle his way past a defender to jam it home.
Still, when Griffin is matched up against someone who is strong enough and athletic enough to offset his physical abilities, he needs to be able to step back and knock down a 10- or 15-foot jumper.
Griffin needs to take time during training camp taking those short and midrange jumpers under pressure in order that he can build confidence shooting away from the basket.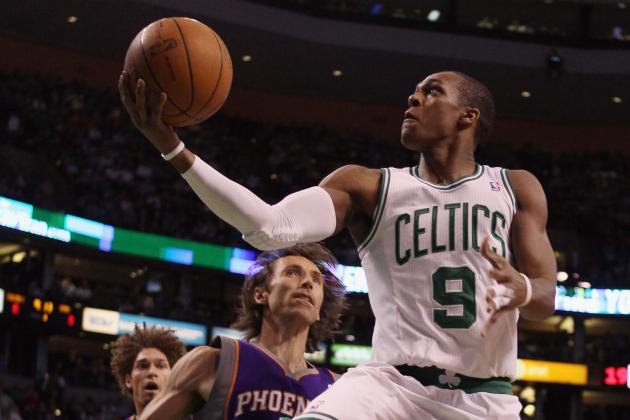 Elsa/Getty Images

Fans can rave all day about the Los Angeles Lakers offense that was transformed with the acquisitions of Steve Nash and Dwight Howard. Nash is an unparalleled offensive creator. Howard is as reliable as any inside shooter.
But it doesn't amount to anything if the Lakers can't get Nash to learn to play defense or improve their defensive play in general from last season.
Nash is a notoriously poor defensive player. He has a career defensive rating of 110 points allowed per 100 possessions.
The Lakers were in the middle of the pack overall defensively. They were 15th in scoring defense (95.9 points allowed per game) and 13th in points allowed per 100 possessions (104.4).
What's worse is that the Lakers were the worst last year in forcing turnovers. They were last in steals (390) and opponent turnover rate (10.7 percent). Kobe Bryant and Metta World Peace both had the worst steals-per-game averages in their careers (1.2 and 1.1 per game, respectively).
This isn't good for a team coached by Mike Brown, who had led strong defensive teams with the Cleveland Cavaliers. Brown's Cavs teams were regularly in the top 10 in steals.
Brown needs to give Nash a crash course in perimeter defense. He'll have to teach Nash how to put pressure on the ball-handler and force him to make unintended passes. Also, he'll have to encourage Nash to be willing to provide help defense.
In general, Brown needs to get the team to renew its commitment on defense. Bryant and World Peace aren't as spry as they used to be, but they still have to be aggressive on every defensive possession. Howard will have to bring his characteristic leadership inside by blocking shots, denying entry near the basket and altering the flow of opposing offenses.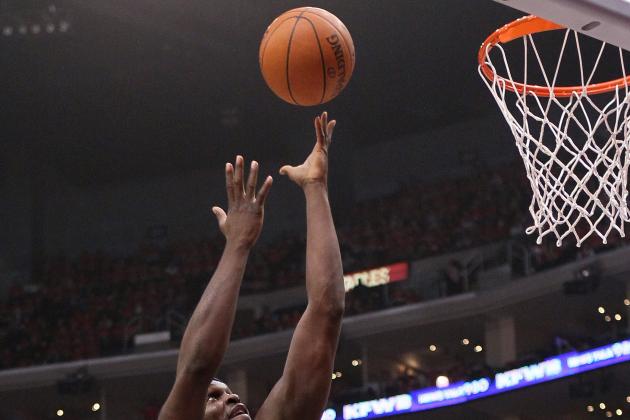 Stephen Dunn/Getty Images

The Memphis Grizzlies were missing a certain balance offensively—not in terms of scoring balance—but a balance between inside scoring and wing/transitional scoring.
That was because after Zach Randolph went down for most of the season with a partially torn MCL, the Griz had to remake their offense on the fly. That meant flipping from the double post offense that it generally ran to a transition offense that maximized most of the key remaining offensive talents.
The Grizzlies did a lot of work on the fast break. They used steals by guys like Mike Conley and Tony Allen to fuel quick scores. Sometimes Rudy Gay picked up steals or rebounds and went coast to coast for the jam.
For what they had, the scheme worked.
Gay was able to push scoring, although he occasionally stood back to let others take shots, as he is wont to do. Supporting perimeter players like Allen and O.J. Mayo often stepped up to make plays in transition. Conley sometimes broke opposing defenses down in half-court sets to set up a quick dump to Marc Gasol.
But things broke down in the playoffs. The transition offense didn't succeed against the Clippers. Conley was off his wheels. The ball often bounced around without direction like a pinball. This resulted in more turnovers than usual.
With that unfortunate turn and the return of Randolph for what fans of the three shades of blue hope to be a full season, the team needs to turn back to the double post offense that made the team passable offensively in the 2011 postseason.
The double post revolves around Gasol and Randolph as the post players. The Spaniard and the Marion, Ind., native give mirrored looks in the post, posting up opposite each other, rolling off mirrored screens or bouncing out simultaneously for shot opportunities on the wing.
Gasol and Randolph work very well together. They have a great feel for what the other is doing and know how to move in concert with the other.
This will make the offense more efficient, slowing the pace and cutting down turnovers. Both of those trends would make the team more adaptable for postseason play.
As for Gay, he'll be able to create for himself outside the double post. Gay and Randolph had close to the same number of field-goal attempts per game in their first two seasons playing together. In 2010-11, Gay had 16.1 field-goal attempts per game to Randolph's 15.8 per game. In 2009-10, Gay had 16.1 per game while Randolph had 16.5 per game.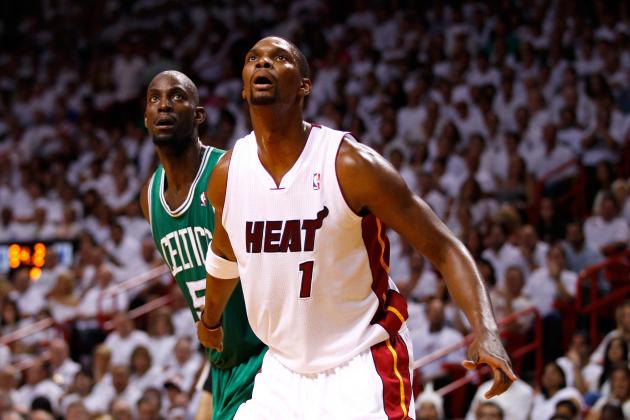 Mike Ehrmann/Getty Images

The Miami Heat excels in numerous areas, such as scoring, three-point shooting and forcing turnovers. One thing that they don't do well is rebound. Miami was 21st in total rebounds last season (2,746) and 24th in offensive rebounds (686).
This was due to a lack of a decent center. Dexter Pittman and Joel Anthony weren't reliable rebounders. Anthony averaged 3.9 rebounds per game and Pittman averaged two per game.
LeBron James tied Chris Bosh for the team lead in rebounding with 7.9 per game.
While Anthony started 51 games last season, the team will likely slot Bosh in the starting center slot. This would only be a nominal appointment since the lean Bosh is anything but a center.
Anyway, the Heat looks to have a somewhat undersized lineup with Bosh at the 5 spot. Miami would have four essentially backcourt players filling out the lineup with James, Ray Allen, Dwyane Wade and Mario Chalmers.
Being undersized means two things.
First, they'll have to be more efficient to make sure that any edge that opponents can exploit on the boards can't be used too much. Second, every player in the lineup needs to commit to crashing the boards.
This means following shots and positioning well. If Heat players can follow shots well, they can get some of the offensive rebounds that they missed out on last year.
The Heat may be able to become more productive offensively if they can improve to some degree on the boards.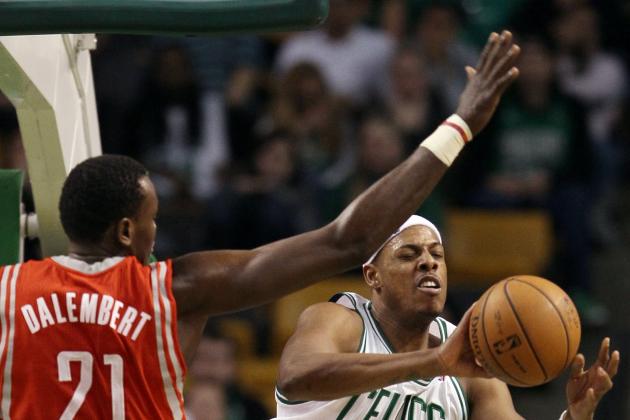 Elsa/Getty Images

Samuel Dalembert has been a defensive soldier over the course of his career. He has always endeared himself on the defensive end, providing help defense, jumping on the boards and blocking shots.
The draft trade that sent Dalembert to the Milwaukee Bucks brought him to a team that hasn't been willing on defense.
Even under a coach in Scott Skiles who had prided himself on pushing players to play tough defense, Bucks players have been complacent on defense. Milwaukee was 22nd last season in scoring defense (98.7 points allowed per game) and 19th in points allowed per 100 possessions (105.2).
This may be caused by players who aren't committed on defense. Monta Ellis and Brandon Jennings aren't exactly energetic on defense.
Dalembert is a welcome addition for Skiles, who seems to have lost his voice. Skiles can stand behind Dalembert as the Haitian big man shows his new teammates how to be help each other on defense and be opportunistic. Dalembert could inspire guys to make plays on defense.
Improved defensive play could be enough to help a team that missed the playoffs by four games last season get over the hump.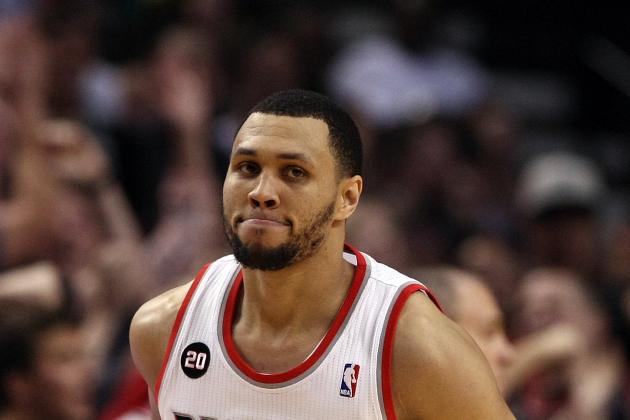 Jonathan Ferrey/Getty Images

The Minnesota Timberwolves made two signings this offseason that raised eyebrows. First, they signed Brandon Roy to a two-year deal as he came out of retirement. Second, they inked a deal with Andrei Kirilenko to return to the NBA.
Neither Roy nor Kirilenko is quite the same player as he was when during the last stop in the league. Roy elected to retire before last season due to degenerated knees. He underwent orthokine therapy, but one can't expect that to put him in full form automatically.
Both players can be significant contributors offensively. Roy can still be a threat on the perimeter. Kirilenko can be knock down shots from midrange. Ricky Rubio could simply lead them to their spots and set them up for scoring opportunities.
After Kevin Love, the T'Wolves' scoring will be spread out fairly evenly among several players. Kirilenko and Roy will be part of that multilayered attack. It will be up to Rubio to put them in position to score effectively.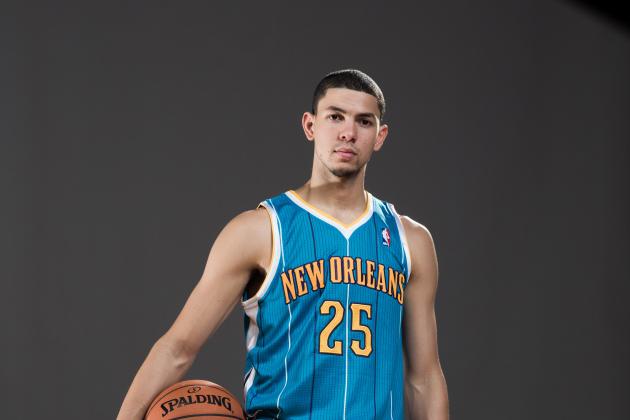 Nick Laham/Getty Images

The New Orleans Hornets are looking to put their best players on the floor together in the starting lineup. That means putting high-volume guard Austin Rivers in as a point guard much of the time.
Rivers isn't a natural point guard. He isn't one who creates much for others. He handles the ball a great amount of the time. That sums up his function as a point guard. He'll take care of the ball, often trying to create for himself. Rivers might not always be looking to pass the ball.
That shouldn't be too much of a problem. He doesn't have to be a pass-first point guard in order to be a good point guard. He just needs to be his type of point guard. The Hornets don't need to fit him into a certain mold. They can simply encourage him to be as efficient as he can in doing what he does well.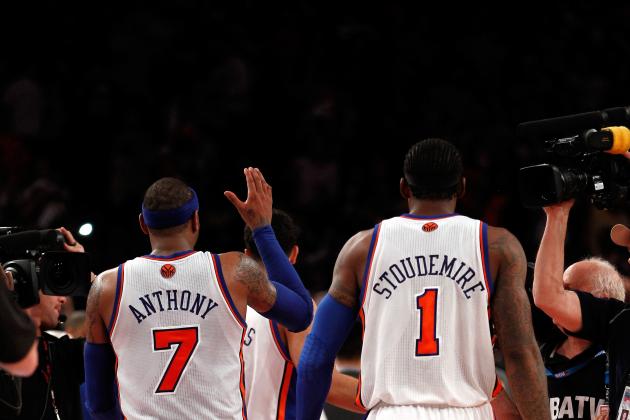 Jeff Zelevansky/Getty Images

Linsanity ended in New York this offseason, and the Knicks will move on with a fine tandem of point guards.
Ray Felton is a nice point guard who mostly passes and doesn't do much to get in the way of the primary scorers. Jason Kidd will back him up and help him find what he lacks in his game. Kidd could help Felton learn to see the floor better and watch action develop.
Felton's primary objective will be to feed the ball to the two primary offensive playmakers, Carmelo Anthony and Amar'e Stoudemire. He'll have to make the best calls as to who needs the ball in particular parts of the game. Also, he'll have to let them work freely after he feeds it to them.
Melo and Stoudemire are demanding offensive players who know what they can do. As savvy as they are, they're also avarice in their scoring desires.
For the sake of team harmony—considering how recent history has shown Melo's ability to sow discord—Felton can best help the team by simply handing the ball to those who demand it.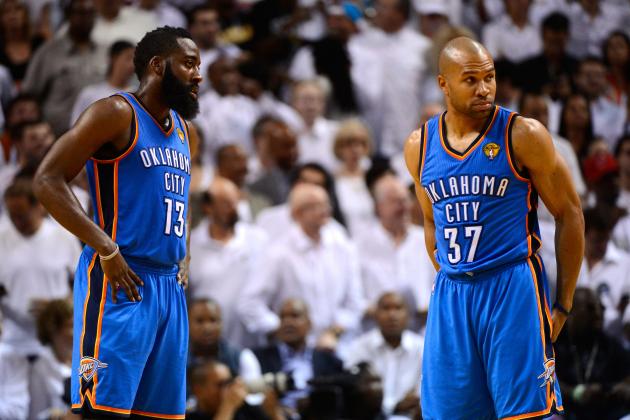 Ronald Martinez/Getty Images

For a while, James Harden was a threat as a big perimeter scorer. But in two of the four series during the Thunder's postseason run, Harden grew tame. The sharpshooter became less of a propeller in the Oklahoma City offense than an avatar propelled by a small, rabid fanbase.
He shot below 40 percent in four of five games in the conference semifinals against the Lakers.
He was a non-factor in the NBA Finals. Harden averaged 12 points per game, scoring in single digits in three games. He shot 33 percent from the field on the series.
Unfortunately, Scott Brooks didn't do anything to adjust the offense to boost Harden's performance. The playground style of the Thunder attack continued and Harden continued to flounder.
The Thunder will have to find a way to keep Harden effective. Moving him to play off Russell Westbrook could help.
Harden is a major cog in their offense, and they need to be create offensive designs to make him effective as often as possible.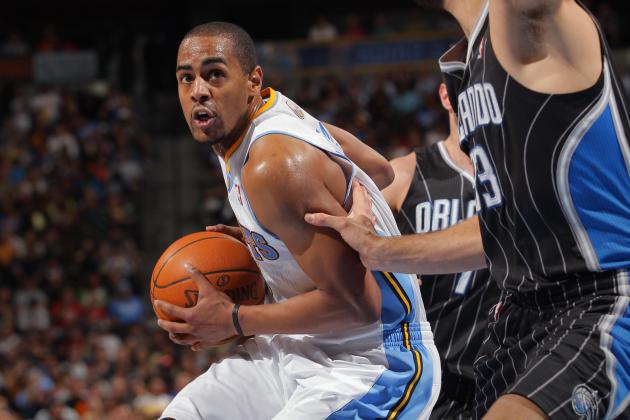 Doug Pensinger/Getty Images

The Orlando Magic launched their rebuilding period with the Dwight Howard trade. Now, they need to put the wheels in motion by putting the young players in the right roles.
Aaron Afflalo was supposed to be a breakout player for the Denver Nuggets last season, but he didn't live up to the hype. Starting the UCLA product at the 2 spot, the Magic can see how much scoring he can handle.
At center, the Magic can have Nikola Vucevic share minutes with Gustavo Ayon. Giving each player about 25 minutes per game, they can start to find out which player is more effective and which one has greater strengths on defense.
At power forward, Orlando can try to build Andrew Nicholson up as the season goes along. It can start him with about 20 minutes per game backing up Glen Davis and see how he does scoring in short spurts and restraining himself from fouling. As he progresses, it can increase his playing time.
Moe Harkless should receive a fair amount of minutes this season. If he can play at least 20 minutes per game, Harkless can flex the scoring potential that caught the eyes of scouts before the draft.
Giving the young players plenty of minutes is essential to starting the rebuilding phase. As the season progresses, the Magic will see how they might be able to expect each young player to grow.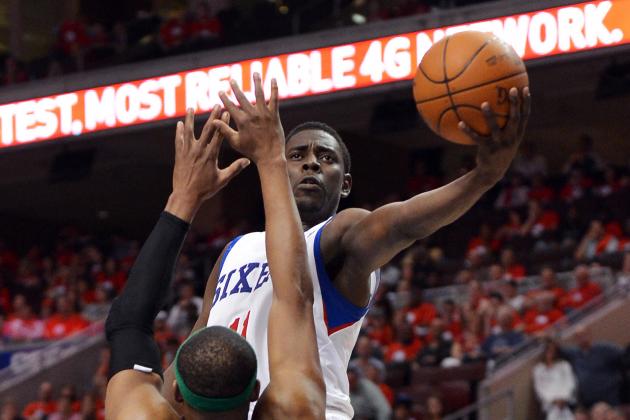 Drew Hallowell/Getty Images

The Philadelphia 76ers have a new look this season. They have dominant center in Andrew Bynum leading the front men. Jrue Holiday leads a different backcourt that includes Evan Turner and Nick Young, but—for the first time in several years—no Andre Iguodala.
The first objective in a much different lineup is deciding where the scoring will go. Undoubtedly, Bynum will be the first option. Then, Nick Young will play off Holiday to take a significant number of shots. Holiday will take about the same number of shots. Thaddeus Young and Turner will fall in line shortly behind them.
The 76ers were balanced on offense last year. Aside from the high volume of offense that Bynum will get, the offense will generally retain that balance.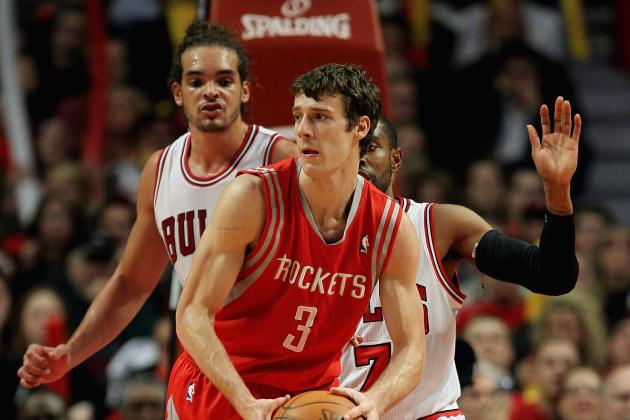 Jonathan Daniel/Getty Images

The Phoenix Suns have an interesting collection of scoring talent. Goran Dragic is a lead guard who showed an ability to kill teams with his shooting. Michael Beasley is a bit of a disappointment as a former No. 2 overall pick, but can still put up his fair share of points. Marcin Gortat positions himself well inside and knocks down shots with ease.
Luis Scola is an aging forward who can still do damage on offense. He is a commanding presence inside who can hit shots fairly well.
Shannon Brown jumps off the bench and can often put up double figures in scoring.
Dragic is the biggest scoring threat, but he'll still have to do his best to create for others when he can to make the team competitive. If he can maximize the scoring abilities of the mid-level players around him, the Suns could be in the playoff hunt.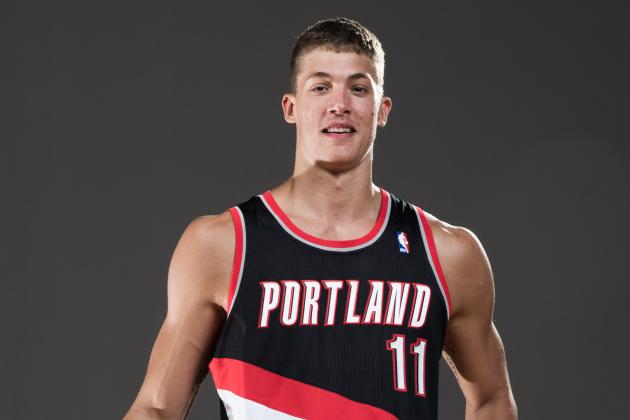 Nick Laham/Getty Images

The Portland Trail Blazers still have a looming question mark in their starting lineup. The center role has yet to be filled, as Neil Olshey told Hoopsworld.
The Trail Blazers have a couple of options. They could use J.J. Hickson again, which they did last season after acquiring him from Cleveland and trading Marcus Camby to Houston. Hickson isn't a center, but can rebound fairly well.
They could go with rookie Meyers Leonard. Leonard is developing his musculature, but is an athletic, capable big man. Leonard can score a fair amount and do the job on the boards.
Also, there's Joel Freeland, who played sparingly last season. However, Freeland will probably remain a reserve.
Leonard seems like the best bet for now. Hickson doesn't have Leonard's size. The Trail Blazers can work with Leonard and his remarkable natural traits and try to help him improve where he's lacking.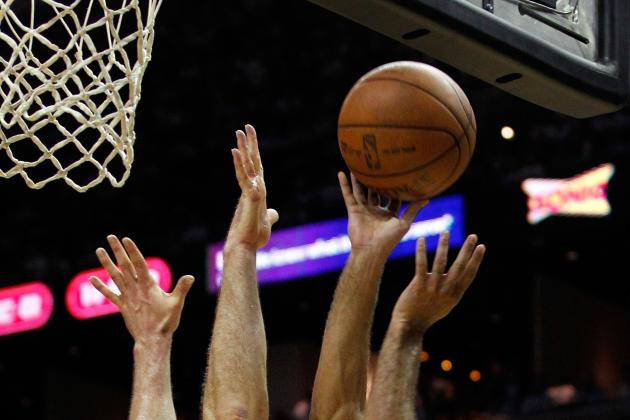 Tom Pennington/Getty Images

The San Antonio Spurs were able to be the No. 2 team in scoring with Tony Parker leading the charge in scoring and several other players contributing bits and pieces of scoring. Parker was among eight players who played at least half the games and averaged at least nine points per game.
Ten of 11 Spurs players who played at least half the season averaged more than 6.5 points per game.
However, five of those players averaged between nine and 10 points per game.
Parker was a steady scorer for the Spurs. His 48 percent shooting was stellar for his position. He shot at least 40 percent in 44 of 60 games played.
The issue is how much the Spurs use Parker. He and Duncan were the only Spurs who take at least 10 shots per game. Parker was the only Spur to play 30 minutes per game.
Gregg Popovich needs to find players who can become confident enough to become consistent supporting scorers. A couple of players need to emerge who can frequently be relied upon to score in double figures.
Danny Green may be one of those players. He averaged 9.1 points per game while shooting 44.2 percent from the field. Green also led qualified Spurs shooters with a 43.6 percent three-point mark.
Parker isn't getting any younger. He's a bit older than other players may be at 30 years of age since he has 10 years of NBA experience and plays an intense, confrontational offensive style.
The Spurs need to start finding a new supporting scorer to relieve some pressure on Parker and ease his post-peak period.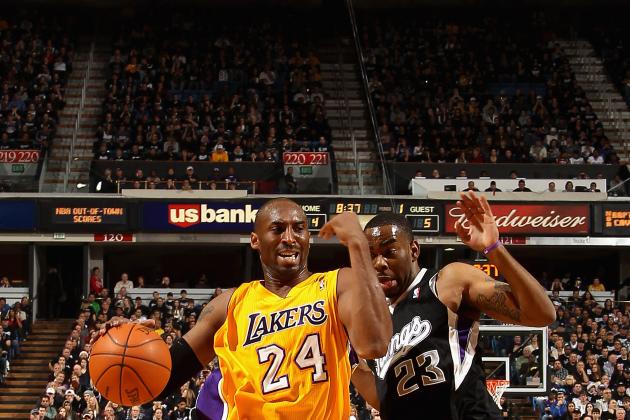 Ezra Shaw/Getty Images

The Sacramento Kings are quite capable on offense. They were No. 6 last season in scoring average. DeMarcus Cousins is lights out in the post. Marcus Thornton is a talented scorer. Isaiah Thomas is a promising point guard.
Meanwhile, the Kings are incredibly poor on defense. Cousins was the only Sacramento player to allow fewer than 108 points per 100 possessions last season. The Kings placed last in scoring defense (104.4 points allowed per game) and next to last in defensive rating (109.8 points allowed per 100 possessions).
In order for the Kings' scoring to overcome their inability to keep the other team from scoring, Keith Smart needs to teach the team to play defense. Thornton and Evans need to show energy in trying to lock down opposing ball-handlers. Also, rookie Thomas Robinson should be encouraged to push his frontcourt mates with his defensive intensity.
If the Kings can develop an ability to slow opponents down, they're well on their way to a winning record.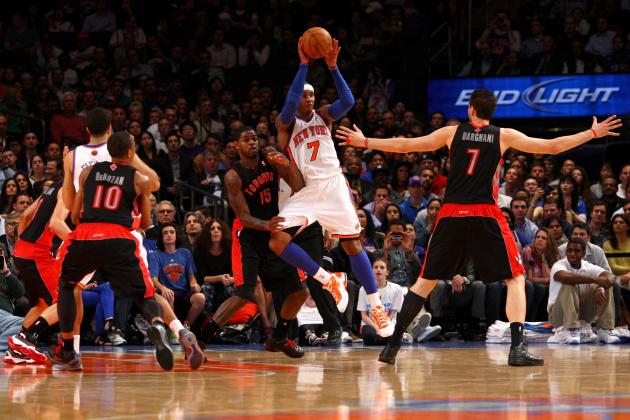 Chris Chambers/Getty Images

The Toronto Raptors were a mistake-prone team last season. The Raptors were 21st in turnovers (1,001) and 26th in turnover rate (14.9 percent). Aaron Gray had a 21.9 percent turnover rate.
They also committed the most fouls of any NBA team. Amir Johnson committed 3.3 per game and 4.8 per 36 minutes. Gray committed 2.6 per game and 5.6 per 36 minutes. Linas Kleiza committed 2.7 per game and 4.1 per 36 minutes.
Granted, the Raptors were dealing with injuries. Andrea Bargnani missed just over half the season. Jose Calderon, one of the most efficient point guards in the league, missed 13 games.
That the Raptors will have Bargnani back will help. Bargnani has steadily cut down his fouls in the last few years.
Also, having Jonas Valanciunas will eliminate mistakes that Gray tended to make. While Valanciunas will need to make adjustments to prepare for the NBA, he is already reliable than the caustic Gray.
The acquisition of Kyle Lowry is interesting. Calderon, the longtime starting point guard, looks to be out of the lineup in favor of someone who isn't quite as efficient. Lowry's 2.38 assist-to-turnover ratio wasn't anything like Calderon's mark of 4.5 assist-to-turnover ratio.
Lowry will have to build a good offensive rapport with scorers like Andrea Bargnani and DeMar DeRozan, who will demand the ball a fair amount from this scoring point guard.
Dwayne Casey may still need to work with Lowry to keep from doing more than necessary on offense. If Lowry can stay composed in his first season as a Raptor, it could help them run more smoothly on offense.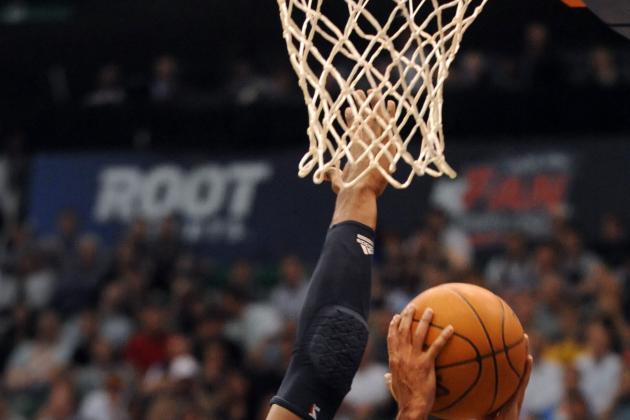 Steve Dykes/Getty Images

One problem that plagued the Utah Jazz last season was their tendency to commit fouls. The Jazz committed the second-highest number of fouls in the NBA (1,441). Paul Millsap committed 3.5 fouls per game. Derrick Favors, who could see more minutes this season, committed 2.2 fouls per game and 3.8 per 36 minutes.
The Jazz allowed the second most free-throw attempts (1,302) and free throws made (1,727).
Utah needs to be able to show better discipline in order to make sure that it can survive in what will surely be a closely contested race for the last spot in the playoffs. Committing fewer fouls will help the Jazz keep from allowing free points. Utah will also be able to compete better in close games.
If Favors wants to earn more minutes, he'll have to show better body control in tight defensive spots.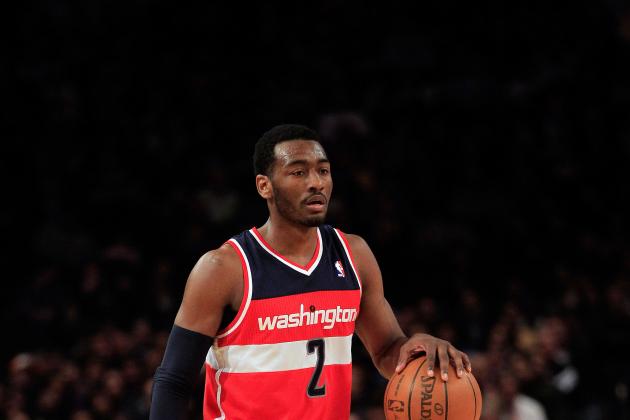 Chris Trotman/Getty Images

John Wall struggled to effectively run the Washington Wizards offense in his first two years in the NBA. Wall was seventh in the league with 261 turnovers while averaging 3.8 per game in his rookie year. Last season, as a sophomore, Wall had 255 turnovers to lead the league. He averaged 3.9 per game that year.
Wall didn't establish a comfortable rhythm while running the offense. He sometimes rushed through plays and forced the ball into spots.
Indeed, Wall had a high number of young players around him and not much continuity in the starting lineup. Chris Singleton was second in most games started behind Wall with only 51. Players like Singleton, Kevin Seraphin and Jordan Crawford were just starting to figure things out.
Still, Wall needs to slow things down while running the offense so that he can reduce the number of turnovers he commits. Also, a slower pace could help set up Crawford and rookie Bradley Beal as they try to establish themselves as shooters.