College Basketball's Top 5 Players at Each Position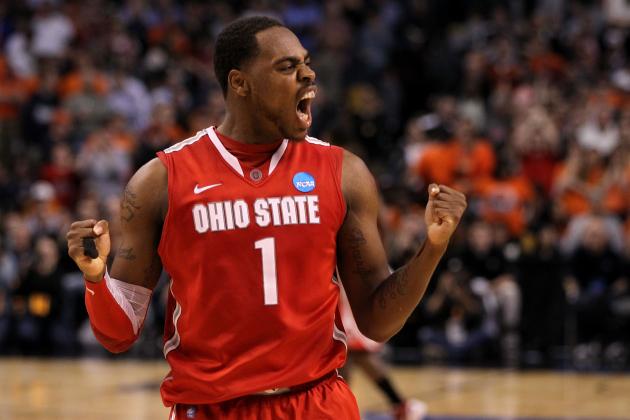 Michael Heiman/Getty Images

Here's a different kind of preseason Top 25 to get you ready for the college hoops season. We'll look at the best of the best at all five positions on the court, for a total of 25 of the top players in the country.
Obviously, in this era of four-guard lineups, defining who's a shooting guard vs. a small forward or a center vs. a power forward gets a bit arbitrary. Still, after last year's AP All-America first team included exactly zero guards, it seems like a good time to try to give some credit to every position in the game.
Read on for a look at the country's five most dangerous players at every position for 2012-13.
Begin Slideshow

»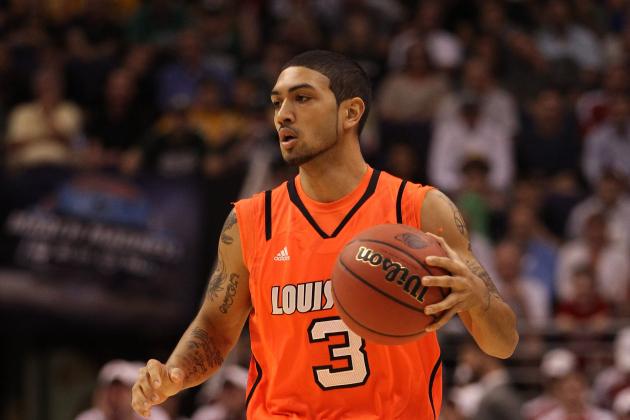 Christian Petersen/Getty Images

The emotional leader of the Cardinals' surprise Final Four run, Peyton Siva kept the Louisville offense functioning with smoke, mirrors and 5.6 assists per game.
His quickness makes him the ideal point man on the fast breaks that fueled Lousiville's postseason scoring spurts.
Siva also triggered plenty of those fast breaks himself, grabbing 1.7 steals a night at the top of Louisville's matchup zone.
He'll never be a top-level scorer (9.1 points per game and just .246 three-point accuracy), but in crunch time, he knows how to make things happen with a timely drive or a pass to the right teammate.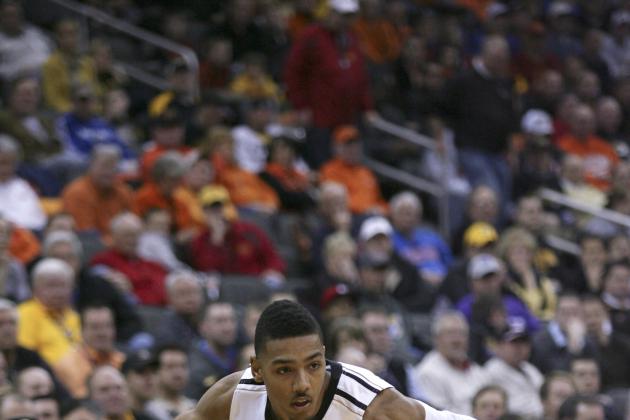 Ed Zurga/Getty Images

Nobody expects Missouri to win another 30 games after losing most of its offense to graduation. The fact that the Tigers are still in the preseason Top 25 discussion at all says a lot about their lone returning starter, Phil Pressey.
Pressey dished out 6.4 assists a night last season while also recording his second straight season with at least two steals per game.
He can score when he needs to (.365 long-range shooting), but with shot-hungry transfers Keion Bell and Earnest Ross joining the Tiger lineup, he'll still be passing a lot more than he shoots in 2012-13.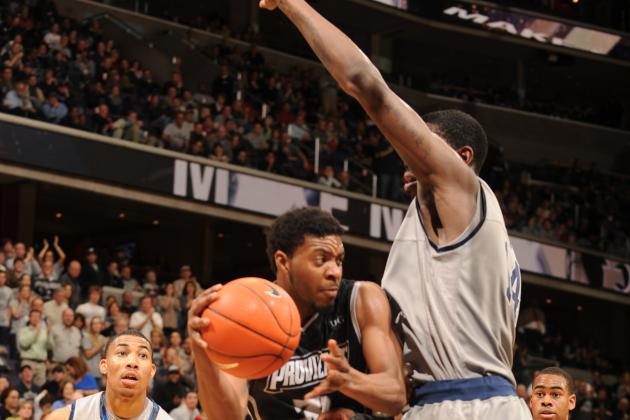 Mitchell Layton/Getty Images

More than any other position, point guards get judged on whether their team wins. That's about the only explanation for why Vincent Council doesn't get more credit among the nation's top floor leaders, because his individual numbers are eye-opening.
Council averaged 15.9 points, 4.1 rebounds, 7.5 assists and 1.3 steals per game in the mighty Big East, but couldn't even manage an honorable mention among the AP All-Americans.
Next year, though, the addition of sweet-shooting freshman Ricardo Ledo should help the Friars improve on their woeful 4-14 Big East record and earn Council some overdue recognition.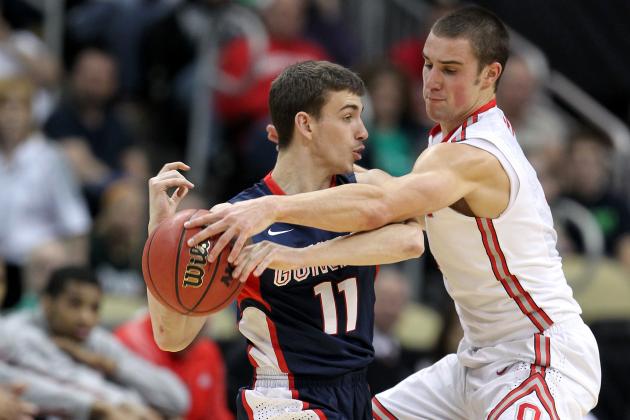 Gregory Shamus/Getty Images

Aaron Craft is the best defensive player in college basketball. The quick-handed sophomore racked up 2.5 steals per game for Ohio State's Final Four squad, and even that figure underrates the pressure he puts on opposing ball handlers.
Offensively, he's not a half-bad point guard either, dishing out 4.6 assists a night in 2011-12.
With Jared Sullinger gone (and defensive-minded Amir Williams likely getting more minutes in his place), look for Craft to increase his scoring from last year's meager 8.8 points per game.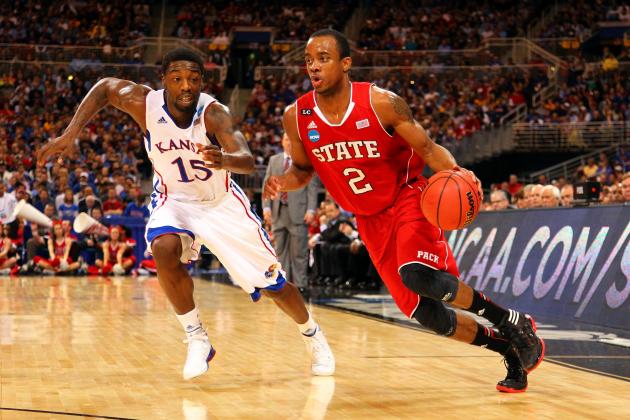 Dilip Vishwanat/Getty Images

It took a surprise Sweet 16 appearance by the Wolfpack to put Lorenzo Brown on the national radar, but the 6'5" sophomore had turned in a remarkable regular season even before leading a pair of March upsets.
Brown's 6.3 assists per game carried an N.C. State offense without a game-breaking scorer, and that was just the tip of the iceberg.
Brown was the team's second-leading scorer (12.7 points per game), third-leading rebounder (4.5 boards a night) and top defender (1.8 steals per contest).
With three other starters returning and a strong postseason already under his belt, Brown is set to light up the ACC next season.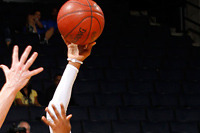 Image from Rivals.com
For the second year in a row, the Duke offense is going to lean heavily on a hotshot freshman stepping into a starring role in the backcourt.
Austin Rivers is gone, but spiritual successor Rasheed Sulaimon is ready to become one of the top offensive weapons in the country.
The 6'3" Sulaimon has a solid three-point stroke, but like Rivers, he's most dangerous attacking the paint or pulling up off the drive.
Scout.com ranks Sulaimon as the 12th-best recruit in the nation, and even that might not be enough to reflect the scoring punch he could provide in a Blue Devil uniform.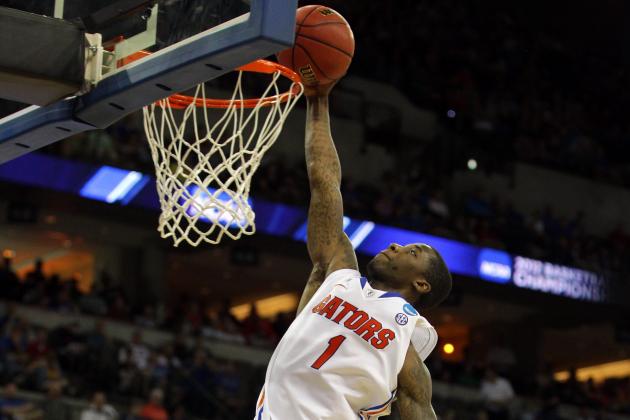 Doug Pensinger/Getty Images

Already the seventh-leading scorer in Gators history, Kenny Boynton is back for even more points as a senior. He'll need to put up quite a few to help offset the losses of backcourt partners Erving Walker and Bradley Beal (a combined 26.9 points a night).
Boynton, though, was the leader of that high-scoring trio, pouring in 15.9 points per contest in 2011-12.
With promising freshman Braxton Ogbueze looking to step in for Walker at the point, don't expect Boynton to miss a beat as he tries to raise his scoring average for the third consecutive season.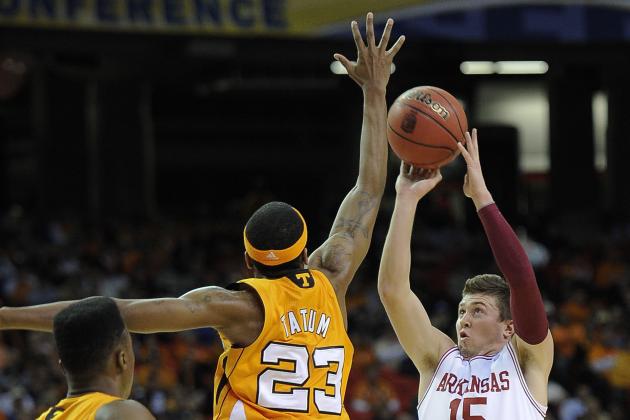 Paul Abell-US PRESSWIRE

At just 6'0", 190 lbs, Rotnei Clarke has his limitations defensively. As a pure shooter, though, he's as dangerous as any player in the country.
In his last season before transferring to the Bulldogs, Clarke led Arkansas in scoring (15.2 points per game) while shooting a dazzling .438 from beyond the arc.
He's hit at least 83 treys in each of his three collegiate seasons, and as the instant go-to guy on a scoring-poor Butler team, he should be among the nation's leaders in both three-point shooting and scoring in his final college season.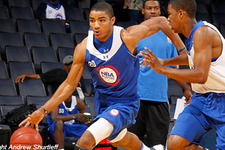 Image from Rivals.com
ESPN's 11th-ranked recruit in the country, Gary Harris is a physical 6'4" athlete who does everything you can ask from a shooting guard.
Harris immediately becomes the Spartans' top three-point threat, as well as the most dangerous overall scorer on the roster.
Harris is also a terrific defender, a skill he'll need in matching up with bigger guards such as Tim Hardaway Jr. in conference play.
If everything breaks right for Harris, he could be the best 2-guard to come out of East Lansing since Jason Richardson.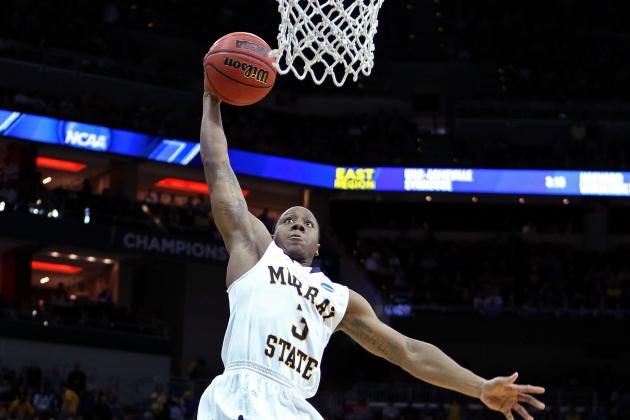 Andy Lyons/Getty Images

One of just two AP All-Americans who returns from the 2011-12 season, second-teamer Isaiah Canaan became the face of the country's most surprising team last year.
He'll be hard-pressed to lead the Racers to another 30-win performance after the graduation of three starters, but Canaan himself is a sure bet to rack up monster point totals next season.
As a junior, Canaan averaged 19 points per game while draining a staggering 45.6 percent of his three-point tries. He's also a key factor on defense for Murray State, amassing 1.4 steals per game last year.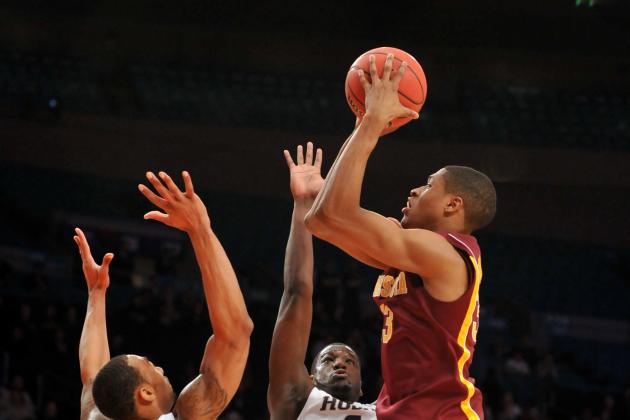 Jason Szenes/Getty Images

One of the most impressive pure athletes in the country, Rodney Williams has finally started to translate his raw talent into on-court production. He led the Gophers to the finals of the NIT, pacing the squad with 12.2 points and 5.6 rebounds a night.
Williams is also a sensational defender, posting team highs in both steals (1.3) and blocks (1.4) per game.
Don't be surprised to see Williams and a healthy Trevor Mbakwe do a passable imitation of the performance Deshaun Thomas and Jared Sullinger turned in for last year's Ohio State squad.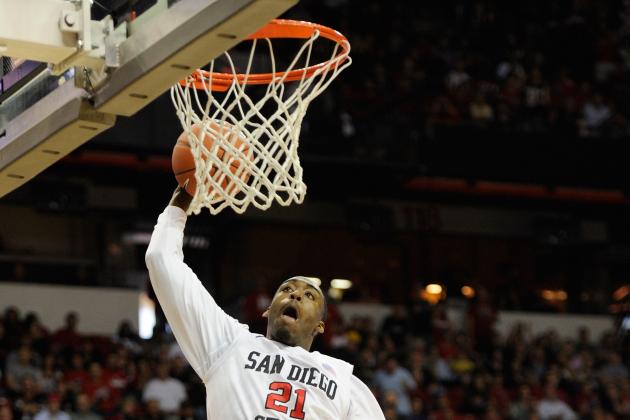 Ethan Miller/Getty Images

6'5" swingman Jamaal Franklin is the biggest and best member of the perimeter trio that carried San Diego State to 26 wins and a No. 6 seed last March. Franklin led the Aztecs with 17.4 points and 7.9 rebounds per game in 2011-12.
Franklin's length also makes him a valuable defender, particularly in Steve Fisher's undersized lineup. If he can just tighten up his three-point stroke (already at a passable .325 last season), San Diego State's offense will really be something to see.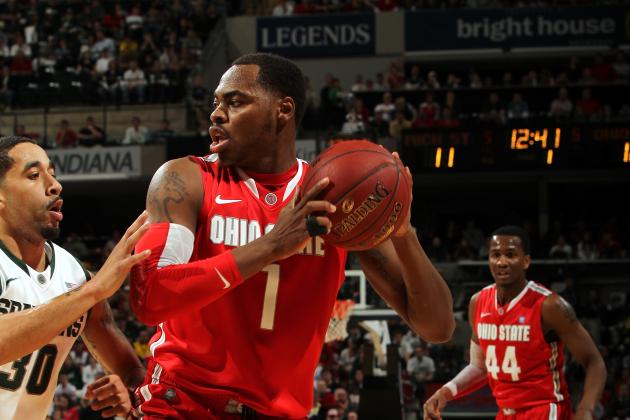 Jonathan Daniel/Getty Images

After barely getting off the bench as a freshman, Deshaun Thomas was an immediate hit in his first season as a starter.
Thomas' size (6'7", 225 lbs) and mobility make him a matchup nightmare, too strong for most small forwards and too quick for power forwards.
He got the most use out of his versatility on offense, scoring 15.9 points a night on the strength of his inside-outside game (including .345 three-point shooting).
With Jared Sullinger gone, he's likely to add to his already-solid rebounding numbers (5.4 boards per game a season ago).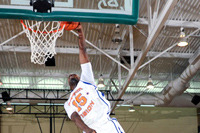 Image from Rivals.com
Until Nerlens Noel's 11th-hour reclassification, Shabazz Muhammad was the consensus No. 1 recruit in the 2012 class. The hyper-athletic 6'6" forward is sure to be one-and-done, but in that one year he has a great shot to win a Pac-12 title for UCLA.
Muhammad is a lethal scorer who specializes in getting to the rim, and he's a safe bet to be among the conference's leaders in points (if not the nation's).
He's a rising star as a defender, too, even if his offensive contributions tend to overshadow those talents.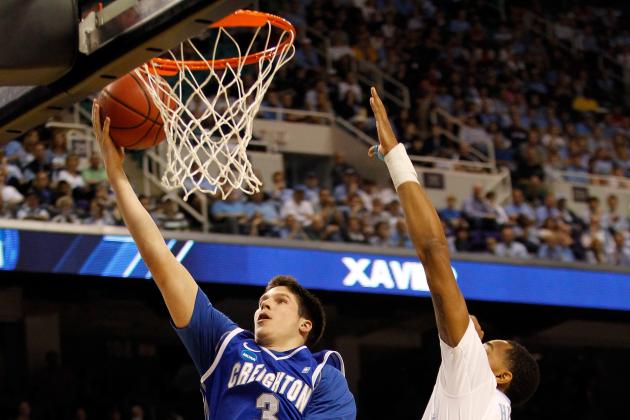 Streeter Lecka/Getty Images

Doug McDermott is such an overpowering offensive weapon that it's going to be a surprise if anyone else leads the nation in scoring in 2012-13.
The Blue Jay star earned well-deserved All-America recognition last year, when he "only" finished third in the country with 23.2 points per game.
McDermott has the muscle (6'7", 220 lbs) to score inside and the shooting touch (an astonishing .486 from deep) to score from anywhere else in the building. On top of all that, he's Creighton's best rebounder with 8.2 boards a game.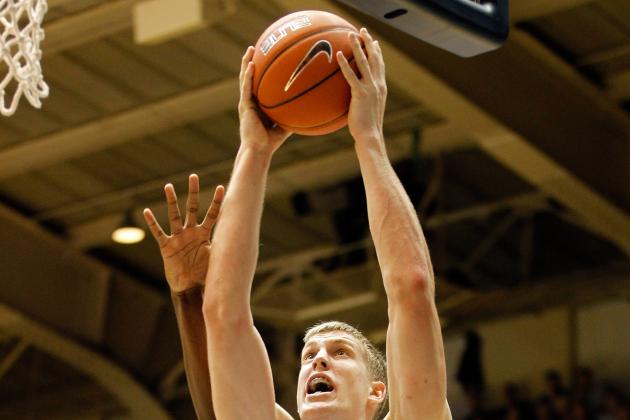 Streeter Lecka/Getty Images

A throwback power forward who earns his minutes with defense, rebounding and sheer muscle, Mason Plumlee has built himself into a top-notch weapon on the glass.
The 6'10" rising senior grabbed a team-high 9.2 rebounds a game last season, and his 1.6 blocks a night were also tops on the Duke roster.
Coach K's perimeter-oriented offense doesn't always leave much room for scoring from his big men, but Plumlee is starting to overcome that obstacle, too.
He posted a modest career high of 11.1 points per game last season, a figure he'd be sure to improve on if only he could do something about his dreadful free-throw shooting (.528).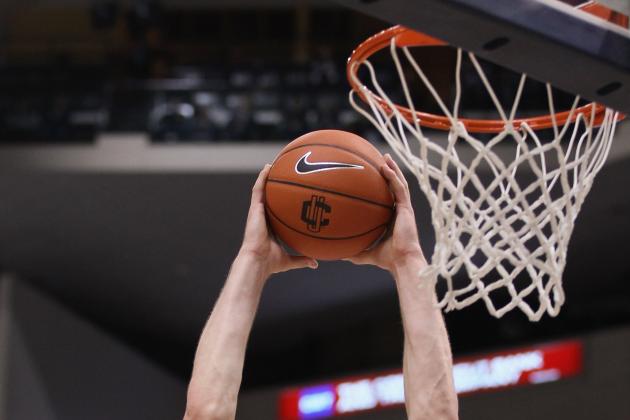 Elsa/Getty Images

The Big East was full of surprises in 2011-12, and one of the most pleasant was the sudden emergence of Jack Cooley as a force on the low block for Notre Dame.
Rooted on the bench for his first two college seasons, Cooley burst onto the national stage with a dominant performance in the Irish's upset of then-unbeaten Syracuse in January.
For the season, Cooley led Notre Dame with 12.5 points, 8.9 rebounds and 1.6 blocks a game. He's already one of the country's most powerful big men at 6'9", 240 lbs, and the sky is the limit for Cooley's performance in his senior year in South Bend.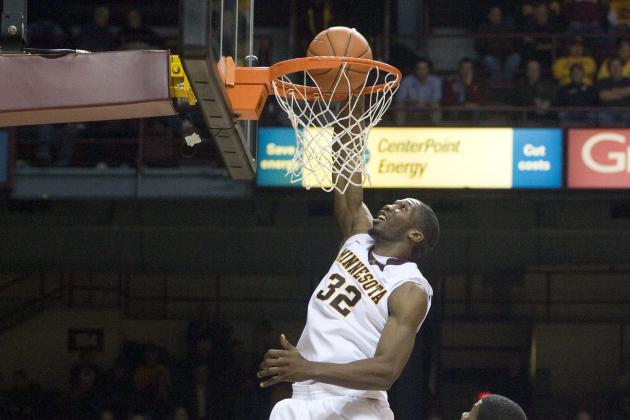 Marilyn Indahl-US PRESSWIRE

Trevor Mbakwe was all set for a world-beating season in 2011-12, and then he blew out his ACL after seven games. He'll get a do-over next season, and even in a loaded Big Ten, he'll be the top PF in the conference.
Mbakwe led the Big Ten with 10.5 rebounds a game in 2010-11 while also scoring 13.9 points and blocking 1.5 shots a night.
He's an NBA-caliber athlete now that he's healthy again, and he's likely to make a run at the top of the national rebounding leaderboard in his final college season.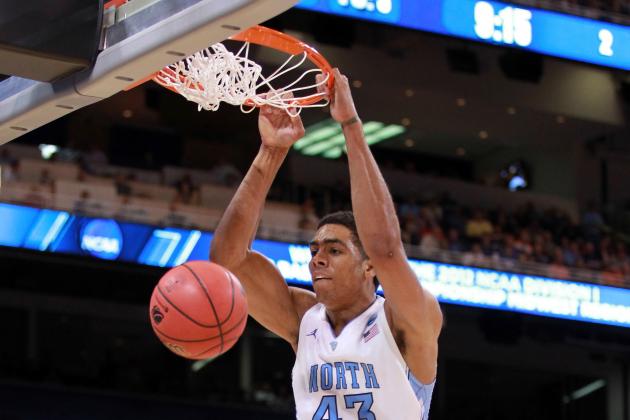 Andy Lyons/Getty Images

James Michael McAdoo packs the speed and leaping ability of a perimeter player into a 6'9", 220-lb power forward's frame.
Unsurprisingly, he's the most anticipated of the many Tar Heels who will be getting their first starting opportunities after the mass defection of last year's quartet of stars.
Although he played very limited minutes as a freshman, McAdoo (a distant relative of former Tar Heel star Bob) still managed 6.1 points and 3.9 rebounds per game.
If he comes close to living up to his potential, he'll have new-look North Carolina in the thick of the ACC title hunt yet again.
Ethan Miller/Getty Images

He's not the biggest body for a power forward at 6'8", 210 lbs, but Mike Moser makes up for a lot with agility and instincts.
The UCLA transfer was an instant sensation in his UNLV debut last season, briefly leading the nation in rebounding before finishing the year with the country's 10th-highest average (10.6 boards per night).
Also UNLV's leader in scoring (14 points a game) and steals (1.9 per contest), Moser will be getting a lot more help in the frontcourt next season.
However, even with the arrival of transfers Khem Birch and Roscoe Smith and star freshman Anthony Bennett, Moser will still be the face of what should be an outstanding Rebels team in 2012-13.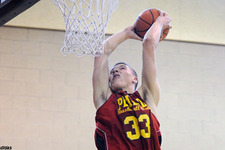 Image from Rivals.com
Bona fide seven-footers are a rarity at any level of basketball, and the ones who can actually play are even rarer. Kaleb Tarczewski is a 7'0", 240-lb true freshman with a skill set as impressive as his towering body.
The prize of Arizona's heralded recruiting class, Tarczewski is a dominant rebounder who controls the paint on offense and can even run the floor a little.
Defensively, he's merely respectable (though improving), but his sheer size and offensive skills will make sure that every Wildcat opponent's game plan starts with him.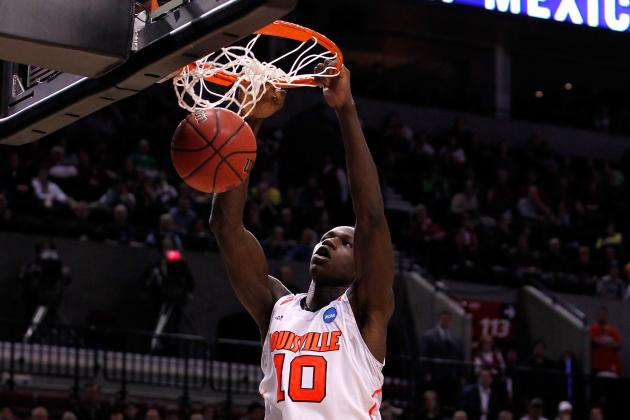 Jonathan Ferrey/Getty Images

Louisville made the 2012 Final Four on the strength of its defense, and the biggest difference-maker for that defense was Gorgui Dieng.
The shot-swatting center backed up the Cardinals' high-pressure perimeter D with 3.2 blocks per game, the eighth-best mark in the nation.
Dieng was also one of the Big East's leading rebounders, grabbing 9.1 boards per contest.
He's a work in progress offensively (9.1 points a night, mostly on put-backs), but the 6'11" Senegal native is one of the rare players who can take over a game without scoring a single point.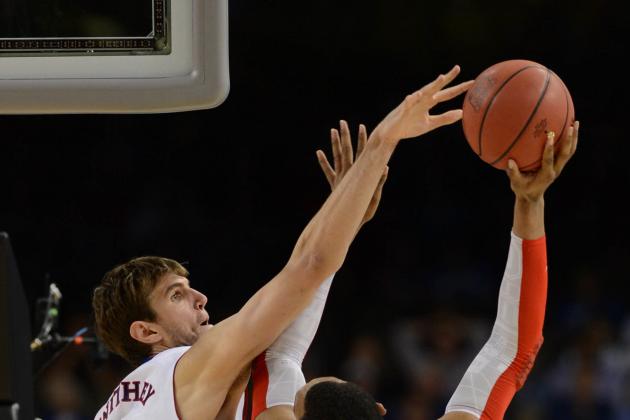 Richard Mackson-US PRESSWIRE

He couldn't beat Anthony Davis at his own game in the national championship, but Jeff Withey was the best college shot blocker this side of Davis in 2011-12.
Withey's 3.3 rejections per game keyed a Jayhawk defense that allowed the third-lowest field-goal percentage in the country (.380).
Withey, now a rising senior, is also a terrific rebounder who averaged 6.3 boards a night while sharing the paint with All-American Thomas Robinson.
Now that Robinson and Tyshawn Taylor are gone, don't be surprised if Withey gets more touches on offense—with a commensurate improvement to his shaky scoring average (9.0 points per game).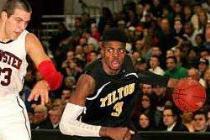 Image from Scout.com
As if the expectations weren't going to be high enough for the No. 1-ranked recruit in the nation, Nerlens Noel now has the task of filling the shoes of the greatest freshman in college hoops history.
After all, even if Noel wins the Wooden and Naismith Awards and leads Kentucky to a national title, he'd still need to win 38 games just to equal Anthony Davis' showing in his lone collegiate season.
The good news for Noel is that he's well-equipped to hold up under outsized expectations, not least because of his own outsized frame (6'10", 215 lbs) and tremendous mobility.
Some scouts argue that he's an even better shot blocker than Davis, which should be more than enough to send chills down the spines of anyone facing Kentucky in 2012-13.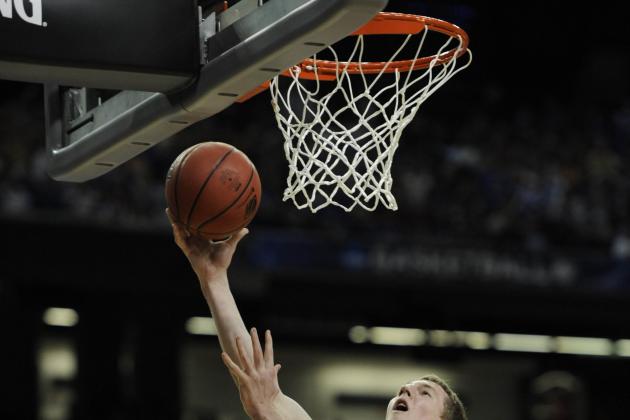 Richard Mackson-US PRESSWIRE

With so many great shot-blockers returning for next season, Cody Zeller's 1.2 rejections per game—a perfectly respectable figure—start to look downright disappointing.
Of course, the 6'11" rising sophomore makes up for that "deficiency" by being the most dangerous interior scorer in the college game.
Zeller averaged 15.6 points a night on .623 shooting from the floor as a true freshman center in the Big Ten.
He's only going to get better, and if he has the year he's capable of, he'll take home national Player of the Year honors and cut down the nets as a national champion next March.