Fast 25: The 25 Quickest Guys in College Basketball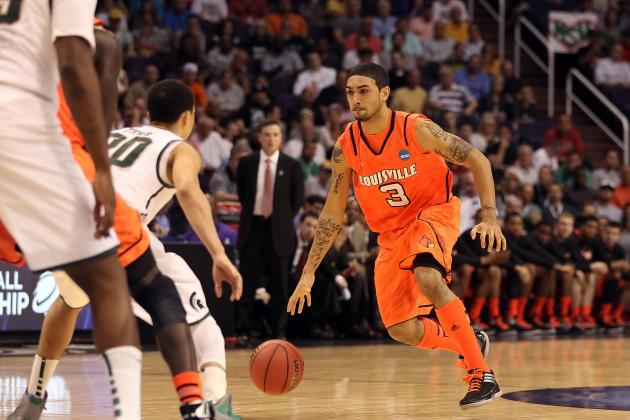 Christian Petersen/Getty Images

Speed kills.
It's something that all serious sports fans know, but how much it matters often depends on the sport. I would venture to guess that most baseball teams would rather have a slow first baseman who hits 50 home runs than one who legs out a few infield singles.
The argument could even be made (although perhaps not too successfully) that a slow, power-run based attack in football is more effective than a speed-based spread attack.
But when it comes to college basketball, it is hard to deny how effective speed can be. It can lead to easy baskets in transition, wear out opponents and even be utilized on the defensive end to cut off angles and drives to the basket.
With that in mind, here are 25 of the quickest players in the game. Feel free to let me know if I missed anyone since there are so many athletes and a lack of quantifiable speed statistics such as football's 40 times.
Begin Slideshow

»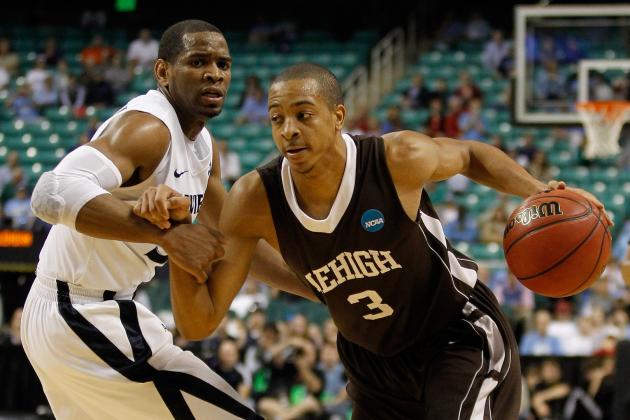 Streeter Lecka/Getty Images

Go ahead and ask the Duke fans in your life if they think C.J. McCollum is fast.
The Lehigh guard carved up the Duke defense in the NCAA tournament and led the Mountain Hawks to one of the most memorable upsets in the history of March Madness. McCollum may have entered the national consciousness by running circles around the Blue Devils backcourt, but it certainly wasn't a fluke performance.
He averaged an impressive 21.9 points, 6.5 rebounds, 3.5 assists and 2.6 steals per game in 2012. Much of his production was a direct result of his speed, whether it was driving around defenders for easy baskets or using his lightning-quick hands to rack up his thievery numbers.
While some thought McCollum would parlay his performance against Duke into an NBA position, he returns to Lehigh this year and should once again dominate the Patriot League.
Chris Trotman/Getty Images

Yes, it's true. Peyton Siva is still in college.
While it seems as if Siva's collegiate career has been anything but quick, he is one of the fastest players in the Big East, if not all of college basketball.
He used that dynamic speed to lead the Louisville Cardinals to a somewhat surprising Final Four berth last year. However, if his team is able to reach college basketball's grandest stage again this season, it will not be a surprise.
So how fast is Siva?
Fast enough for head coach Rick Pitino to name a horse after him. Pitino said the horse "is very, very quick—has a great first step, so to speak. I said I got the perfect name there, too."
That name was Peyton Siva.
While the human Siva may not be fast enough to beat the horse version in a race, his first step is more than quick enough for college basketball.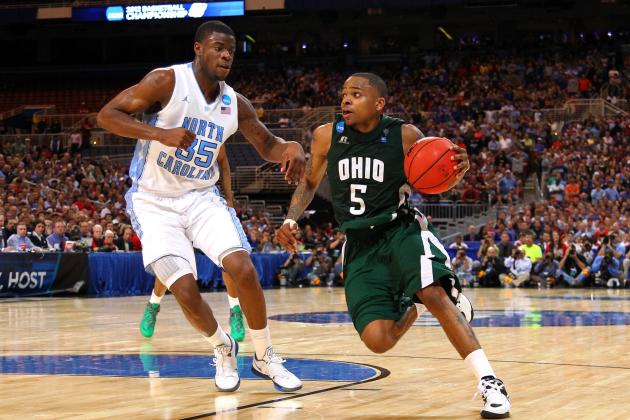 Dilip Vishwanat/Getty Images

Perhaps the only thing quicker than Ohio guard D.J. Cooper in last year's NCAA tournament was Michigan's postseason run.
The Wolverines didn't have an answer for the explosive Cooper, no matter what the seeding said. He sliced through the lane at will, routinely beat Trey Burke off the dribble (who, spoiler alert, is also on this list) and finished with a game-high 21 points in the satisfying upset.
His performance was good enough to land him on ESPN's All-Tournament second team (the Bobcats also defeated South Florida and had a heartbreaking overtime loss to North Carolina in the Sweet 16).
But it wasn't the first time Ohio's speedy floor general worked some March magic. He was an instrumental piece (23 points) in the 14-seeded Bobcats' stunning first-round victory over Georgetown in the 2010-11 season's NCAA tournament as well.
Look for the speedy Cooper to one day reach the NBA, something not many Bobcats can put on their resume.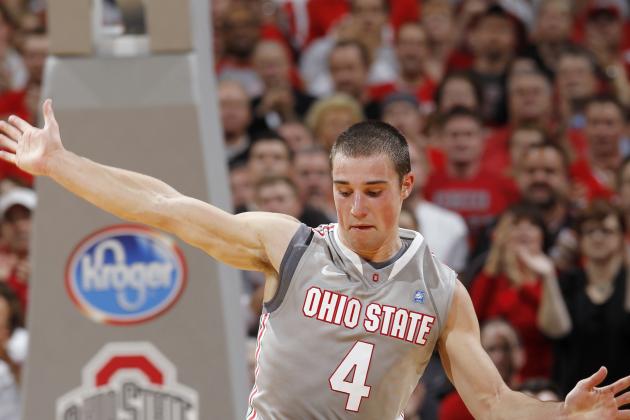 Joe Robbins/Getty Images

If every player in college basketball lined up at the baseline and raced from one end of the floor to the other, Aaron Craft probably wouldn't be among the fastest finishers.
However, if the same race was run but the competitors had to travel from one end to the other using a side-to-side defensive shuffle motion, Craft would probably win.
Nobody in college basketball has the type of lateral quickness that Ohio State's point guard utilizes on defense. He beats ball handlers to the spot, cuts off penetration and uses his defensive speed to drive opponents crazy for 40 minutes.
When Craft was in junior high school, his coach used to tape bricks to Craft's outstretched palms as the young guard did lane slides, a defensive drill that improves lateral quickness and active hands.
Without the bricks weighing him down during college games, the Buckeye point guard may have the speediest hands and feet in the entire country.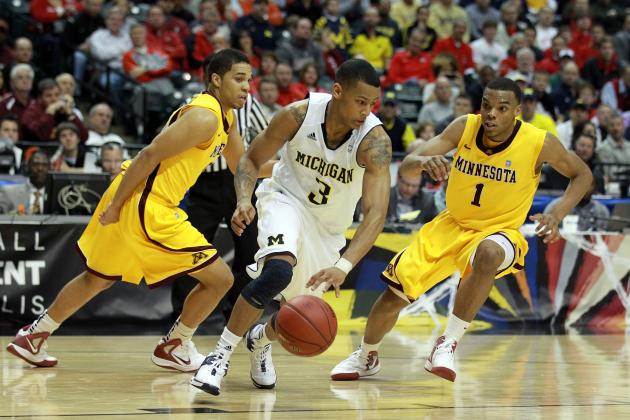 Andy Lyons/Getty Images

The previous slide just chronicled how fast Aaron Craft is on the defensive side of the ball.
Therefore, by the transitive property (or something like that), if a player is quick enough to beat Craft off the dribble and carry his team to victory over Craft's Ohio State squad, he should definitely be included on this list.
That player was Trey Burke last season.
Yes, Craft and the Buckeyes beat Burke in two out of the three matchups last season (including an absolute throttling spearheaded by Craft's defense in the Big Ten Tournament), but the fact of the matter was that Burke was the faster player for one night in Ann Arbor.
There are few players in the Big Ten that are faster than this Columbus native. With Michigan's stellar recruiting class and the return of Tim Hardaway, Jr. as well, look for Burke and the Wolverines to make a much deeper March run this season.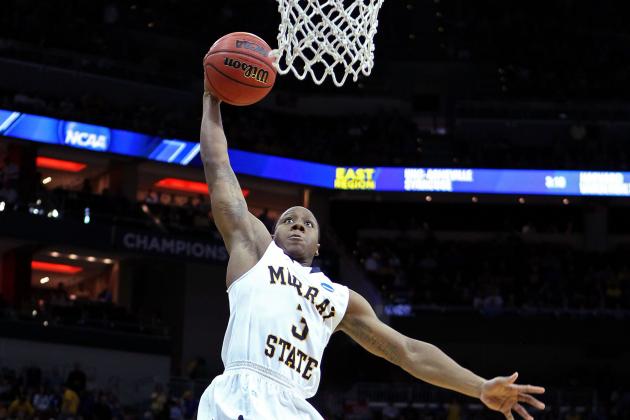 Andy Lyons/Getty Images

Murray State, which is led by one of the fastest guards in the country, is appropriately named the Racers.
That guard is Isaiah Canaan.
Canaan led the Racers to an incredible 31-2 record last season, including victories over Memphis, Dayton, Saint Mary's and a tournament win against Colorado State.
Canaan used his speed off the dribble and lightning-quick release from three-point range to lead Murray State with 19 points per game. He should find himself mentioned on a number of preseason All-American lists before the season begins.
With Canaan's speed and overall ability, the Racers will once again dominate the Ohio Valley Conference.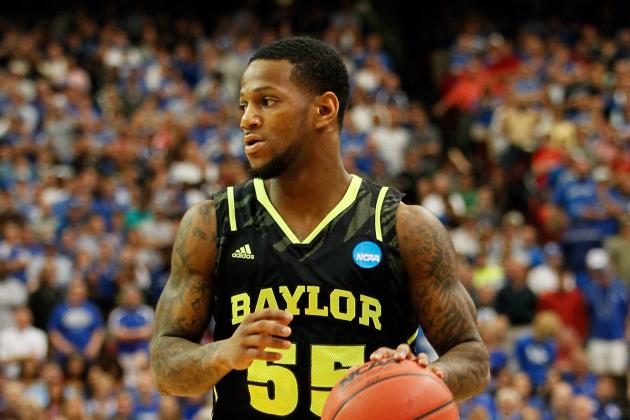 Kevin C. Cox/Getty Images

Maybe Baylor's players just look faster than they are when they are wearing highlighters as basketball uniforms.
Or maybe Pierre Jackson is actually one of the fastest players in the country. The Bears point guard returns to lead a loaded Baylor team that could contend with Kansas for a Big 12 championship.
Jackson's best asset, especially in Baylor's up-and-down attack, is his speed. In fact, an ESPN article claimed that there may not be a quicker point guard in all of college basketball than Jackson.
While the title of quickest point guard in the nation may be up for debate depending on where your allegiances stand, it is hard to argue that Jackson is the perfect point guard for Baylor's fast style of play.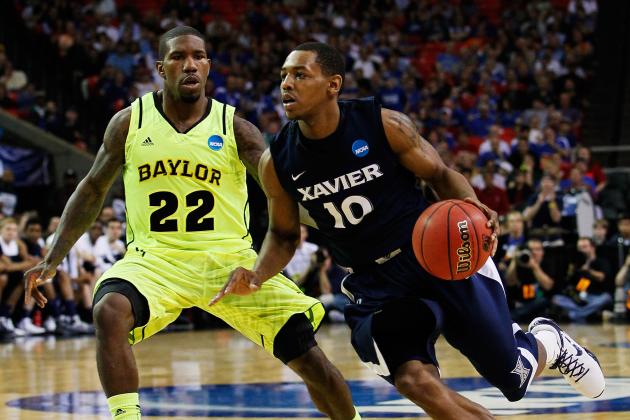 Kevin C. Cox/Getty Images

Mark Lyons is probably best known around the country for his role in the ugly Xavier and Cincinnati on-court brawl.
He was suspended for two games, and Xavier (which was saddled with a number of suspensions) had trouble recovering for the rest of the season. Well, Lyons (as well as the Musketeers) has moved on.
Lyons transferred to Arizona during the offseason and will ironically be lacing it up under former Xavier coach Sean Miller (who recruited him).
Lyons makes this list as much for his quickness on defense as he does for his ability to use his speed to split defenders as he drives the lane. In fact, Miller is on record stating that the best thing about having Lyons back may be that defensive quickness.
He should be the perfect fit for an Arizona team that was really only missing a reliable point guard.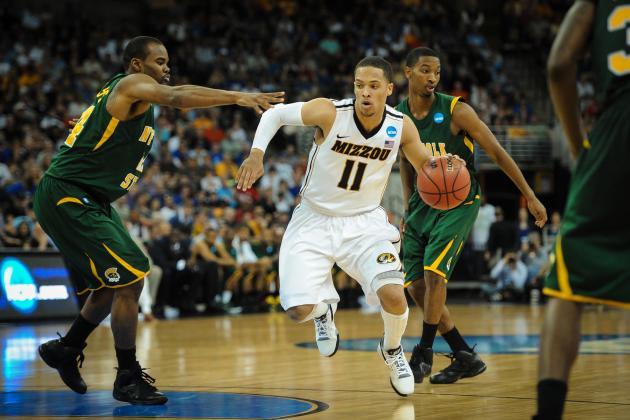 Eric Francis/Getty Images

Missouri is entering the SEC this season, and fortunately for the Tigers, they already have SEC speed on the roster.
Alright, so maybe SEC speed is something that has been thrown around much more in football coverage than basketball, but it certainly won't hurt Missouri's chances on the basketball court.
Michael Dixon may be the most explosive player (read, fastest) on the Missouri team heading into 2012-13 season and should parlay that speed into a bit more playing time this year. He averaged just more than 22 minutes per contest last year.
Tigers coach Frank Haith is known for pushing the tempo, and Dixon is the perfect weapon for that style.
Kentucky, which isn't always challenged in the football-crazed SEC, may be given a run for its money this season if Dixon and his Missouri teammates use their speed effectively.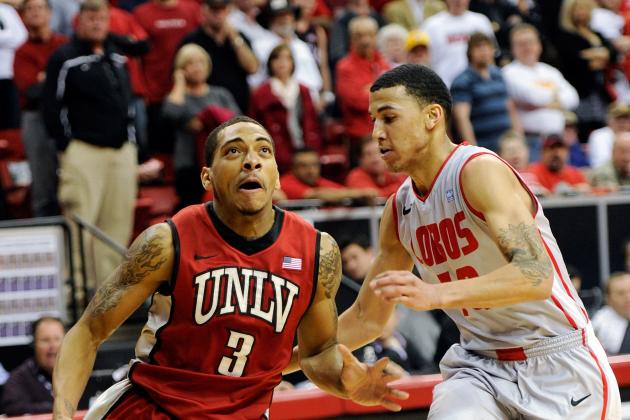 Ethan Miller/Getty Images

Everything seems to be a bit faster in Las Vegas.
That includes the city's college basketball team, the UNLV Runnin' Rebels. After all, if a team is going to be named the Runnin' Rebels, don't they have to be a roster ready to run?
Anthony Marshall will be the point guard of the speedy Rebels this season, a position he is unfamiliar with. While Marshall is entering his senior season, the point spot is a brand-new position for him.
But the Rebels are hoping that Marshall's move will speed up their already fast approach to the game. UNLV was 26-9 last year and is one of the most dangerous and talented non-power conference teams in the nation.
If Marshall develops his raw athleticism and speed into effective leadership abilities, UNLV could make an impressive run come March.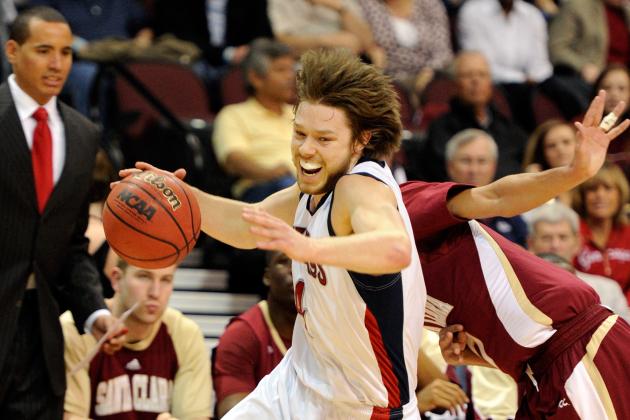 Ethan Miller/Getty Images

If there's an underdog on this list, it is Matthew Dellavedova.
The St. Mary's point guard is the best player on the only squad that ever challenges conference heavyweight Gonzaga and should be primed for another big season in 2012-13.
In fact, Dellavedova showed his speed and ball-handling abilities to the world during the London 2012 Olympics as a member of the Australian national team. He held his own against world-caliber point guards, including an impressive exhibition performance against Tony Parker and France.
He may not be the most athletic player on this list, but he has used the skills that he possesses to lead the Gaels to two straight NCAA tournaments. Look for St. Mary's to be there yet again.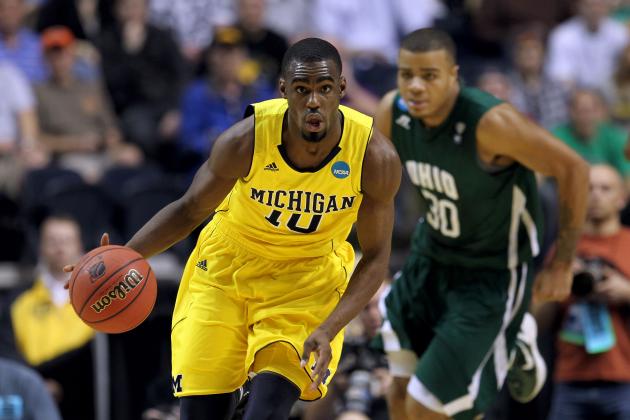 Jamie Squire/Getty Images

He may not be as quick off the dribble as his dad was (at least not with the crossover), but that doesn't mean Tim Hardaway, Jr. isn't one of the faster players in the Big Ten.
In fact, the combination of Hardaway Jr. and Trey Burke may be one of the speediest backcourts in the entire nation.
While Michigan fans became frustrated with Hardaway's inconsistency at times last season, John Beilein could always count on Hardaway's pure athleticism to get to the basket and score crucial points for the Wolverines.
The Big Ten is not exactly known for its quick style of play (paint dries faster than Wisconsin's offense), so if Michigan can utilize its speed effectively, look for the Wolverines to challenge Indiana (and possibly Ohio State if the Buckeyes young players step up) for a conference crown.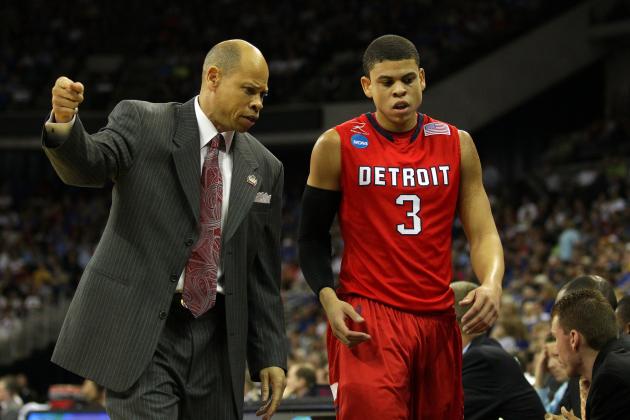 Doug Pensinger/Getty Images

Ray McCallum, Jr. is by far the best player on the University of Detroit Mercy's roster.
He is a smart point guard who rarely makes mistakes and thrives under his father's system (who is the head coach). His ability to drive the lane and blow past defenders is unparalleled in the Horizon League, especially now that Butler has moved on the Atlantic 10.
McCallum's scouting report on NBADraft.net describes him as an explosive athlete who possesses a deceptively quick first step. There is no reason to expect the Titans' leader to lose any speed off that first step this year, and Detroit should once again contend for an NCAA tournament spot and conference crown.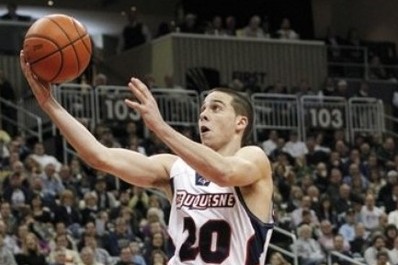 photo appears on collegebasketballtalk.nbcsports.com
T.J. McConnell is not a household name. Playing at Duquesne will do that for you.
But he probably will be in the near future.
McConnell transferred in the offseason to Arizona and will have to sit out a season. However, when he is eligible to return, look for McConnell to slide into the starting point guard slot (Mark Lyons will no longer be eligible) and bring his quickness and speed to the Pac-12.
Perhaps the best thing about McConnell's transfer for the Wildcats is, he will have two years of eligibility remaining. As a sophomore for Duquesne, McConnell used his speed to slash the lane and average more than 11 points and five assists per contest.
Arizona fans will have to be patient, but it will be worth the wait.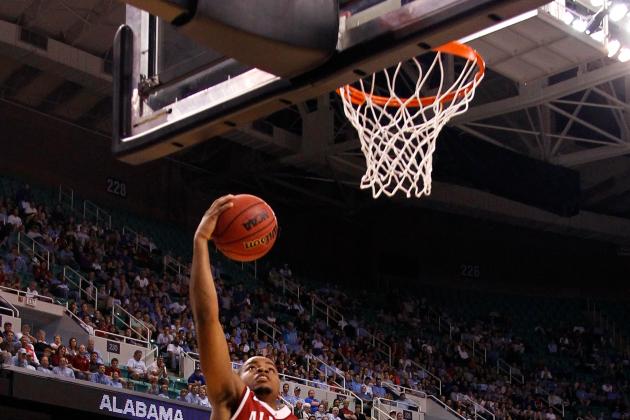 Mike Ehrmann/Getty Images

There was a lot of talk during the offseason about Trevor Releford transferring from Alabama to the University of Kansas.
Lucky for the other teams in the Big 12, that was just smoke and not fire. Releford returns to lead the Crimson Tide this season and is Alabama's best hope at making its basketball program even half as relevant as its football one.
Releford is incredibly quick, especially with his hands. He was second in the entire SEC in steals per game (finishing a measly .1 steals behind LSU's Anthony Hickey) and is one of the south's most explosive players with the ball in his hands.
Ideally for Tide fans, Releford will use his quickness to drive the lane more this season since he was fourth in the conference in free-throw percentage.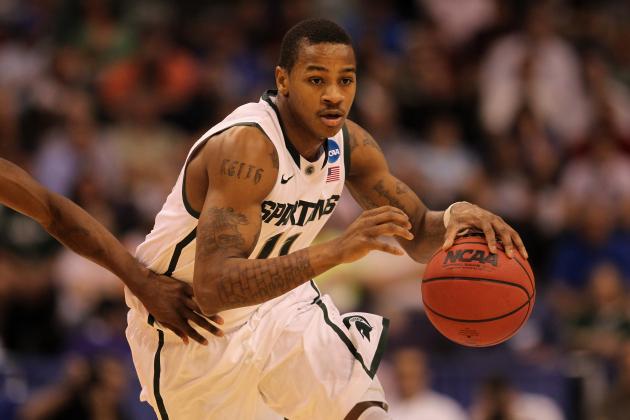 Jamie Squire/Getty Images

Michigan State has quite the point guard legacy.
Drew Neitzel used to drain threes on everyone, Mateen Cleaves won a national championship, and some guy named Magic Johnson reportedly had himself a decent little career.
The young Keith Appling has a lot to live up to.
Alright, so the Spartans point guard isn't exactly that young anymore, but it certainly feels like it since he has spent most of his career in East Lansing in Draymond Green's multifaceted shadow. This year, Appling will team up with freshman Garry Harris in an effort to overcome the lost production that Green takes with him to the NBA.
One way Appling can help the Spartans overcome Green's loss is by speeding up their pace of play. Just as Trey Burke can catch slower Big Ten teams off guard with his speed, Michigan State would benefit from Appling utilizing his speed in the open floor.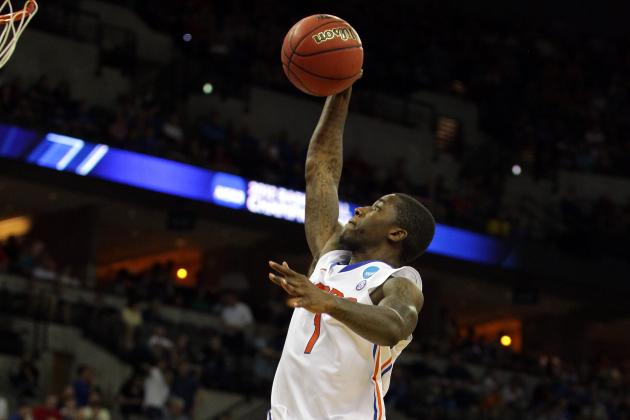 Doug Pensinger/Getty Images

The University of Florida athletic department just knows how to breed speed.
Urban Meyer won two national championships with lightning-quick players such as Percy Harvin, former football player Jeff Demps just won a track medal in London and Kenny Boynton will use his quickness to lead the Gators on the basketball court this season.
Boynton has been a shooting guard and scorer first and foremost for Billy Donovan's squads, but he will be asked to play some point guard this year with the departure of Erving Walker.
While he may not use his natural speed to look for scoring opportunities by driving the lane as much, Boynton can still use his speedy hands to generate some steals and subsequent transition baskets for the Gators.
Either way, things don't seem to be slowing down anytime soon in Gainesville.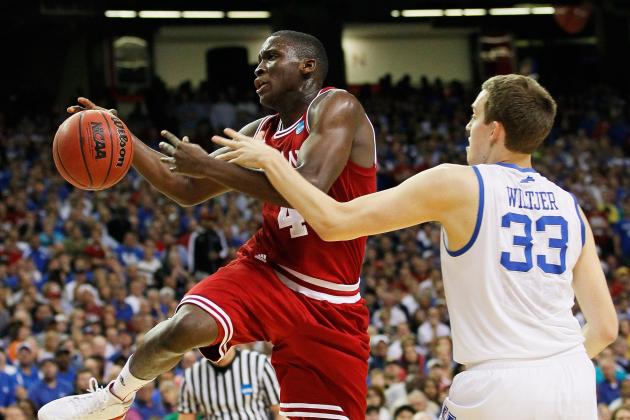 Kevin C. Cox/Getty Images

Indiana went through some lean times in the years following Kelvin Sampson's recruiting violations.
But one of the bright spots for Hoosier fans was watching freshman Victor Oladipo use his speed to slash the lane and fly above the rim. Sure, he may have played out of control at times, but that doesn't mean it wasn't enjoyable to see Oladipo using that quickness.
Indiana clearly improved in Oladipo's sophomore season and is a serious national title contender entering his junior year. While that means Oladipo will be asked to play a bit more under control, he will also have more opportunities to thrive in a national spotlight.
So when you are tuning into Indiana games to watch Cody Zeller and Christian Watford, the blur that will be crashing the lane and attacking the rim will be Oladipo.
Streeter Lecka/Getty Images

North Carolina was hit harder than almost anyone by injuries last season.
Point guard Kendall Marshall went down right before the NCAA tournament, and starting shooting guard Dexter Strickland was lost for the season in January with an ACL tear.
Well, Marshall is gone to the NBA, but Strickland returns this season and will likely play an even larger role than he did last year. Strickland's speed made him the Tar Heels' best on-ball defender before the injury and allowed him to thrive in transition.
This transition game is where Strickland will help North Carolina the most this year, since big guys John Henson and Tyler Zeller are joining Marshall in the NBA.
Assuming the knee will be ready to go come November, look for the Tar Heels to rely on Strickland's speed on both ends of the floor.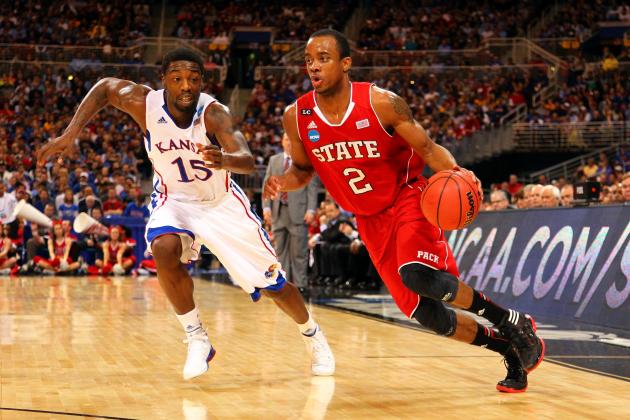 Dilip Vishwanat/Getty Images

There is a lot of buzz surrounding the North Carolina State basketball program this season.
One primary reason for that buzz is the return of the speedy guard Lorenzo Brown, who will look to bounce back from offseason knee surgery. While knee injuries are always tricky to come back from when it comes to a quickness standpoint, Brown should be ready to go by tipoff.
Brown's return is critical since the Wolfpack are at their best when he is spearheading the fast break. His speed will create easy baskets for himself and teammates in transition, and it will also help him stay in front of quick guards at Duke and North Carolina on the defensive side.
If North Carolina State does win the ACC, as some people are predicting, Brown's speed will have a lot do with the success.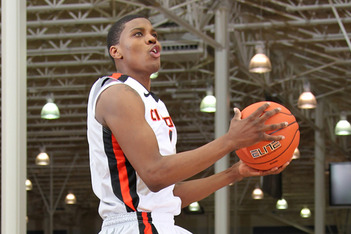 photo appears on fivestarbasketball.com
Ricardo Ledo is a freshman this season and is unanimously considered as a 5-star prospect and one of the best in the nation.
However, there is one giant asterisk when it comes to Ledo right now.
He may not be eligible to play this year.
The NCAA is currently investigating Ledo's eligibility for this season for the Providence Friars, who could use his services more than most Big East teams. If he is ruled ineligible, it would be the second blow to Providence's recruiting class, as highly-regarded point guard Kris Dunn is out until at least December with an injury.
Assuming Ledo can play, which is just an assumption for now, he is one of the best scoring prospects in the 2012 class. And a big reason for that is his quickness off the dribble and ability to slash the lane against almost anyone.
Ledo is definitely fast. The question is, is he fast enough to avoid the tentacles of the NCAA.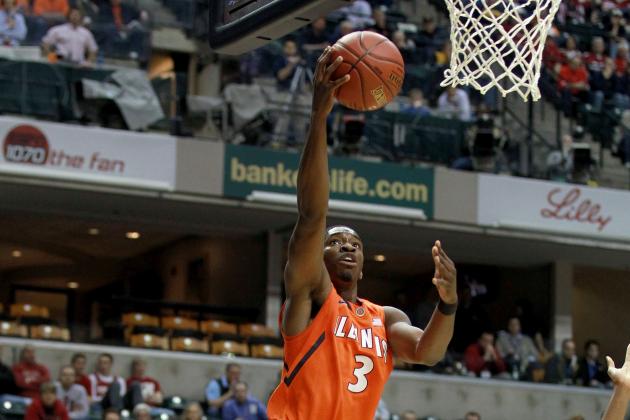 Andy Lyons/Getty Images

If Trey Burke was put on this list partially due to his impressive game against Aaron Craft's pesky defense, then Brandon Paul certainly has to have a spot.
While Paul has been known to be about as inconsistent as his Illinois teams have the past few years, the Illini guard was definitely on his game January 10. Paul poured in an incredible 43 points against the Buckeyes and used his speed (both in driving the lane and a quick release from three-point range) to lead the Illini to a shocking upset.
There's a lot of turnover in Champaign this season, including at the head coach position with John Groce. However, if Illinois hopes to compete in the Big Ten in Groce's first year, Paul is going to have to utilize his speed at a bit more consistent pace.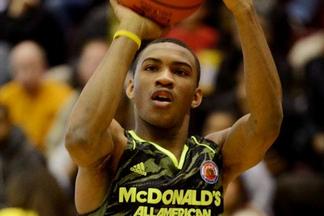 photo appears on nbadraftchat.com
Last year, Duke fans were excited about a certain freshman named Austin Rivers. However, in somewhat of a un-Duke like fashion, Rivers bolted to the NBA after only one season in college.
So, this year, Blue Devil fans have another freshman to be excited about. Rasheed Sulaimon was rated as a 5-star recruit by both Scout and Rivals and has the chance to serve as the perfect complement to Seth Curry in the backcourt.
Yes, Sulaimon is fast and aggressive when driving the lane. However, he is primarily on this list because of a different type of speed he brings.
There may not be a quicker trigger in all of college basketball (or at the very least, not among this year's freshmen class) from beyond the three-point line than Sulaimon's. Throw in the fact that his range is probably his best asset, and Duke should see plenty of threes this season.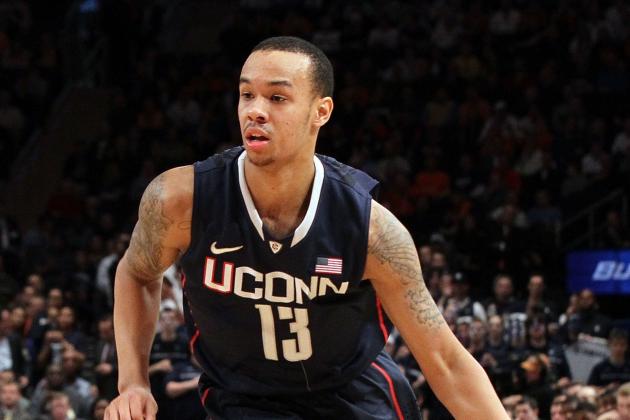 Jim McIsaac/Getty Images

When you are a key contributor for the University of Connecticut and your first name is Shabazz, you at least expect to be the most talked about Shabazz in the country.
But Shabazz Napier is not even the most hyped Shabazz entering this college basketball season. That would be the freshman Shabazz Muhammad of UCLA.
However, Napier is definitely the quickest Shabazz in the country. He uses his speed to score by coming off screens and to set up his teammates by driving the lane and forcing the defense to collapse.
With the turmoil surrounding the Connecticut basketball program (postseason ban, number of transfers, etc.), Napier is the one stabilizing force for the Huskies this season.
If he utilizes his speed as well as he has in the past, things may not be all that bad in Storrs.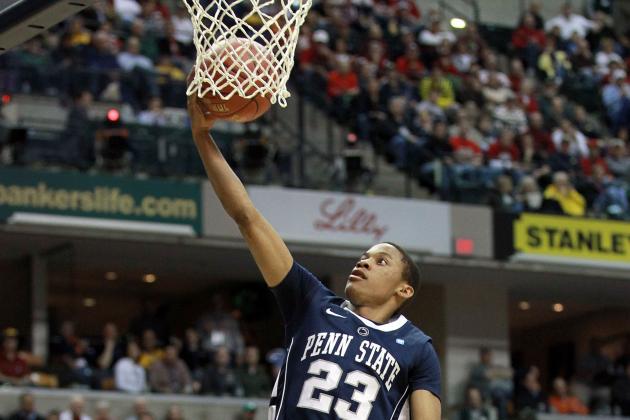 Andy Lyons/Getty Images

Penn State may not be the best team on this list, but it does have one of the best players in the Big Ten.
Tim Frazier is as close to a one-man show in college basketball as there is in the entire nation. He led the Nittany Lions in points per game (18.8), assists per game (6.2), steals per game (2.4) and even rebounds per game (4.7) from the point guard spot.
I think it's safe to say he is the best basketball player in State College.
Much of Frazier's statistical production is a direct result of his speed. He isn't the most prolific three-point shooter, so he has to slash the lane to get the majority of his points. He also uses his quick hands to pile up those impressive steal numbers.
If Penn State is going to be a one-man show, it at least has the right man to do it.