10 Huge MLB Disappointments Who Will Finally Come Up Clutch Down the Stretch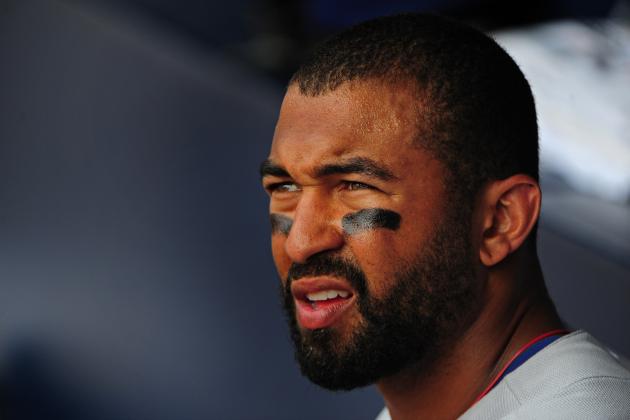 Scott Cunningham/Getty Images

In Major League Baseball, there are slumps and then there are disappointing seasons.
Rough patches are expected, but to underperform for the entire season is always a surprise, especially for guys like Tim Lincecum and Justin Upton.
Of course, injuries have played a major part in some of these players' seasons, while other players have dropped off considerably after being traded or have just hit a wall.
With the MLB postseason looming, this isn't the time for struggles to occur and players to underperform.
Here's my list of 10 MLB players who will step up down the stretch after having somewhat disappointing 2012 campaigns:
*All statistics and records compiled on Tuesday, August 28.
Begin Slideshow

»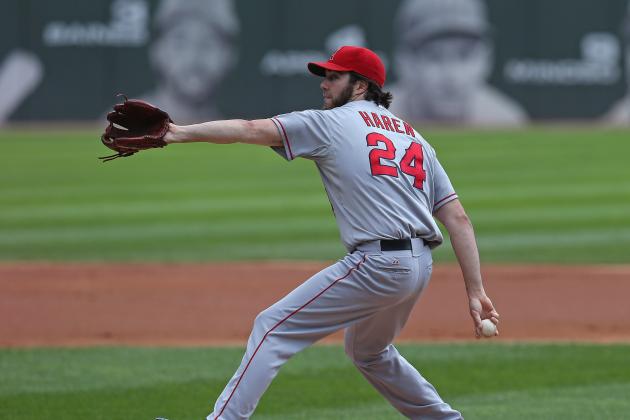 Jonathan Daniel/Getty Images

2012 Stats: 8-10, 4.82 ERA, 1.39 WHIP
It hasn't been quite the season the Los Angeles Angels thought they'd be getting from three-time All-Star Dan Haren.
There hasn't been a single month where Haren pitched to an ERA under three, and since the All-Star break, he's just 2-2 with a 4.70 ERA when his team needs him the most.
For all the talent and big-money names the Angels boast, if the playoffs were to start tomorrow, they'd be watching from home as they're still 4.5 games back in the Wild Card and 10 back in the division.
With that being said, I have faith in Haren going forward.
He only surrendered two runs to a solid Detroit Tigers' offense in his last outing and he pitches for a team with great offense who can give him run support.
Looking at the splits, Haren's numbers have been better since the ASG and they'll only continue to improve as the Angels give it their all during the last month of the season.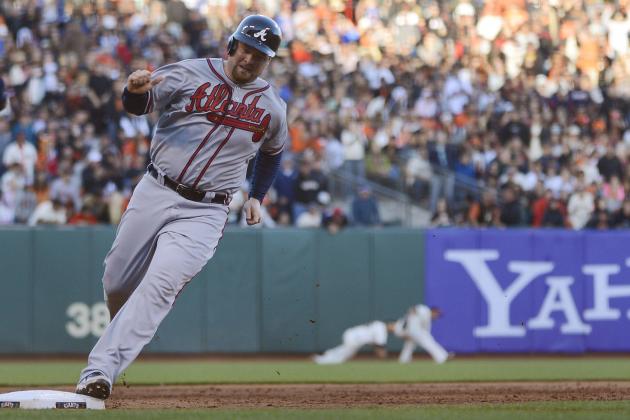 Thearon W. Henderson/Getty Images

2012 Stats: .234, 18 HR, 58 RBI, .307 OBP
The Atlanta Braves have to be thankful for the services of Freddie Freeman and Jason Heyward this season because Brian McCann's struggles at the plate were not expected, I'm sure.
A career .281 hitter and five-time Silver Slugger, McCann has hit a career-low in regards to batting average and on-base percentage in 2012.
No one is questioning the defensive abilities of McCann, but his production at the plate has been subpar this season.
Despite hitting a mere .190 with zero home runs so far in August, McCann has what it takes to turn it around and help the Braves cruise into the postseason.
Last season, after a down August, he came back in September with slightly better numbers, so there is room for hope, Atlanta fans.
McCann's 3-for-4 day against Tim Lincecum and the San Francisco Giants the other day is a spec of evidence that the six-time All-Star will have a big impact for the Braves down the stretch, who currently hold a Wild Card spot in the NL.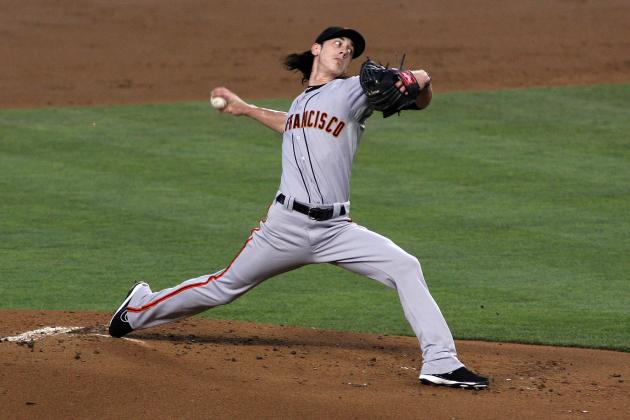 Jeff Golden/Getty Images

2012 Stats: 7-14, 5.30 ERA, 1.48 WHIP
Atrocious isn't even a suitable enough word to describe Tim Lincecum's 2012 campaign.
Lincecum's pitches have been knocked around nearly every National League park this season, but to his credit, he's been a lot better since the All-Star break (3-10, 6.42 ERA before as opposed to 4-4, 3.31 after).
With the Dodgers just continuing to stack pieces around Clayton Kershaw, Matt Kemp, and Andre Ethier, something has to motivate Lincecum to aid the Giants into the postseason, and I think that's it.
San Francisco has been able to sustain a division lead for much of the season despite Lincecum's struggles, but with the Dodgers just 2.5 games back in the NL West and a stacked roster, this is just the kick in the behind that ole' Timmy boy needs.
He's a two-time, back-to-back Cy Young winner, so there's no doubting the talent this kid possesses.
Lincecum has big game experience and the will to win.
Now we just need to see it in the final month of the season.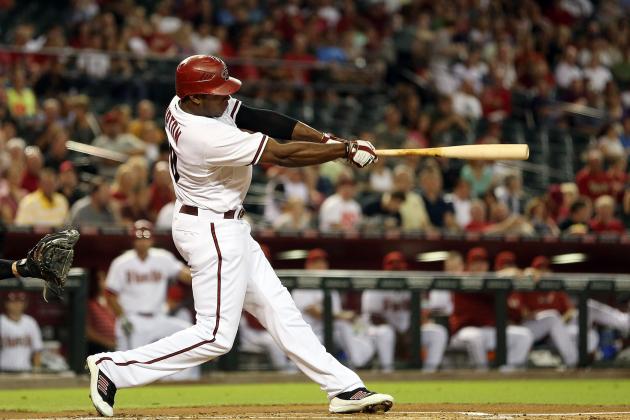 Christian Petersen/Getty Images

2012 Stats: .279, 11 HR, 53 RBI, .360 OBP
The Arizona Diamondbacks still have a legitimate shot at making the postseason, but they'll need Justin Upton to get hot if that's going to happen.
After a 2011 Silver Slugger campaign, many (including myself) thought this was going to be the year that Upton established himself as a superstar in baseball.
Not so fast.
As you can see from his numbers above, those aren't the type of statistics that are going to vault you to the top of the list for MVP candidate or Silver Slugger.
Fortunately for Arizona, Upton has come around some since the ASG.
At the break, Upton was hitting .273 with 7 HR and 37 RBI.
Since then, he's got an average of .291 with 4 HR and 16 RBI, including a .325 average and .860 OPS during the month of August.
Upton looks like he's coming around, which is good news for the D-Backs, who are 7.5 games out of both the division and Wild Card.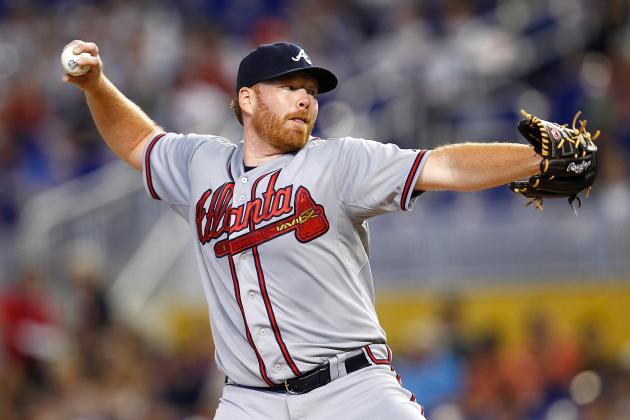 Sarah Glenn/Getty Images

2012 Stats: 12-6, 4.40 ERA, 1.47 WHIP
Don't let the record fool you; the Atlanta Braves' offense has bailed Tommy Hanson out of plenty of jams this season.
Heading into the All-Star break, Hanson was one of the NL's top starters, going 10-5 with a 3.71 ERA.
Since then, Hanson is 2-1 with an inflated 6.82 ERA, thanks in large part to back-to-back starts against the New York Mets and Washington Nationals that saw him surrender a combined 14 earned runs in 9.1 innings of work.
Things should be getting better for Hanson in his next two starts, as they should come against San Diego and Colorado, which should give him some confidence heading into the home stretch of the schedule that includes the Mets, Nationals, and Pittsburgh Pirates.
Hanson showed us that it's possible for him to have success in the MLB, as evident by his first-half performance, and with the Braves currently sitting atop the NL Wild Card standings, look for Hanson to amp it up in the next month.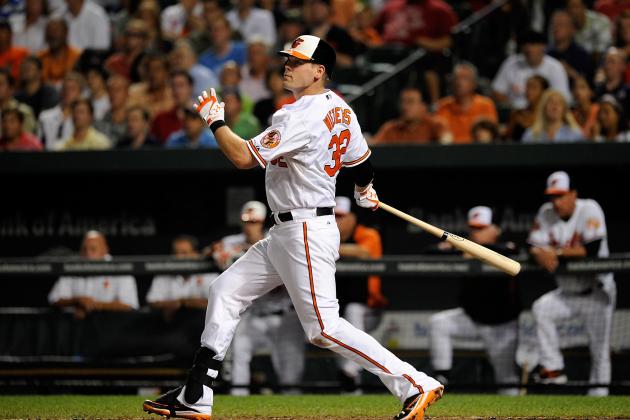 Patrick McDermott/Getty Images

2012 Stats: .238, 17 HR, 65 RBI, .316 OBP
The Baltimore Orioles are just 3.5 games back in the division and currently have a Wild Card spot secured, but if they're going to hang on to that spot and make some noise in the playoffs, they're going to need Matt Wieters to pick it up offensively.
You could say he's been shaky defensively as well, as he's already made nine errors this season—the most in a single season of his career.
The good news for Wieters and the O's is that he flashed some power this month, hitting four homers in the month of August, something Baltimore is hoping they will see more of.
Most of the remainder of the Orioles' schedule is against the AL East, which should be to the benefit of Wieters, as he'll be more familiar with pitchers within the division.
Wieters still hasn't reached his full potential as a player, but this last month of the regular season could be a confidence builder heading into the playoffs.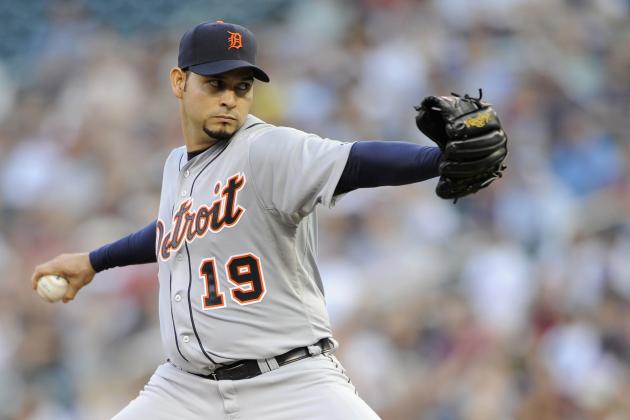 Hannah Foslien/Getty Images

2012 Stats: 7-10, 4.38 ERA, 1.36 WHIP
I thought a change of scenery and playing for a playoff contender would benefit Anibal Sanchez, but that hasn't been the case.
Since coming over to the AL from the Miami Marlins, Sanchez is 2-3 with a humongous 6.33 ERA as a Detroit Tiger—that's not quite the performance the Tigers, who are in the thick of a division battle, are looking for.
Overall, Sanchez was a successful pitcher in the National League, and I think he can make the transition to a solid AL starter with some more starts under his belt.
Remember, he's only made five starts in the AL, and he's still trying to figure out the hitters and the way the game is played in the American League.
Sanchez will make his next start on Wednesday against the Kansas City Royals, followed by an outing against the Cleveland Indians—two teams he should be able to handle and gain some confidence going forward.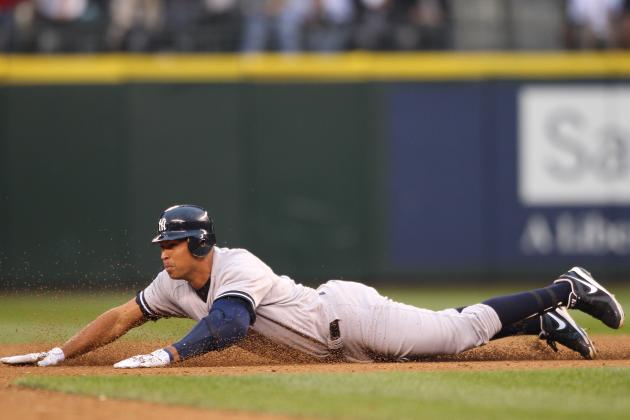 Otto Greule Jr/Getty Images

2012 Stats: .276, 15 HR, 44 RBI, .358 OBP
I'll be the first to tell you that I'm not much of an Alex Rodriguez fan, but I do think all the time that he's had while rehabbing his injured hand will do him some good come September.
For those who don't know, A-Rod took a Felix Hernandez pitch to the left hand, resulting in a fracture and a stint on the DL since the injury occurred on on July 24 (per ESPN).
With Rodriguez getting up there in age (37), the rest will be extremely beneficial to his legs and his body overall, as well as his mentality at the plate.
A-Rod was having one of his best months of the season during July before being hit, as he posted a .315 average with 2 HR and 9 RBI to go with an .860 OPS, and that's going to carry over to September.
The Yankees are desperately clinging to the lead in the AL East, and with Mark Teixeira going down (via NJ.com), it's A-Rod's time to step up when he returns from the DL.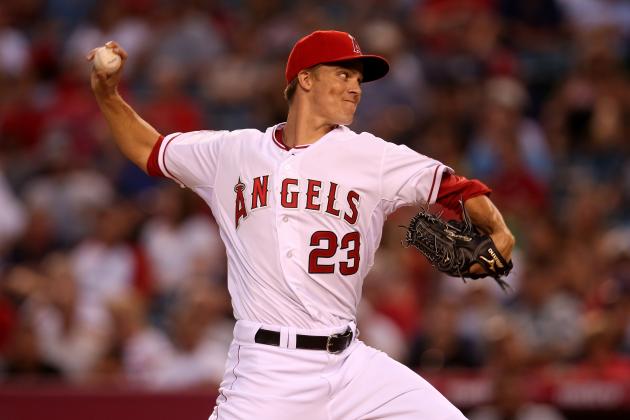 Stephen Dunn/Getty Images

2012 Stats: 11-5, 3.87 ERA, 1.27 WHIP
The Los Angeles Angels thought that they had acquired the missing piece to what would make a perfect rotation when they acquired Zack Greinke at the trade deadline.
Before coming over to the Angels, Greinke was 9-3 with a 3.44 ERA, but since making the switch to the AL, he's just 2-2 with a surprisingly high 5.22 ERA.
No one is questioning Greinke's Cy Young stuff, we're merely waiting for him to adjust to pitching in the AL, similar to Anibal Sanchez.
The Angels are trying to stay in playoff contention and they'll need Greinke to be the ace that he has been in the past, and judging by his last start against the Detroit Tigers, he may be figuring out this American league thing.
Greinke went 7.2 IP, allowing just five hits and one earned run while fanning five Tigers to earn his second victory as an Angel.
Greinke will have some tough starts ahead of him, with the likes of the Boston Red Sox, Oakland Athletics, Detroit Tigers, Texas Rangers and Chicago White Sox still left on the schedule, but my gut is telling me that Greinke will look like his old self during the month of September.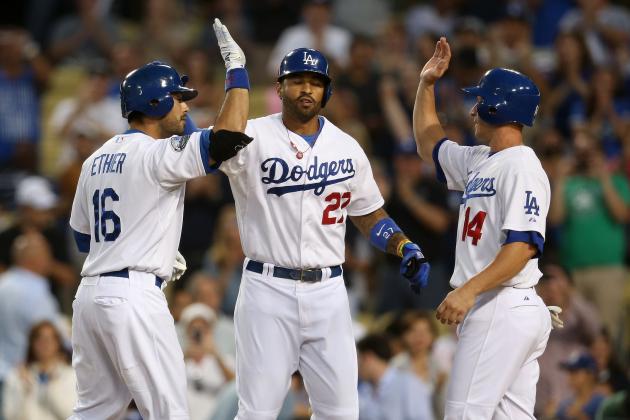 Stephen Dunn/Getty Images

2012 Stats: .337, 17 HR, 54 RBI, .402 OBP
Put aside Matt Kemp's season statistics for a moment and think about what he's done since returning from the DL in mid-July, a stint that saw him miss 51 games for the Los Angeles Dodgers.
During the month of August, Kemp has hit.298 so far with just two homeruns, a far cry from his 39-homer campaign just a season ago.
To be fair, Kemp has battled injuries, but for a guy who started off the season as the NL's Player of the Month in April for hitting .355 with 12 HR and 28 RBI, his production has certainly dropped off, even once returning from the DL during the second half of July and all of August.
To make matters worse, Kemp was removed from Tuesday's game after crashing into the wall, as ESPN LA reports.
Manager Don Mattingly expects Kemp to miss at least one game, but the complete details of the injury are still foggy.
Despite that news, I still think Kemp returns during the month of September and just goes on a tear to help the Dodgers win the NL West and make a run deep into the playoffs.
Kemp now has more protection in the lineup with the additions of Adrian Gonzalez to go along with Hanley Ramirez and Andre Ethier, and I think it's going to work wonders in LA this postseason.
Follow me on Twitter: Follow @Pete_Schauer