Auburn Football: Finalizing the Week 1 Depth Chart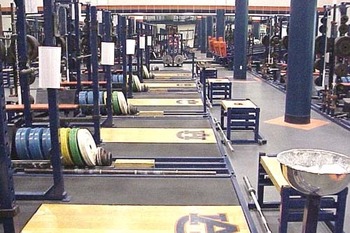 Tender-footed freshman to salty veteran, Auburn football players have pushed their bodies to the limit this offseason just to see their names atop the Week 1 depth chart that Gene Chizik revealed to the public on Tuesday.
There has been a lot of hard work put in by everyone associated with the Auburn football program, as freshmen from the 2012 recruiting class have gone from being the exalted top recruit to being just another player trying to find his way on the field.
With the arrival of new defensive coordinator Brian Van Gorder and new offensive coordinator Scot Loeffler, players on both sides of the ball have a clean slate.
So who made the cut?
Offensive Line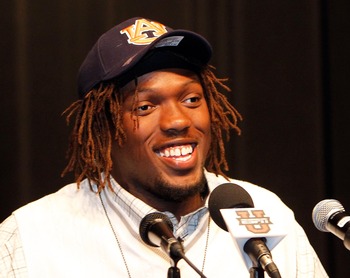 Avery Young is getting his first start as a freshman
Robert Mayer-US PRESSWIRE
The offensive line had to do some late shuffling due to the suspension of freshman All-American center Reese Dismukes.
There was some chatter that senior John Sullen would move to center, but Gene Chizik announced Sunday that Tunde Fariyike will be trusted to handle Dismukes' duties while he is out. Dismukes started all 13 games last year for the Tigers.
On the bright side, starting QB Kiehl Frazier does have a level of familiarity with Fariyike. The two worked together last year in practice as backups. The only problem is that the QB did not get under center last year. Frazier and Fariyike will spend plenty of time together this week perfecting the center and QB exchange.
Along with Fariyike, Avery Young and Greg Robinson will be making their first start as well.
The bad news is that these guys are young. The good news is that they are talented. Auburn will have a loaded offensive line for the foreseeable future.
As young as they are, these guys have the size to match up against anyone. The starting offensive line averages 304.2 pounds. They average 6'5".
See Shon Coleman's name? This guy beat leukemia and has made the two-deep roster in his first fall practice. What a great story!
| | | |
| --- | --- | --- |
| Left Tackle | Greg Robinson | 6'5", 311 RS Fr |
| | Shon Coleman | 6'6", 302 RS Fr |
| Right Tackle | Avery Young | 6'6", 295 Fr |
| | Patrick Miller | 6'7", 298 Fr |
| Left Guard | John Sullen | 6'5", 313 Sr |
| | Alex Kozan | 6'4", 294 Fr |
| Right Guard | Chad Slade | 6'5", 301 So |
| | Christian Westerman | 6'4", 298 RS Fr |
| Center | Tunde Fariyike | 6'2", 301 So |
| | John Sullen | 6'5", 313 Sr |
Wide Receivers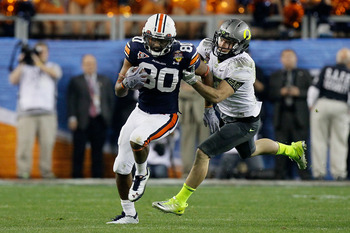 Emory Blake has blossomed into Auburn's most reliable receiving threat
Kevin C. Cox/Getty Images
Look for wide receivers coach Trooper Taylor to use every receiver in the two- and three-deep receiving rotation. Under Taylor, receivers have developed a reputation for being excellent downfield blockers and precise route runners.
Emory Blake will draw plenty of double teams, so other receivers will have to step up. Blue-chip recruits like Trovon Reed, Sammie Coates and Quan Bray are expected to have breakout years. Ricardo Louis is a true freshman who would surprise no one by having a breakout year.
The depth of the Auburn receiving corps took a hit when Deangelo Benton was suspended.
Against Clemson last year, Travante Stallworth led the Tigers in receiving, hauling in five catches for 71 yards. Auburn will need him to be more consistent to draw some attention away from Blake.
This stable of receivers has great speed, but beyond Blake, no one has stepped up and proven himself as a consistent threat.
| | | |
| --- | --- | --- |
| Wide Receiver | Emory Blake | 6'2", 193 Sr |
| | Sammie Coates | 6'2", 200 RS Fr |
| | Ricardo Louis | 6'2", 210 Fr |
| Wide Receiver | Trovon Reed | 6'0", 190 So |
| | OR | |
| | Travante Stallworth | 5'9", 191 Sr |
| Wide Receiver | Quan Bray | 5'10", 185 So |
| | Jaylon Denson | 6'3", 211 So |
Tight Ends

Lutzenkirchen is German for "Touchdown Maker"

It is widely assumed that Scot Loeffler's offense will be tight end friendly. That's perfectly fine with Phillip Lutzenkirchen. The fan favorite has had a tendency to make big plays and celebrate with memorable dance moves.
This season, Auburn fans will see two- and three-tight-end formations. Brandon Fulse and C.J. Uzomah have patiently waited their turn and will get opportunties early and often. Kiehl Frazier can use them as a safety valve if plays break down.
Look for all three tight ends to play a big role.
| | | |
| --- | --- | --- |
| Tight End | Phillip Lutzenkirchen | 6'5", 255 Sr |
| | Brandon Fulse | 6'4", 249 So |
| | OR | |
| | C.J. Uzomah | 6'4", 250 So |
Running Backs and Fullbacks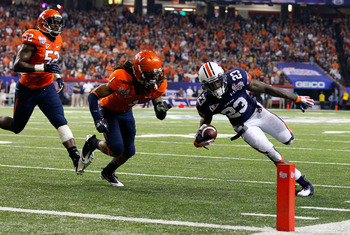 McCalebb is ready for an expanded role in his senior season
Kevin C. Cox/Getty Images
This position has been the center of many conversations this offseason. There is no more Mike Dyer. Top 2012 recruit Jovon Robinson will not suit up until next fall, if ever. Robinson, weighing in at 220 pounds was the type of back that could be described as a bruiser and could have been a competent replacement for Dyer.
Still, Auburn still has plenty of depth at running back.
Onterio McCalebb will once again be counted on to use his speed to the outside on running and passing plays. Tre Mason, who saw a lot of action in the bowl game last year, will be given the bulk of the carries up the middle. Mike Blakely transferred in from Florida and will be used in the season opener against Clemson after sitting out last season.
Leading the way for the backs will be fullback Jay Prosch. He will be used in the power running game and will provide protection from blitzing linebackers for Kiehl Frazier. Blake Burgess could also see some time at fullback.
| | | |
| --- | --- | --- |
| Running Back | Onterio McCalebb | 5'11", 173 Sr |
| | Tre Mason | 5'10", 198 So |
| | OR | |
| | Mike Blakely | 5'9", 206 So |
| Fullback | Jay Prosch | 6'0", 260 Jr |
| | Blake Burgess | 6'2", 249 Jr |
Quarterbacks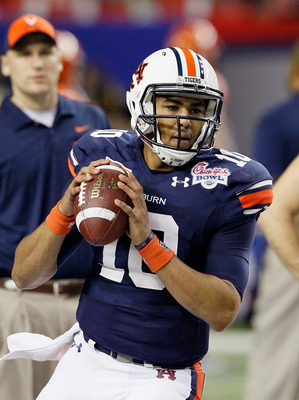 Kiehl Frazier's opportunity has come
Kevin C. Cox/Getty Images
Kiehl Frazier was handed the reins just last week. Everyone knew he was going to be the QB for much longer than that, except Gene Chizik and his staff.
Frazier has drawn strong reviews for his leadership skills during voluntary workouts this summer and has adapted well to Scot Loefller's style of coaching.
Frazier was one of the top high school QBs in the country out of Springdale, Ark. He attempted 12 passes last year. He completed seven, but two were to the wrong team.
Frazier has the ability to scramble when a play breaks down. He also has a strong arm and great size. He's listed at 6'2" and 226 pounds.
Backing up Frazier will be Clint Moseley, who started six games last year. Moseley has had a sore shoulder all through spring and fall camps. Although he is listed No. 2 on the depth chart, you have to wonder if he will be able to produce if called upon.
The third-string QB will be Jonathan Wallace. He was a late addition to the signing class last year and has been quite the surprise in fall camp. His play has some wondering if he won't eventually challenge Frazier for the starting job.
If Frazier can have a solid season, Auburn will enter 2013 with an established QB for the first time since Chizik arrived on the Plains.
| | | |
| --- | --- | --- |
| Quarterback | Kiehl Frazier | 6'2", 226 So |
| | Clint Moseley | 6'4", 229 Jr |
| | Jonathan Wallace | 6'2", 197 Fr |
Defensive Line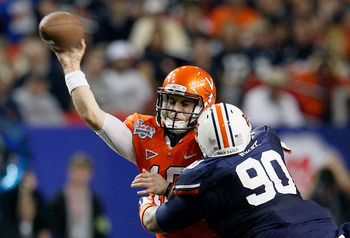 Defensive Line is one of the deepest positions on the Auburn football team
Kevin C. Cox/Getty Images
A consistent message throughout spring and fall camp has been that the Auburn defensive line is as good as there is in the SEC.
The playing rotation could feature as many as six to eight players. Auburn needs that sort of depth to put consistent pressure on opposing offenses.
As it is with any team in college football, the Auburn defense will not be successful unless it can stop the run. For example, look at Auburn's 2010 national championship team. There were a lot of deficiencies on that defense, but the ability to stop the run kept Auburn in every game.
All 11 players on the depth chart could see the field against Clemson. Auburn will need to have fresh legs on the defensive line due to the speed at which Clemson's offense runs plays. Coaches will have to figure out the right time to substitute. As we saw with Gus Malzahn's offense, that can cause problems.
There are no "left" and "right" defensive ends. Coach Mike Pelton will use different combinations. For example, he may put Corey Lemonier opposite Craig Sanders or Dee Ford opposite Nosa Eguae.
Ford suffered a herniated disk early in the season last year and has fought his way back to a starting role.
Sanders has mostly made his mark on special teams his first two years. After bulking up to 257 pounds, he can provide speed and power as a defensive end.
Lemonier is probably the most "NFL ready" player on the defense. He was a preseason All-SEC first- team selection.
On the interior, Angelo Blackson has made big strides and gets the starting nod alongside Jeffrey Whitaker, who has performed well in fall scrimmages.
The Auburn defensive line is expected to make a big impact this season.
| | | |
| --- | --- | --- |
| Defensive End | Corey Lemonier | 6'4", 246 Jr |
| | Ladarius Owens | 6'2", 260 So |
| Defensive End | Dee Ford | 6'2", 246 Jr |
| | Craig Sanders | 6'4", 257 Jr |
| | Nosa Eguae | 6'3", 268 Jr |
| Defensive Tackle | Angelo Blackson | 6'4", 308 So |
| | Kenneth Carter | 6'4", 289 Jr |
| | Devaunte Sigler | 6'4", 291 So |
| Defensive Tackle | Jeffrey Whitaker | 6'4", 307 Jr |
| | Gabe Wright | 6'3", 299 So |
| | Tyler Nero | 6'2", 277 Fr |
Linebackers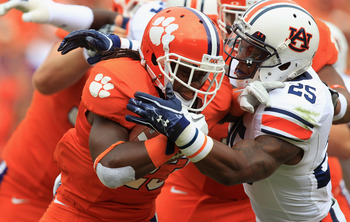 Daren Bates will be the leader of the Auburn linebacker corps
Streeter Lecka/Getty Images
The first day Auburn hit the practice fields this fall, Brian Van Gorder was already chirping at Jake Holland. It has been a consistent theme. That is because Van Gorder will be putting a lot of responsibility on Holland's shoulders. He is asking him to get the linebackers aligned properly and to be the quarterback of the defense.
A lot of criticism was aimed at Holland last fall as injuries slowed him down. But after a slow start this fall, the linebacker corps has stepped up in scrimmages.
Daren Bates led the team in tackles last season and will be looked to once again slow offenses down. After being moved to linebacker from safety after his freshman season, Bates has cut down on the missed tackles. His speed has helped him close the gap when chasing down opponents to the outside.
Justin Garrett made one start last year. That came against Samford. Garrett beat out senior Jonathan Evans for the Sam linebacker spot.
Kris Frost was expected to be a big contributor this fall, but he has admitted to falling behind while grasping Van Gorder's defense. He moved to Will linebacker behind Daren Bates earlier in the fall.
| | | |
| --- | --- | --- |
| Middle Linebacker | Jake Holland | 6'1", 241 Jr |
| | Ashton Richardson | 6'2", 218 Sr |
| Sam Linebacker | Justin Garrett | 6'1", 215 So |
| | Jonathan Evans | 5'11", 231 Sr |
| Will Linebacker | Daren Bates | 5'11", 215 Sr |
| | Kris Frost | 6'2", 233 RS Fr |
Defensive Backs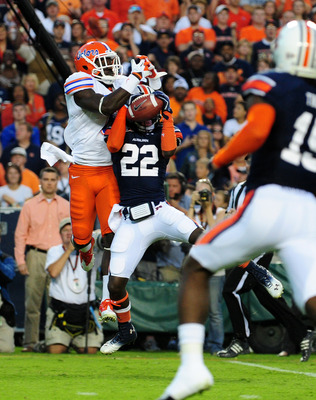 Scott Cunningham/Getty Images
After another frustrating season by the Auburn defensive backs, coach Gene Chizik moved secondary coach Phillip Lolley to an administrative role within the program. He brought in former Georgia defensive coordinator Willie Martinez from Oklahoma to coach the defensive backs.
Martinez and Brian Van Gorder coached with each other while Van Gorder was defensive coordinator at UGA in the early part of the last decade.
Auburn is expected to play a lot of nickel coverage to get more speed and better coverage personnel onto the field. T'Sharvan Bell will most likely come in to play corner and Chris Davis will be the primary nickelback.
Like the linebackers, the safeties will be making a lot of calls in Van Gorder's defense. Safeties need to be smart and quick on their feet. Jermaine Whitehead jumped ahead of Erique Florence when Florence was slowed by injury.
T'Sharvan Bell appears to have recuperated from the knee injury he suffered last year in Athens. He will be playing mostly as the nickel back.
| | | |
| --- | --- | --- |
| Cornerback | Chris Davis | 5'11", 200 Jr |
| | T'Sharvan Bell | 6'0", 190 Sr |
| Cornerback | Ryan White | 5'11", 198 Jr |
| | T'Sharvan Bell | 6'0", 190 Sr |
| Safety | Ryan Smith | 6'2", 204 Jr |
| | Trent Fisher | 6'1", 200 So |
| Safety | Jermaine Whitehead | 5'11", 202 So |
| | Demetruce McNeal | 6'2", 187 Jr |
Special Teams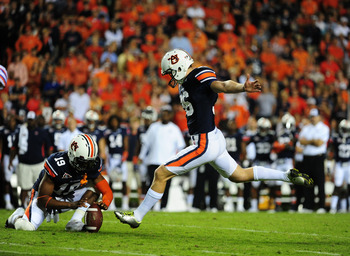 Scott Cunningham/Getty Images
Auburn has a strong stable of special-teams players. Ray Guy finalist Steven Clark and Lou Groza watch-list member Cody Parkey will handle the kicking dutiesl.
It is probable that Jake Lembke will take over for departed long snapper Josh Harris.
It will be interesting to see how Auburn decides to use the new kickoff rule that has moved the kickoffs up another five yards. The kickoff team held opponents to an average starting position of the 22-yard line last fall. Special teams coach Jay Boulware can have Parkey boom one out of the end zone, or try to pin opposing teams deep.
Returning kicks will be speedsters Quan Bray, Onterio McCalebb and Trovon Reed. Reed and Bray both returned punts last year.
| | | |
| --- | --- | --- |
| Place-Kicker / Kickoffs | Codey Parkey | 6'0", 194 Jr |
| | Alex Kyicklys | 6'2", 180 Fr |
| Punter | Steven Clark | 6'5", 232 Jr |
| | J.D. Strawbridge | 6'0", 171 Fr |
| Deep Snapper | Jake Lembke | 6'2", 228 Jr |
| | OR | |
| | Forrest Hill | 6'1", 230 So |
| Holder | Ryan White | 5'11", 198 Jr |
| | Steven Clark | 6'5", 232 Jr |
| Kickoff Return | Onterio McCalebb | 5'11", 173 Sr |
| | Quan Bray | 5'10", 185 So |
| Punt Return | Quan Bray | 5'10", 185 So |
| | Trovon Reed | 6'0", 190 So |
Keep Reading

Auburn Football: Like this team?