I Am Christian and I Am Sick of Tim Tebow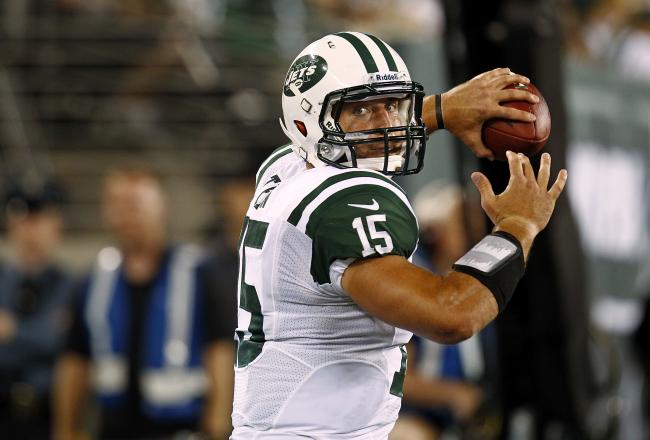 Jeff Zelevansky/Getty Images
When Tim Tebow was at Florida, he was one of my favorite players in football at all levels. That was not only because he is arguably the best college football player ever, but also because he was a strong man of faith. However, his NFL career has really been nothing but a circus and it is one that just doesn't want to leave town.
Here is a guy who literally makes Sportscenter if he throws a ball 30 yards in a trash can. I swear that happened last week. Then, in his latest preseason game, his stats were just embarrassing. He went 4 for 14 for 55 yards. He had no touchdowns and a really ugly interception.
With numbers like that, he should be fighting just to make the team. The spotlight should not be on a backup the way it is when he really is not performing well at all.
I found it amazing that the media acted shocked when Mark Sanchez was outperforming him in early camp. Why should that surprise anybody, when Brady Quinn did the same last year in Denver? To be honest, he was not even as good as Adam Weber in camp. None of that mattered, as the media circus and the fans had to scream for their guy.
In Denver, Coach John Fox really didn't want to play Tebow, but I think he just figured that if he put him in and he struggled, the circus would leave town. Tebow did struggle, but unfortunately the circus would not leave because, by some stroke of luck, he would manage to get a win in the fourth quarter.
Then came the inappropriate jokes all over the Internet about how he forgot to pray until the fourth quarter. That made me so mad. There was also a Saturday Night Live skit. Well okay, I actually found that one a little funny, but you get my point.
Tebow was also known for "Tebowing," which is actually a position in which to pray, and I thought that was supposed to be about God. He did that right in front of the camera too. Below is a verse from Matthew 6:5.
And when you pray, do not be like the hypocrites, for they love to pray standing in the synagogues and on the street corners to be seen by men. I tell you the truth they have received their reward in full. But when you pray, go into your room, close the door and pray to your Father, who is unseen. Then your Father, who sees what is done in secret will reward you.
To be fair, Tebow has no control over where the cameraman goes. However, he could simply ask him politely to leave because it is his time with God. If he doesn't leave, then throw a towel over the lens.
That is not to say that there can't be public prayer. I think it is great when players from both teams gather at midfield after the game and pray. That is great because the glory is going to the proper place.
Members of my church think it is great to see a strong man of God out there. I agree, but this is not what we need. We need men of God who have earned the right to be there. Being a great college player doesn't mean you earned it in the NFL.
What do Kurt Warner, Reggie White, Barry Sanders, and Irving Fryar have in common? They are all great players and Hall of Famers, with the exception of Fryar. These men represented God well and were great players. Warner never got a chance until his late twenties and almost gave up the dream. His faith wouldn't let him. He gave glory to God throughout his multiple Super Bowl career.
White was not only known for being a quarterback's nightmare, but also for building churches.
Sanders was the best running back ever, but you would never know it because he always drove a used Mazda. That is because he gave well beyond his 10 percent.
Fryar was known as a dependable receiver by the likes of Dan Marino and Donovan McNabb; He is an ordained minister.
Why is it that throughout these guys' careers, nobody ever seemed to joke about their faith? It is obvious because these guys had solid reasons to be on the team. Those are the kinds of guys Christians need representing them in sports. We don't need circus acts.
To be fair, the circus was created more by the media than by Tebow. However, the result is what it is. It has become embarrassing.
This article is
What is the duplicate article?
Why is this article offensive?
Where is this article plagiarized from?
Why is this article poorly edited?

New York Jets: Like this team?