Dallas Cowboys Football: 10 Players the Cowboys Need to Step Up in 2012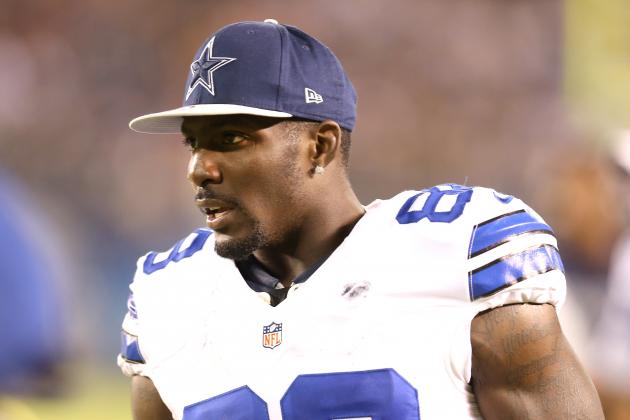 Stephen Dunn/Getty Images

The 2012 version of the Dallas Cowboys seems to be shaping up like their editions of recent memory.
On paper, the talent is there. A playoff run seems feasible and a Super Bowl isn't entirely out of question.
But things just never turn out how they look on paper, do they?
It could be an untimely holding call, an unfortunate interception, a misused timeout or even off-field issues of a star player.
No matter what, there's always something.
If these 2012 Cowboys want to change the recent trajectory of their franchise, the players need to step up and fix those somethings.
Which players, exactly? Here are 10 to get you started.
Begin Slideshow

»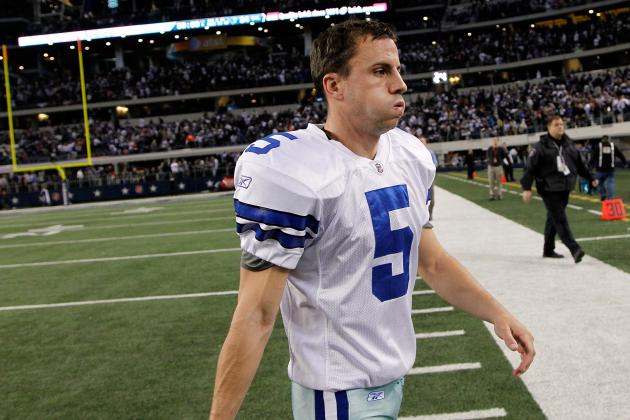 Tom Pennington/Getty Images

Contrary to popular belief, Dan Bailey is not one man. He's two.
You see, first there's the good Dan. Good Dan made 27 of his first 28 kicks, including 26 in a row. He even threw in three game-winners for good measure.
Then came bad Dan. Over the last five weeks, Bailey converted just five of his last nine boots, including a potential game-winner against the New York Giants.
For the Cowboys to reverse their fortunes, they will need a reliable kicking game that lasts all season long.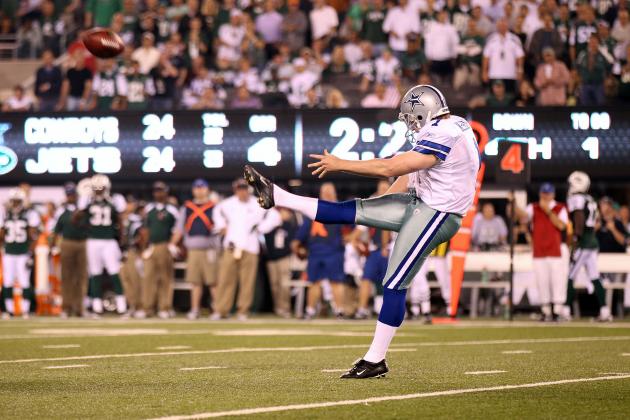 Elsa/Getty Images

After eight seasons with the Cowboys (including two Pro Bowls), Mat McBriar's services now reside in Philadelphia.
As one of the top punters in the league, replacing McBriar is no small task.
Mr. Jones, this would be where you step in.
With the Fort Worth Star-Telegram reporting that the Cowboys feel Jones has a chance to be a "special" punter (h/t Rotoworld.com), the Cowboy faithful will be looking for that "specialness" to be present immediately out of the gate.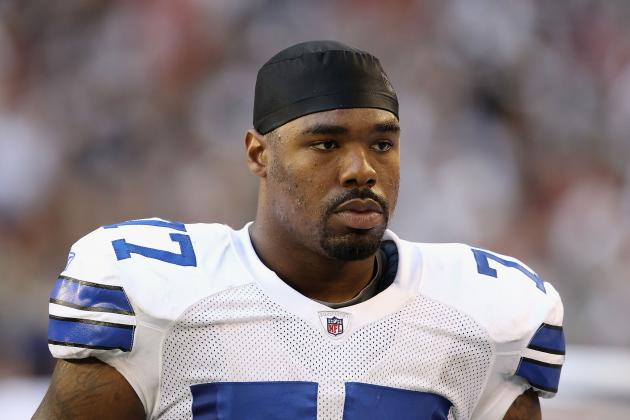 Christian Petersen/Getty Images

The Cowboys' first-round draft pick in 2011 shined in his rookie campaign at right tackle last year, and his stellar efforts have landed him a spot at the all-important left tackle position heading into 2012.
Tony Romo's blind spot will now be under his watch, and the 6'5", 308-pounder must do a better job at protecting it than Doug Free did last season.
Speaking of Free, he will now move back to the right tackle position, a place which the Cowboys feel he should excel.
With the depth of talent at the defensive end position across the NFC East, the play of Smith will go a long way in determining this team's success.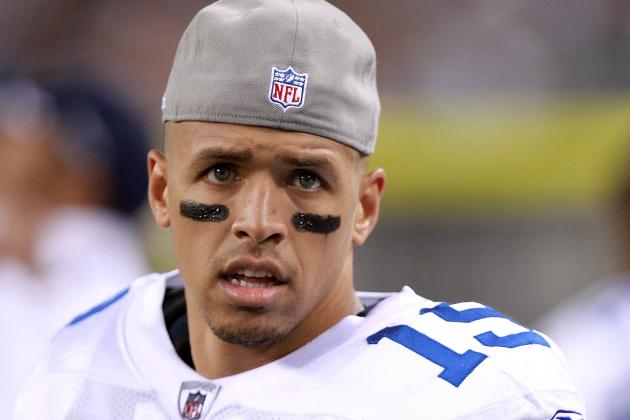 Ronald Martinez/Getty Images

Raise your hand if you've ever had sore hamstrings.
They hurt, right? But have they ever completely shut you down from all activity?
I'm betting not.
However, in the curious case of Miles Austin, chronic hamstring issues cannot be shaken. The Cowboys even held him out of the entire preseason simply as a precaution.
And if the 'Boys are going to be serious playoff contenders, they need to see Austin step up, tough it out and find a way to work through the plague that is his hamstrings.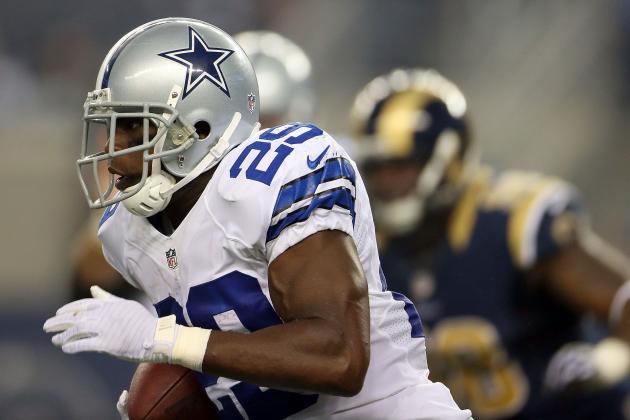 Ronald Martinez/Getty Images

There are a lot of questions surrounding RB Felix Jones this season, but one thing that remains certain is this: He will get injured at some point.
You see, Jones has been the mark of fragility his entire NFL career, and he even managed to fail his conditioning test to begin training camp.
That means one thing: DeMarco Murray is going to have to step up.
Murray himself has not exactly been lacking in the injury department, but the majority of his injuries have been more of the freak-accident type.
The Cowboys need Murray to have an injury-free campaign in 2012.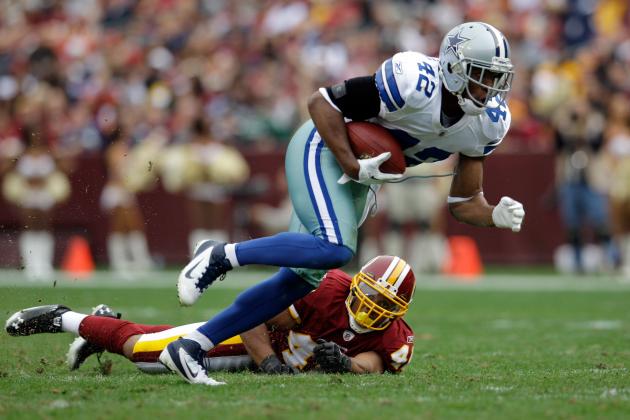 Rob Carr/Getty Images

At the safety position, which has been one of the weakest for the Cowboys over the past few years, Barry Church finds himself with a chance to make an immediate impact.
Top competitor Brodney Pool failed his conditioning test (and was recently released), opening the door for Church to step into a starting role.
Observations from camp have big-name players liking what the see from Church. Additionally, the Cowboys' release of Pool only seems to confirm their faith in the undrafted third-year player.
The Cowboys better hope he steps up. If not, they are looking at either Mana Silva or Eddie Whitley remaining on their depth chart.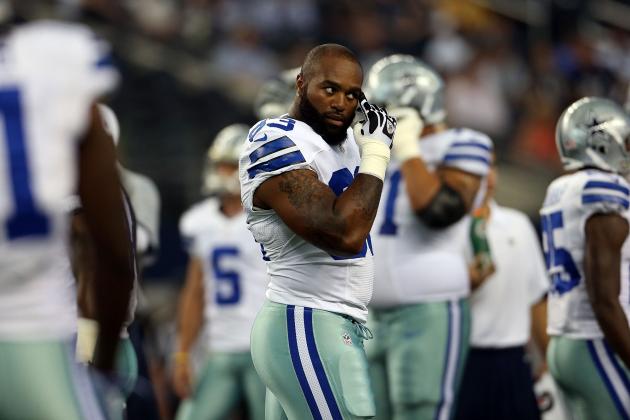 Ronald Martinez/Getty Images

We all know what a force DeMarcus Ware is.
And naturally, so does the rest of the NFL.
For the Cowboys to take their pass rush to the next level, they need a top-tier rusher to join Ware in terrorizing opposing backfields.
I'm looking at you, Anthony Spencer.
The 6'3", 28-year-old from Purdue flashed his potential by recording a sack in each of his first three games in 2011. Unfortunately, Spencer managed just three sacks the remainder of the year and was shut out from Week 14 onward.
Spencer needs to step up this year to land himself a big long-term deal, and the Cowboys need him to step up if they want a shot at making a deep postseason run.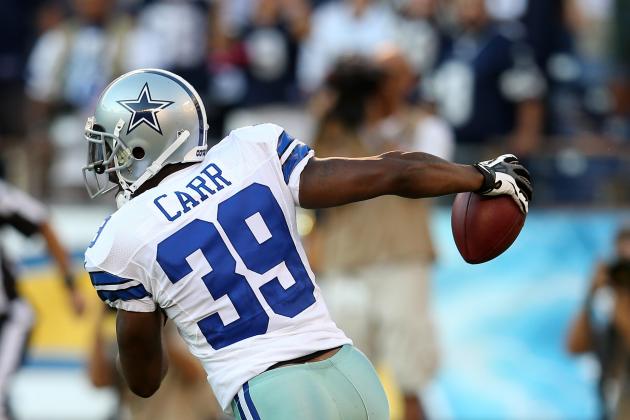 Stephen Dunn/Getty Images

The struggles of the Dallas defense last season have been duly noted.
This offseason, the Cowboys responded to their weakness by drafting LSU cornerback Morris Claiborne and signing free agent Brandon Carr.
Claiborne has spent most of the preseason dealing with an injured wrist, leaving the veteran Carr as the one player who the Cowboys need to step up and anchor their defensive backfield.
Carr has responded to the call so far, looking nearly flawless this preseason.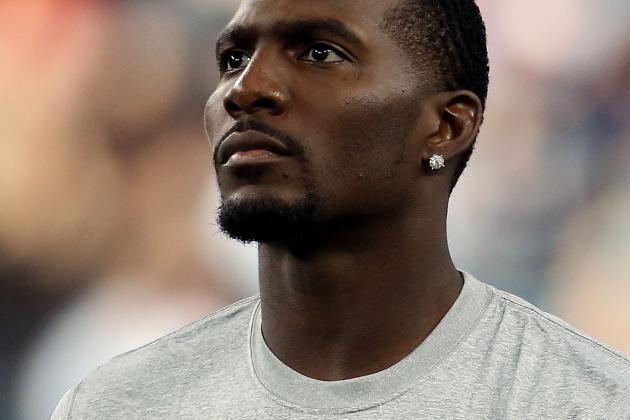 Ronald Martinez/Getty Images

The behavioral issues have been well-documented, and the Cowboys' recent set of guidelines have been just as well-publicized.
And the talent? Notable as well.
Here's the bottom line:
Miles Austin? He's been hamstrung. Jason Witten? Dude just lacerated his spleen. If Dez Bryant doesn't step up this year, the Cowboys (more specifically, Tony Romo) are left with the collection of Dwayne Harris, Kevin Ogletree and Cole Beasley at wide receiver.
Time to step up, Dez.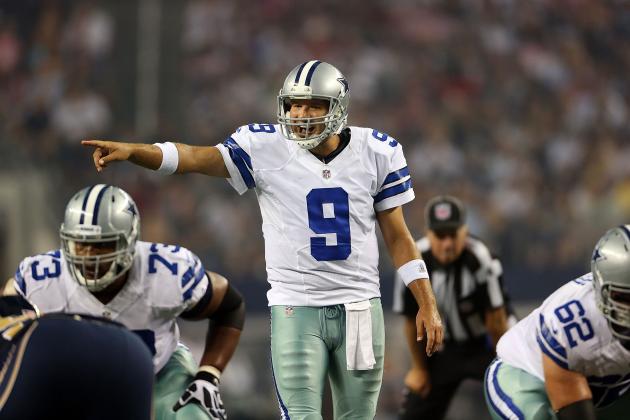 Ronald Martinez/Getty Images

When the Cowboys are winning, Tony Romo is the next Brett Favre. When things start to spiral downward, he becomes America's favorite goat.
Welcome to life as the quarterback of America's team.
In reality, Romo is a 32-year-old quarterback who could have a mere handful of Pro Bowl-caliber seasons left in him. In order to leave any kind of legacy, he needs to win, and he needs to win now.
If there is any singular player who could carry this Cowboys team into the Promised Land, it's Romo. He's thrown for at least 4,100 yards in the last three full seasons he's played, and he showed flashes of brilliance that have led Cowboys fans to dance on the streets.
But there's always been that something, an inexplicable occurrence, that leaves those dancing fans shaking their heads and asking, "Why us?"
If Romo can step up—by avoiding the anomalous catastrophes—the Cowboys could be in business.