Sacramento Kings Summary 101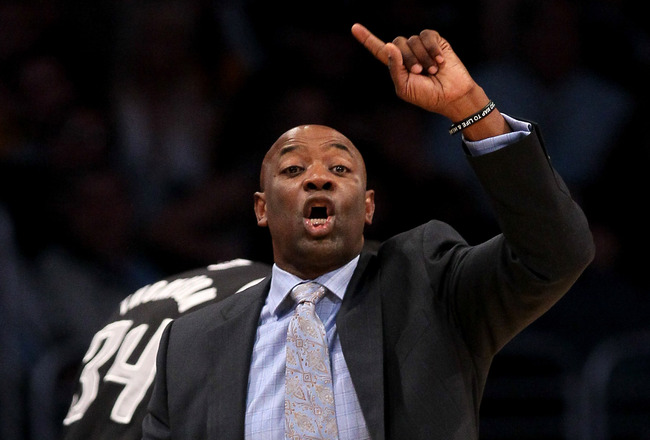 Stephen Dunn/Getty Images
It's safe to say that the majority of NBA fans do not care about the Sacramento Kings.
To those who don't follow the Kings regularly, the organization represents poor management, low financial stability, and total chaos. The roster may seem like it's been poorly assembled with terrifying contracts.
Well, this slideshow is meant to summarize the offseason moves, as well as inform those who are not knowledgeable about the once very proud and popular franchise.
Arena Situation Is Really Confusing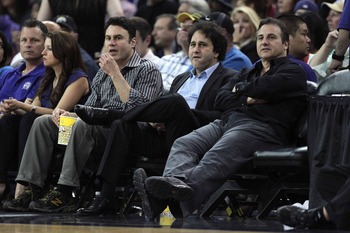 Kelley L Cox-US PRESSWIRE
The Maloofs are not selling this team and they certainly won't be moving anywhere in the near future.
The Maloof brothers won an offer that seemed like an ideal deal for both sides. The former owners of the Palms Hotel in Las Vegas want to be tenants rather than arena owners, while maintaining all the perks of being an arena owner (parking fees, revenues, etc). In the end, the Maloofs were responsible for less than $80 million and they turned down a deal that other cities cannot offer.
There have been talks of the Kings moving to Seattle, Anaheim, and even Virginia Beach. However, it's hard to imagine the Maloofs are willing to pay the hefty relocation fee as well as the money that is also owed to the city of Sacramento if they are not even willing to spend $80 million.
It's also tough to imagine a city that is willing to give the Maloof brothers what they want. There are no investors or cities that would simply build an area for the Sacramento Kings for virtually nothing. The Maloofs want to make money through events, parking, and other various perks that come with controlling an arena. The biggest problem is that the Maloofs want all of the above and more, while spending like a tenant.
If you realize how stupid and unrealistic that situation is, you would agree that the Kings are not going to find a better deal than what they had in Sacramento.
Is Keith Smart the Right Fit for the Kings?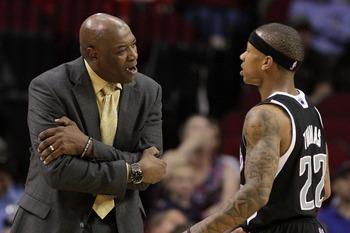 Troy Taormina-US PRESSWIRE
Would the Kings like a Phil Jackson to coach the team? Of course, any team would. But let's face the facts: the Sacramento Kings are not a very attractive destination, especially with the unclear future and the owner's unwillingness to spend big money for a head coach.
Keith Smart, however, is very capable. He's a player's coach and that's what the Kings just might need, instead of an old-fashioned coach like Paul Westphal. Smart has reached out to players like DeMarcus Cousins and the whole locker room really embraces and supports him.
Just by the eye test, Smart has really changed the offense during the last season with limited practices. With him being signed to an extension, there's more stability, and a full offseason should prove how worthy Keith Smart is as a head coach in the league.
There's also an obvious stress on player development this offseason. In the past, there were few reports of players working out or developing with the coaching staff. Part of it was due to the lockout, but there's definitely a change that has taken place. Players like Tyreke Evans and DeMarcus Cousins have come in multiple times to Sacramento to work with the coaching staff, while Jimmer Fredette met with the head coach to workout. With Smart stressing unity, a team workout has also taken place.
The importance of these reports is not based on how much the players improved during the workouts. It's the change of culture in the locker room that's more important.
Is Keith Smart an absolute keeper as a head coach? No one really knows, but it's only fair that he gets a full offseason to work with the players. With so many coaching changes, a stable coaching staff is important. Let's just hope that Smart pans out for the team.
Offseason Moves: Were They Good Enough?
Kelley L Cox-US PRESSWIRE
While the Kings haven't made any blockbuster deals, the organization has made some solid moves. They don't scream playoffs or a boost in ticket sales, but they certainly have improved the roster.
Jason Thompson's re-signing stabilizes the front court situation. Let's get something straight: Thompson is not overpaid at $6 million a year. If Omer Asik is worth over $8 million, Jason Thompson is certainly worth every dollar because he is a guy who can play two positions. He is also unselfish, hardworking, a leader, and a guy who is willing to come off the bench (in the future) when Thomas Robinson is ready to start.
Aaron Brooks, a proven veteran and reliable weapon off the bench, provides a cheap, risk-free option to back up Isaiah Thomas at the point guard position. You might be crying over that statement if you're a die-hard Jimmer Fredette fan, but it's safe to say that Fredette needs further development and is not ready to receive big minutes. Some people make the case that Brooks is not a pass-first point guard, but it's safe to say that Jimmer Fredette isn't either. Keith Smart has obviously made an effort to help Jimmer this past offseason, noted by his trip to Utah. Only time will tell if Jimmer Fredette can play in this league.
The Sacramento Kings have been shuffling for a small forward for the past few years. The John Salmons experiment has failed, and it seems that Salmons is more effective as a guy coming off the bench. James Johnson may bring that stability, but he still has problems in his game. He's not a very good free throw shooter or a three-point shooter. However, he is a defensive presence that the Kings desperately need at the three spot. If he brings stability to the small forward position, that will allow Tyreke Evans to move to the two guard as a starter.
Overall, the Kings have made some solid moves. The team's main goal is to breakout of the lottery spots by making into the playoffs. Hopefully the returning players made some improvements in their game to at least put the Kings in contention for one of the eight spots available in the playoffs.
Can Tyreke Evans Get Back on Track to Be an Impact Player?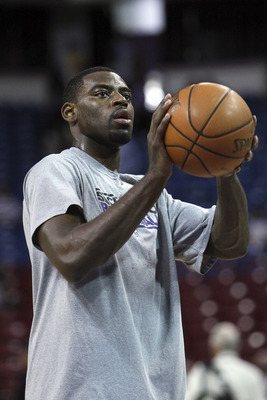 Kelley L Cox-US PRESSWIRE
Kings fans have been waiting and hoping for Tyreke Evans to become a superstar in this league. With his nasty handles and sweet moves to the basket, many thought that Evans would be one of the bright stars in the NBA. However, the past two seasons have been disappointing to say the least.
Last year, Tyreke was still not able to shoot the ball well, and he favored his right hand much more over his left hand. It made him one of the most predictable players in the league, and the only reason why he was able to score around 20.0 points per game was because of his talent and quickness. During his rookie season, countless analysts around the league said that Tyreke Evans would be unstoppable if he had a midrange jumper, which is not an impossible task for Evans, as he was a very well-known shooter in high school.
Much of the blame goes to the young shooting guard. In the end, he needs to be the one putting in the work to improve his weaknesses. No matter how bad or good of a coach Paul Westphal was, Tyreke Evans should be responsible for the lack of improvements.
With a new contract on the line, Tyreke's performance this season could cost him millions of dollars. If he does not show significant improvements, it's hard to say if teams will offer the young guard a maximum deal, which I'm sure is what Tyreke Evans is hoping for.
Keep in mind that if Tyreke Evans does get a max deal from another team, there is a chance the Kings may not match the offer. Unless he proves himself this year, Kings fans may see the last of Tyreke Evans in a Sacramento Kings uniform.
For Kings fans, it's disappointing because they've witnessed the potential of the young guard. It would be great to see him back on track to be one of the best players in this league. If there was no potential or room for growth, no one would even care about Evans. But he does, and that's what hurts the fans the most.
What the Kings Need for the Future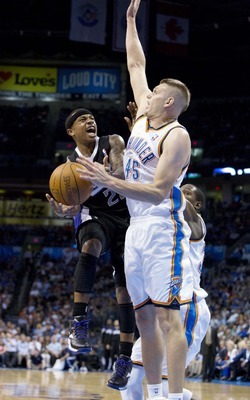 Richard Rowe-US PRESSWIRE
The Sacramento Kings won 22 games last year.
It's safe to say that everybody but DeMarcus Cousins is expendable on this team. Thomas Robinson may be on the list just because he has yet to set foot in an NBA game.
Isaiah Thomas, a hard and dedicated worker, is a great young point guard that has a limited ceiling because of his size and Marcus Thornton would be a great sixth man for a playoff team. Jason Thompson is a solid player, but it's hard to imagine him starting on a good team.
The Sacramento Kings need a small forward desperately. Ideally, the small forward is a guy who can shoot beyond the arc, while providing solid defense every night. Players like Shane Battier come to mind as the perfect fit for this young team that is thirsty for veteran leadership. Unfortunately, veteran players often opt to join a stable franchise and a playoff team over a team that has only won 22 games the previous season.
The Kings thought they got a solid veteran last year in Chuck Hayes, but he's been disappointing in terms of performance due to injuries and bad conditioning. Instead, Isaiah Thomas—the rookie point guard out of Washington University—was the stable and vocal leader on and off the floor.
Conclusion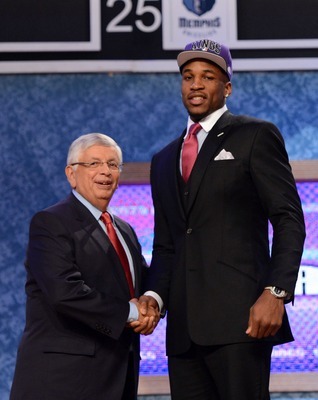 Jerry Lai-US PRESSWIRE
The Sacramento Kings are in a tough situation.
With an unstable ownership and a questionable future, it is hard for the team to make any major investments going forward. If the Maloofs are planning on selling, even though they declared the team is not for sale, the roster salary won't be going up any time soon. Free agents won't like the idea of possibly moving to a different city within a year or two.
The only way the Kings are going to improve is through the draft and trades. Much of the success lies in the improvement.
Keep Reading

Sacramento Kings: Like this team?