SF Giants: 3 Ways Signing Hunter Pence Long-Term Would Impact Offseason
Denis Poroy/Getty Images
It's been an inauspicious beginning to the Hunter Pence era in San Francisco.
Since being acquired from the Phillies at the trade deadline, he's hit just .214/.266/.316. He entered the season as a lifetime .292/.343/.485 hitter, though that was down to .271/.336/.447 with the Phillies this year.
His struggles with the Giants have been well-documented. Always an aggressive hitter, Pence has morphed into a cross between two former hackers who also both played for the Giants and Phillies: Aaron Rowand and Pedro Feliz.
Instead of getting Hunter Pence, so far the Giants have gotten Aaron Feliz, an imaginary right fielder who swings at everything, doesn't walk and doesn't hit for power.
Alas, when any player slumps, no matter how talented, he doesn't look very good.
Angel Pagan was atrocious in July, hitting just .210/.244/.309. He's now hitting a respectable .290/.340/.429 on the season.
Brandon Belt was even worse than Pagan in July, hitting just .186/.266/.214. He's now hitting a respectable .265/.361/.397 for the season.
Buster Posey didn't look very good in May when he hit just .253/.311/.368. He's now an MVP candidate with a .328/.404/.535 batting line.
When sabermetric analysts complain about the injustice of using small sample sizes to evaluate performance, it's easy to ignore them, because baseball is nothing more than an endless series of small sample sizes put together to form the whole of the season. When a player looks awful for a month, it has to mean something!
Except, it's a long season, and it doesn't usually mean anything. Maybe Pence is one of those players that will just fall apart as he approaches the age of 30. More likely, he'll stop swinging at everything and hit closer to his career batting line for the next few seasons.
With that in mind, here are a few ways signing Hunter Pence long term would impact the offseason.
Cost Certainty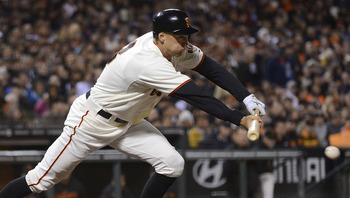 Thearon W. Henderson/Getty Images
Pence is making $10.4 million this season in his second-to-last year of arbitration. Therefore, he's likely to earn at least $14 million next year in his final season of arbitration if he does not sign an extension.
If the Giants believe Pence will snap out of his funk and start hitting like he has for most of his career, a contract extension would provide cost certainty for next season, as well as however many years of free agency they decide to buy out.
Carlos Quentin's 3-year, $27 million extension with the San Diego Padres would be a worthy starting point for a contact extension with Pence. That type of deal would give the Giants cost certainty in right field going forward, and allow them to save a few million dollars to reinvest in another part of the team.
One Less Positon to Worry About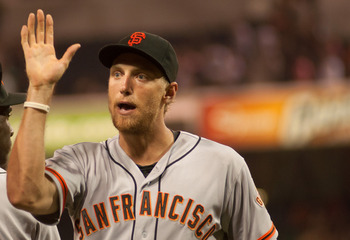 Kent Horner/Getty Images
The Giants have a ton of question marks on their roster going forward.
Will Pablo Sandoval ever get into and stay in shape? Will Brandon Crawford hit enough to be an asset going forward? How good will Brandon Belt be? Is Tim Lincecum going to turn things around? Who is going to play second base next season? Centerfield? Left field? When will Gary Brown be ready? Will the Dodgers run a $1 billion payroll next season?
More importantly, did Guillermo Mota get the cough syrup he drank that led to a failed drug test out of Mark Sweeney's locker, or did he get it from Melky Cabrera's fake website? (Just kidding.)
Singing Hunter Pence to a contract extension would at least cross right field off of the anxiety list for the front office.
Of course, they could sign Pence to an extension, and it could turn out that his slump isn't just a blip on the radar, but the beginning of a rapid decline. That outcome would create a whole new set of questions.
Potential 2013 Cost Savings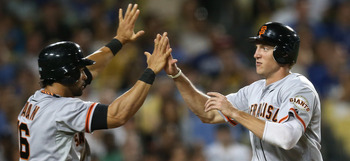 Stephen Dunn/Getty Images
Right now, my unofficial, back-of-the-napkin calculations have the Giants payroll at $120 million next year, including estimated arbitration raises to Pence and the other arbitration-eligible Giants.
If the Giants can reduce the short-term cost of Pence next season through a contract extension, they can use the money saved to retain Angel Pagan and Marco Scutaro, or make a run at one of the bigger free agents.
As it stands, if payroll remains flat at $130 million next year, the Giants are not going to have a ton of payroll flexibility in 2013. However, Barry Zito ($20 million) and Tim Lincecum ($22 million) will come off the payroll after next season if the Giants choose not to retain their services beyond 2013.
If the Giants sign Pence to a three-year extension, perhaps they could turn around and make a run at someone like Nick Swisher or Michael Bourn by back-loading the money beyond next season.
When it comes to the Giants decision to extend Pence, they have to take a gamble on whether or not he's the player he was for the first 3,539 plate appearances of his career, or if he is declining into the player he's been for the 109 plate appearances with the Giants.
Predicting future human performance in any field is a difficult task; predicting it in baseball is nearly impossible given how difficult it is to hit a baseball in the first place, and how much more difficult it becomes as players get older and their skills begin to decline.
As the Rowand contract reminds Giants fans everyday, when a player's skills erode, it can get pretty ugly.
Yet the Giants gave up a pretty good prospect to acquire their new right fielder of the present and near future, so the gamble on Pence has already been made in many ways.
Time will tell if the Giants choose to double down on their investment in Pence with a contract extension this winter.
Keep Reading

San Francisco Giants: Like this team?