Dolphins vs Cowboys: Final Report Cards, Player Grades for Dallas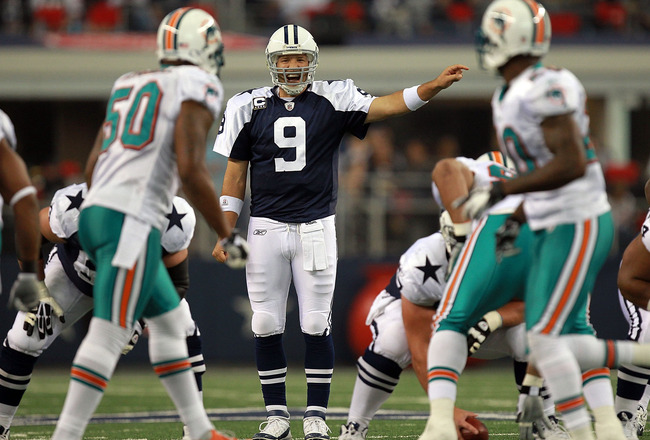 Ronald Martinez/Getty Images
The Cowboys preseason is officially over as the reserves defeated the Miami Dolphins 30-13. The Cowboys finish the preseason with a 3-1 record while dropping Miami to 0-4. There was plenty of action on both sides of the ball and the Cowboys coaching staff will have a hard time finalizing the 53 man roster.
Let's take a look at the final postgame grades and evaluations for the Cowboys.
Quarterbacks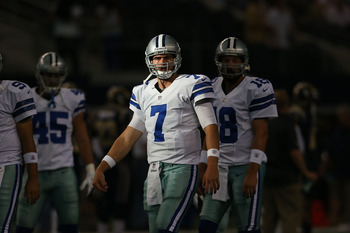 Ronald Martinez/Getty Images
OVERALL GAME GRADE: B-
Stephen McGee was never sharp, but he was efficient enough to hold off Rudy Carpenter on the depth chart. Both QBs only managed to complete fifty percent of their passes, but when the Cowboys needed to make a play, McGee delivered while Carpenter did not. All that remains to be seen is if the Cowboys will actually keep a third QB this season.
Q4 - Rudy Carpenter: C
Carpenter was given every opportunity to make a case for him staying on as the third QB, but unfortunately he did not do enough on this night. He was inconsistent and did not hold up well under pressure. He never looked comfortable in the pocket and when he missed, he missed badly.
Q3 - Rudy Carpenter: C+
Carpenter only completed a single pass in the quarter as he went 1 for 4 for thirteen yards. His passes were a bit wobbly and either over thrown or behind the receivers. Carpenter did show some mobility on third and seven as he escaped the pocket and completed a pass for a first down, however it does not appear he has done enough so far to pass Stephen McGee on the depth chart.
Q2 - Stephen McGee: A-
Stephen McGee settled in at the start of the quarter and appeared to be more confident as he led the Cowboys on two scoring drives. Although his numbers were not good, McGee was able to complete two deep passes of 32 and 36-yards.
McGee used his legs on several occasions to extend plays and even remained poised as he took a hard hit during a roughing the passer penalty against the Dolphins. McGee also exuded leadership executing the two minutes drill leading the Cowboys into field goal range with only 1:29 to go before the half.
Q1 - Stephen McGee: B-
McGee started with back-to-back incomplete passes on the Cowboys first offensive series and was not in sync with WR Kevin Olgetree, missing him twice. He did have a couple of good throws in the second series, but McGee looked uncomfortable in the pocket on third downs and was sacked forcing the Cowboys to punt instead of attempting a long field goal try.
Pregame
The Cowboys have an interesting situation with their battle for the third quarterback spot. Veteran Stephen McGee will get plenty of reps, but he will need a solid outing if he is to earn the roster spot over Rudy Carpenter. The Cowboys' other option is to go into the season with two QBs and release both McGee and Carpenter.
Runningbacks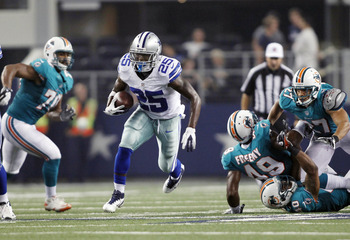 Tim Heitman-US PRESSWIRE
Lance Dunbar: A+
Dunbar, who has missed most of the preseason due to injury, sure made his mark tonight. He led the team in rushing with 105 yards and added another 33 in punt return yards. He also scored on a dazzling 58-yard touchdown run. It will be hard to keep Dunbar off this team.
Jamize Olawale: A-
Olawale has had a strong preseason and tonight was no exception. He rushed for 54-yards on seven carries with a long of 24-yards. Now if he can only keep his helmet on his head!
Phillip Tanner: A
Tanner had a solid night as well and he showed plenty of power scoring from 1-yard out in the second quarter. An injury slowed him down earlier in the preseason, but the Cowboys will be hard pressed to keep more than three running backs on the roster.
Wide Receivers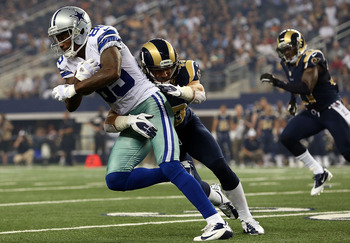 Ronald Martinez/Getty Images
Kevin Ogletree: C
Ogletree was never in sync with QB Stephen McGee. He slipped on several of his routes and did not have a catch in the entire game. His only bright spot came when he drew a pass interference call on Quinten Lawrence late in the first quarter.
Danny Coale: B+
Danny Coale only had one catch for 13-yards, but it was one worthy of the highlight reel. He made a fully extended, diving catch late in the second quarter down the middle of the field, setting up the Cowboys second field goal just before halftime.
Andre Holmes: B-
Holmes managed to catch only one pass but it was a big one. He caught a deep pass from McGee over the defender and managed to stay in bounds. Holmes needs to get better at creating separation from defenders but that one catch showed his raw talent.
Tim Benford: B
The young rookie from Tennessee Tech led all receivers with 47-yards on three catches, but that most likely will not be enough to keep him on the team.
Tight Ends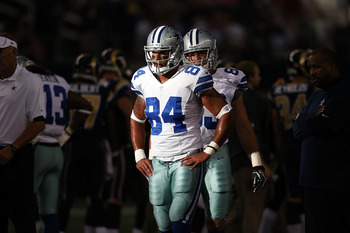 Ronald Martinez/Getty Images
James Hanna: A-
Hanna showed excellent blocking skills as he played in the starting lineup and also showed his good hands making two catches for 28-yards.
Andrew Szczerba: B
Szczerba is on the bubble, but his play tonight showed that he might be counted on if Jason Witten is not healthy enough to play the first few games. Szczerba had two catches for 27-yards and one catch went for a first down.
Offensive Line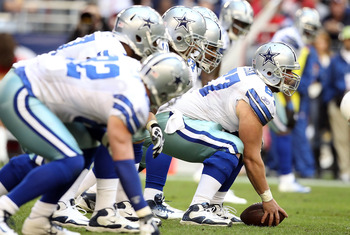 Christian Petersen/Getty Images
Tonight's starters, Phil Costa, Pat McQuistan, Daniel Loper, Jeremy Parnell, Derrick Dockery: B+
Phil Costa was the lone starter for the Cowboys tonight, but he needed the work coming off an injury. The starting line only allowed one sack of QB Stephen McGee and opened plenty of running lanes allowing the Cowboys running backs to rush for 238 yards.
Backups: B-
The backup linemen were also solid tonight as they blocked for Olawale and Dunbar. Most of the rushing was gained in the second half when this group was on the field.
Defensive Line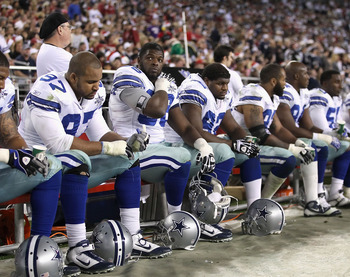 Christian Petersen/Getty Images
Starters Tyrone Crawford, Josh Brent, Clifton Geathers: B
The defensive line was solid tonight and held the Dolphins rushing attack at bay. They did not allow a single rush over 20-yards and held the Dolphins with a third down conversion until late in the third quarter.
Linebackers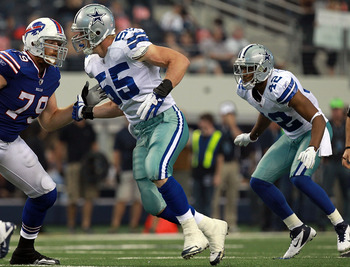 Ronald Martinez/Getty Images
Victor Butler: B+
Butler was all over the field again tonight. He has been excellent this preseason and will continue to see playing time in the regular season.
Orie Lemon: A
Lemon is another undrafted free agent making noise this preseason. He had five tackles and an interception returned for a touchdown in the second quarter. Dallas will have a hard time getting him through waivers if he does not make the final 53.
Alex Albright: A+
Albright continues to have an exceptional preseason and he finished the game with 11 tackles, eight of those were solo tackles, one tackle for a loss and one sack. It is hard to see the Cowboys keeping Albright off the final roster.
Defensive Backs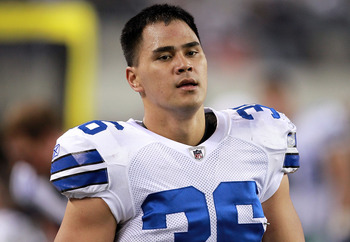 Ronald Martinez/Getty Images
Starters Mario Butler, Mana Silva, Akwasi Owusu-Ansah, Lionel Smith: B+
The secondary was solid all night and contested almost every pass caught by Dolphins receivers. Better news for the Cowboys is that they did not allow a single pass play over 20 yards and only allowed five caught passes over 10-yards. That is much improved from these young reserves.
Special Teams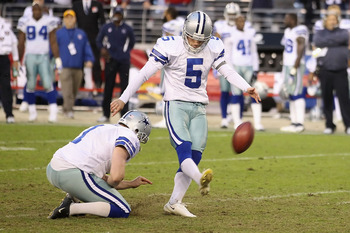 Christian Petersen/Getty Images
OVERALL GAME GRADE: B
Rookie Dan Bailey was perfect on his field goal attempts and the coverage units showed the ability to get down and cover both kick-offs and punts very well. The Cowboys only concern on special teams continues to be their inability to generate a spark returning punts and kick-offs.
Q4 – A
The Cowboys coverage units continued to show improvement and they held Miami to the 20-yard line on the only kick-off of the quarter.
Q3 - A-
Can you say Lance Dunbar? The undrafted rookie running back showed off some impressive returns skills getting away on a punt return for a nice 27-yard return.
The kick-off and punt coverage units continued to show improvement and have not allowed the Dolphins any big returns.
Q2 - B+
Dallas did not have any returns in the quarter, but their kick-off coverage and field goal units looked solid. Bailey was perfect on his two field goal attempts of 25 and 30-yards and Miami did not have a return past the 25-yard line.
Q1 - D-
The Cowboys return game continues to struggle. They had to settle for two out of three touchbacks during the Dolphins three kick-offs and had a fair catch on the only punt. The big miscue came on the only kick-off the tried to return.
Teddy Williams took the ball out of the end zone and fumbled at his own 33-yard line setting up the Dolphins for their second field goal of the period.
Pregame
Over the past few seasons, the Cowboys special teams have not been special. Dallas needs to improve in the return game, and tonight, it figures to use several players to return both punts and kicks. Special teams coordinator Joe DeCamillis will try to find someone other than Dez Bryant or Felix Jones to become that returner.
Coaching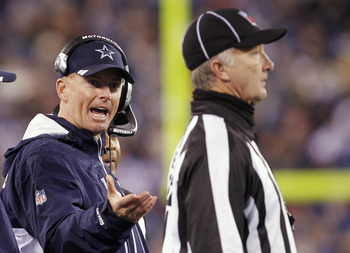 Rich Schultz/Getty Images
OVERALL GAME GRADE: A-
Garrett was able to take his foot off the pedal and cruise into the regular season. There were no major injuries to report and he will have plenty of tape in which to evaluate players.
Q4 - A
Garrett kept the pressure on his players, especially Rudy Carpenter, throughout the final quarter. He continued to call situational plays throughout the final whistle, even allowing the offense to line up in victory formation for the final snap.
Q3 - B+
Jason Garrett saw plenty of good things from his offense and QB Stephen McGee to make changes in the second half. Garrett shook up the offensive unit to get good looks at some players on the bubble and he has to like what Lance Dunbar had to show him.
Q2 - C
Jason Garrett and the Cowboys continue to have difficulties with time management. Near the end of the half with the Cowboys driving inside the Dolphins red zone, McGee completed a pass to Coale with fourteen seconds left on the clock at the Miami 12-yard line, Garrett allowed the clock to tick down until McGee finally spiked the ball with four seconds.
With the problems the Cowboys had last year at the end of games, Garrett needs to get his time management skills squared away prior to the start of the season.
Q1 - A-
Jason Garrett did not have many difficult calls to make in the quarter. Garrett only has to wonder whether it was prudent to rest all his starters for the entire game. There are some players, especially a couple of rookies, which will be counted upon once the regular season starts. Only time will tell if he has made the right choice.
Pregame
Head coach Jason Garrett will look to take it easy tonight, especially with the offense. With the season opener against the Giants only one week away, Garrett will make sure his starters are rested, prepared and focused on the Giants.
Keep Reading

Dallas Cowboys: Like this team?