5 Strategic Changes the L.A. Lakers Need to Make in 2012-2013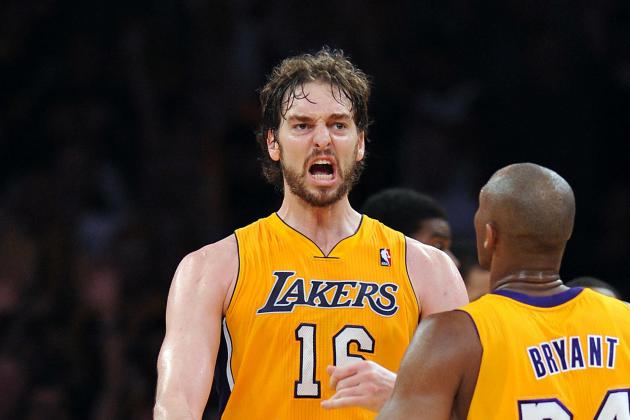 Jayne Kamin-Oncea-US PRESSWIRE

The Los Angeles Lakers have been talk of NBA free agency this summer, and for good reason.
Not only was L.A. able to fill a huge area of need by securing a top-5 point guard in Steve Nash, the Lakers were also shrewd enough to land Dwight Howard to compliment Nash, Kobe Bryant and Pau Gasol, giving them arguably the best starting five in the league.
After back-to-back second-round playoff exits, not only did the Lakers need to upgrade their roster but they also need a change of strategy to max out the considerable talent on their roster.
NBA success doesn't come without proper use of the talent on hand. A great example of this would be the 2003-2004 Lakers, who stacked their roster with future Hall of Famers only to be upset a well-managed Detroit Pistons squad.
With that in mind, let's examine five critical strategic changes the Lakers need to make for the 2012-2013 season that will put them in great position to win the NBA title.
Begin Slideshow

»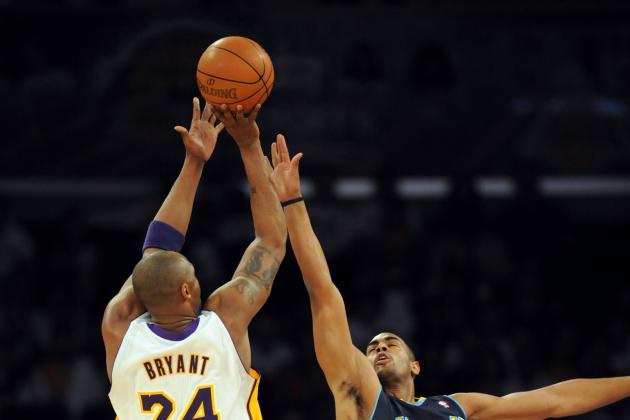 Jayne Kamin-Oncea-US PRESSWIRE

Over the last couple seasons, the Lakers offense has lived and died with Kobe taking a high volume of difficult shots, which has resulted in a drop in shooting percentage during that span (from .467 in 08-09 to .456, .451 and .430 from '09-12, respectively). Even with Andrew Bynum emerging as an All-Star in 2011-2012, the Lakers displayed very little balance to keep Bryant and Bynum from facing constant double- and triple-teams.
The Lakers need to implement an offensive game plan that best utilizes the skills of Steve Nash, the best pick-and-roll player in the NBA since John Stockton, and the finishing ability of Dwight Howard, the most athletic and mobile center in the league.
Nash and Howard's P&R action takes Kobe away from being the primary ball handler and allows him to run off multiple back screens, creating mismatches in multiple areas on the floor.
Also, by taking Bryant off the ball, his turnovers will be limited as he will be in more of an attack mindset. Bryant's shooting percentage will also improve as he should receive more open looks and easy layups than he has in years.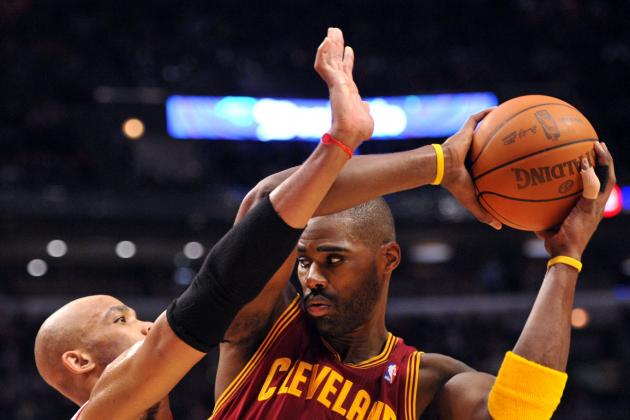 Rob Grabowski-US PRESSWIRE

Another glaring issue for the Lakers has been their weak bench play, which has been among the worst in the league. Matt Barnes and Josh McRoberts have been replaced with Earl Clark, Jodie Meeks, Chris Duhon and Antawn Jamison, all immediate upgrades over their predecessors.
Where the bench has a huge advantage for next season is that they have a number of players capable of playing multiple positions.
Both Jamison and Clark can play both forward positions on offense and defense, with re-signed athletic forward Jordan Hill able to play both the PF and center position in relief of Howard and Gasol.
Meeks is one of better shooters in the league, and Duhon is a plus defender, which is an upgrade over Steve Blake, who also still remains on the roster.
The Lakers have more offensive firepower and versatility on their bench for 2012-2013, making them much deeper than some would initially think.
A deeper roster also allows the coaching staff to rest their aging starters throughout the season, saving them for the playoff run.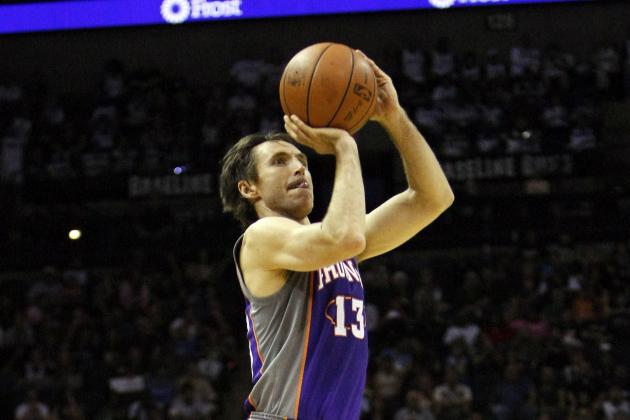 Soobum Im-US PRESSWIRE

With post players the caliber of Howard and Gasol, the Lakers need to surround them with shooters to keep defenses honest.
The Lakers finished 19th in the NBA in three-point attempts, 23rd in three-point makes and only 25th in three-point percentage (.326).
With the addition of Nash, the Lakers added one the best outside shooters in NBA history with a career .428 shooting percentage from long range. Jodie Meeks is also an advanced three-point marksman (.371 career from behind the arc).
Throw Jamison into the mix, who is an effective long ranger shooter in his own right, and a better conditioned Metta World Peace, and the Lakers can feature a lineup with at least three 3-point shooters at virtually all times.
That type of spacing is difficult for opposing defenses to counter.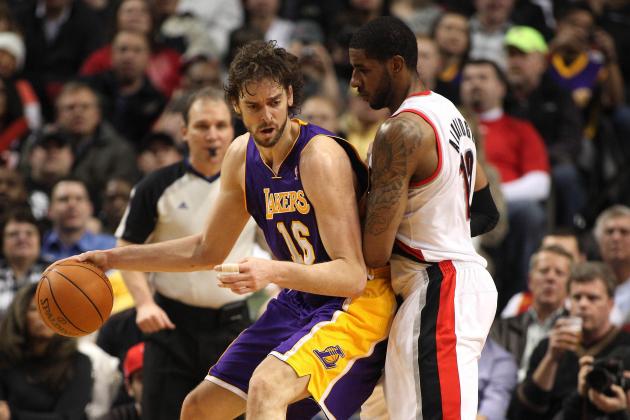 Craig Mitchelldyer-US PRESSWIRE

Pau Gasol has developed a reputation of being a "soft" player, whether deserved or not. Gasol's inconsistent play last season didn't do much to expel that label, but that may be due more to the positions Gasol was put in offensively than anything else.
Last season, Gasol spent a lot of time in the mid range, and took a lot more jumpers than in prior years (66% of Gasol's attempts were jumpers in '11-12, compared to 55% in '10-11 per 82games.com). Gasol is indeed capable of knocking down a 20-footer, but where the skilled Spaniard is most effective is on the block.
Bynum received the majority of the Lakers' post touches last season and Howard will see his fair share once he returns from his back injury.
Even then, the Lakers need to feature Gasol in post-up situations more often and allow him to create for either himself or his teammates, as Gasol is an exceptional passer for a 7-footer.
The Lakers will have a plethora of options offensively, and about 13-to-15 shot attempts closer to the basket for Gasol should be included in the game plan on a nightly basis.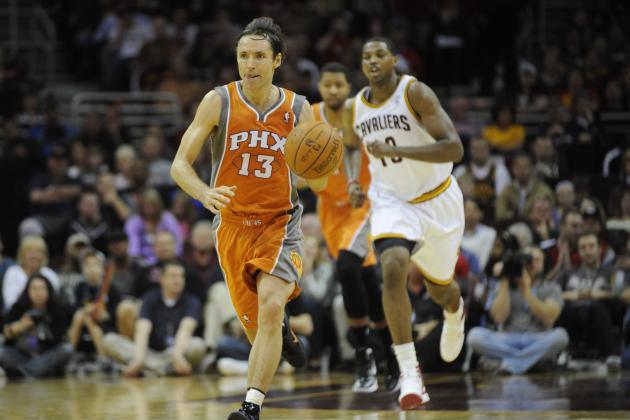 David Richard-US PRESSWIRE

The Lakers are far from the youngest team on the league, but that doesn't mean that they can't run.
Steve Nash is one of the most creative passers in the NBA with exceptional court vision. Dwight Howard runs the floor like a forward and Kobe Bryant still has some juice in those knees, despite going in to his 17th season.
The defense of MWP, Kobe and Howard should be able to create enough turnovers to allow the Lakers to run smarter, not harder. Also, with a deeper bench the Lakers will be able to rotate the youth of Clark, Hill, Devin Ebanks and Duhon into the game to always keep a fresh unit on the floor.
They don't need to be "showtime," but the Lakers need to run enough to wear opponents down for the fourth quarter. The Lakers have all the pieces to be successful in 2012-2013. With a few strategic adjustments, the Lakers are a serious contender for the NBA Finals.