Ranking MLB's 10 Scariest Stadiums to Play in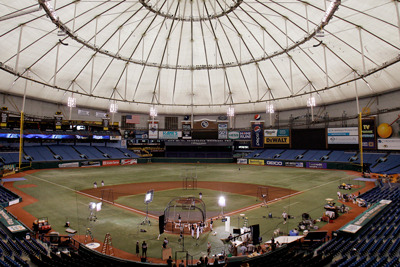 Photo Credit: Business Insider
When it comes to Major League Baseball's ballparks, there are some that are absolutely stunning examples of pristine fields of play.
Others are not so lucky. Not necessarily for reasons that might come across as the most obvious.
In an effort to put together a list of the "scariest" ballparks in Major League Baseball, one must first examine how the term "scary" can translate into baseball as a whole.
Initially, I took to Twitter, asking current and former ballplayers to give me their top three scariest ballparks in baseball.
From that experiment, Alex Cora advised me that the old County Stadium in Milwaukee had a scary visitors clubhouse.
Trevor Bauer made it known that no ballparks scare him.
How then, could a ballpark come across as scary for a player to actually play in?
Now, please be aware, this list is for fun. There is in no way that a professional ballplayer actually is scared to play anywhere.
That said, here is a look at what can be considered the 10 scariest ballparks in all of Major League Baseball.
Begin Slideshow

»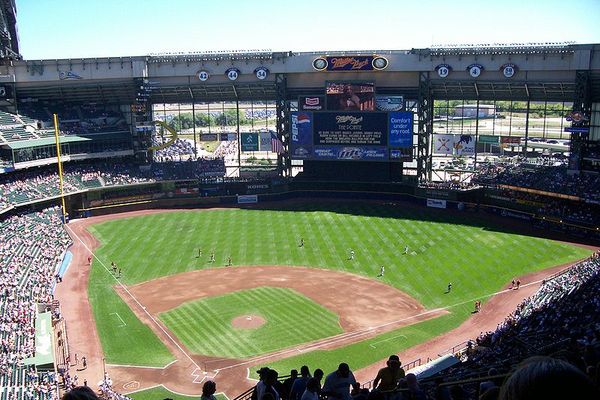 Photo Credit: Wikipedia
How on earth does Miller Park make this list? It was only built in 2001 and is gorgeous!
Both are very valid points.
This is where the definition of "scary" has to be relative. Coming to pitch at Miller Park can be a downright nightmare for opposing pitchers.
The Brewers' home field leads the league with a 1.742 home run park factor, and is fifth in baseball with a 1.238 run metric.
It may seem like such an arbitrary statistic, but when any park allows for more home runs than the thin air in Colorado, that is saying something.
What's more appalling? ESPN's Jim Caple rates the beer at Miller Park the third worst in all of baseball. To a fan, that's downright terrifying!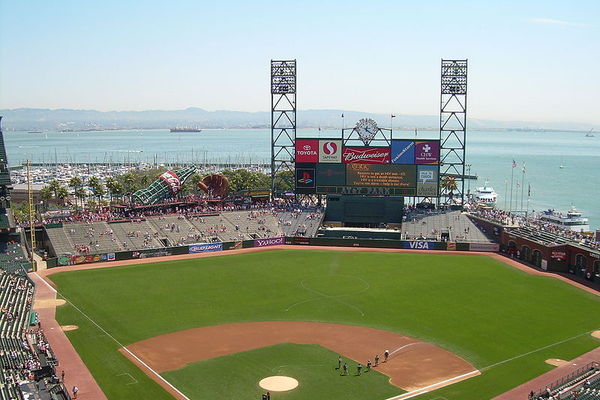 Photo Credit: Wikipedia
Over the course of his career, Barry Bonds knocked 160 home runs out of the stadium known as AT&T Park in San Francisco.
He may have hit more than every other player in baseball history, combined.
Surely, I jest; however, AT&T is absolutely a pitchers' park these days. A sworn enemy to hitters around baseball.
The park offers the second-lowest run allowance (0.686) and the lowest in home run allowance (0.496) in accordance with the team's park factor.
Beyond that, taking a look at the team history, many fans believed that the Giants, and by direct correlation AT&T Park, were cursed by Captain Eddie Grant.
Grant was a New York Giants outfielder who died in World War I. As a tribute to the man, the Giants honored him with a center-field plaque at the Polo Grounds, but his plaque was lost when the Giants moved to San Francisco.
In an effort to right the wrong, the Giants tried to create a replica plaque which coincidentally was cracked...twice...during its construction.
Now, with the plaque having a home next to the elevators at AT&T Park and the Giants having a World Series championship under their belts, the team appears to no longer be cursed.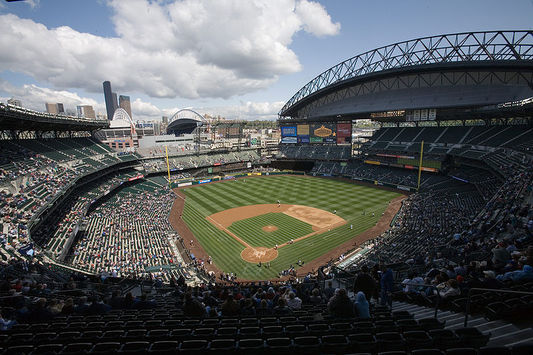 Photo Credit: Wikipedia
Other than the New York Yankees, the Texas Rangers and Seattle Mariners are still feeling the effects of The Curse of Alex Rodriguez.
While the Rangers have made it to two World Series since A-Rod departed, they have come up empty-handed.
The Mariners haven't been fortunate enough to have seen that much success. Having the lowest run (0.656) and second-lowest home run (0.528) park factors does not exactly open up many possibilities for sustained offense.
While beautifully constructed, it is a park where offense apparently goes to die. That my friends is scary for any hitter.
Photo Credit: Wikipedia
Freddy Krueger.
Jason Voorhees.
Michael Myers.
Leatherface.
Pinhead.
Chucky.
What do all of these horror movie icons have in common with Marlins Park? All are aesthetically more pleasing than that damn moving statue they have in center field.
Seriously...children have nightmares about that thing. It's just not right.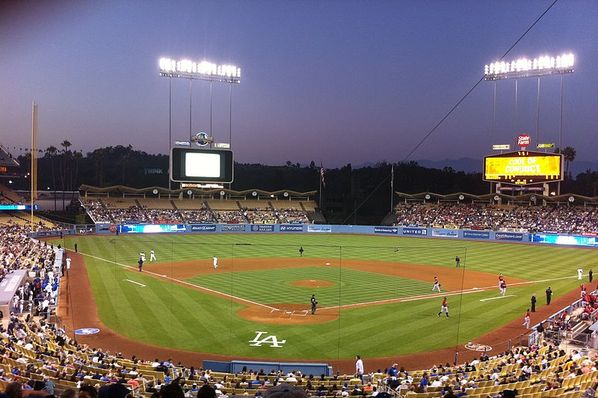 Photo Credit: Wikipedia
It has been said that Dodger Stadium is haunted.
The story goes that Dodger Stadium rests on the land of a former Mexican American community Chavez Ravine that was leveled and cleared for the construction of the park.
As legend has it, there was a couple on their honeymoon taking in the sights of L.A. from the hillside, which is now the southernmost edge of the stadium. The husband lost his footing and plummeted to his death.
The wife, grief-stricken, followed suit.
To this day there are rumblings that you can see a woman in white plunging over the cliff. Beyond that, there has been a mist often seen among the park.
For those familiar with the paranormal, the appearance of a sudden mist is supposedly an indication of a ghost trying to manifest itself.
Digging deeper, with Don Mattingly as the manager of the team, perhaps the Dodgers are now the victim of the curse of Donny Baseball.
The New York Yankees made the World Series the year before Mattingly's rookie year and won the World Series the year after he retired in 1996.
That success continued in 1998, 1999 and 2000, and with pennants in 2001, 2002 and 2003. Mattingly returned to the Yankees as hitting coach in 2004, and the Yankees didn't win a pennant again until he came to L.A.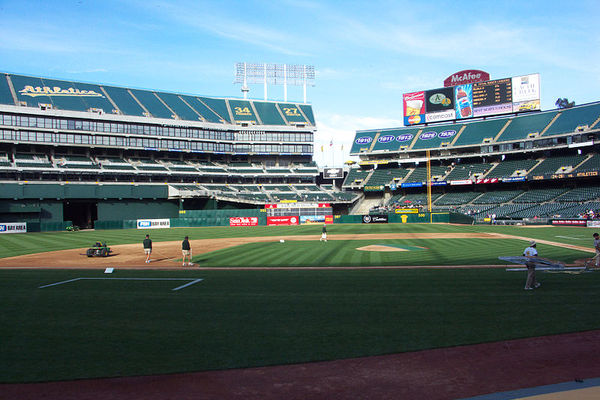 Photo Credit: Wikipedia
Ghosts and curses can be mighty scary, that's for sure. However, Oakland has its share of scary things going on.
First, the fact that the Athletics are forced to play in a football stadium is just awful.
Even if a fan purchases front-row tickets to a game, they are still about 30 yards away from any action. Being in a converted football stadium allows for the players to consistently look at empty seats, which can be rather intimidating.
Photo Credit: Wikipedia
A team can spend as much money as they want on players and stadium renovations, but if they're cursed, bigger problems exist.
So goes the story with the Angels.
It is well known that Gene Autry, the Cowboy, was the owner of the Angels for the first 30 years of the team's existence.
Supposedly, Angel Stadium was built upon an Indian burial ground and the team was cursed.
While it would appear winning the World Series in 2002 may have ended that curse, I'm not ruling out the possibility of the rock sculpture coming to life, a la that creepy tree from Poltergeist, and grabbing a hold of Mike Trout, terrifying the fans in the stadium.
Where's Craig T. Nelson when you need him?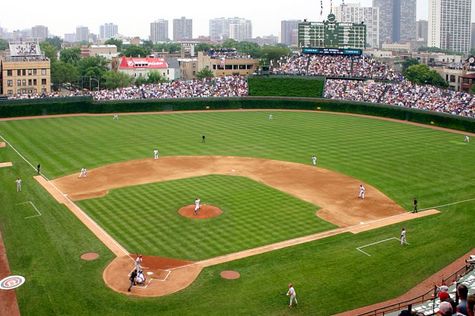 Photo Credit: Wikipedia
Arguably the last remaining cursed ballpark in all of baseball, Wrigley Field has seen more than its fair share of spooky happenings.
First of all, any place that is deemed cursed is in a rough way.
There was the Billy Goat.
Then, of course there was the Black Cat.
Lest we forget about Chicago's most beloved man, Steve Bartman?
Other than the obvious case for the field and team being cursed, there is the fact that the park is 98 years old. It is the only park in baseball with a ivy-covered brick wall.
As charming as the ivy-covered walls can be in Chicago, for players those same walls could be a dreadful opponent. There have been many instances whereby outfielders have been injured slamming into the wall chasing down fly balls.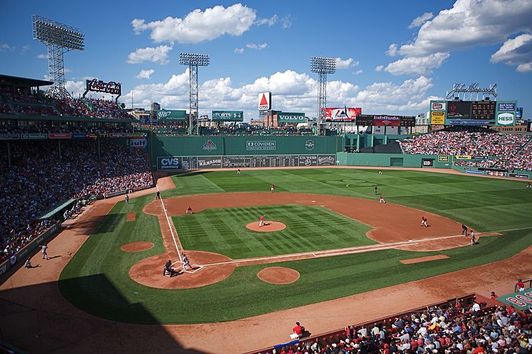 Photo Credit: Wikipedia
Believe it or not, the scariest thing about Fenway Park is not the $8.25 they ask for a Bud Light (which is the most expensive in all of baseball.)
For opposing batters, the Green Monster can be an imposing figure.
Oh, and then of course there was that whole 86-year Curse of the Bambino thing.
While the curse was supposedly broken in 2004 and 2007, the Red Sox have been anything but a fortunate team since then.
Fenway Park, for all of its history, is one of the hardest and scariest parks in which to play outfield. It has some of the oddest angles and dimensions in baseball, which could confound even the best Gold Glove fielders.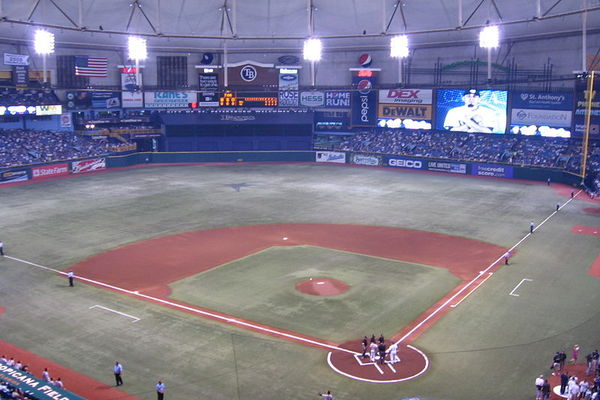 Photo Credit: Wikipedia
Ahh, Tropicana Field.
The Tampa Bay Rays' home field is scary in the same way that you might describe an ugly blind date to your best friend..."Dude, I met this chick and it was just scary."
Something like that.
The park is very cold and hospital-like in its less-than-appealing ambience.
Even more than that, the Trop has the universally hated catwalks.
Referring back to ESPN's Jim Caple's Battle of the Ballparks, Tropicana Field has the third worst landmark in baseball: A, B, C and D rings.
They also have the third-worst view in baseball, the back wall.
If any ballpark is scary, it has to be the Trop. What's scarier? The Tampa Bay Rays are stuck there until 2027.