Maryland Basketball: Game-by-Game Breakdown of the Terps 2012-13 Schedule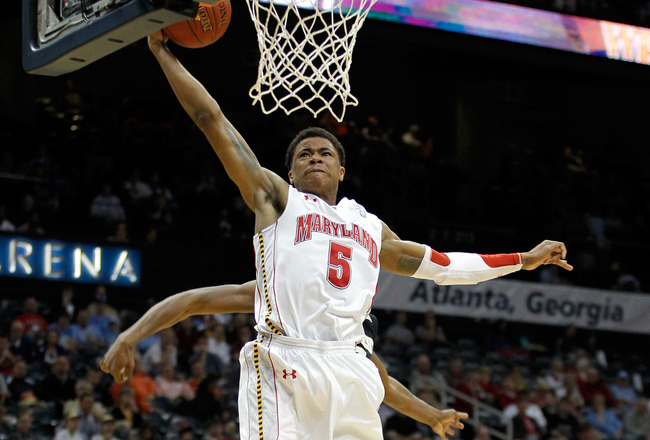 Nick Faust
Streeter Lecka/Getty Images
Maryland only graduated two seniors from its 2011-12 roster, but ended up with five departures this offseason.
ACC leading scorer Terrell Stoglin and small forward Mychal Parker were both suspended for one season following a drug test, and both opted to leave the program for good. Ashton Pankey transferred to Manhattan.
This season, the Terps bring in five freshmen replacements, led by ESPN 100 players Shaquille Cleare and Jake Layman.
As Maryland looks to improve on its 17-15 record and participate in the 2013 NCAA tournament, here is a game by game breakdown of the newly released 2012-13 Maryland basketball schedule.
November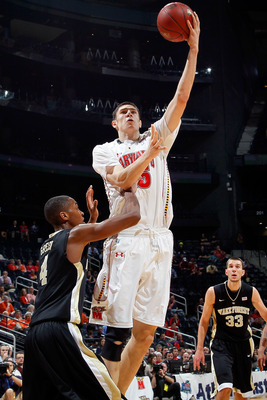 Alex Len
Kevin C. Cox/Getty Images
11/9 Kentucky (Barclays Center) - Loss
Maryland could not have asked for a better resume-building opportunity to open their 2012-13 season. Unfortunately, Kentucky possesses the firepower to blow Maryland out right out the gate if the Terps aren't prepared.
This prediction could change if Nerlens Noel is determined to be ineligible. The NCAA is currently investigating UK's recruitment of Noel back in New Hampshire, and his absence will help Maryland center Alex Len jump-start his sophomore campaign.
11/12 vs. Morehead State - Win
Morehead State averaged just 31 rebounds per game last season, which is something Maryland will be able to take full advantage of.
11/16 vs. LIU-Brooklyn - Win
LIU-Brooklyn is fresh off of a NCAA Tournament appearance after winning the NEC in 2011-12. Jason Brickman and Julian Boyd are both mid-major stars, but comparatively, the Terps are supremely talented.
11/20 vs. Lafayette - Win
This matchup against Lafayette should serve as nothing more than a warm-up for younger players to gain some experience.
11/24 vs. Georgia Southern - Win
Again, just another confidence-builder for Maryland.
11/27 @ Northwestern - Win
Maryland was given Northwestern in the annual Big Ten-ACC Challenge. The Wildcats should finish towards the bottom of the Big Ten this season, but that does not mean this game is an easy win for Maryland.
Drew Crawford will replace John Shurna as Northwestern's go-to guy. If Nick Faust can use his athleticism to deter Crawford's production, Maryland will most likely end November on a high note.
So far: 5-1 (0-0)
December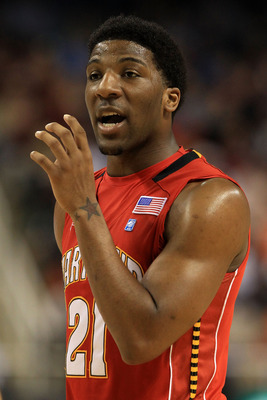 Pe'Shon Howard
Streeter Lecka/Getty Images
12/2-George Mason (Verizon Center) - Loss
George Mason continues to be one of the most overlooked mid-major teams in the nation. The Patriots can definitely present matchup issues for Maryland, even though their two leading scorers from last season, Ryan Pearson and Mike Morrison, both graduated.
Maryland lacks the quickness to keep up with high-level guards, which is what George Mason has in its favor. The junior trio of Vertrail Vaughns, Bryon Allen and Sherrod Wright will create havoc on the perimeter that Maryland will struggle to contain.
12/5 vs. Maryland Eastern-Shore - Win
Maryland Eastern-Shore placed towards the bottom of a very thin MEAC last season. Maryland should have no issues here.
12/8 vs. South Carolina State - Win
South Carolina State is the only school to finish lower in the MEAC than the aforementioned Maryland Eastern-Shore. An easy win for the Terps.
12/12 vs. Monmouth - Win
Once again, this matchup should present zero problems for Maryland, as Monmouth was one of the worst rebounding teams in the nation last season.
12/21 vs. Stony Brook - Win
Stony Brook won the 2011-12 regular season America East title because of rebounding, but they won't beat Maryland if they continue last season's futile trend of scoring.
12/29 vs. Delaware State - Win
This matchup should scare Maryland fans a bit just because of Maryland's tendency to struggle defending opposing scoring guards. Still, Maryland should close out December with a win.
So far: 10-2 (0-0)
January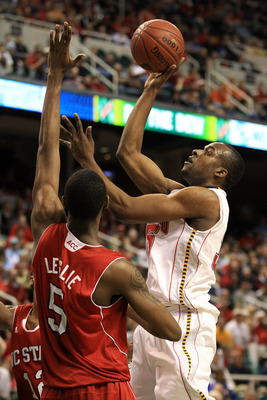 James Padgett
Streeter Lecka/Getty Images
1/1 vs. IUPUI - Win
A nice, easy win against IUPUI should cap off a successful non-conference slate.
1/5 vs. Virginia Tech - Win
New Hokie coach James Johnson inherits a depleted Virginia Tech roster following the decommitment of Montrezl Harrell and transfer of Dorian Finney-Smith. Those weaknesses open the door for Maryland to grab its first ACC victory.
1/9 vs. Florida State - Win
Florida State boasts two high-profile, battle-tested wings in Michael Snaer and Ian Miller, but is too inexperienced in the low post and at point guard to win on the road this early into conference play. Maryland junior Pe'Shon Howard should dominate FSU's freshman point guards as long as he remains healthy.

1/13 @ Miami - Loss
Maryland virtually never beats Miami in Coral Gables. This year, the Terps just do not have the guard personnel to slow down sophomore Shane Larkin. Shaquille Cleare's defense will be imperative in minimizing Reggie Johnson's production for Miami, but the Hurricanes should continue their home dominance against the Terrapins.

1/16 vs. NC State - Loss
Maryland only has to deal with Mark Gottfried's loaded NC State roster once this year, and they'll be home at the Comcast Center. While Maryland can contend with the NC State's greatest asset, depth, the Wolfpack have a sizable advantage athletically that will be too tall of a task for Maryland to handle.

1/19 @ UNC - Loss
Maryland has five freshmen who will have never experienced an atmosphere like the one they will encounter against the Tar Heels in January. The Terps are simply outmatched by North Carolina.

1/22 vs. Boston College - Win
BC returns several important pieces from 2011-12, but that squad finished with nine overall wins. Talent wise, Maryland has a clear edge, and will most likely come out on top.
1/26 @ Duke - Loss
Duke will deal will its fair share of struggles on the road due to its probable point guard-by-committee system, but the Cameron Crazies push the Blue Devils over Maryland in this meeting. Andre Dawkins and Seth Curry are lights out from three on their home floor.
1/30 @ Florida State - Loss
Look for FSU's Okaro White to be the difference in this matchup. White's production and physicality will only increase once he no longer lacks ACC experience.
So far: 14-7 (3-5)
February/March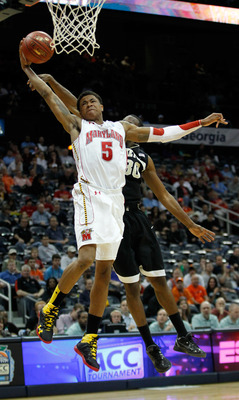 Nick Faust
Streeter Lecka/Getty Images
2/2 vs. Wake Forest - Win
Wake Forest will miss point guard Tony Chennault, who transferred to Villanova, and his absence will be highlighted in this matchup. Many ACC teams seem to be fearing the high scoring tandem of Travis McKie and CJ Harris, but Maryland returns the pieces that quieted that duo last season.
2/7 @ Virginia Tech - Win
Erick Green is the only serious offensive weapon that Virginia Tech brings, and even he struggles to create his own shot. Maryland's length on the wings with Nick Faust and Jake Layman will be the difference and ultimately lead to a season sweep for Maryland.
2/10 vs. Virginia - Loss
This game against Virginia is the definition of a trap game. Maryland should be coming off of two consecutive victories and looking ahead to a huge matchup against Duke later that week with a mediocre opponent beforehand. Virginia and ex-Maryland commit Justin Anderson can catch the Terps off guard and grab a win.
2/16 vs. Duke - Win
While attendance at the Comcast Center has been subpar in recent years, the student section still tends to show up for games against Duke. Factor in that this game falls on a Saturday, and surely the back wall of the arena will be flooded with rowdy Terp fans. Every NCAA bubble team needs a signature victory, and the Terps get theirs here.
2/19 @ Boston College - Win
Even though Maryland is on the road, they still undoubtedly carry the pieces to knock off a below-average BC squad for a second time and complete the season sweep.
2/23 vs. Clemson - Loss
The Terps only meet Clemson once this season. The Tigers have fallen under the radar significantly due to senior departures, but with an experienced frontcourt duo of Milton Jennings and Devin Booker, look for Clemson to squeeze out a close one in College Park.
2/27 @ Georgia Tech - Win
Incoming freshmen Robert Carter for GT and Shaquille Cleare for Maryland will have a terrific interior battle in the lone matchup between these two teams. Aside from that, Maryland has the pieces to control the tempo and ultimately, the outcome, of this contest.
3/2 @ Wake Forest - Win
Maryland should once again complete another season sweep of an inferior ACC opponent in Wake Forest. Look for the Terps to aggressively attack Arnaud Adala Moto after he chose to attend Wake Forest following a Maryland scholarship offer.
3/6 vs UNC - Loss
North Carolina is the only team that I see taking both the home and away games against Maryland. Roy Williams definitely has the personnel to replace what he lost to the NBA, and those players should be able to outmatch Maryland's young roster for a second time.
3/10 @ Virginia - Win
Shaquille Cleare, Alex Len, James Padgett and Charles Mitchell all should be able to have a field day against Virginia's weak and depleted low post. Again, if the Terps can eliminate Erick Green, Maryland should finish off the regular season on a winning note.
So far: 21-14 (10-8)
With one win in the ACC Tournament, Maryland should be one of the last teams in the NCAA Tournament field with 22 wins. If they can get a 23rd win in Greensboro, they should cement their spot in the field, possibly as an 11 seed.
Keep Reading

Maryland Terrapins Basketball: Like this team?