The 10 Worst Jobs in the NHL
Bruce Bennett/Getty Images

The version of hockey played in the NHL is difficult under the best of circumstances.
There are some jobs that may seem ideal, such as Ed Olczyk's when he gets to do color commentary while sitting next to the erudite Mike Emrick in the NBC booth at a nationally televised game.
Or perhaps it's Marty St. Louis, who has the stellar job of feeding the puck to the explosive Steven Stamkos on a Tampa Bay Lightning power play.
However, there are many jobs around the league that are all but impossible. Here's a look at 10 of the worst jobs associated with the NHL.
Begin Slideshow

»
Your name is Scott Howson and you are the general manager of the Columbus Blue Jackets.
You have the only major league sports franchise is a town that is dominated by the Ohio State college football Buckeyes. If you understand Columbus, Ohio State football is the only thing that matters.
Ohio State basketball gets the attention once football season is over, but it is in football's shadow.
The Blue Jackets finished the 2011-12 season with the worst record in the NHL at 29-46-7. They scored 202 goals and gave up 262 goals.
The Blue Jackets have been in the NHL since 2000-01, and they have made the playoffs once, following the 2008-09 season. They were swept by the Detroit Red Wings in four straight games.
During this offseason, they traded their lone superstar, high-scoring winger Rick Nash, to the New York Rangers. The Blue Jackets did not get any superstars in return for Nash.
Life is difficult when your name is Howson and you are the general manager of the Columbus Blue Jackets, because it is your job to put a competitive team on the ice.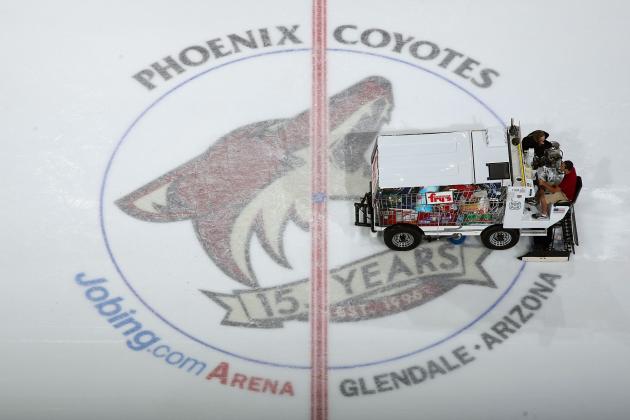 Christian Petersen/Getty Images

It's one thing to drive the Zamboni in Montreal, Detroit or Buffalo, because you are living in an environment with cold weather.
However, when you are driving the Zamboni in Phoenix and it's your job to make sure the players have "good" ice at the start of each period, you have your work cut out for you.
Especially in October at the start of the season and once you get to hockey played in March and beyond.
The building will get warm, especially for playoff games. Your ice is not going to be smooth. It will be chunky and soupy. Players, coaches and officials will complain.
It is not your fault.
When you are an NHL player, it's a given that you are an expert skater.
That's the case for about 99 percent of the non-goaltenders in the league.
That is not the case for Philadelphia Flyers forward Scott Hartnell. Hartnell is a tough guy who is also a skilled player. He scored a career-high 34 goals last year.
However, Hartnell falls down on the ice. A lot.
So much so that it's become something of a gimmick. "Hartnell DOWN" t-shirts and slogans are seen and heard all over Philadelphia.
If you are Hartnell's skating coach, you have a difficult and terrible job. Your student can play the game—he just can't skate.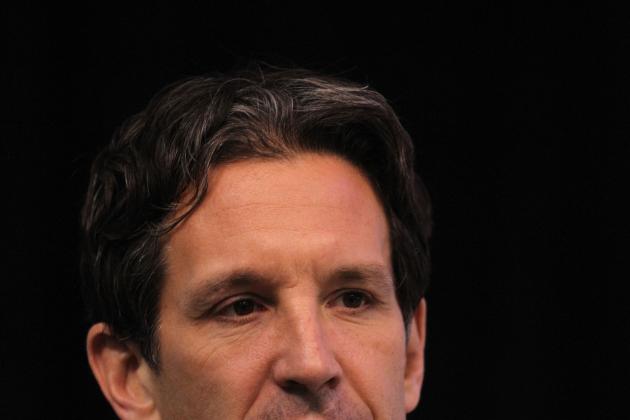 Bruce Bennett/Getty Images
Brendan Shanahan
The NHL wants to cut down on serious injuries due to illegal hits and undisciplined play.
As a result, the sports league has a chief disciplinarian to determine when players have broken the rules and to administer disciplinary penalties.
Colin Campbell filled that role for years, and former NHL star Brendan Shanahan took over that position at the start of the 2011-12 season.
Shanahan not only makes his decisions, he explains them on video so he can get his message across.
However, as in many aspects of the NHL, there's often a hue and cry when a suspended player has to face the discipline.
No matter how succinctly Shanahan explains it, his decisions bring out a chorus of "It's not fair" complaints from the players or their representatives.
No matter what Shanahan says, it seems he can't win.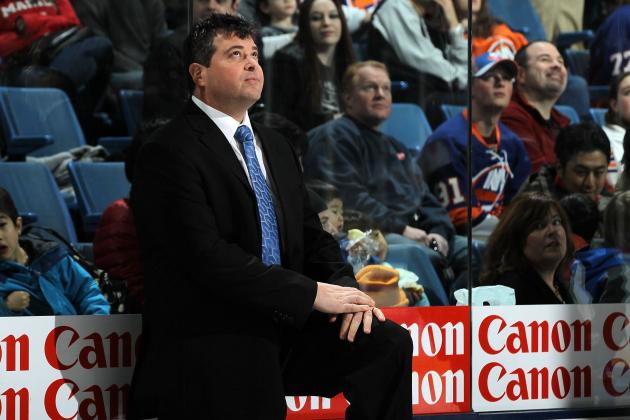 Jim McIsaac/Getty Images
Islanders head coach Jack Capuano looks pensively at the scoreboard.
If you are the head coach of the New York Islanders, you have a thankless job.
Jack Capuano currently holds that title.
The Islanders have failed to make the playoffs for five straight years. It doesn't look like it's going to get any better in the foreseeable future.
They play in a division with the New York Rangers, Philadelphia Flyers, the Pittsburgh Penguins and the New Jersey Devils. All of those teams are significantly better than the once-glorious, now-insignificant Islanders.
In addition to being over their head from a competitive aspect, the Islanders are often mentioned when it comes to franchises that may be on the move.
Coaching the Islanders is a painful and awful job.
There have been some brilliant broadcasters in the history of the NHL. The legendary Foster Hewitt, Danny Gallivan, Dan Kelly, Bob Wilson and Fred Cusick all come to mind.
Then there's Dave Mishkin, who broadcasts the Tampa Bay Lightning games. Mishkin is to hockey broadcasting what Paula Deen is to gourmet cooking. He's a screaming toad who needs to be turned off an instant after putting the Lightning broadcast on.
His awful calls nauseate listeners and hurt their ears. If you are producing one of the Tampa Bay hockey broadcasts and you are forced to listen to him for 60 minutes, you have one of the worst jobs in the world, let alone the NHL.
So you want to be an NHL official?
That means you have to break up brawls on a regular basis. It's not enough to blow your whistle and say "Stop."
These are big boys, and you have to get between them and risk life and limb every time there's a fight.
When one of the teams is the Philadelphia Flyers, the fighting comes naturally, and there are going to be a lot of fights to stop. It requires strength, an authoritative attitude and passion.
It's exhausting work.
When you are Mike Komisarek, you are going to put yourself at risk every time you take the ice.
Particularly if you are facing the Boston Bruins. In game against the Bruins, you will find your ancient rival Milan Lucic.
Komisarek took a nasty beating from Lucic last year (above) that was eerily similar to the beating Komisarek took from Lucic in 2008, when Komisarek was a member of the Montreal Canadiens.
Komisarek has showed he can take a beating, but he does not do so well when throwing punches of his own.
Komisarek's boxing coach has done a poor job of teaching him the basics of the fistic arts. He's going to have a hard time getting additional work from other NHL skaters.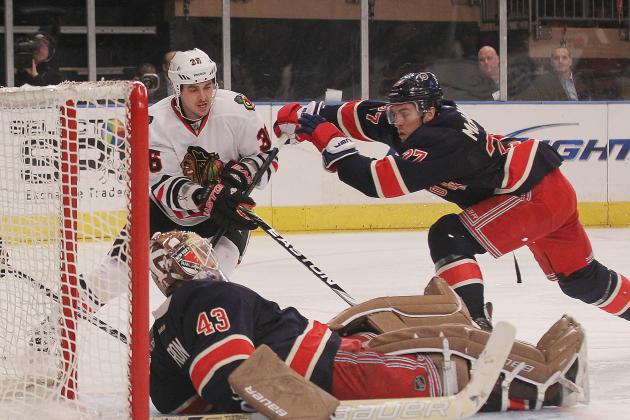 Bruce Bennett/Getty Images
Rangers' backup goalie Martin Biron doesn't get many chances to show off his skills.
If you are Marty Biron, you have one of the most difficult jobs in hockey.
You have to backup Vezina Trophy-winning Henrik Lundqvist.
That's a thankless job, because you have to practice hard every day and then go through workouts off the ice.
But come game night, all you do is take a seat on the bench and watch Lundqvist do his thing.
You may go two weeks or longer without playing.
Biron has a great attitude, but he only played in 17 games in 2010-11 and 21 games last year. That's unrewarding, and it stinks.
No matter how many times he says "Put me in, coach" to John Tortorella, he almost always remains on the bench.
On the surface, being the commissioner of the NHL should be one of the greatest jobs in sports.
You get to preside over perhaps the most exciting sport in the world.
But when you are Gary Bettman, your resume includes the 2004-05 lockout year. Gary Bettman and the NHL owners locked out players for a full season.
Pull the pages off the calendar all the way to the start of the 2012-13 season and it looks like another lockout could be at hand.
When Bettman was hired, one of his requirements was to prevent work stoppages. Now it seems like he encourages them.
Bettman is always greeted with boos every time he hands out the Stanley Cup at the end of the season.
The fans seemingly don't respect him, and it's because they have endured a truncated 1994-95 season, a full lockout in 2004-05 and a threatened lockout this year.