Texas A&M Football: Finalizing the Week 1 Depth Chart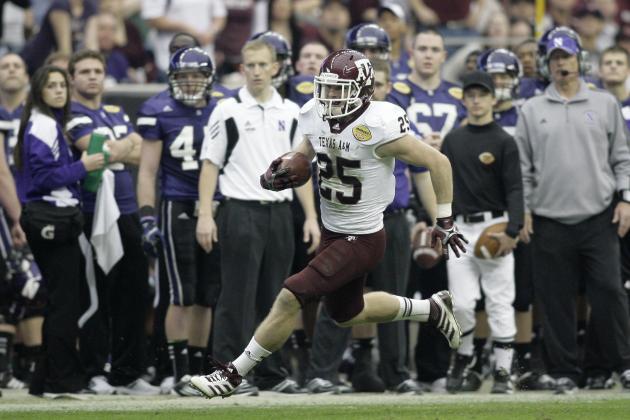 Brett Davis-US PRESSWIRE

The Texas A&M football team is about to finish an offseason full of change. The depth chart has been finalized by the coaches, and the first team players are receiving the majority of the practice reps. It is almost time for the football season to kick off in Aggieland.
There are a lot of surprises on the new depth chart as the Aggies got a lot younger at a few positions. The 2012 recruiting class has certainly made an impact and will get a chance make plays sooner rather than later.
The irony in this development is that four years ago when Sean Porter and Ryan Swope were freshmen, they were part of a group of 18 players who did not redshirt and played during their true freshman seasons.
Now that those players are seniors, there is a new group of freshmen who are going to play instead of redshirting. Every program has freshmen who are so good that they force their way onto the field. The issue comes when you are forced to play freshmen because of a lack of depth.
Right now, that is the situation that the A&M football team finds itself in at certain positions. When you require true freshmen to play at certain positions to shore up depth issues, you are going to struggle in the Southeastern Conference.
This is a look at the depth chart as the Aggies head into their first game of the season.
Begin Slideshow

»
First String: Johnny Manziel
Second String: Matt Joeckel
Manziel was named the starting quarterback halfway through Fall camp. As a redshirt freshman, his first pass against Louisiana Tech will be the first of his career.
Manziel played in a spread system in high school, and his 4.5 40-speed makes him a dual threat.
From all reports, Joeckel has played better than Jameill Showers during the fall practices. The third-year quarterback has never thrown a pass while at A&M. He too played in a spread system in high school, when he and his brother Luke Joeckel led Arlington (TX) High School deep into the playoffs during their senior year.
A&M is young at the quarterback position, but Sumlin has never had poor quarterback play at any team he has coached on. Expect the quarterback to be a position of strength for A&M in 2012.
First String: Christine Michael
Second String: Ben Malena
Michael is coming off ACL surgery but by all reports is healthy.
Last season, he rushed for 899 yards and scored six touchdowns while averaging six yards per carry.
If he can stay healthy, he will compete for All-Conference honors.
Malena filled in after Michael and Cyrus Gray were lost to injury in 2011. No one has made bigger gains under new strength coach Larry Jackson than Malena. He has appeared noticeably quicker during practices and scrimmages.
Malena's ability to catch the ball out of the backfield and pass block secured his second-team spot.
True freshman Trey Williams is running with the third team at running back, but he is the team's primary kickoff returner.
Williams will play in every game because he is dynamic with the ball in his hands. He is a threat to score every time he touches the football. He is running third team because he is not an accomplished pass blocker yet.
The Aggies have excellent depth at running back. If every position on the roster were as deep at the running back position then the Ags would be a threat to win the SEC title in 2012, not just a team hoping for a winning conference record and a bowl berth.
First String: Mike Evans, Uzoma Nwachukwu, Ryan Swope, Kenric McNeal
Second String: Derel Walker, Sabian Holmes, Malcome Kennedy, Thomas Johnson
The Aggies employ a four wide receiver set as their base formation, with two outside receivers and two slot receivers.
Evans and Nwachukwu earned the starting nods at outside receiver. Evans is a 6'5" former high school basketball star who should be a matchup nightmare in the red zone. Nwachukwu has one year left to live up to the promise he showed Aggies fans as a freshman.
Swope returns at the slot after setting school records for receptions and yards in 2011. He is an All-Conference and All-American candidate.
McNeal mans the other slot position. If McNeal can stay healthy then he should have a big year in this offense. He is very shifty after the catch and should have great yards-after-catch against the SEC defenses that will be spread out.
Johnson and Holmes are both true freshmen. They were brought in to add speed to the position. Expect them to step in and start if Nwachukwu or McNeal falter.
Thomas Campbell-US PRESSWIRE

First String: Michael Lamothe
Second String: Nehemiah Hicks
Lamothe is the starter because he has been healthy and he is more versatile than Hicks.
Expect to see Lamothe line up at tight end, in the slot at inside receiver and in the backfield as a blocking fullback.
Hicks is a tremendous athlete who can be a threat in the passing game. He needs to stay healthy and show more consistent hands.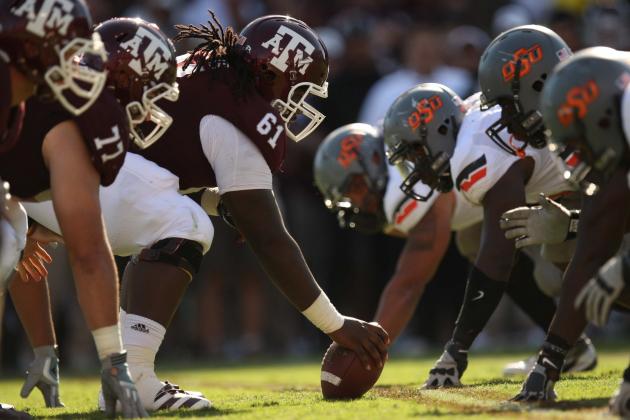 Thomas Campbell-US PRESSWIRE

First-String LT: Luke Joeckel
Second-String LT: Germain Ifedi
First-String LG: Jarvis Harrison
Second-String LG: Shep Klinke
First-String C: Patrick Lewis
Second-String C: Mike Matthews
First-String RG: Cedric Ogbuehi
Second-String RG: Ben Compton
First-String RT: Jake Matthews
Second-String RT: Joseph Cheek
The offensive line is the strongest part of the football team. All five starters will play in the NFL. Both tackles, Joeckel and Matthews, are All-Conference and All-American candidates.
Ogbuehi would be starting at left tackle for the majority of the teams in America. Lewis is a fourth-year starter at center.
Both Matthews and Ifedi are true freshmen. Sumlin wants them to see playing time in 2012 so that if they are starting in 2013 it will not be their first experience in the SEC.
First-String Strong-Side DE: Gavin Stansbury
Second-String Strong-Side DE: Julien Obioha
First-String Rush DE: Damontre Moore
Second-String Rush DE: Tyrone Taylor
Moore is the big name at the DE spot. He had 8.5 sacks as an OLB in 2011 and now gets to rush the passer full time as a defensive end.
Stansbury played up and down the defensive line in 2011 and should be solid at the strong-side position. His main focus is to stuff the run and hold the edge.
Obioha is a true freshman who played so well during fall camp that he forced his way into the two-deep. His emergence allowed Spencer Nealy to move to the interior.
Tyrone Taylor is another true freshman. At 6'3", 250 pounds, it will be interesting to see how he adjusts to the SEC.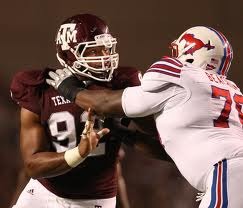 Photo by Thomascampbell.com
First-String NG: Kirby Ennis
Second-String NG: Jonathan Mathis
First-String DT: Spencer Nealy
Second-String DT: Ivan Robinson
This is the biggest weakness on the A&M team right now.
The Aggies simply do not have the bodies to match up for four quarters against SEC offensive lines.
Ennis and Mathis both have a lot of experience and should be solid. Nealy is an effort player who can be effective, but ideally would only play 20 to 30 snaps per game. Robinson is undersized at close to 260 pounds and is more of a third-down pass-rusher than an every-down interior defensive lineman.
This is the area where the Aggies have the biggest gap between the talent available and where they need to be in order to compete at an elite level in the SEC.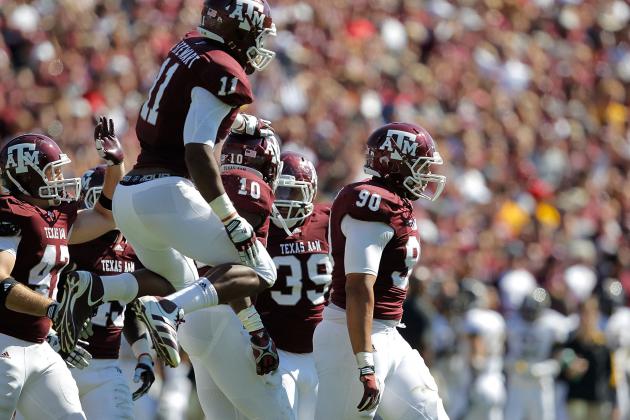 Sarah Glenn/Getty Images

First-String WLB: Steven Jenkins
Second-String WLB: Donnie Baggs
First-String MLB: Jonathan Stewart
Second-String MLB: Justin Bass
First-String SLB: Sean Porter
Second-String SLB: Michael Richardson
This is arguably the strongest position on the Aggies defense. Jenkins, Porter and Stewart all started and performed well in 2011.
Porter is a difference-maker should will compete for All-Conference honors. Stewart is solid against the run. Jenkins has impressed the coaches during the offseason.
Richardson is a true freshman who played defensive end in a 3-4 scheme in high school. It will be interesting to see how he adjusts to SEC play. Baggs played some in 2011. He will start the Louisiana Tech game while Jenkins is suspended.
Bass is a complete unknown who is a walk-on. He beat out a couple of highly touted recruits for the second-team spot.
First String: Deshazor Everett
Second String: Dustin Harris
First String: De'Vante Harris
Second String: Tremaine Jacobs
Everett is the most versatile member of the secondary on the A&M team. He could start at corner or safety for the Ags.
De'Vante Harris is a true freshmen who is a tremendous cover corner. He played his way into a starting spot.
Dustin Harris has started for the Aggies on and off for the past three years. His inconsistent play has him on the second team. Jacobs is a JUCO transfer for whom A&M beat Tennessee. His stature should help against the running teams in the SEC.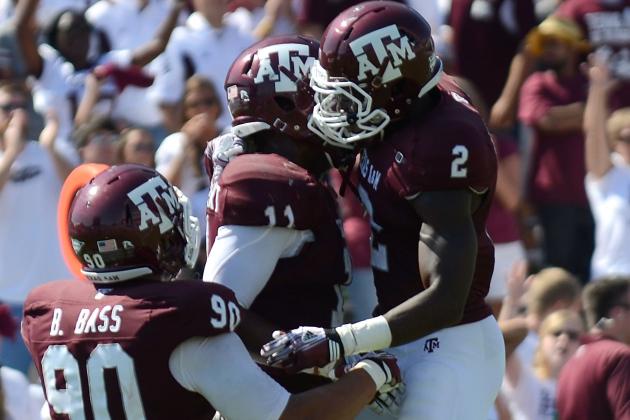 Sarah Glenn/Getty Images

First-String Boundary Safety: Steven Campbell
Second-String Boundary Safety: Johntel Franklin
First-String Free Safety: Steven Terrell
Second-String Free Safety: Tony Hurd Jr.
The Aggies start two senior safeties in Campbell and Terrell. The issues with both of them has been health throughout their careers. If Campbell can stay healthy for a season, he has the size and speed to warrant being selected in the first three rounds of the NFL draft.
Terrell had a great bowl game and hopes to grow on that during his senior season. Franklin did not play much in 2011. He was brought in from junior college in 2011 but has impressed the new staff.
Expect to see Hurd play a lot in the nickel and dime defenses.
The Aggies' secondary was very poor in 2011. It showed noticeable improvement during the spring under the tutelage of new defensive backs coach Marcel Yates.
Sarah Glenn/Getty Images

Kicker: Taylor Bertolet
Punter: Ryan Epperson
Kick Returner: Trey Williams
Punt Returner: Dustin Harris
Bertolet was supposed to be the kicker in 2011, but a leg injury led to him redshirting. He has the tough task of replacing Randy Bullock, who had the best season for a kicker in Aggies history in 2011.
Epperson was not a good punter in 2011. Sumlin is just looking for consistency at the position.
Williams and Harris are both dynamic with the ball in their hands. They have to make something happen in the return game for the Aggies to be competitive in the SEC in 2012.