WWE: 5 Things to Watch for on the Aug. 27 Edition of Monday Night RAW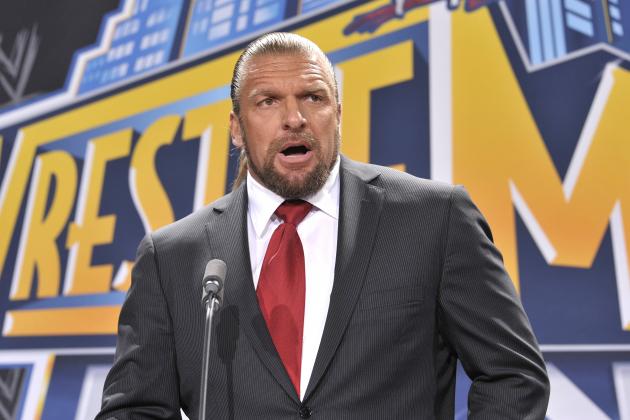 Michael N. Todaro/Getty Images

It may seem like the WWE is in a transitional period as summer fades away and autumn begins, but after what happened on last week's edition of RAW, there promises to be plenty of meaningful moments once again on Monday night.
Most of the talk will center on Triple H, as he is scheduled to address his future. The Game lost cleanly to Brock Lesnar at SummerSlam, and although Lesnar announced his departure from the company on last week's show, Triple H has yet to be heard from since the big show in Los Angeles.
The entire CM Punk vs. John Cena situation figures to be discussed as well after what happened a week ago. Punk was willing to give Cena a WWE Championship opportunity at Night of Champions if Cena admitted that Punk was the best in the world, but Cena refused and Punk subsequently kicked Jerry "The King" Lawler in the head.
On top of that, there are tons of other storylines in the works as well, so all three hours will be of the utmost importance. Here are the top five things that you should remain cognizant of as you watch the Aug. 27 edition of Monday Night RAW.
Begin Slideshow

»
Triple H is unquestionably one of the greatest superstars in the history of the WWE, but after tapping out to the Kimura Lock against Brock Lesnar at SummerSlam, his future is very much in doubt.
Michael Cole and Jerry Lawler speculated after the match that it could have been his last, and his best friend, Shawn Michaels, spoke as if Triple H would be retiring when he appeared via satellite last week on RAW.
The one person we haven't heard from, however, is Triple H himself. That will change tonight, though, when The Game finally addresses the WWE Universe.
It is uncertain what he will say, but a kayfabe retirement is certainly possible. Lesnar broke Triple H's arm for a second time from a storyline perspective at SummerSlam and Triple H appeared to be extremely distraught after the loss.
Since everyone seems to be saying that Triple H will retire, I expect to see a defiant superstar tonight. There isn't an obvious feud out there for Lesnar until around the time of the Royal Rumble, so he could use another match between now and then. With that in mind, I feel like Triple H will challenge Lesnar to a match at either Hell in a Cell or Survivor Series, but this time there will be a stipulation that dictates he must retire if he loses.
Ever since CM Punk attacked The Rock at the conclusion of the 1,000th episode of RAW, the WWE Champion has had an issue with WWE Hall of Famer Jerry "The King" Lawler. After Punk clotheslined The Rock and delivered a GTS to his chin, Lawler proclaimed that Punk turned his back on the WWE Universe.
The Second City Saint has contested that statement over the past few weeks.
Punk was trying to get Lawler to apologize last week before John Cena interrupted him. Punk and Cena then cut a promo on each other before Cena left the ring. Punk then called Lawler into the ring to finish what he started. Lawler wouldn't admit that Punk is the best wrestler in the world and brushed against Punk when he went to return to the commentary table, so Punk kicked Lawler in the skull.
Seeing as Punk has been denying turning his back on the fans and essentially denying that he turned heel, he obviously has a lot of explaining to do this week. Most believe that Punk's attack on Lawler cemented his heel turn, but I believe that Punk will continue to be in denial and claim that he did what he did for respect.
With the way things went at SummerSlam, as CM Punk essentially stole victory from John Cena after Cena hit Big Show with an Attitude Adjustment, it seemed clear that Punk and Cena would do battle at Night of Champions, one-on-one. Cena refused to admit that Punk was the best in the world last Monday, though, so now things are somewhat in doubt.
The belief remains that Punk and Cena will do battle at Night of Champions, but it will be interesting to see how it comes about. The writers could elect to continue the storyline of Punk choosing his own opponent, where he goes through an entertaining round of interviews with potential candidates since that would be fairly entertaining.
I'm hoping that general manager AJ Lee strips Punk of his power to dictate the No. 1 contender, however. That way there can be a battle royal or perhaps a No. 1 contender tournament that would take place on RAW over the next couple weeks.
With the three hours to fill, there would certainly be enough time to do an eight- or 16-man tournament, and it would serve as something to hold the interest of the fans until Night of Champions.
It would be safe to say that since AJ Lee left him at the altar on the 1,000th episode of RAW, Daniel Bryan has been a bit unstable. He underwent a psychiatric evaluation a few weeks ago and barely passed, but for the past few weeks, his anger has been out of control and he has resorted to getting in the respective faces of the WWE fans at ringside and chanting "No!" as they chant his popular "Yes!" catchphrase.
Because of that, AJ has ruled that Bryan must undergo anger management counseling, beginning this week. Based on how entertaining D-Bry has been since he snapped, I expect this segment to be comedy gold.
Also, since AJ specifically used the term anger management, I have a feeling that Bryan's counselor is going to be Charlie Sheen based on the fact that he is starring in a new show called Anger Management and that the two had a bit of a verbal war going several weeks ago.
If this does in fact happen, hopefully Kane gets involved as well. Kane and Bryan are currently feuding, but since both of them are psychotic, I believe they will eventually form a bond and a tag team.
Perhaps that will start tonight with Sheen showing both of them that they have some common ground as whack-jobs and ex-boyfriends of AJ, and that could bring them together.
As Mr. Money in the Bank, Dolph Ziggler has been featured heavily on both RAW and SmackDown for the past month, and he has taken on all comers. I still don't like the way he was booked to lose to Chris Jericho at SummerSlam only to beat him the next night, but I'm very optimistic about Ziggler's future prospects.
He has been trying to cash in his contract quite a bit lately, so it will be interesting to see what he does tonight.
There were two occasions where Ziggler looked like he was going to cash in on SmackDown, but he ultimately didn't. The first was when he attacked Sheamus after their match and the second came later after the match between Alberto Del Rio and Randy Orton. Ziggler is still holding the briefcase, however, and as long as he has it, he will command attention.
Ziggler is one of the best all-around performers in the company and I'm glad he has gotten to showcase his skills as of late. I really wish that Ziggler could become the World Heavyweight Champion immediately, especially since the title scene is so stale right now. The better way to do things would be to have him hang onto the contract for several months before finally cashing in, though, and I hope that is the way that things play out.
Follow @MikeChiari on Twitter and listen to him on Ring Rust Radio.