Ever since the nine-player, blockbuster deal that sent Adrian Gonzalez, Josh Beckett, Carl Crawford and Nick Punto to the Dodgers in exchange for James Loney and prospects, Red Sox Nation has unquestionably had positive and negative reactions.
Dodger fans are undoubtedly loving the trade, as Gonzalez has hit .333 with one home run, four RBI and even a stolen base to his name since donning the blue uniform.
However, following a recent interview with the LA Times, Gonzalez didn't shy away from criticizing the pressure of Boston, as well as make excuses for his decrease in power during his near two-season tenure in Boston.
When asked about the media in the Boston atmosphere, Gonzalez was not hesitant, saying that, "They didn't like that I was a calm person. I won't throw my helmet, I won't scream, I won't use bad words if I strike out. That's what they want over there."
Being in the midst of so much controversy since September of last season, Gonzalez has been perceived as someone who didn't like Boston or what came with being a Red Sox player. Openly discussing his displeasure, Gonzalez put the blame on "a lot" of Sunday night games that cost them the 2011 season.
He was also reportedly one of the most vocal players during the "heated" meeting between Red Sox ownership and the players, which was about the displeasure of working for Bobby Valentine.
Gonzalez addressed his negative public image which arose in Boston, further stating that:
You can't control what others say. I was the same person in San Diego. They took me over there and I didn't change. My intensity, how I prepared, everything was the same. When they took me over there, they took me over there to drive in runs. And I did that.
How do you grade Ben Cherington on this deal?
However, the most ridiculous statement of all had to be his comments about his decreased production in a Red Sox uniform, ultimately blaming Fenway Park. Gonzalez told the LA Times, "What took my power away was the Green Monster. I used to hit line drives that way and they would be doubles. That took away five home runs from me last year. So I would have had 32."
After reading these statements made by Gonzalez, the Boston Red Sox—without a doubt—must be breathing a huge sigh of relief that this blockbuster was completed.
While Gonzalez is not a bad person by any means, nor is he a bad player, he was openly unhappy in Boston and was not the cooperative team player that he was previously known to be. The more Gonzalez speaks to the media, the more likely it seems that he partook in the angry player's meeting or the text messages that were sent to ownership.
To blame the smallest park in baseball for a decrease in production is downright absurd. While the Green Monster can take away some home runs, it should not have prevented Gonzalez from still hitting up to his standards that he set in San Diego. He even lived up to those expectations in 2011, posting career highs in several categories, minus a drop in home runs.
Where was the 2011 Gonzalez this season?
It seems now more than ever Gonzalez was phoning in his abilities and not putting in the effort he once did. His numbers through the first half of 2012 were unacceptable based on the contract he earned, and just recently began to heat up at the plate.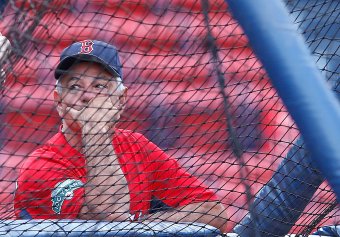 Jim Rogash/Getty Images
Whether Bobby V had been the issue or involvement with a bad crowd was another, it's obvious that the hardworking, power swinging, dominant Mexican-American baseball player Theo Epstein sought out for years was not living up to his standards. Rather, he was complaining about the high-profile lifestyle that a Boston player must endure.
Simply put, Gonzalez and Boston were not a good match, but it now seems as though his true colors are showing. While it's understandable to be frustrated on such a disappointing team, he certainly hasn't helped out his own cause.
Gonzalez is now in Dodger blue, and it's evident we will see the Gonzalez that Theo Epstein thought he was signing in 2011. It's just unfortunate that Gonzalez is consistently making excuses and blaming others for his poor performance.
And in the end, his play on the field is in the hands of only himself. There are no excuses.