10 Advantages the Atlanta Braves Hold over the Washington Nationals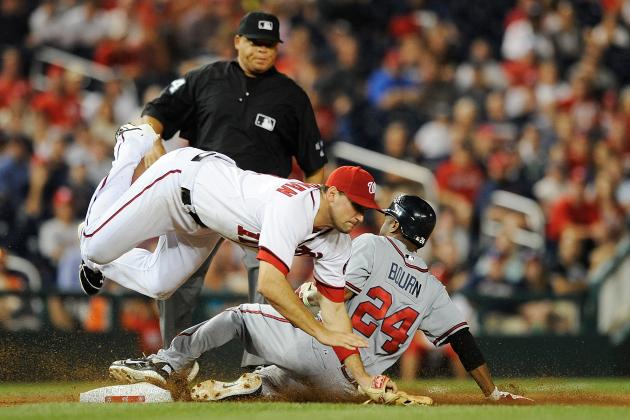 Patrick McDermott/Getty Images

When the Washington Nationals ran their National League East lead to 6.5 games up on the Atlanta Braves, I lost a lot of hope that Atlanta could make a run and take the division.
With Dan Uggla not hitting (He's walking enough to own a .341 OBP, which is perplexing, but his average remains a lowly .206.), Brian McCann's shoulder seemingly negating his ability to drive the ball (zero extra-base hits in his 60 August at-bats), Ben Sheets headed back to the DL and Andrelton Simmons recovering more slowly than the Braves had hoped, I am not ashamed to admit that I was already debating who should take the hill for the Braves for the one-game playoff with the other NL Wild Card.
Three games later, as of August 28, Atlanta has reached five games back. While it may be small, there is still hope that the Braves can climb back into the divisional hunt and avoid the dreaded one-game playoff against the Cardinals, Pirates, Giants, or Dodgers.
However, regardless of which team wins the division, odds are that, so long as they both advance past the Wild Card Showdown, Atlanta and Washington will have to meet in the postseason eventually, whether it be in the five-game NLDS or the seven-game NLCS.
This isn't exactly a comforting feeling for Atlanta fans. The Braves have the pitching to out-duel the Dodgers and the firepower to slug with Cincinnati, but the perception is that Washington seems to have an edge on Atlanta in essentially every category.
Au contraire...
Note: Each statistic in this slideshow save for the standings is as it stood on August 27.
Begin Slideshow

»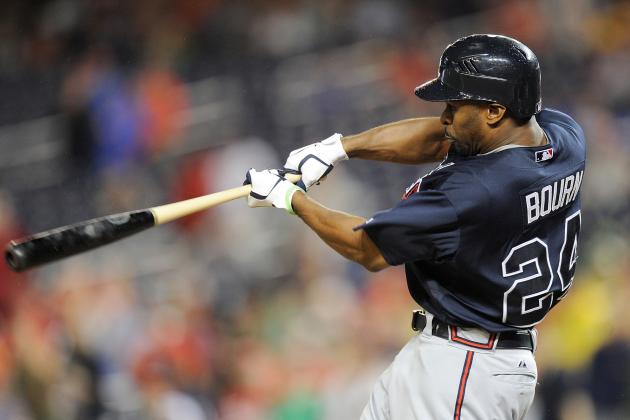 Greg Fiume/Getty Images

There is a belief held by a fair amount of people inside baseball that the batting order does not carry a lot of significance and that the leadoff hitter's impact on his team is minimal, considering the odds that he will most likely only lead off the first inning.
I disagree.
I believe that the leadoff hitter has the opportunity to set the tone of a game every time he strolls to the plate to start off the first inning. With a walk or a hit, the opposing starter fails to get into a rhythm right off the bat, which is a pretty significant psychological advantage.
The leadoff hitter doesn't even have to get on base; if he can put a dent into the starting pitcher's pitch count, he's done his job. But if he should choose to get on base and steal second or even hit a home run, those outcomes would be fine, as well.
Michael Bourn is Atlanta's first advantage over Washington, but his impact is pretty significant. He's having the kind of season that will make him a very wealthy man this winter, posting a .287/.353/.417 slash line from the leadoff spot, garnering 37 stolen bases, 10 triples and even nine home runs.
Conversely, the Nationals have been employing Danny Espinosa in the leadoff spot lately, and he sports a .251/.317/.408 slash line. Bourn is clearly the superior leadoff hitter, getting the edge in OBP by .036. Bourn also walks more than Espinosa, edging the Nationals leadoff man in walk rate by 2.3 percent (9.1 to 6.8)
If you believe in the impact of leadoff hitters, Michael Bourn gives Atlanta a huge advantage here.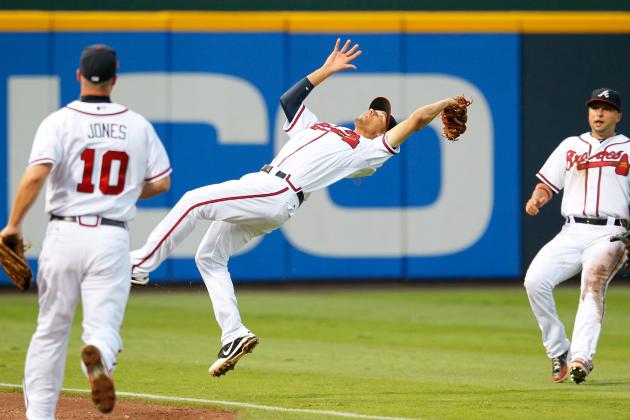 Kevin C. Cox/Getty Images

Let me be clear: I'm not suggesting that Andrelton Simmons is a better player than Ian Desmond.
Desmond's .282 average, 46 extra-base hits (including 19 home runs), .504 slugging percentage and 15 steals are evidence of a very good offensive player. He doesn't walk a lot (see his .318 OBP), but from the shortstop position, he's considered a very good hitter.
However, Simmons is the much better shortstop.
In fact, it wouldn't be a stretch to call Simmons the best defensive shortstop in the game. His glove is truly elite, and in perhaps the most important defensive position on the diamond (outside of catcher), that is a gigantic asset to have.
Simmons has been recovering from a pinky injury for a couple months now, but word is that he might be making a September return, and when he does, the lift he will give Atlanta will be huge.
Paul Janish has been holding down the fort very well from the defensive side of the ball, but in 140 at-bats with the Braves, he has posted a .279 OBP. In 125 plate appearances, Simmons racked up a .336 OBP, a .452 SLG and 1.8 WAR.
Atlanta really can't get Simmons back soon enough.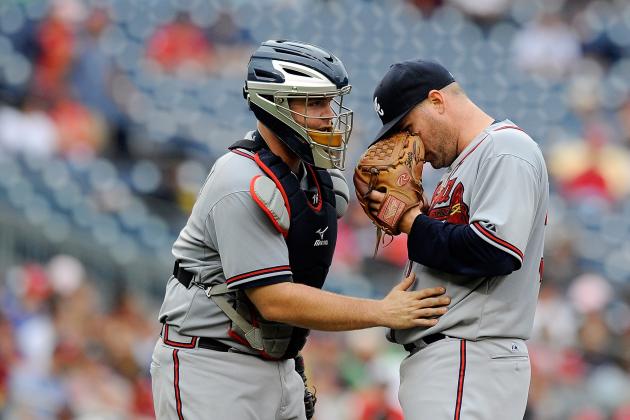 Patrick McDermott/Getty Images

Brian McCann is having a pretty lousy offensive year. I'm not going to argue with that at all.
I mentioned in the opening slide that McCann's shoulder is preventing him from making solid contact and really driving the ball. Hopefully Fredi Gonzalez will be able to use David Ross enough down the stretch to allow McCann's shoulder some time to heal.
Even so, a hurt Brian McCann is still an asset come October.
McCan is by no means an upgrade over Kurt Suzuki when it comes to his defensive prowess behind the plate. However, the six-time All-Star and eight-year veteran knows how to handle a pitching staff extremely well, and when it comes to the bright lights of October, he's still the guy I want receiving pitches from Tim Hudson, Paul Maholm and Kris Medlen.
Simply from a psychological standpoint, McCann (who is still walking nearly 10 percent of the time) behind the plate gives Atlanta so much more confidence, and if he can get healthy enough to drive the ball, maybe he will play as inspired as he did in the 2010 NLDS against San Francisco, when he posted a .429 batting average and a .714 SLG.
Regardless, McCann is a veteran and will remain undaunted through postseason play. I'll take that over Kurt Suzuki and his .249 OBP every day of the week.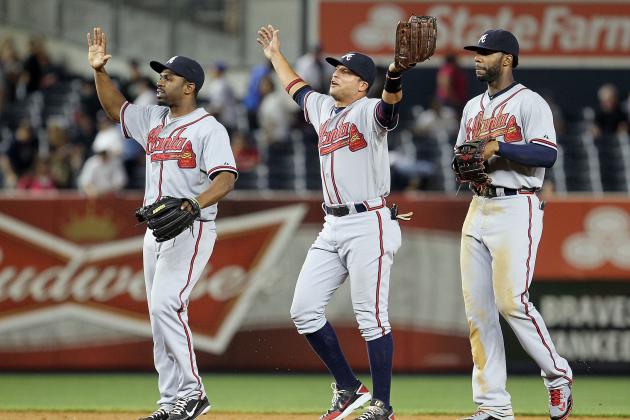 Jim McIsaac/Getty Images

If you take a look at Fangraphs' WAR leaders, once you get over the initial shock of Mike Trout's 1.3 win advantage over the second-place tie of David Wright and Ryan Braun, you'll find something else pretty interesting.
Two Atlanta Braves outfielders (Jason Heyward, 6.0, and Michael Bourn, 5.9) reside in the top six MLB WAR leaders (that's top five if you make it National League leaders), and a third (Martin Prado, 4.5) sneaks into the top 15.
That's right. Martin Prado.
The top Washington National position player in WAR? Ian Desmond with 3.8, good for 26th in baseball.
Also consider this: Among the MLB's top 15 in WAR, the top three in Fld (Fangraphs' fielding stat that sums up the player's UZR at each position played during the season) are, you guessed it, Bourn, Heyward, and Prado.
All three are excellent offensive players (Heyward has a chance at a 30-20 season with a .900 OPS if he can get hot down the stretch), and for a little extra gravy, all three are elite fielders.
Prado is such an incredible asset that I cannot begin to express the value he brings to this club. From the two-hole, he doesn't strike out but 10.1 percent of the time; he walks in 8.6 percent of his at-bats; he brings a .355 OBP to the table in addition to slugging .430; and he can hit a home run, steal a base, lay down a bunt and play every position on the field well.
He can play second base when Dan Uggla needs time off, play third base when Chipper Jones needs some rest and then go right back to being the best defensive left fielder in the game.
In fact, I see him as the most underrated player in the game.
Washington's outfield of Michael Morse, Jayson Werth and Bryce Harper is pretty solid, but it pales in comparison to Atlanta's trio.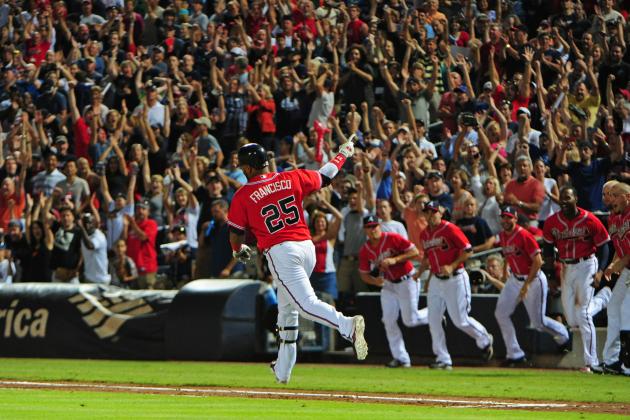 Scott Cunningham/Getty Images

I already wrote about this extensively here, so for a more complete argument, please check out the article.
But it's true.
Tyler Pastornicky and Eric Hinske may not be performing especially admirably this season, but both are useful pieces that will be valuable come October. Pastornicky can play multiple infield positions and handle the bat reasonably well (according to his minor league stats), and Hinske will welcome the postseason like an old friend. (He played in every postseason from 2007 to 2010.)
They're not why Atlanta's bench is so incredible, though.
Once again, check out my article for a more in-depth exploration, but the short answer is this:
If Juan Francisco were given 600 plate appearances, he would be on pace to hit 30 home runs. The man possesses incredible raw power, and his .223 ISO would rank 26th in baseball. He's also hit a 502-foot home run out of the Great American Ballpark in Cincinnati.
Reed Johnson is a gutsy fourth outfielder with unrelenting hustle and a knack for making great plays in the outfield, and his .300/.352/.427 slash line over 213 at-bats suggests he's probably the best pinch-hitter in baseball.
Lastly, there's David Ross, the incredible backup catcher with a .343 OBP and a .444 SLG, the offensive statistics simply an added bonus to the fact that he can handle a pitching staff very well at the ripe age of 35.
Give me a better bench in baseball.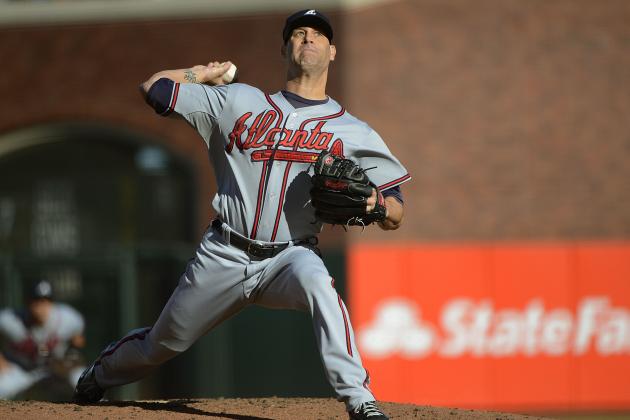 Thearon W. Henderson/Getty Images

There are not many other pitchers I would rather have on the mound for a deciding game than Tim Hudson.
He has eclipsed the 200-inning plateau eight times in his 14 seasons as a major league starting pitcher, and while he hasn't received much credit over the years, his impeccable consistency has proven to make him shine year in and year out.
Health is no longer an issue for him as he's bounced back remarkably from Tommy John surgery in 2008, and Hudson is ready to return to the playoffs as Atlanta's ace.
In six years of postseason experience, Hudson has tossed 54.2 innings en route to posting a 3.46 ERA. Hudson must be chomping at the bit to pitch in October again, evidenced by his only postseason appearance since 2005: a 2010 outing against San Francisco that saw him pitch seven innings of zero-earned-run ball.
Hudson is unflappable and will undoubtedly prove to be a huge advantage over Washington's more talented but more youthful staff.
I have been an Edwin Jackson fan since his tenure in Tampa Bay, but Washington can't feel especially confident with him being their only starting pitcher with any postseason experience.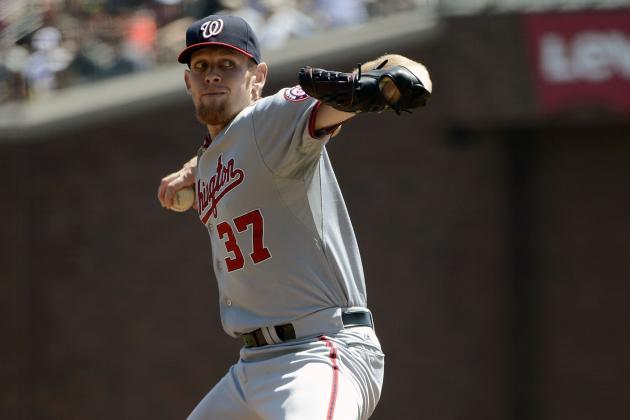 Thearon W. Henderson/Getty Images

Why is Stephen Strasburg atop this slide?
Because he alone determines whether or not this slide actually holds true.
I will concede that the Nationals have the more talented rotation. Strasburg, Gio Gonzalez and Jordan Zimmermann might all be true aces, and Edwin Jackson and Ross Detwiler are very good pieces at the back of the rotation.
However, there is the Strasburg dilemma to consider. If he gets shelved at 160 innings (And he has roughly three starts remaining until he reaches that mark. Let the countdown begin Braves Country!), Washington's playoff rotation then becomes Gonzalez, Zimmermann, Jackson and Detwiler.
Trading Strasburg for Detwiler affects the dynamic of the Washington rotation significantly.
Meanwhile, Atlanta's rotation will be getting healthier come October, and Fredi Gonzalez will have to pick which starters to keep in the four-man postseason rotation. Tim Hudson and Paul Maholm are locks, and I would love to see Kris Medlen start in the playoffs, especially with the way he's been pitching lately.
That means there are three candidates for the fourth and final playoff rotation spot: Ben Sheets, Tommy Hanson and Mike Minor.
That's six guys that are all capable of starting in October (assuming Mike Minor remains as consistent as he has proven to be lately).
Hudson matches up well with Gonzalez, Maholm has pitched phenomenally lately and definitely can toe the rubber with Zimmermann, and the back two (Medlen and a pitcher to be named later) arguably have the advantage.
And in October, every game counts.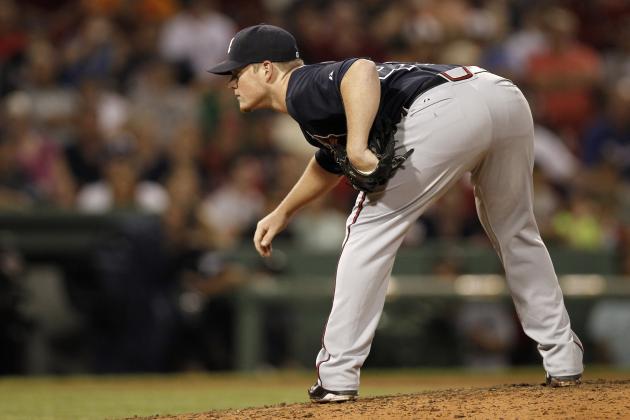 Winslow Townson/Getty Images

One of the most fascinating topics in baseball right now is the debate over the best reliever in the MLB: Craig Kimbrel or Aroldis Chapman.
I am absolutely enthralled by this, and I can see the arguments for both pitchers. Chapman has actually tallied a higher WAR than Kimbrel, which is one of my favorite measurements of a player's worth.
But this is not a slide to debate Kimbrel vs. Chapman. This is a slide to establish that Atlanta's bullpen has an edge over Washington's.
First, let's discuss Kimbrel, who owns an absurd 15.89 K rate to pair with his 1.15 ERA and ridiculous 0.64 WHIP. Now, let's look at his FIP and xFIP, which should surely suggest that Kimbrel is pitching over his head.
His xFIP is 1.08. His FIP? 0.88.
I believe "dominating" isn't a strong-enough word here.
The Nationals bullpen is very, very good, led by long-man Tom Gorzelanny, set up by Sean Burnett and Craig Stammen, and punctuated by Tyler Clippard.
Atlanta's however, is simply better.
The Braves will gain a dominant long man or two when only one of Tommy Hanson, Ben Sheets and Mike Minor actually makes the postseason rotation, and they match or edge Washington everywhere else. Braves relievers even hold a 1.8 WAR differential over the Nationals, as well as a strong ERA lead, according to Fangraphs.
You already knew about Craig Kimbrel's dominance, but did you know that Jonny Venters has returned to his 2010 and 2011 form? That's right, in his 13 appearances since returning from the DL, Venters has posted a 0.00 ERA and a .150 batting average against and has struck out 13 of the 49 batters he has faced.
Venters is back, and he's ready to shut the Nationals down.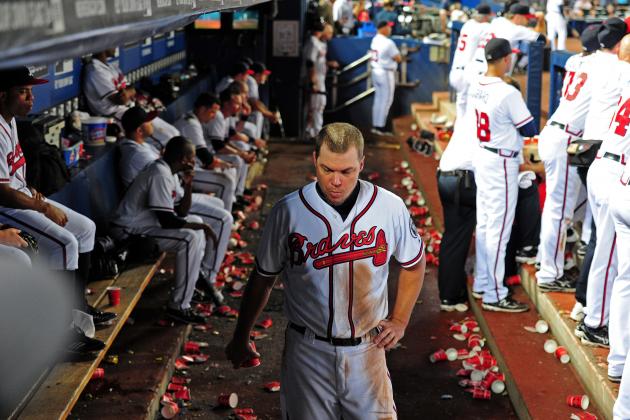 Scott Cunningham/Getty Images

The epic Atlanta collapse of last season will not be forgotten by Braves Country anytime soon. But believe it or not, the collapse of 2011 may prove beneficial to the 2012 version of the Braves.
Watching an 8.5-game lead in the wild-card standings wither away in September and then losing it on the final day of the season might never leave the minds of Braves players, but that experience has made this group more hardened and hungry. The fortitude gained by Atlanta's terrible finish in 2011 will be more invaluable than anything statistics can show.
The veterans on this roster have the potential to simply will this team past the Nationals and whatever other obstacles they face in the playoffs. Roll call, please?
Brian McCann: six-time All-Star behind home plate.
Martin Prado: All-Star, extremely versatile No. 2 hitter and most underrated player in baseball.
Michael Bourn: two-time All-Star and perhaps the best leadoff man in baseball.
Dan Uggla (all joking aside): three-time All-Star and 30-homer second baseman.
Chipper Jones: eight-time All-Star, former MVP and future first-ballot Hall of Famer with 19 years of service time.
Tim Hudson: 14-year veteran, nearly 200 games won, three-time All-Star and two Cy Young top-five finishes.
Ben Sheets: four-time All-Star.
That doesn't even mention the young All-Stars that went through the epic collapse and have emerged better than ever: Freddie Freeman (Okay, he may not be an All-Star yet, but he has an .886 OPS in the second half.), Jason Heyward (He is on pace for 30 homers and 24 stolen bases, but his 10 homers, eight stolen bases, .293/.374/.530 slash line and .905 OPS in the second half suggest he could top those projections.) and Craig Kimbrel (Really, do I have to say anything more about his greatness?).
Washington is youthful and inexperienced; Ryan Zimmerman definitely qualifies as a tremendous player with experience, but the only regulars Washington has that have seen postseason action are Jayson Werth, Adam LaRoche and Edwin Jackson.
And when the the postseason comes knocking, this will certainly come into play.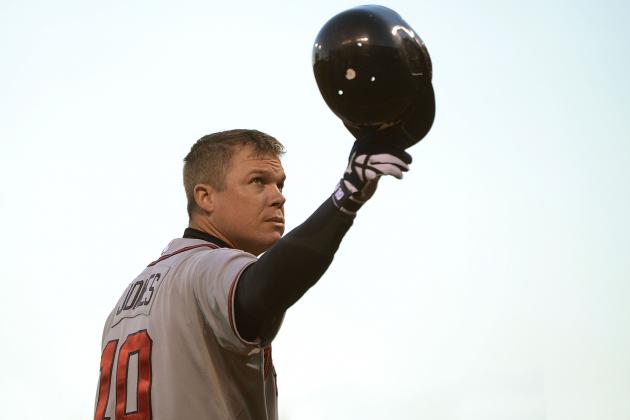 Thearon W. Henderson/Getty Images

Nineteen seasons, eight All-Star appearances, one MVP and six MVP top-10 finishes accumulated in the same city is absolutely remarkable. But Chipper's resume doesn't stop there.
He owns a ridiculous .304/.402/.532 career slash line. That's a career OPS of .933.
He's accrued more than 2,700 hits, nearly 550 doubles, 470 home runs and 4,730 total bases.
And in spite of walking to the plate 10,500 times in his career, Chipper Jones is still bringing his magic to the park day in and day out. In 2012, he has put up a slash line of .305/.384/.505 (yes, that's an .889 OPS from a 40-year-old) and is walking more than he's striking out (11.3 percent to 10.7).
Chipper's farewell tour has been magical, but if his 2012 season to date is any indication of what he will do in the playoffs (where he has 333 at-bats, 13 home runs and a slash line of .288/.411/.459), he's certain to give the Braves an extra little push to edge out the Nationals.
Even with the extremely talented Michael Bourn, Jason Heyward, Martin Prado and Freddie Freeman on the roster, there is no one I would rather see walking to the plate with the season on the line than the one and only Larry Wayne Jones Jr.
And that's something the Washington Nationals don't have.