San Diego Chargers: 5 Things to Watch for in Preseason Finale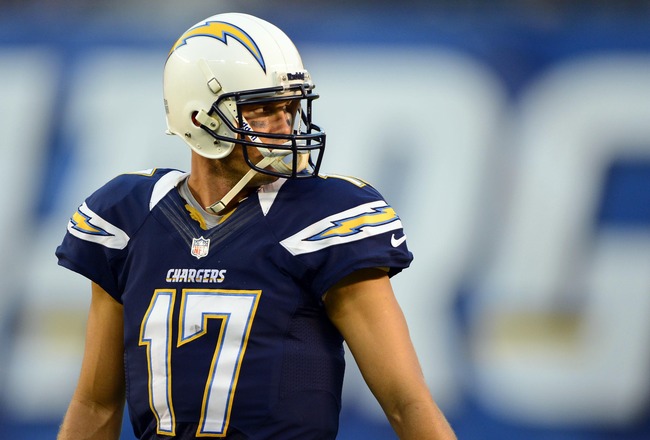 Christopher Hanewinckel-US PRESSWIRE
We're one week away from the regular season.
The San Diego Chargers are 3-0 and will wrap up the preseason in San Francisco. Philip Rivers and Antonio Gates will play in the final game, but the length of their playing time is unknown.
San Diego's stats this preseason have been horrid. The run game is 31st in the league, and the team is feeling the loss of running back Ryan Mathews.
The 49ers have a strong defense. Therefore, it will be exciting to see how the Chargers' few starters play against them.
Meanwhile, for all the players on the roster bubble, this is their last game to prove themselves.
Here are five things to watch for in the preseason finale.
Wide Receiver Battle: Mike Willie vs. Richard Goodman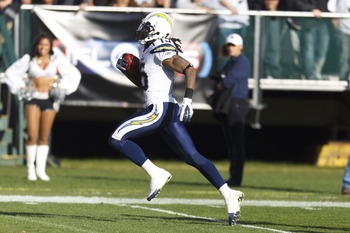 Jason O. Watson-US PRESSWIRE
When the Chargers made the cuts to get the roster to 75, the receiver position was narrowed down.
Malcom Floyd, Robert Meachem, Eddie Royal, Vincent Brown, Micheal Spurlock, Richard Goodman and Mike Willie remain.
Nothing it set in stone, but it's safe to say that all those receivers will make the team, with the exception of either Goodman or Willie.
The question is, who will it be?
Mike Willie is a much better receiver than Richard Goodman. With Vincent Brown out, Willie could compete for a fair share of playing time. However, Goodman is a return specialist with elusive speed. That speed makes him a dangerous player on special teams, but his receiving skills need work.
With that being said, Micheal Spurlock and Eddie Royal should be the return men in 2012, which gives Mike Willie the edge and the remaining roster spot.
My Pick: Mike Willie
Philip Rivers and Robert Meachem's Building Chemistry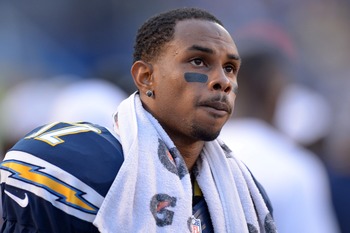 Jake Roth-US PRESSWIRE
Philip Rivers has thrown three interceptions this preseason. Two of them were directed at Robert Meachem.
Brought in from the New Orleans Saints, Meachem is one of the receivers that will help aid the loss of Vincent Jackson.
Talent is a major thing in sports, yet it would have no impact without chemistry. One thing that was evident last season was the connection between Rivers and Jackson.
In 2012, when Jackson held out, the chemistry should have faded. However, in his first game back, Jackson had 120 yards and three touchdowns.
San Diego can't turn Robert Meachem into the 6'5'' receiver that Vincent Jackson was, but they can work on the chemistry between he and Rivers. Look for them to get on the same page very soon.
This will be something to keep an eye on in the first half of the preseason finale, should Meachem play.
Larry English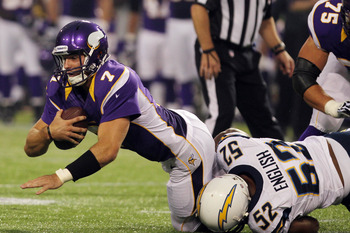 Brace Hemmelgarn-US PRESSWIRE
Larry English is finally showing his first-round value.
Wait, what?
The 2012 season is the last chance Larry English will have in San Diego. With that being said, in three preseason games so far, he's looked better and healthier than ever.
The Chargers will have a strong rotation at outside linebacker with the depth on this team. That should be an advantage for No. 52, as it should take pressure off him.
Look for Larry English to continue his strong preseason showing against the 49ers.
Jackie Battle, Curtis Brinkley or Edwin Baker?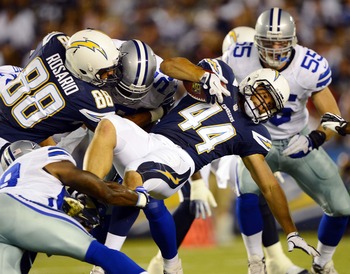 Christopher Hanewinckel-US PRESSWIRE
These three players have one more game to prove they're worth the final running back spot.
Brinkley, who surprised many fans last season, has the advantage. Battle was signed to replace Mike Tolbert after he left for Carolina, but the Chargers have Le'Ron McClain for that. Meanwhile, Edwin Baker should start looking for another team soon, unless he's put on the practice squad.
Ronnie Brown should start against the Niners with Battle, Brinkley and Baker behind him, if healthy. Look for each one to play their hearts out, given it's their last opportunity to show their talent.
My Pick: Curtis Brinkley
TE Battle: Kory Sperry vs. Dante Rosario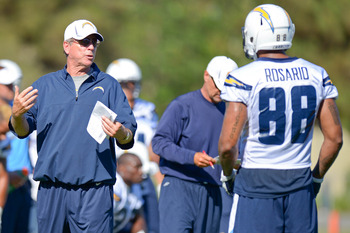 Jake Roth-US PRESSWIRE
Antonio Gates, Randy McMichael and rookie Ladarius Green have their spots locked up at tight end.
The question is, should the Chargers keep four tight ends?
Dante Rosario is towering at 6'4'' and 250 pounds. That's something you can't teach. He's a big body that the Chargers love. If anyone doesn't know who Dante Rosario is, he's the guy who caught a touchdown as time expired to win the game for the Carolina Panthers against the Chargers in 2008.
Maybe they should hold on to him.
Kory Sperry is also a very talented player. He needs work in the receiving area, but he excels in blocking. With enough injuries on the front line already, it may be smart to keep a blocking tight end. Sperry has spent his last two seasons in San Diego.
This decision, if the Chargers keep four tight ends, will be made after their play in the game against the Niners.
My Pick: Dante Rosario
Keep Reading

San Diego Chargers: Like this team?