Fantasy Football Rankings 2012: Projected Stats for Rookie Quarterbacks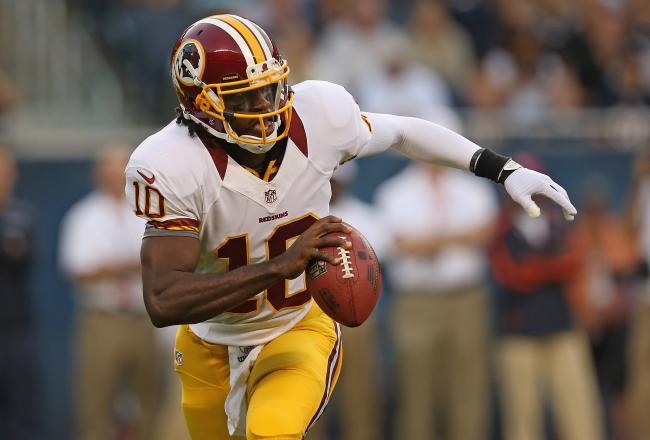 Jonathan Daniel/Getty Images
Five rookie quarterbacks will be starting for NFL teams in Week 1. This will not only affect the league, but fantasy football as well.
Some of these men have earned the their spot on top of the depth chart with a great training camp, while others are simply there out of desperation from the organization.
Despite what they have done in the past, teams will be looking for solid production from their new leaders. Cam Newton and Sam Bradford proved in the past two years that it is possible for rookie quarterbacks to accomplish a lot in their first year.
Unfortunately, not all of these signal-callers will have great years. Here is a ranking of the rookie quarterbacks with projections if they stay healthy all season.
5. Ryan Tannehill, Miami Dolphins
1,900 passing yards, 12 touchdowns; 140 rushing yards, two touchdowns
Ryan Tannehill has some talent but is very inexperienced at quarterback. He was a receiver at Texas A&M until partway through his junior year, but has apparently impressed the Dolphins enough to be named the Week 1 starter.
However, his lack of experience and receiving weapons will likely force the team to keep a conservative game plan throughout the season. Davone Bess is the leading healthy target, and he only had 537 yards last season.
His agility and arm strength will allow Tannehill to have a great future, but he will likely struggle in his first season with a team that is not expected to do much on the field.
4. Brandon Weeden, Cleveland Browns
2,800 passing yards, 14 touchdowns; 30 rushing yards, zero touchdowns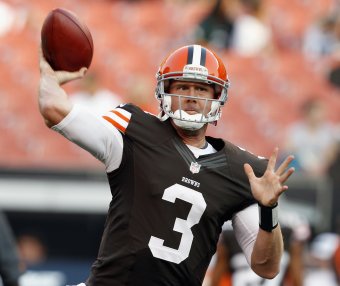 Matt Sullivan/Getty Images
Unlike Tannehill, Brandon Weeden will have to perform right away for the Cleveland Browns. The 28-year-old rookie is already considered in his prime and will not have much margin for error or growing pains.
Fortunately, he proved last season at Oklahoma State that he can handle playing at a high level. Although it was in a spread offense, Weeden's 4,727 passing yards, 37 touchdowns and 72.3 completion percentage should not be overlooked.
He will not put up elite statistics, but he has shown enough composure in his short career to believe he will keep his team competitive with solid statistics.
3. Russell Wilson, Seattle Seahawks
2,700 passing yards, 17 touchdowns; 300 rushing yards, two touchdowns
The Seahawks surprised many by naming third-round pick Russell Wilson the starter out of training camp, but he has the ability to have a very good first year in the NFL.
Standing at less than six feet tall, Wilson does not have prototypical size for a quarterback, but he earned the job due to his accuracy and big-play ability. In three preseason games, Wilson has thrown five touchdowns to only one interception and completed 35 of his 52 pass attempts.
In addition, the Seahawks provide the quarterback with quality weapons around him with Marshawn Lynch and young receivers Doug Baldwin, Ben Obomanu and Golden Tate.
Free-agent acquisition Matt Flynn will be ready to go if Wilson struggles early, but do not be surprised if he plays well all season long.
2. Andrew Luck, Indianapolis Colts
3,500 passing yards, 19 touchdowns; 150 rushing yards, one touchdown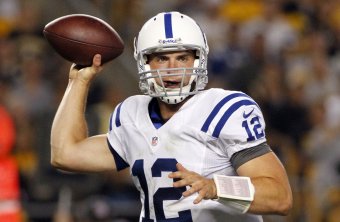 Justin K. Aller/Getty Images
Andrew Luck might end up being the best quarterback in a generation, but he will not be the best rookie this season from a fantasy perspective.
Aside from Reggie Wayne, there is simply no one he can trust in the receiving corps, and the offensive line will not give him much time to throw the ball.
The good news is that the defense is so bad that he will need to throw the ball over 500 times like Cam Newton did last season. This will help raise his passing numbers, even though it will often be in a losing effort.
1. Robert Griffin III, Washington Redskins
3,200 passing yards, 20 touchdowns; 500 rushing yards, three touchdowns
A quarterback who can throw the ball and run as well as Robert Griffin III is extremely valuable in fantasy football. Griffin showed at Baylor that he can throw (72.4 completion percentage) and run (699 rushing yards) as well as anyone in the country.
Which QB will have the best year?
The Redskins have a solid line anchored by Trent Williams that will only be helped by a mobile quarterback. Washington also has veteran targets Santana Moss, Chris Cooley, Josh Morgan and Pierre Garcon who know what it takes to succeed in the NFL.
The only thing that will prevent Griffin from having a Newton-like fantasy season is the rushing touchdowns. The Panthers quarterback had 14 touchdowns on the ground in 2011, an NFL record for a quarterback. He was able to use his size to be a force at the goal line and earn many of those on sneak plays for a yard or less.
Griffin, however, is three inches shorter and almost 30 pounds lighter than last year's Rookie of the Year. Coach Mike Shanahan is more likely to use running backs Tim Hightower or Roy Helu for short-yardage plays instead.
Still, the new face of the Redskins could end up being a quality fantasy starter by the end of the season.
This article is
What is the duplicate article?
Why is this article offensive?
Where is this article plagiarized from?
Why is this article poorly edited?